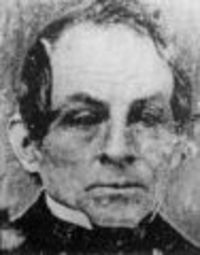 Source: Link
PETERSON, HEINRICH WILHELM (later Henry William), printer, publisher, editor, justice of the peace, and office holder; b. 27 May 1793 in Quakenbrück (Federal Republic of Germany), son of Johann Dietrich Peterson and Julianna Sophia Amelia von Borck; m. first 9 June 1825 Hannah Ann Hendrickson, and they had one daughter; m. secondly 12 Feb. 1831 Harriet Middleton Douglas, née Clayton, sister of John Middleton Clayton who later became American secretary of state (1848–50), and they had two children, one of whom died in infancy; d. 12 June 1859 in Guelph, Upper Canada.
Heinrich Wilhelm Peterson was two years old when, in August 1795, his family left Germany and immigrated to Baltimore, Md. In 1796 his father, a former printer and a Lutheran pastor, moved the family to Pennsylvania where Heinrich Wilhelm received his schooling. From August 1814 to March 1817 the younger Peterson published the German Liberty Flag at Carlisle, Pa. In February 1819 his father accepted a call to minister to Lutheran congregations in Markham and Vaughan townships, Upper Canada. Heinrich Wilhelm did not accompany his parents but he did visit them in 1823 or 1824.
Within a year of his marriage in 1825 Peterson had moved to Markham where, according to his son's later account, he printed a small news-sheet "more I think for his private amusement than anything else." By March 1827 he was working in Ancaster for George Gurnett* on the Gore Gazette. A short time thereafter he went to Dover, Del., where he opened a printing-shop and published the Legislative Reporter and then briefly the Christian Magazine. In 1830 both ventures failed for lack of support and in the same year Peterson's wife died, leaving an infant daughter. Peterson remarried the following year and returned to Upper Canada, staying temporarily at his parents' home in Markham before settling in Berlin (Kitchener) in 1832.
Although not an ordained clergyman, Peterson ministered to German settlers of the Lutheran and Anglican faiths in the Waterloo area during the 1830s. In December 1832 he was appointed catechist for the Church of England, assisting the itinerant Vincent Philip Mayerhoffer. Peterson later joined the Methodist meeting at Berlin and he continued in the Methodist connection until his death, being a strong supporter of the Norfolk Street Methodist Church in Guelph during his later years.
By 1835 Peterson was in the printing business again. He himself lacked sufficient capital to open a publishing establishment, but local supporters interested in a German newspaper purchased stock at $20 a share so that he could procure the necessary equipment. Peterson's printing-press was transported by oxen from Pennsylvania to Berlin where it was installed in August 1835, and the first issue of the Canada Museum, und Allgemeine Zeitung appeared on 27 August. The Museum was printed on good quality paper, and its format revealed a skilled and experienced hand.
The weekly paper concentrated on international news, giving particular attention to events in Pennsylvania. Drawing from German newspapers printed in the United States, the Museum ran serialized stories and other contemporary German literature to keep up local interest in German language, literature, and social customs. In Canadian political affairs the Museum tried to pick a middle course, although Peterson made no secret of his support for government authority and was concerned that some Germans who opposed the government might become involved in the violence associated with the rebellions of 1837–38 [see William Lyon Mackenzie*]. In the aftermath of the uprising, Peterson urged the German community to accept the recommendations made by Lord Durham [Lambton*], hoping that such action would help restore civic peace in Upper Canada. The paper was also concerned with local affairs. It published news of town meetings, political rallies, and religious events in Wellington District. German poetry by Upper Canadian authors, including Peterson himself, was also published.
For four and a half years the Museum, which sold for an annual subscription of two dollars, played a dominant role in introducing German immigrants to Canadian mores. According to a later report in the Guelph Advertiser, "the circulation of this journal extended beyond the Province, and exerted a considerable influence in promoting and encouraging German emigration to Canada. It was also the means of inducing many mechanics and others, to settle in Berlin, which was then composed of but a few houses."
In addition to the newspaper, Peterson published a number of secular and religious titles for the German community. One of the earliest German books printed in British North America was a hymn-book, Die Gemeinschaftliche Liedersammlung, compiled in 1836 by Benjamin Eby, the local Mennonite bishop. Between 1838 and 1841 Peterson published a series of German almanacs and in 1839 he printed a German primer prepared by Eby for use in schools. The Museum office further served as Berlin's first post office receiving bi-weekly mail deliveries from Toronto.
Peterson's interest in public affairs, his fluency in English and German, and his reputation as a friendly arbitrator in the community resulted in his appointment as a justice of the peace in August 1838. He was named registrar of Wellington District in 1840 and by December had decided to cease publication of the Museum. He sold his press to Heinrich Eby and Christian Enslin, his former assistants, who continued the paper as the Deutsche Canadier und Neuigkeitsbote.
In 1842 Peterson supported efforts to establish a tory newspaper, the Guelph Herald and Wellington District Advertiser, which lasted only nine months. The paper was reconstituted as the Guelph Herald and Literary, Agricultural and Commercial Gazette in 1847 and was funded for a short time by a joint-stock company formed by Peterson and several Guelph businessmen. In the mean time, Peterson had settled in Guelph. He continued to serve as registrar, for the district until 1849 and thereafter for the county until his death.
Works published by Heinrich Wilhelm Peterson include German Liberty Flag (Carlisle, Pa.), 27 Aug. 1814–25 March 1817; Christian Magazine (Dover, Del.), 1 (1830); Legislative Reporter (Dover), 1830; Canada Museum, und Allgemeine Zeitung (Berlin [Kitchener, Ont.]), 27 Aug. 1835–18 Dec. 1840; Die Gemeinschaftliche Liedersammlung . . . , [comp. Benjamin Eby] (1st ed., Berlin, 1836; 2nd ed., 1838); and Benjamin Eby, Neues Buchstabir- und Lesebuch . . . (1st ed., Berlin, 1839).
As a lay minister in Berlin, Peterson kept a register of baptisms and burials presided over by himself and by visiting clergymen between 1833 and 1835, much of it written in German. This register has been translated by Paul Eydt et al. and published as "The records of H. W. Peterson of Kitchener, 1833–1835" in Ontario Reg. ([Madison, N.J.]), 1 (1968): 133–40.
AO, MU 2955, H. W. Peterson [Jr.] to Matthew Teefy, 13 July 1864. PAC, RG 5, A1: 92190–93. Der Deutsche Canadier (Berlin), 7 July 1859. Gore Gazette, and Ancaster, Hamilton, Dundas and Flamborough Advertiser (Ancaster, [Ont.]), 3 March 1827–8 June 1829. Guelph Advertiser, and Elora and Fergus Examiner (Guelph, [Ont.]), 23 June 1859. Guelph Herald and Literary, Agricultural, and Commercial Gazette. Guelph Herald and Wellington District Advertiser, 1842. C. A. Burrows, The annals of the town of Guelph, 1827–1877 (Guelph, 1877). A. E. Byerly, The beginning of things in Wellington and Waterloo counties . . . (Guelph, 1935). C. R. Cronmiller, A history of the Lutheran Church in Canada (1v. to date, n.p., 1961– ). Johnson, Hist. of Guelph. H. K. Kalbfleisch, The history of the pioneer German language press of Ontario, Canada, 1835–1918 (London, Ont., and Münster, German Federal Republic, 1968). Millman, Life of Charles James Stewart. W. H. Breithaupt, "'The Canada Museum,'" Waterloo Hist. Soc., Annual report, 1939: 62–70; "Some German settlers of Waterloo County," 1913: 11–15; and "Waterloo County newspapers," 1921: 152–60. A. E. Byerly, "Henry William Peterson," Waterloo Hist. Soc., Annual report, 1931: 250–62. A. B. Sherk, "The Pennsylvania Germans of Waterloo County, Ontario," OH, 7 (1906): 98–109.
© 1985–2023 University of Toronto/Université Laval
Image Gallery

Cite This Article
Herbert K. Kalbfleisch, "PETERSON, HEINRICH WILHELM," in Dictionary of Canadian Biography, vol. 8, University of Toronto/Université Laval, 2003–, accessed June 8, 2023, http://www.biographi.ca/en/bio/peterson_heinrich_wilhelm_8E.html.
The citation above shows the format for footnotes and endnotes according to the Chicago manual of style (16th edition). Information to be used in other citation formats:
| | |
| --- | --- |
| Permalink: | http://www.biographi.ca/en/bio/peterson_heinrich_wilhelm_8E.html |
| Author of Article: | Herbert K. Kalbfleisch |
| Title of Article: | PETERSON, HEINRICH WILHELM |
| Publication Name: | Dictionary of Canadian Biography, vol. 8 |
| Publisher: | University of Toronto/Université Laval |
| Year of publication: | 1985 |
| Year of revision: | 1985 |
| Access Date: | June 8, 2023 |