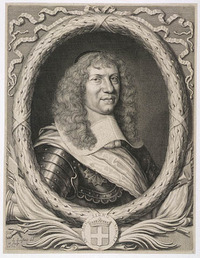 PROUVILLE DE TRACY, ALEXANDRE DE, Marquis (or Chevalier), seigneur of Tracy-le-Val and Tracy-le-Mont (Picardy), king's counsellor, commissary general of the French army in Germany, commander-in-chief of the troops, lieutenant-general of America, commandant of Dunkirk and then of the Château Trompette at Bordeaux; b. c. 1596 (or 1603), probably in Amiens, the son of Alexandre de Prouville and Adrienne Laffrenne; d. 1670 in Paris.
A professional soldier, he was a captain in the light horse in 1632. He served gloriously in Germany (1641–49), where he took part in several battles; he commanded a regiment there and then was appointed commissary general of the king's army in that country, assuring liaison between the court and the French generals. In 1647 he was in charge of the negotiations at Ulm between France, Sweden, and the Elector of Bavaria. In addition he fought for a time in the ranks of the Fronde, but soon returned to give his sword to his sovereign's service. He was created a lieutenant-general of the king's armies on 10 July 1652 and served in Guiana.
On 19 Nov. 1663 he received his commission as "lieutenant-general throughout the length and breadth of the continental countries under our authority situated in South and North America, and of the islands, rivers. . . ." He was not, however, viceroy of these territories, since this title belonged to the Comte d'Estrades, whose commission had not been revoked and who was at this time the king's ambassador to Holland. M. de Tracy had the complete confidence of his sovereign, who, in naming him to this important post, gave him this high praise: he "has all the qualities necessary for discharging this office fittingly, and after the proofs that he has given of his worth in the positions of command that he has held over our troops in Germany and elsewhere and of his prudence in the negotiations that have been entrusted to him, we thus have reason to believe that we could choose no one better to command in the said country."
Tracy had a double mission: to drive the Dutch out of the West Indies, and in Canada to carry the war home to the Iroquois in order to exterminate them completely. Joseph-Antoine Le Febvre de La Barre accompanied him in his campaign in the West Indies. The flotilla sailed from La Rochelle on 26 Feb. 1664. It carried 650 settlers and 4 infantry companies: de Broglie, Chambellé, Poitou, and Orléans. The operation was carried out energetically. On 16 May the French troops captured Cayenne from the Dutch. Tracy installed governors in the principal islands: Martinique, Tortuga, Guadeloupe, Grenada, and Marie Galante.
On 25 April 1665 the fleet left Guadeloupe, sailed through Caicos Passage, rounded the Bermudas, entered the Gulf of St. Lawrence, and cast anchor at Percé Rock a month later. The stocks of water and wood were replenished, merchandise was transferred to smaller vessels. After a few delays in the St. Lawrence River, the expedition arrived before Quebec on 30 June; its commandant was "so weak and so reduced by fever, that only his courage could sustain him." Quebec was given over to rejoicing; the town prepared a magnificent reception, but as he was ill the lieutenant-general refused all the festivities. Preceded by his 24 guards, all dressed in His Majesty's colours, and by four pages, accompanied by his aide-de-camp, the Chevalier de Chaumont*, and followed by six lackeys and several officers in sumptuous dress, the king's representative proceeded from the port to the church amidst the acclamations of the crowd. The bells pealed forth. Escorted by his clergy, Bishop Laval* received the saviour of the colony at the entrance to the nave; he offered him holy water and led him to his prayer stool, but the general preferred to kneel on the floor like everyone else. The ceremony ended with the Te Deum.
Then M. de Tracy went to the palace, which was located approximately on the site of the old law-courts and which the Conseil Souverain had had put into repair for him. Tasks and anxieties were not lacking. The town consisted of some 70 houses. Religious and civil quarrels were acute. But for the moment diplomatic and military problems monopolized all his energies.
Indeed, the king had decided to have done with the Iroquois, who hindered the evangelizing of the peaceful indigenous nations, diverted the trade in furs towards the English, and massacred the French settlers. In a letter of 18 March 1664 Colbert expressed clearly to Bishop Laval His Majesty's intentions: it was necessary "to destroy utterly these barbarians, whose numbers are already much diminished, according to the latest accounts that we have had of them, both as a result of the losses that they have suffered in warring against their enemies and because of a sort of contagious malady which has carried off a good number of them." For this purpose the court was sending a complete infantry regiment, the Carignan-Salières, which was commanded by M. de Salières [Chastelard] and which had fought the Turks in Hungary. Four companies were already there, having arrived on 18 and 19 June, before Tracy appeared with his four; on 19 and 20 August eight more companies landed, and as many more on 14 September. Never had the port of Quebec hummed with such activity. There had, however, been an unfortunate accident: the ship carrying M. de Tracy's valuable belongings had sunk. Subsequently the king was to grant his representative generous compensation.
The late arrival of the ships and sickness caused the expedition against the Iroquois to be put off till the following year. Indeed, many soldiers had arrived ill: the Hôtel-Dieu was full of them, the church was filled right up to the altar railing, and there were even patients in the neighbouring houses. There were 20 deaths. Nevertheless, military preparations were to be all the more thorough. Four companies left Quebec for Sorel on 23 July 1665. They began constructing forts on the Richelieu River to protect the forward movement of the troops: Fort Richelieu on 13 August; Fort Saint-Louis on 25 August; Fort Sainte-Thérèse in September. Forts Saint-Jean, Sainte-Anne, and Lamothe (this last one built on an island in Lake Champlain) were to complete the chain of defences the following year. Four more companies left Quebec for Trois-Rivières on 1 October in order to protect the centre of the country.
In December some Iroquois nations, frightened by so much warlike ardour, sent Garakontié and a delegation to return their prisoner, Charles Le Moyne, and to renew peace with the French. However, since he was not much convinced of their sincerity and since he particularly feared the Mohawks, who continued to be hostile, Tracy empowered Governor Rémy de Courcelle to attack the latter. He left Quebec on 9 Jan. 1666 with 400 or 500 men, on snow-shoes, some 60 of whom he lost mainly because of the cold. Having lost its way, the army found itself before the Anglo-Dutch establishment at Corlaer (Schenectady, N.Y.), where it received help. The remnants of the detachment got back to Quebec on 17 March, without having inflicted any serious losses on the Iroquois. The latter realized, however, that the French troops had been able to reach their country for the first time, and in May and July they sent ambassadors to Quebec to sign peace treaties; the Five Nations were represented there, but the Mohawks and Oneidas continued to inspire some fear. Tracy sent a French delegation to the cantons to ascertain whether the Iroquois were favourably disposed before accepting the peace that they proposed. But the news reached Quebec of new outrages committed by the Mohawks: they had just murdered a nephew of Tracy and captured one of his cousins. Tracy immediately recalled his ambassadors and imprisoned 24 Iroquois delegates. He had more redoubts built around Montreal and allowed M. de Saurel to lead a raid with 300 men into the Mohawk country on 24 July in order to free the French prisoners. On the way the detachment met the Flemish Bastard (an Iroquois chief, the son of a Dutchman and a Mohawk), who was going to Quebec to make peace, accompanied by the prisoners, and Saurel abandoned his attack.
But Tracy was exasperated with the peace negotiations, which constantly had to be reiterated with the Mohawks. The authorities of the colony deliberated as to whether the war should be carried into their territory. On 1 Sept. 1666 Intendant Talon sent to Tracy and Courcelle a long memoir in which, after weighing the pros and cons, he recommended a punitive expedition into the Mohawk country. On 6 September Tracy fell in with his opinion.
All the necessary preparations had been made. The route was well protected by numerous forts, which were filled with munitions and supplies; flat-bottomed boats, large and small, had been built. The soldiers' morale was excellent: "It seems to all this army," wrote Marie de l'Incarnation [see Guyart], "that it is going to besiege paradise and that it aspires to take it and enter into it, because it is for the good of the faith and religion that it is going to fight." Elsewhere she speaks of "1,300 picked men who are all going off to combat as if to a triumph." The troops prepared themselves for this campaign with a general confession and with all sorts of pious exercises; a score of Huguenots were converted; public prayers were to go on until the return of the expedition.
The departure took place from Quebec on 14 September. The army paraded through the streets in view of the Flemish Bastard and the other Iroquois hostages, who wept for the destruction of their nation. The force was to consist in all of 600 regular soldiers, as many militiamen (110 were to come from Ville-Marie (Montreal)), and 100 Hurons and Algonquins, plus 4 chaplains, one of whom was Dollier* de Casson. The rendezvous was set for 28 September at Fort Sainte-Anne. From there the expedition moved off on 3 October. Courcelle had already left with 400 men as the advance party; Tracy followed him with the main body of troops. MM. de Chambly and Berthier* brought up the rear, four days later. Three hundred small boats transported rations, baggage, and arms, among which were two field guns. There were more than 60 leagues to cover beyond the forts; the march was tiring, the rain fell in abundance; food was running out, rationing was imposed. They were nearing the famine point, when suddenly they came upon a forest that was laden with chestnuts. Finally they reached the Mohawk villages. All four were deserted. The soldiers seized all the goods that were of any use and set fire to the lodges and crops. At Andaraqué they took official possession of all the Mohawk territory in the name of Louis XIV; they sang the Te Deum, they set up a cross and a post bearing the arms of the king of France, and the four chaplains said mass. As the season was already well advanced, the commandant gave up the idea of going to punish the Oneidas, a neighbouring nation that was no less rebellious. The return trip was carried out with even greater difficulty than the outward one. Rains had swollen the rivers; a gale was blowing on Lake Champlain; two canoes with eight men were lost. The army arrived back at Quebec on 5 Nov. 1666. A solemn procession and another Te Deum marked the end of this crusade.
Tracy had an over-bold Iroquois prisoner, who is believed to have been Agariata, hanged to frighten the others. He sent three or four others from each nation back to their people to carry the news of his victory and to ask them to make known their intentions.
Talon told Colbert in a letter of the outcome of the expedition: "although the number of the Christians' enemies is not diminished . . . , the afflictions of their families caused by the burning of their forts and the devastation of their fields will perhaps weaken them appreciably and cause them to lose heart." If the Mohawks had not fled, he said, "after sacrificing the majority of these barbarians to the shades of so many Christians who have been slaughtered and burned, we could have seen the remainder on Your Majesty's galleys." The intendant regretted that the valiant French soldiers had been cheated of this double satisfaction.
Tracy stayed in Canada until 28 August 1667. He left a deep imprint upon it. "He is a person of merit and piety," wrote Bishop Laval. Mother Marie de l'Incarnation went further, saying that he "won over everyone by his good works and by the great examples of virtue and religion which he has given the whole country." Indeed, his charity was admirable. He had a chapel built for the Ursulines at a cost of 2,500 livres; he gave 500 livres to the Jesuits for their chapel; he paid for the education of indigenous children; he donated the picture over the high altar in the chapel at Sainte-Anne; he himself tended the sick in the hospital. His piety was no less exemplary: a nun saw him praying in a church for six hours; he went on several pilgrimages to Sainte-Anne de Beaupré; he took part in all solemn ceremonies. Faithful to God, he was also faithful to his king. Nothing that His Majesty suggested was too difficult for him. He was 62 years of age when, crippled with gout, he undertook his formidable expedition. He had to be carried for two days.
He attended just as conscientiously to the affairs of the state. He settled the thorny problem of the tithes, presided over the meetings of the Conseil Souverain, which had been reorganized after Governor Saffray de Mézy's quarrels with it: "he has set the affairs of Canada in such good order that I shall have little to do there," remarked Talon. Marie de l'Incarnation was of the same opinion. Less than a month after Tracy's arrival she wrote: "Monsieur de Tracy has already introduced very fine regulations: I believe that he is a man chosen by God for the solid founding of these regions, for the liberty of the Church, and for sound justice." It is not astonishing that His Majesty treated him as a good servant and had a magnificent vessel, the Saint-Sébastien, fitted out for him, to bring him back to France. The annalist of the Hôtel-Dieu in Quebec noted that "Monsieur de Tracy took ship to return to France, after charming all Canada by his manners, his solicitude, and his benefactions."
On his return to France he was not sparing in his advice to Colbert. On 12 Dec. 1667 he was appointed commandant at Dunkirk, and on 26 October governor of the Château Trompette, the citadel of Bordeaux. He came to Paris to die on 28 April 1670, in the parish of Saint-Eustache. "After Cartier and Champlain, there is perhaps no one whose stay in New France left a more radiant beam of light on our history," comments Ægidius Fauteux.
From his first marriage, to Marie de Belin, which had taken place in Paris on 17 Nov. 1624, Tracy had had a son, Charles-Henri, who was killed at the siege of Landrecies in 1655, and a daughter. On 15 April 1657 at Saint-Eustache in Paris, he had taken as his second wife Louise de Fouilleuse.
ASQ, Lettres, N, 12, 14, 19, 20, 21; Polygraphie, V, 6; XIII, 2, p.39; Séminaire, VI, 73j; XXXIII, 5.
Caron, "Inventaire de documents," APQ Rapport, 1939–40, 157–353. "Correspondance de Talon," APQ, Rapport, 1930–31, passim. Dollier de Casson, Histoire du Montréal, 179–93. Édits ord., III, 27f. Marie Guyart de l'Incarnation, Lettres (Richaudeau), II, 289–354. JR (Thwaites), XLIX, L, LI. JJ (Laverdière et Casgrain). Juchereau, Annales (Jamet). Jug. et délib. NYCD (O'Callaghan and Fernow), III, IX. Ord. comm. (P.-G. Roy), I, 22–74. PAC Rapport, 1905, I, 1vi.
Raphaël Bellemare, "M. de Tracy et la Nouvelle-France," BRH, III (1897), 77ff. Chapais, Talon. Faillon, Histoire de la colonie française, III, 119–67. Ægidius Fauteux, "La carrière pré-canadienne de Monsieur de Tracy," Cahiers des Dix, I (1936), 59–93. Garneau, Histoire du Canada, I, 379–90. P.-G. Roy, "Le palais occupé par M. de Tracy à Québec en 1665–1666," BRH, XXVII (1921), 353–58. Régis Roy, "Alexandre de Prouville, sieur de Tracy," BRH, XIV (1908), 285–87; "M. de Tracy était-il marquis?" ibid., X (1904), 252f., 342–45. Sulte, Mélanges historique (Malchelosse), VIII.
Revisions based on:
Arch. Nationales (Paris, Fontainebleau et Pierrefitte-sur-Seine), MC/ET/XXXVI/116, 17 nov. 1624; mss, Français 32587.
© 1966–2023 University of Toronto/Université Laval
Notes
This biography was first published with terms that were regarded as appropriate at the time and are now considered offensive. These terms have been amended.
Cite This Article
Léopold Lamontagne, "PROUVILLE DE TRACY, ALEXANDRE DE," in Dictionary of Canadian Biography, vol. 1, University of Toronto/Université Laval, 2003–, accessed December 6, 2023, http://www.biographi.ca/en/bio/prouville_de_tracy_alexandre_de_1E.html.
The citation above shows the format for footnotes and endnotes according to the Chicago manual of style (16th edition). Information to be used in other citation formats:
| | |
| --- | --- |
| Permalink: | http://www.biographi.ca/en/bio/prouville_de_tracy_alexandre_de_1E.html |
| Author of Article: | Léopold Lamontagne |
| Title of Article: | PROUVILLE DE TRACY, ALEXANDRE DE |
| Publication Name: | Dictionary of Canadian Biography, vol. 1 |
| Publisher: | University of Toronto/Université Laval |
| Year of publication: | 1966 |
| Year of revision: | 2019 |
| Access Date: | December 6, 2023 |