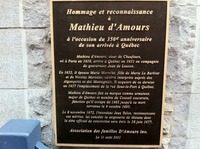 Source: Link
DAMOURS (d'Amours) DE CHAUFFOURS, MATHIEU, town-major of Quebec, ship-owner, member of the Conseil Souverain, Seigneur de Matane; b. 1618, son of Louis Damours, counsellor at the Châtelet in Paris, and of Élisabeth Tessier; m. Marie Marsolet 30 April 1652 at Quebec; buried 9 Oct. 1695 at Quebec.
Mathieu Damour's ancestors belonged to the French nobility and had possessed seigneuries in Anjou. The seigneury of Chauffours, situated near Angers, had been acquired in 1586 by Jean Damours, counsellor in the Parlement of Brittany. Mathieu Damours arrived at Quebec in 1651, along with his sister Élisabeth and his brother-in-law Louis-Théandre Chartier de Lotbinière, on 13 October, probably on the same ship which brought Governor Jean de Lauson. On 16 March 1652 Mathieu Damours signed before Rolland Godet a marriage contract with Marie Marsolet, daughter of Nicolas Marsolet, the famous interpreter for the French in their dealings with the Algonkins; he married her on 30 April. The Jugements et délibérations du Conseil Souverain inform us about the earliest activities at Quebec of Mathieu Damours, who "shortly after his arrival . . . was chosen to be Major of this town, and subsequently to be in command of a flying column."
When the Conseil Souverain was set up in 1663, Governor Saffray de Mézy and Bishop Laval* appointed Mathieu Damours to be a councillor. He was present at the first meeting, 18 Sept. 1663, thus commencing a long career, for he was a member of the Conseil Souverain until his death. Damours was involved in some incidents which arose among the members of the council. Thus, from the spring of 1664 on, in the conflict which set the governor against the bishop, Damours was on the side of the governor, who maintained him in his functions. When the council was reorganized in December 1666, Prouville de Tracy reappointed Damours as a councillor.
Subsequently the councillor's career was fairly peaceful, at least until 1681. In April of that year Damours obtained a fur-trading licence and spent part of the summer on his seigneury at Matane, whence he returned with a well-filled boat. As soon as he arrived at Quebec he was summoned to appear before Governor Buade de Frontenac, who reproached him with having broken the terms of his contract by bringing back more merchandise than had been authorized. In spite of the councillor's protestations, the governor had Mathieu Damours imprisoned on 12 Aug. 1681 in one of the rooms of the Château Saint-Louis. Despite the intervention of the members of his family and his friends, Damours was not released until more than two months later, on 20 October. It was perhaps an act of vengeance on Frontenac's part against a councillor who had not been too much in sympathy with him the previous year in the council.
On 8 Nov. 1672 Damours had acquired the seigneury of Matane, where he made absolutely no effort to develop agriculture and made no grants of land. It seems to have been solely the supplies of fish in the Rivière Matane that interested the seigneur, who had besides received a grant of land on the Saint John River that was reputed to be prosperous. He also received a land grant on the Rivière Métis from Intendant Duchesneau, on 26 June 1677, with fishing rights on the St. Lawrence River.
Mathieu Damours died on 9 Oct. 1695 at Quebec, and his wife, who had borne him 15 children, died on 24 Nov. 1711 at Montreal. Several of their children settled in Acadia, where the Damours family was able in this way to take root. His sons, including Mathieu Damours de Freneuse, carried on the line.
AJQ, Greffe de Rolland Godet, 16 mars 1652. Jug. et délib., I, II, III. Lettres de noblesse (P.-G. Roy), II, 3–14. Claude de Bonnault, "Le Canada militaire, état provisoire des officiers de milice, de 1641 à 1760," APQ Rapport, 1949–51, 293. BRH, IV (1898), 110; XX (1914), 147. DBF, II, 707–11. P. de Montagu, "Les familles d'Amours de Serain et d'Amours de Chauffour," BRH, XXXIII (1927), 328–31. P.-G. Roy, "Mathieu Damours de Chauffours," BRH, XXXII (1926), 385–92.
Revisions based on:
Bibliothèque et Arch. Nationales du Québec, Centre d'arch. de Québec, CE301-S1, 30 avril 1652.
© 1966–2023 University of Toronto/Université Laval
Image Gallery

Cite This Article
F. Grenier, "DAMOURS (d'Amours) DE CHAUFFOURS, MATHIEU," in Dictionary of Canadian Biography, vol. 1, University of Toronto/Université Laval, 2003–, accessed June 6, 2023, http://www.biographi.ca/en/bio/damours_de_chauffours_mathieu_1E.html.
The citation above shows the format for footnotes and endnotes according to the Chicago manual of style (16th edition). Information to be used in other citation formats:
| | |
| --- | --- |
| Permalink: | http://www.biographi.ca/en/bio/damours_de_chauffours_mathieu_1E.html |
| Author of Article: | F. Grenier |
| Title of Article: | DAMOURS (d'Amours) DE CHAUFFOURS, MATHIEU |
| Publication Name: | Dictionary of Canadian Biography, vol. 1 |
| Publisher: | University of Toronto/Université Laval |
| Year of publication: | 1966 |
| Year of revision: | 2015 |
| Access Date: | June 6, 2023 |