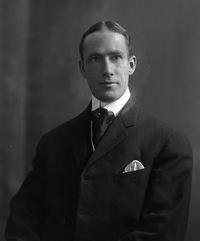 Source: Link
PULFORD, ERNEST HARVEY, athlete and salesman; b. 22 April 1875 in Toronto, younger son of Ernest George Pulford and Mary Emma (Minnie) Dennis; grandson of John Stoughton Dennis*; nephew of John Stoughton Dennis; m. first 13 April 1901 Annis May Field (d. 7 Dec. 1904) in Brockville, Ont., and they had one son; m. secondly 7 June 1906 Jennie Moore, née Davison, a divorcee (d. 29 April 1947), in Ottawa; they had no children; d. there 31 Oct. 1940.
Ernest George Pulford, his wife, Minnie, and their infant son, Dennis, immigrated to Canada from England in May 1874. The family first settled in Toronto; Ernest found work (the city directory for 1877 would describe him as an accountant), and Harvey was born there the following spring. In 1878 Ernest took a position with the Department of the Secretary of State and the Pulfords moved to Ottawa, where during the next decade they lived in a succession of lodgings. Though the two brothers bounced from one school to another as a result, one constant in Harvey's life was his athletic prowess. In 1889 he got his first taste of being in the limelight when the local press reported that he had won several competitions in track and field at the city's Model School.
Around 1891 Pulford began his working life as a clerk with John M. Garland, a wholesale dry-goods firm for which he later became a salesman. He would thereafter combine a career in business with success in a remarkable variety of sports. He played lacrosse with the intermediate-level squad of the Ottawa Capitals through much of the 1890s, and during the 1898 season he moved up to their senior team, which lost in the championship game that year. He boxed with the Ottawa Amateur Athletic Club, and he especially excelled at rugby football. From 1893 to 1905 Pulford was a star player at the wing position with the Ottawa Rough Riders, who competed in the Ontario Rugby Football Union and won the Canadian championship in 1898, 1900, and 1902. The team's captain for many years, Pulford was known as a gritty player; in the 1898 semi-final game, for example, he had to be carried off the field after being injured, only to return and, according to the Ottawa Citizen, make some "neat runs."
Pulford would become best known in Canada for his ability as a hockey player. He started out with the young Ottawas, the junior squad of the Ottawa Hockey Club, and graduated to the senior team in 1894. Pulford was tall and sturdily built, and owing to his robust playing style, which included delivering punishing body-checks on attacking forwards, he was nicknamed the Bytown Slugger. Since he played the defensive position of point, he seldom rushed the puck, preferring to hoist it in the air and down the ice, a tactic popular with fans. Pulford was admired by his teammates and served as their captain. He was involved in two notable controversies during the late 1890s: first, he placed a player disliked by other team members in the line-up for an exhibition contest; secondly, an injury forced him to sit out an important game, which the club's executive unjustly regarded as a "pretty mean throw-down."
After 1902, when Pulford joined Gault Brothers' Company Limited as a commercial traveller in wholesale dry goods, he had to maintain an extremely tight schedule to balance business and sport. He was a regular for the Ottawa Hockey Club, which came to be known as the Silver Seven [see Francis Clarence McGee*]. In March 1903 the team beat the Montreal Victorias to win the Stanley Cup [see Frederick Arthur Stanley*], which they then held against all challengers until they lost to the Montreal Wanderers three years later. Considered an elite defenceman, Pulford was essential during this successful run, even though a two-game championship series, played in January 1905, took place just six weeks after his wife, Annis May, died in childbirth, leaving their only child, Harvey Field. Pulford retired in 1908, but he worked as a referee from 1912 to 1919 for the National Hockey Association and its successor, the National Hockey League.
Though he was most famous in Canada as a hockey player, it was in rowing that Pulford won international acclaim, as Edward Hanlan* had done in the 1870s and 1880s. Pulford had become active with the Britannia Boating Club at the turn of the century, winning several local and regional events. By 1905 he had switched to the Ottawa Rowing Club, and there, as stroke with the junior fours and then the senior eights, he brought first-place honours to the club at various regattas. In 1909 he was briefly in trouble because the Canadian Association of Amateur Oarsmen reinstated him after he had played professional hockey, even though an athlete who had been paid to play in one sport was then ineligible to compete as an amateur in any other. This decision did not sit well with the Canadian Amateur Athletic Union [see Francis Joseph Nelson], but the controversy soon died down.
As captain and stroke of the Ottawa club's senior eights, Pulford won the 1910 Royal Canadian Henley Regatta in St Catharines, as well as the American national championship in Washington, D.C. The following year his crew travelled to England to compete for the ultimate prize in rowing, the Grand Challenge Cup of the world-famous Henley Royal Regatta. They lost narrowly in the semi-final to the crew from the University of Oxford's Magdalen College in what was considered to be one of the fastest races in years. Pulford later expressed his opinion that participating in this regatta was his greatest athletic achievement.
Having reached the pinnacle of his career, Pulford now devoted more attention to his business activities. After many years at Gault Brothers, in 1921 he went into the insurance field with the Imperial Life Assurance Company of Canada. Still, he could not stay away from sports entirely: he won the Ottawa squash championship in the mid 1920s and served as president of the Eastern Rowing Association from 1931 to 1932. In the fall of 1940 he entered hospital because of heart problems; he died on 31 October from an arterial embolism.
Alfred Edward Smith*, a member of the Silver Seven, perhaps summed up his teammate's approach to athletics best when he observed, "I have never known anyone who showed the keenness about keeping himself in shape that Harvey Pulford did. He was always the first man at the rink or on the football field, and he was always the last to leave." Former teammate Frederick Wellington Taylor* praised Pulford's conduct as well as his athletic ability, reflecting that he "was always a gentleman in every way," while close friend Philip Dansken Ross* lamented, "The world seems colder to me with Harvey Pulford gone." Like Howard William Morenz and Georges Vézina*, Pulford was among the 13 original inductees into the Hockey Hall of Fame in 1945, and he was also honoured with a place in the Greater Ottawa Sports Hall of Fame upon its establishment 21 years later. Harvey Pulford's remarkable athletic stature and versatility received full recognition in 2015, when he was inducted into Canada's Sports Hall of Fame.
Ancestry.com, "New York, passenger lists, 1820–1957," E. G. Pulford; and "Ottawa, Canada, Beechwood Cemetery reg., 1873–1990," Ernest Harvey Pulford: ancestry.ca (consulted 5 Oct. 2016). AO, RG 2-256-0-1 (Provincial Model School, Ottawa – Applications for admission book (boys)); RG 80-2-0-74, no.25383; RG 80-5-0-292, no.10407; RG 80-5-0-345, no.5825; RG 80-8-0-289, no.8177. Gazette (Montreal), 1 Nov. 1940. Ottawa Citizen, 30 Dec. 1897; 21, 25 Nov. 1898; 30 Jan. 1899; 26 Nov. 1900; 17 Nov. 1902; 5, 7, 9 Aug. 1905; 30 July, 3 Aug. 1909; 8, 9, 11, 15 Aug. 1910; 31 Oct., 1 Nov. 1940. Ottawa Evening Journal, 28, 29 June 1889; 26 Sept. 1898; 23, 30 July, 7 Aug. 1900; 8 Aug. 1902; 11 March 1903; 18 July 1904; 11, 12, 13, 14, 15, 16, 17 Jan. 1905; 6, 7 July 1911; 5 Feb. 1913; 27 June 1932; 31 Oct., 1 Nov. 1940. Toronto Daily Star, 31 Dec. 1897. Can., Dept. of the Secretary of State, The civil service list of Canada … (Ottawa), 1889. C. L. Coleman, The trail of the Stanley Cup (3v., [Montreal], 1966–76), 1. Dan Diamond and Joseph Romain, Hockey Hall of Fame: the official history of the game and its greatest stars (Toronto, 1988). Directory, Ottawa, 1880–1923. Directory, Toronto, 1877. Bob Ferguson, Who's who in Canadian sport (4th ed., Markham, Ont., 2005). Paul Kitchen, Win, tie, or wrangle: the inside story of the old Ottawa Senators, 1883–1935 (Manotick, Ont., 2008). Jim McAuley, The Ottawa sports book: vignettes from Ottawa's sport history (Burnstown, Ont., 1987). Ottawa Amateur Athletic Club, Annual report (Ottawa), 1896–97.
© 2019–2023 University of Toronto/Université Laval
Cite This Article
Paul Kitchen, "PULFORD, ERNEST HARVEY," in Dictionary of Canadian Biography, vol. 16, University of Toronto/Université Laval, 2003–, accessed October 2, 2023, http://www.biographi.ca/en/bio/pulford_ernest_harvey_16E.html.
The citation above shows the format for footnotes and endnotes according to the Chicago manual of style (16th edition). Information to be used in other citation formats:
| | |
| --- | --- |
| Permalink: | http://www.biographi.ca/en/bio/pulford_ernest_harvey_16E.html |
| Author of Article: | Paul Kitchen |
| Title of Article: | PULFORD, ERNEST HARVEY |
| Publication Name: | Dictionary of Canadian Biography, vol. 16 |
| Publisher: | University of Toronto/Université Laval |
| Year of publication: | 2019 |
| Year of revision: | 2019 |
| Access Date: | October 2, 2023 |