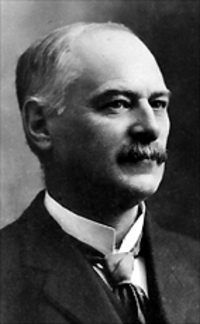 Source: Link
REID, JOHN DOWSLEY, doctor, businessman, and politician; b. 1 Jan. 1859 in Prescott, Upper Canada, son of John Reid, a cabinetmaker, and Jane Dowsley; m. 25 Jan. 1899 Ephie Elizabeth Labatt in Hamilton, Ont., and they had a daughter and a son; d. 26 Aug. 1929 near Prescott.
John Dowsley Reid's mother came from a family in the Prescott area; his father, a native of Belfast, entered the customs office in Prescott in 1865, worked for the Edwardsburg Starch Company in nearby Cardinal [see William Thomas Benson*], and became collector of canal tolls there. John was educated in local schools and in 1890 he graduated in medicine from both Queen's College in Kingston and Trinity College in Toronto. He practised for a short time in Cardinal, and in 1906 he would be admitted to the College of Physicians and Surgeons of Ontario. Throughout his life he engaged in business ventures and investment: early in his career he managed Edwardsburg Starch for seven years and the Imperial Starch Company Limited for four.
Reid's principal interest was politics. Shortly after receiving his medical degrees, he was asked by Sir John A. Macdonald* to stand for the Conservatives in Grenville South, which included Prescott and Cardinal. In 1891 he won the seat, which would be renamed Grenville in 1903. An opposition backbencher, he was far from being inconspicuous in party affairs. His managerial skills were soon recognized and he became a key electoral organizer in eastern Ontario. Following party defeats under Sir Charles Tupper* in 1900 and Robert Laird Borden* in 1904 and 1908, Doc Reid, as he was known, joined the small group of malcontents who challenged Borden's leadership in 1910. Some disliked the way Borden was handling the split between French and English Canadian mps over the naval issue; others were exasperated by his failure to consult the veteran members of caucus when he developed policy. Borden beat them down with a threat to resign. In March 1911, just as the Conservatives were consolidating their opposition to the reciprocity agreement negotiated by Sir Wilfrid Laurier*'s government, the rebels tried again to get rid of Borden but failed, leaving Reid, a Tory journalist noted, "very frightened."
Borden, however, needed him for the general election in September, and Reid responded eagerly. Three days before the contest he reported to Borden that "as to Eastern Ontario . . . I honestly believe everyone we now have is safe." Whereas the Conservatives had won 48 Ontario seats in 1908, they now captured 73, including 20 of the 24 in Reid's charge, and the Conservatives claimed power. Under pressure from Francis Cochrane*, who had taken over from Albert Edward Kemp as chief organizer for Ontario and was about to become minister of railways and canals, Borden rewarded Reid with the Ministry of Customs, but only after a stern lecture on loyalty. Rich in patronage potential, Customs was the third largest ministry after Railways and Canals and the Post Office. More important, in the days before direct taxation, it was responsible for collecting most of the government's revenue.
Over the years Reid's loyalty to his prime minister kept pace with Borden's recognition of his managerial skills. Reid, Cochrane, and Robert Rogers*, the minister of public works, handled the "practical affairs" of the governing party. As one minister after another succumbed to ill health or wartime pressures after 1914, Borden called on Reid to administer the vacated posts. This was especially true of Railways and Canals during Cochrane's physical decline. In 1914 Reid devised the plan and brokered the deal with Sir William Mackenzie and Sir Donald Mann* that gave the Canadian Northern Railway aid in return for the government's taking 40 per cent of its common stock. Two years later Reid had the Railway Act amended to facilitate the rapid transit of grain. And in 1915 Borden had turned to him to pacify Sir Samuel Hughes, the minister of militia and defence, when Borden abolished Hughes's Shell Committee and replaced it with the Imperial Munitions Board.
By October 1917, when Reid formally succeeded Cochrane, he had become one of Borden's closest confidants and an ardent conscriptionist. Convinced that the Conservatives could win an election without Liberal support, Reid was sceptical about the need for a coalition, but Borden was determined to fashion a union government and he turned to Reid to help him persuade such western Liberals as Arthur Lewis Watkins Sifton, James Alexander Calder*, and Thomas Alexander Crerar* to join. When the conscription election finally came, in December, Reid was given overall control of Ontario. He worked, often in uneasy alliance with Newton Wesley Rowell*, the former Ontario Liberal leader who had joined the new Union government, to sort out the claims of conscriptionist Conservatives and Liberals to be candidates. On election day 74 of the province's 82 constituencies returned Unionists, part of the conscriptionist wave that swept over every province but Quebec and changed the face of national politics.
Railways and Canals, in which Reid continued, was a demanding portfolio. He had oversight of the ongoing construction of the Trent Canal and the rebuilding of the Welland Canal, negotiated postwar land settlement plans with the provinces, and carried the Canada Highways Bill in 1919, one of the first cost-sharing programs in dominion-provincial relations. His principal assignments were finishing the nationalization of the Canadian Northern, establishing the new Canadian National Railway Company, and bringing the Grand Trunk and Grand Trunk Pacific railways into the system. In June 1919 Borden, who had just returned from the Paris Peace Conference, discovered that Reid was "in poor health and wished to retire," but he stayed on and acted as the prime minister's eyes and ears in caucus and the House of Commons while Borden, exhausted by his wartime leadership, spent most of the next year away from Ottawa. Often Reid's news was not good. The Union government was collapsing, and in October 1919 Reid reported that "We have two leaders, viz. [Sir George Eulas Foster*] from 3 till 6 pm and [Charles Joseph Doherty*] after that and to put it mildly neither have sufficient influence with the members to hold the House."
Borden stepped down in July 1920. Reid stayed on under Arthur Meighen*, attending to the ongoing negotiation with the Grand Trunk. He resigned his ministry on 20 Sept. 1921; he was 62, had been in the house for almost three decades, and had no desire to face another election. Two days later Meighen appointed him to the Senate, where he was a strong advocate of the formation of the United Church of Canada, an opponent of the Old Age Pensions Bill of Liberal prime minister William Lyon Mackenzie King* in 1926, and a cautionary voice in 1928 over proposals to improve the canal system and exploit the hydroelectric power of the St Lawrence River between Montreal and Kingston. He feared that American interests would take control of both developments.
During his years in the Senate, Reid and his wife lived on River Road near Prescott. A fisherman and hunter, he was a trustee of the local Presbyterian church, a freemason, an Oddfellow, and in 1929 president of the Canadian Pacific Car and Passenger Transfer Company Limited, which ferried trains across the river. In August 1929 he suffered a stroke and died two days later, leaving an estate worth over $636,000; he was buried in the Blue Church cemetery west of Prescott. Thomas H. Blacklock, a Conservative journalist and friend, observed in the Toronto Daily Mail and Empire that Doc Reid had "had an almost uncanny prescience in judging Ontario sentiment. . . . He overlooked not the slightest detail in the Ontario Conservative organization, nor anything that might sway the Ontario people."
AO, RG 22-179, no.8735; RG 80-5-0-275, no.16655. NA, MG 26, H: 3854–56, 7241–42, 40903–04, 62875–81, 70415–17, 157719; Diary; RG 31, C1, 1861, Prescott, Upper Canada [Ont.]; 1871, Edwardsburg, Ont. Univ. of Toronto Arch., A73-0026/375(24). Daily Mail and Empire, 27 Aug. 1929. Ottawa Citizen, 27 Aug. 1929. Prescott Journal (Prescott, Ont.), 29 Aug. 1929. R. L. Borden, Robert Laird Borden: his memoirs, ed. Henry Borden (2v., Toronto, 1938). R. C. Brown, Robert Laird Borden, a biography (2v., Toronto, 1975–80). Canadian annual rev., 1902–27/28. Canadian directory of parl. (Johnson). Cardinal, Ont., Council, A history of Cardinal ([Cardinal, 1967]). A. W. Currie, The Grand Trunk Railway of Canada (Toronto, 1957). John English, The decline of politics: the Conservatives and the party system, 1901–20 (Toronto, 1977). Roger Graham, Arthur Meighen: a biography (3v., Toronto, 1960–65), 1: The door of opportunity; 2: And fortune fled. T. D. Regehr, The Canadian Northern Railway, pioneer road of the northern prairies, 1895–1918 (Toronto, 1976).
© 2005–2023 University of Toronto/Université Laval
Image Gallery

Cite This Article
Robert Craig Brown, "REID, JOHN DOWSLEY," in Dictionary of Canadian Biography, vol. 15, University of Toronto/Université Laval, 2003–, accessed September 29, 2023, http://www.biographi.ca/en/bio/reid_john_dowsley_15E.html.
The citation above shows the format for footnotes and endnotes according to the Chicago manual of style (16th edition). Information to be used in other citation formats:
| | |
| --- | --- |
| Permalink: | http://www.biographi.ca/en/bio/reid_john_dowsley_15E.html |
| Author of Article: | Robert Craig Brown |
| Title of Article: | REID, JOHN DOWSLEY |
| Publication Name: | Dictionary of Canadian Biography, vol. 15 |
| Publisher: | University of Toronto/Université Laval |
| Year of publication: | 2005 |
| Year of revision: | 2005 |
| Access Date: | September 29, 2023 |