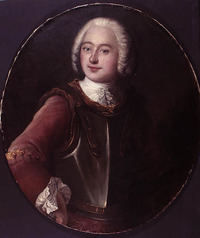 RIGAUD DE VAUDREUIL, LOUIS-PHILIPPE DE, Marquis de VAUDREUIL, naval officer; b. 26 Sept. 1691 in Quebec, eldest son of Philippe de Rigaud* de Vaudreuil and Louise-Élisabeth de Joybert* de Soulanges et de Marson; d. in France probably in 1763.
Louis-Philippe de Rigaud de Vaudreuil joined the service on 8 May 1695 when still a child, with an expectancy of an ensigncy in the colonial regular troops in Canada. On 20 May 1698 he received a commission as ensign on the active list and midshipman. He was promoted lieutenant on 15 June 1705. He embarked in 1707 upon the Héros and took part in the fight in which this ship was engaged off the Azores. On 5 May 1710 he was promoted captain and took part in action on the Africain. The following year he was sent to the court by his father to report the disaster which had befallen an English squadron en route to attack Quebec [see Sir Hovenden Walker*]. On that occasion he was presented to Louis XIV and to Pontchartrain, the minister of Marine, who on 5 July 1711 granted him a commission as naval sublieutenant. On 28 June 1713 he was promoted lieutenant-commander and served in turn on the François (1716), the Éléphant (1718), the Chameau (1720 and 1723), and the Dromadaire (1722 and 1725), carrying out transport missions between France and Canada.
In 1727 he was on the Ardent in the Mediterranean, then in 1729 in command of the Éléphant. This ship, which sailed for Quebec with the new financial commissary, Hocquart*, the coadjutor, Dosquet*, and Louis-Philippe's two brothers Pierre* and François-Pierre*, was lost on 1 Sept. 1729 on a rock near Cap Brûlé, some 30 miles from its destination [see Claude Lebeau*; Richard Testu de La Richardière]. All those on board were saved, and Vaudreuil was absolved from blame by the court martial held on 7 March 1730 in Rochefort, France, under the presidency of the naval officer commanding the port. That same year he served in Canada as second in command of the Rubis. In 1731 he took part in action in the West Indies on the François, and in 1734–35 he commanded the Charente when it sailed for Île Royale (Cape Breton Island). On 1 April 1738 he was promoted naval captain. The following year he took command of the Jason and carried Isaac-Louis de Forant* and François Bigot* to Louisbourg, where they were governor and financial commissary.
Vaudreuil received command of the Victoire in 1741. In 1744 he assumed command of the Aquilon, then of the Heureux in the Mediterranean squadron and took part in the battle fought off Toulon by Claude-Elisée de Court de La Bruyère against the squadron of the English admiral Thomas Mathews. Then he escorted convoys between Toulon and the island of Malta. In 1747 he distinguished himself particularly while commanding the Intrépide, one of the squadron of eight vessels commanded by Henri-François Des Herbiers de L'Étenduère which had the task of protecting a huge convoy of 252 merchant ships en route from France to the West Indies. On 25 October the formation was attacked by the 14 vessels led by the English admiral Edward Hawke. Quickly caught in crossfire thanks to a skilful manoeuvre on the part of the enemy, the French squadron defended itself with the utmost determination, and the combat was extremely violent. Brilliantly supporting his commander, who was on the Tonnant, Vaudreuil saved the ship from certain loss, wresting it by main force from capture by three enemy vessels, and towed it as far as Brest. Thanks to the energetic defence the convoy was able to escape, and the disabled English vessels were unable to pursue it. His brilliant conduct earned Vaudreuil a promotion on 1 April 1748 to the rank of rear-admiral. On 25 Aug. 1753 he was named vice-admiral, and he ended his career as naval officer in command at Rochefort.
Vaudreuil had been named a knight of the order of Saint-Louis on 23 Dec. 1721, and was promoted commander of the order on 1 July 1754 and knight grand cross on 14 Nov. 1756. On 22 Dec. 1723 he had married Élisabeth-Catherine, daughter of Joseph Le Moyne* de Serigny et de Loire, governor of the port of Rochefort, and Marie-Élisabeth Héron. Of this marriage were born three sons who served in the Marine. Two of them, Louis-Philippe and Jean-Louis, reached the rank of vice-admiral and distinguished themselves during the American revolution.
AN, Col., B, 17, f.244v; 20, f.71v; 29, f.390; 35, f.337; C11A, 51; Marine, B4, 40, ff.368–76; 56, ff.53–122; 61, ff.177–250; C1, 165; 166, p.26; C7, 340 (dossier Louis-Philippe de Vaudreuil); G, 38, p.7. Taillemite, Inventaire analytique, série B, I, 296; Dictionnaire de la Marine (Paris, 1962), 266. R.-V.-P. Castex, Les idées militaires de la Marine du XVIIIe siècle; de Ruyter à Suffren (Paris, [1911]), 223ff. Lacour-Gayet, La marine militaire sous Louis XV (1910), 157, 187, 388, 498. Troude, Batailles navales de la France, I, 316. N.-E. Dionne, "Le naufrage de l'Éléphant," BRH, XI (1905), 119–21.
© 1974–2023 University of Toronto/Université Laval
Image Gallery

Cite This Article
Étienne Taillemite, "RIGAUD DE VAUDREUIL, LOUIS-PHILIPPE DE, Marquis de VAUDREUIL," in Dictionary of Canadian Biography, vol. 3, University of Toronto/Université Laval, 2003–, accessed June 7, 2023, http://www.biographi.ca/en/bio/rigaud_de_vaudreuil_louis_philippe_de_3E.html.
The citation above shows the format for footnotes and endnotes according to the Chicago manual of style (16th edition). Information to be used in other citation formats:
| | |
| --- | --- |
| Permalink: | http://www.biographi.ca/en/bio/rigaud_de_vaudreuil_louis_philippe_de_3E.html |
| Author of Article: | Étienne Taillemite |
| Title of Article: | RIGAUD DE VAUDREUIL, LOUIS-PHILIPPE DE, Marquis de VAUDREUIL |
| Publication Name: | Dictionary of Canadian Biography, vol. 3 |
| Publisher: | University of Toronto/Université Laval |
| Year of publication: | 1974 |
| Year of revision: | 1974 |
| Access Date: | June 7, 2023 |