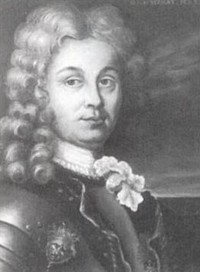 Source: Courtesy of Wikimedia Commons
LE MOYNE DE SERIGNY ET DE LOIRE, JOSEPH, naval officer, knight of the order of Saint-Louis, joint commander of Louisiana, governor of Rochefort; baptized 22 July 1668 at Montreal; d. 12 Sept. 1734 at Rochefort. He was the sixth son of Charles Le Moyne* de Longueuil et de Châteauguay and Catherine Thierry, and a younger brother of Pierre Le Moyne d'Iberville. Serigny married Marie-Élisabeth Héron at Rochefort, and by her had at least two sons and one daughter.
Joseph Le Moyne de Serigny began his service in 1686; on 28 May he was appointed a midshipman at Rochefort. In November 1687, he acted as interpreter for the Iroquois captives taken during Governor Brisay de Denonville's campaign that year and sent to Marseilles to serve in the galleys. Denonville's tactlessness in shipping these Indians to France was corrected the following year, and in 1689 Serigny was again dispatched to escort the Iroquois from Marseilles to La Rochelle, where they embarked for New France.
It is difficult to ascertain how long Serigny continued to serve at Rochefort; he may well have taken part in the preparations for Iberville's abortive campaigns against the English at York Fort in Hudson Bay in 1690 and 1692. He became a sub-lieutenant in the navy on 1 Jan. 1692, and in 1693 he saw service aboard his brother's vessel, the Poli. When the expedition to York Fort finally materialized in 1694, with Iberville again in command of the Poli, Serigny was appointed to command the Salamandre. Leaving Rochefort in May 1694, the two frigates came first to Quebec, where Serigny shared with his brother the task of recruiting the 110 Canadians who took part in the campaign and of drawing up contracts with them. The party left Quebec on 10 August, and by 13 October Iberville, after reconnoitering the English installations, was in a position to demand the surrender of the fort. The following day, the commander, Thomas Walsh, "basely surrendered." Louis*, Sieur de Châteauguay, Serigny's brother and his ensign on the Salamandre, was lost in the action. After wintering at Fort Bourbon (York Fort), both Iberville and Serigny sailed for France in September 1695; the latter arrived at La Rochelle on 11 October, with a prize of 80 tons in tow.
The following season, Serigny, who had been promoted lieutenant-commander on 1 Jan. 1696, was ordered to sail to Hudson Bay to bring supplies to Fort Bourbon and to attempt the capture of the one remaining English post in the north, Albany Fort (Sainte-Anne), which had been recaptured by James Knight in 1693. He sailed from La Rochelle on 9 May 1696 and, after leaving Iberville at Placentia (Plaisance) on 21 June, departed for Hudson Bay on 8 July with two vessels, the Hardi and the Dragon. After being delayed by heavy ice, he finally arrived before Fort Bourbon on 2 September, only to find that an English squadron had preceded him by just two hours. After cruising for several days in sight of Bourbon and the enemy squadron, Serigny finally resigned himself to the futility of any counter action. Leaving Fort Bourbon to defend itself, he sailed away to France, arriving at Île d'Aix in October 1696.
Undismayed by their rapid ouster from Fort Bourbon, the French authorities immediately decided to restore their fortunes by seizing Hudson Bay's most lucrative fur-trading station. During the following winter, Serigny prepared to take a squadron of five vessels to Iberville, who joined the expedition at Placentia and took over the command from his brother. After an arduous voyage north, Serigny in the Palmier lost his rudder on a sand-bar, and barely arrived before York Fort in time for the siege. He was twice dispatched on 12 September to demand that the English surrender. After being refused the first time, Serigny returned the same afternoon, this time telling the commander, Henry Baley, "that it would be the last time that he [would come]." The following day, the French flag flew once more at Bourbon.
Though Serigny was to have sailed immediately with Iberville, he was detained until the following autumn awaiting a replacement from France for his damaged rudder. In the meantime, as the highest ranking officer, he assumed command of Hudson Bay. Despite his inexperience in commercial matters, he was associated closely enough with his brother's interests to trade in furs on his behalf for a year. When his rudder and 50 additional crew members arrived the following summer, Serigny sailed first to Quebec, and then to La Rochelle where he arrived in November 1698.
In the spring of 1699, Serigny was ordered to sail a frigate to Hudson Bay to evacuate Fort Bourbon which was being exchanged for the James Bay posts, in conformity with the terms of the treaty of Ryswick. Before leaving, however, he received orders to sail instead with reinforcements for Iberville, who had embarked upon his Louisiana adventure. Nevertheless Serigny apparently did not go to Louisiana until 1701, when he accompanied his brother on the latter's third voyage. He left France in September of that year commanding the Palmier once again. After erecting a storehouse and other buildings on Île Dauphine, and probably engaging in trade, Serigny left Louisiana for France in April 1702.
Like Iberville, he did not return again to the New World until 1706. There is no record of his being in the royal service in France during this period, but there are several suggestions that his Louisiana voyage had been a profitable one. He made a number of important investments, particularly the purchase of the seigneury of Loire in Aunis and, with Iberville, of a number of "captaincies in the coast guards" from the royal treasury. As might be expected, the Le Moynes, a close-knit family pursuing successful careers and accumulating in the process substantial wealth in new and distant colonies, were beginning to be a source of much jealousy. There is as well ample evidence to suggest that they had in fact enjoyed the benefit of illicit gains.
When Iberville led an armament to harass the British in the West Indies in 1706, Serigny was placed in command of the Coventry, one of 12 vessels in the powerful squadron. After part of the force ravaged St Christopher (St Kitts), Iberville attacked and mercilessly pillaged the small island of Nevis from 1 April 1706. Of more importance to Serigny's career than the sacking of Nevis was his involvement in various fraudulent enterprises during the campaign. After a thorough investigation by the crown into the alleged malpractices, Serigny's and Iberville's guilt emerged, as did that of their agents and outfitters in France and nearly every officer of the entire squadron. In close association with Iberville, Serigny had made illicit profits from the sale of merchandise and supplies, which the crown had furnished for the expedition, and from the disposal of Nevis booty. The supplies which he was to take to Louisiana following the capture of Nevis provide a good example of his activities. Instead of sailing directly to the Mississippi colony, Serigny called at Vera Cruz, where he unloaded not only his share of the Nevis booty but a substantial portion of the supplies so direly needed in Louisiana, at a net profit later estimated at 60,000 piastres. Despite such unequivocal evidence of guilt, Serigny employed every stratagem to evade costly restitution. The widespread resentment and distrust to which these irregularities gave rise in Louisiana, New France, and especially in the ministry of Marine, compromised for many years the normal advancement in the service of Serigny and his brothers Jean-Baptiste*, Sieur de Bienville and Antoine, Sieur de Châteauguay. Indeed, it was Serigny himself, after the death of Iberville in July 1706, who most personified to the minister the atmosphere of fraudulence that surrounded the whole campaign.
Serigny's activities are virtually unknown for the next ten years; it was not until 1716 or 1717 that the first indication of renewed ministerial favour appeared. In July 1718 he was ordered to sail a vessel of the Compagnie des Indes Occidentales to Louisiana and to remain there for two years serving with Bienville as joint commander of the colony. He was accompanied in this campaign by his son, the Chevalier de Loire, a midshipman at Rochefort. In May 1719, soon after his arrival and with France at war with Spain, he attacked the Spanish base at Pensacola with 3 vessels and 150 men. The Spaniards surrendered easily and although Serigny's brother, Châteauguay, was compelled to return the base to a superior force the following August, a French squadron arrived in September, and promptly regained the town. Following this campaign Serigny was promoted, on 1 Feb. 1720, naval captain and was awarded the coveted cross of Saint-Louis at about the same time.
Serigny was to have returned to France in 1720, but the council of commerce of Louisiana requested in April that he delay his departure pending the return of the more competent officers of the colony from captivity in Havana. Though it is not certain when he did sail, this was the last time he was to see the New World.
In France, Serigny took up residence in the Rochefort area. He was appointed governor of that important port in 1723 and because of its role in shipping to America, he no doubt retained his interest in both Canada and Louisiana. Though the record of his remaining years is spotty, it would seem that at the time of his death at Rochefort on 12 Sept. 1734 he was still governor. He was buried at Loire.
Archives de la Charente-Maritime (La Rochelle), E; Minutes Rivière et Soulard. Archives Maritimes, Port de Rochefort, 1E, 340. AN, V7, carton 214; Col., B, 19, 20, 33, 39, 42 bis, 59; C11A, 8, 10, 13, 14, 15; C13A, 1–6; Marine, B2, 183, 187; B3, 132. BN, MS, Fr. 31700; NAF 9294, 22811, 22814, 22815. Charlevoix, Histoire (1744), III. Découvertes et établissements des Français (Margry), IV. HBRS, XI, XX (Rich and Johnson); XXI (Rich). [Nicolas Jérémie], "Relation du Détroit et de la Baie d'Hudson par Monsieur Jérémie," with Intro. by J.-H. Prud'homme, Société hist. de Saint-Boniface Bull., II (1912). Jug. et délib., III. Kelsey papers (Doughty and Martin). La Potherie, Histoire (1753), I. MPA (Rowland and Sanders). Le Jeune, Dictionnaire. Frégault, Iberville. Charles Gibson, Spain in America (New York, [1966]). Giraud, Histoire de la Louisiane française, I, II. Pierre Heinrich, La Louisiane sous la Compagnie des Indes, 1717–1731 (Paris, [1908]). Alex. Jodoin et J.-L. Vincent, Histoire de Longueuil et de la famille de Longueuil (Montréal, 1889). Thérèse Prince-Falmagne, Un marquis du grand siècle, Jacques-René de Brisay de Denonville, gouverneur de la Nouvelle-France, 1637–1710 (Montréal, 1965).
© 1969–2023 University of Toronto/Université Laval
Image Gallery

Cite This Article
Bernard Pothier, "LE MOYNE DE SERIGNY ET DE LOIRE, JOSEPH," in Dictionary of Canadian Biography, vol. 2, University of Toronto/Université Laval, 2003–, accessed October 2, 2023, http://www.biographi.ca/en/bio/le_moyne_de_serigny_et_de_loire_joseph_2E.html.
The citation above shows the format for footnotes and endnotes according to the Chicago manual of style (16th edition). Information to be used in other citation formats:
| | |
| --- | --- |
| Permalink: | http://www.biographi.ca/en/bio/le_moyne_de_serigny_et_de_loire_joseph_2E.html |
| Author of Article: | Bernard Pothier |
| Title of Article: | LE MOYNE DE SERIGNY ET DE LOIRE, JOSEPH |
| Publication Name: | Dictionary of Canadian Biography, vol. 2 |
| Publisher: | University of Toronto/Université Laval |
| Year of publication: | 1969 |
| Year of revision: | 1982 |
| Access Date: | October 2, 2023 |