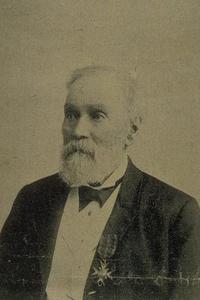 Source: Courtesy of Wikimedia Commons
ROBITAILLE, OLIVIER, physician, politician, and businessman; b. 3 Dec. 1811 at Quebec, son of Étienne Robitaille, a craftsman, and Marie-Denis Moisan; m. first 4 June 1844 Zoé-Louise Dénéchaud, daughter of Claude Dénéchau*, at Quebec, and they had four children; m. secondly 26 Oct. 1859 Charlotte Verchères de Boucherville, widow of Auguste Quesnel, at Boucherville, Lower Canada, and they had five children; d. 3 Nov. 1896 at Quebec.
Olivier Robitaille spent his childhood in the faubourg Saint-Jean at Quebec. After attending the Petit Séminaire de Québec from 1825 to 1833, he decided to become a physician. He then began training with Dr Joseph Morrin*, with whom he was to be long associated. In May 1835 Morrin secured him an appointment as an intern at the Marine and Emigrant Hospital, where he worked for 27 months. At the end of that time, in October 1837, Robitaille left with Joseph Marmette to complete his education in the United States. He obtained an md from Harvard University in Cambridge, Mass., in May 1838. On 2 July he passed the examination of the Board of Examiners for the district of Quebec and on the 11th he received his licence to practise medicine, surgery, and obstetrics in Lower Canada. That month he opened an office on Rue Saint-Jean. He quickly built up a large practice; over the 40 years from 1838 to 1878 he delivered more than 2,000 babies. He also held a number of prominent positions. From 1847 to 1853 he was one of the six visiting physicians at the Marine and Emigrant Hospital, but the commission charged with reorganizing its medical department in 1854 did not include his name on the list for appointment. Named to the hospital's board in 1853, he served in this capacity for ten years. In 1863 he succeeded Charles-Jacques Frémont* as physician to the Quebec jail.
Robitaille was elected city councillor for Saint-Jean ward in February 1851 and held this office until 1856. During these years he sat on several committees, serving as chairman of the markets committee in 1855. On 20 January of the following year the members of council elected him mayor of Quebec to replace Joseph Morrin. His salary was $1,000 and his term of office ran until 19 Jan. 1857. As mayor of Quebec, a city with a population of nearly 50,000 in 1857, he was concerned first to complete projects begun by his predecessor. During that year, therefore, the waterworks were extended to most of the wards; as a result, health services could be reorganized and homes supplied with pure water. It was during Robitaille's administration that council got the Legislative Assembly of the Province of Canada to pass a bill entitling voters to elect their mayor directly. It received royal assent on 19 June 1856. That year the city council also passed a regulation requiring all streets opened after 11 June 1856 to be at least 40 feet wide. A recorder's court was established at Quebec towards the end of his mayoralty, mainly to put the city back on its feet financially through the collection of taxes and the arrears from previous years.
Robitaille's name is closely connected with the history of several financial establishments operating at Quebec in the late 19th century. With Isidore Thibaudeau, Ulric-Joseph Tessier, François Vézina*, and others, he helped found the Caisse d'Épargnes de Notre-Dame de Québec (incorporated in 1855 as the Caisse d'Économie de Notre-Dame de Québec), and was president from its inception in 1848 until 1892. In 1858 Robitaille was one of the founders of the Banque Nationale [see Vézina], which sought primarily to facilitate the development of local business and industry; he served on its board from the beginning until 1883. In 1851, with Joseph Morrin and a few others, he was a shareholder in the Quebec Building Society, the loan-society of which Vézina became secretary and which gave birth in 1857 to the Quebec Permanent Building Society; he was also a director until the 1870s. In 1871 he was still vice-president of this organization, which along with the Caisse d'Économie de Notre-Dame de Québec had offices in the house where Robitaille lived.

Robitaille is believed to have been among those who left the city in the autumn of 1837 to avoid trouble with the authorities, although his "Memoires" make no mention of the matter; such a motive may well explain his departure for Harvard University at that time. A Patriote at heart, he helped found the Société Saint-Jean-Baptiste of Quebec in 1842 and was vice-president of the Saint-Jean branch for seven years. In 1860 he agreed to sit on the committee formed by the society to erect the Monument aux Braves [see Louis de Gonzague Baillairgé; Pierre-Martial Bardy*]; he also served on the committee responsible for transferring the remains of the soldiers who had been killed in 1760. A devout Catholic, Robitaille was in close touch with the clergy and in February 1857 had a hand in launching the ultramontane newspaper Le Courrier du Canada, of which he and Jean-Thomas Taschereau were business managers.
Robitaille had a comfortable life. After the 1845 fire in Saint-Roch and Saint-Jean wards, he was able to build a new two-storey brick house, which he had paid for by 1849. In 1871 he owned three houses at Quebec and likely also a property at Charlesbourg. In that year his household included a maid and a manservant in addition to his family. With his savings he was able to spend six months in 1874 travelling in Europe, the Holy Land, and the Near East with his daughter Albertine and his son Amédée, both children of his first marriage; the trip cost $5,000.
Olivier Robitaille was a man of few words. Even his "Memoires" contain scant details about his opinions and aspirations. He was a man of action, with a concern for the development of his city and of the church. He was also a member of several philanthropic societies. In 1878 Pope Pius IX made him a knight of the Order of St Silvester in recognition of his services to the Catholic Church in Canada. Five years later Robitaille gave up his medical practice. He died at Quebec on 3 Nov. 1896.
A 495-page typescript at ANQ-Q, P-232/2, entitled "Les mémoires d'Olivier Robitaille," is thought to have been written by Robitaille in 1882. He is also the author of "Rapport annuel du maire de la ville de Québec aux membres du conseil, 13 janvier 1857" in Rapport annuel du trésorier de la cité de Québec pour l'année 1856 (Québec, [1857]), 3–6.
AC, Québec, État civil, Catholiques, Saint-Jean-Baptiste, 3 nov. 1896. ANQ-M, CE1-22, 26 oct. 1859. ANQ-Q, CE1-1, 4 juin 1844. ASQ, Fichier des anciens. AVQ, Conseil, Conseil de ville, procès-verbaux, 29 févr., 11 juill. 1856. NA, RG 31, C1, 1871, Quebec. Rapport des Drs. Nelson et Macdonnell, et Zéphirin Perrault, écr., avocat, sur l'hôpital de Marine et des Émigrés de Québec, et correspondance relative aux services du Dr. Robitaille dans le dit hôpital (Québec, 1853), 131. Le Canadien, 18 mai 1835; 16, 18 juill. 1838; 2 sept. 1842; 5 juin 1844; 19 juin 1848; 22, 31 janv. 1851; 31 janv., 14 déc. 1853; 17 mars 1854; 5 févr. 1855; 22 janv., 11 juill. 1856; 28 janv., 18 juill. 1857; 27 déc. 1858; 10 juin 1859; 20 févr. 1860; 26 déc. 1873; 9 mars 1874; 19 févr. 1878; 31 janv. 1883; 11 juill. 1888. L'Électeur, 7 janv. 1884. L'Événement, 3 nov. 1896. Le Journal de Québec, 22 juin 1861, 22 août 1867. La Presse, 31 mars 1894. Grand annuaire de Québec pour 1881, Ovide Fréchette, édit. (2e éd., Québec, 1980), 180. J. Hamelin et al., La presse québécoise, 1: 203–6. Quebec & Levis directory, 1871–72. M.-J. et George Ahern, Notes pour servir à l'histoire de la médecine dans le Bas-Canada depuis la fondation de Québec jusqu'au commencement du XIXe siècle (Québec, 1923). J.-P. Bernard, Les rébellions de 1837–38: les patriotes du Bas-Canada dans la mémoire collective et chez les historiens (Montréal, 1983). L.-M. Côté et al., Les maires de la vieille capitale. Philippe Sylvain, "Les débuts du Courrier du Canada et les progrès de l'ultramontanisme canadien-français," Cahiers des Dix, 32 (1967): 267.
© 1990–2023 University of Toronto/Université Laval
Cite This Article
Jacques Bernier, "ROBITAILLE, OLIVIER," in Dictionary of Canadian Biography, vol. 12, University of Toronto/Université Laval, 2003–, accessed September 21, 2023, http://www.biographi.ca/en/bio/robitaille_olivier_12E.html.
The citation above shows the format for footnotes and endnotes according to the Chicago manual of style (16th edition). Information to be used in other citation formats:
| | |
| --- | --- |
| Permalink: | http://www.biographi.ca/en/bio/robitaille_olivier_12E.html |
| Author of Article: | Jacques Bernier |
| Title of Article: | ROBITAILLE, OLIVIER |
| Publication Name: | Dictionary of Canadian Biography, vol. 12 |
| Publisher: | University of Toronto/Université Laval |
| Year of publication: | 1990 |
| Year of revision: | 1990 |
| Access Date: | September 21, 2023 |