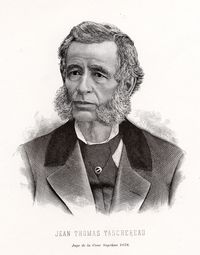 Source: Courtesy of Bibliothèque et Archives Nationales du Québec / 52327/1956455
TASCHEREAU, JEAN-THOMAS, militia officer, lawyer, teacher, and judge; b. 12 Dec. 1814 at Quebec, son of Jean-Thomas Taschereau* and Marie Panet; brother of Archbishop Elzéar-Alexandre Taschereau; m. first 1 Sept. 1840 in Kamouraska, Lower Canada, Louise-Adèle Dionne, daughter of Amable Dionne*, and they had five children; m. secondly 23 June 1862 in Sillery Marie-Joséphine Caron, daughter of René-Édouard Caron*, and they had seven children; d. 9 Nov. 1893 at Quebec.
Jean-Thomas Taschereau spent his childhood at the seigneurial manor of Sainte-Marie. In 1823 he entered the Petit Séminaire de Québec, where he distinguished himself. He was articled in 1832 to his cousin Joseph-André Taschereau* and completed his legal training under Henry Black*. Called to the bar on 11 July 1836, he went to Paris for further study. He returned the following year and settled at Quebec, where he pursued his profession for almost 20 years, although he occasionally practised in Sainte-Marie.
On 3 Sept. 1855 Taschereau was appointed assistant judge of the Superior Court of Lower Canada, and his term of office was renewed in 1858 and 1860. He was made a qc on 5 June 1860. Between 1863 and 1865 he was often called upon to act as chief justice of the Superior Court, in place of the elderly and ailing Edward Bowen*. Taschereau also sat on the Court of Revision, which was established in 1864. On 7 Aug. 1865 he succeeded Augustin-Norbert Morin* as judge of the Superior Court. He was named to the Court of Queen's Bench on 11 Feb. 1873, and his judicial career was crowned by his elevation to the Supreme Court of Canada on 8 Oct. 1875. Failing health forced him to retire on 6 Oct. 1878.
The Université Laval had engaged Taschereau as professor of commercial law on 12 June 1855. Along with his colleagues in the faculty, he was given an honorary doctorate the following 11 December. However, his poor health, as well as judicial duties which often called him away from Quebec, led him to resign on 21 Feb. 1857. The university found it difficult to replace him and within a few months invited him to accept a chair in the law faculty. He refused the offer, indicating in a letter of 1 October to the rector, Louis-Jacques Casault*, his desire to enter politics.
In December 1857 Taschereau put himself forward in the constituency of Beauce as a Conservative candidate for the Legislative Assembly of the Province of Canada. He faced a formidable adversary in Conservative incumbent Dunbar Ross*. Taschereau managed to retain a slight lead over Ross until a Liberal candidate appeared and threatened to emerge the victor by taking advantage of the split in the Conservative vote. Enjoying strong support individually, Taschereau and Ross each showed great reluctance to withdraw in favour of the other. They agreed to put the decision in the hands of their mutual friend Clovis-Joseph Roy, parish priest of Saint-Victor, who thought Ross should withdraw. Ross seemed to agree to this proposal, but the rather cold reception given him in the constituency of Mégantic, where he was also running, made him change his mind. His friends lost no time in spreading false rumours about his return and his lead in Beauce. Taschereau was forced to bow out on 28 Dec. 1857 in order to maintain the Conservative lead. Through Le Courrier du Canada, he even asked his supporters to place their confidence in Ross, although he did denounce his conduct. Ross defended his own position in Le Journal de Québec on 23 January, and won the seat.
Around 1850 Taschereau had gone into business, forming a partnership with Siméon Gautron, dit Larochelle, to set up a woollen factory at Saint-Anselme, a venture that appears to have been short-lived. Taschereau also served in Quebec's 3rd Militia Battalion; made an ensign on 26 April 1834, he became a lieutenant on 21 Sept. 1839 and a captain in October 1845. He was promoted major in the 2nd Battalion of Lotbinière militia in December 1856 and retired in January 1862 with this rank. A member of the Institut Canadien of Quebec, he also figured among the founders of the Société de Géographie de Québec in 1878.
Jean-Thomas Taschereau died on 9 Nov. 1893 at Quebec. His funeral service was held in Notre-Dame basilica four days later and an impressive cortège accompanied his remains to the Belmont cemetery at Sainte-Foy. According to L'Électeur, Taschereau was "a tireless worker, yet a most likeable and urbane man . . . cheerful, affable, hospitable, a most articulate conversationalist." L'Événement reported that he had "always enjoyed the utmost confidence of the bar and the public, as much for his scrupulous integrity and his industry as for the unvarying rectitude of his decisions."
AC, Québec, État civil, Catholiques, Notre-Dame de Québec, 13 nov. 1893. ANQ-Q, CE1-1, 12 déc. 1814; CE1-58, 23 juin 1862; CE3-3, 1er sept. 1840; CN1-187, 21 juin 1862; CN1-188, 10 juill. 1832, 21 oct. 1834; P-238. ASQ, Fichier des anciens; PVU, no.39; Séminaire, 12, no.51b; Univ., 101, nos.AM, AO. Cadastres abrégés des seigneuries du district de Québec . . . (2v., Québec, 1863). Le Courrier du Canada, 4, 27 janv. 1858. L'Électeur, 11 nov. 1893. L'Événement, 10 nov. 1893. Le Journal de Québec, 30 déc. 1856; 5 mai 1857; 23 janv., 4 mai, 11 nov. 1858; 3 mai, 9 juin 1860; 21 janv. 1862; 4 août 1863; 14 août 1865. Quebec Gazette, 26 April 1834, 27 Sept. 1839, 10 March 1847, 2 May 1851, 2 May 1854, 3 May 1855, 3 May 1856. CPC, 1877. I.-J. Deslauriers, Juges de la Cour supérieure de 1849 à 1978 (s.1., 1978). Le Jeune, Dictionnaire. List of members founders of the Geographical Society of Quebec (Québec, 1878). P.-G. Roy, Inventaire des concessions en fief et seigneurie, fois et hommages et aveux et dénombrements, conservés aux Archives de la province de Québec (6v., Beauceville, Qué., 1927–29); Les juges de la prov. de Québec. A. W. P. Buchanan, The bench and bar of Lower Canada down to 1850 (Montreal, 1925). Désilets, Hector-Louis Langevin. Honorius Provost, Chaudière Kennebec; grand chemin séculaire (Québec, 1974); Sainte-Marie de la Nouvelle-Beauce; histoire religieuse (Québec, 1967). P.-G. Roy, La famille Taschereau (Lévis, Qué., 1901).
© 1990–2023 University of Toronto/Université Laval
Cite This Article
Christine Veilleux, "TASCHEREAU, JEAN-THOMAS (1814-93)," in Dictionary of Canadian Biography, vol. 12, University of Toronto/Université Laval, 2003–, accessed June 10, 2023, http://www.biographi.ca/en/bio/taschereau_jean_thomas_1814_93_12E.html.
The citation above shows the format for footnotes and endnotes according to the Chicago manual of style (16th edition). Information to be used in other citation formats:
| | |
| --- | --- |
| Permalink: | http://www.biographi.ca/en/bio/taschereau_jean_thomas_1814_93_12E.html |
| Author of Article: | Christine Veilleux |
| Title of Article: | TASCHEREAU, JEAN-THOMAS (1814-93) |
| Publication Name: | Dictionary of Canadian Biography, vol. 12 |
| Publisher: | University of Toronto/Université Laval |
| Year of publication: | 1990 |
| Year of revision: | 1990 |
| Access Date: | June 10, 2023 |