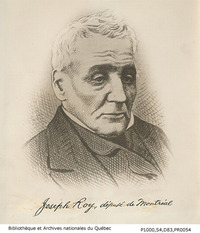 Source: Link
ROY, JOSEPH (baptized Joseph-Marie, he signed Jh Roy), master wood-carver, merchant, militia officer, justice of the peace, politician, and office holder; baptized 8 Dec. 1771 in the parish of Saint-Henri-de-Mascouche (at Mascouche), Que., son of Charles Roy, a farmer, and Élizabeth Beauchamp; m. 23 Feb. 1819 Émilie L. Lusignany, daughter of Charles Lusignan and Madeleine Laforce, in Montreal, and they had two sons and one daughter; d. there 31 July 1856.
Joseph Roy, who came from a rural family, showed a talent for wood-carving early in his life. He left his native parish around 1790 and went to Montreal, where he served an apprenticeship under a woodcarver named Pasteur. Little is known of his career as a craftsman, but it seems that at the beginning of the first decade of the 19th century he owned and operated a workshop in Montreal.
Having followed evening courses apparently to acquire some knowledge in the field of commerce, Roy decided to abandon wood-carving for a new career. The transition occurred between 1803 and 1805, at the time he opened a general store on Rue Saint-Paul near Bonsecours market. He built up a large clientele over the years, and was successful enough to be accounted one of the largest merchants in Montreal. In 1820 he was a director of the Montreal Fire Insurance Company, which had its head office on Rue Notre-Dame. There he came in contact with Augustin Cuvillier*, its president, and John Molson*, its vice-president.
In the course of his career as a merchant, Roy became involved in the political life of the colony. He stood as a candidate in a by-election for Montreal in 1811. Having been an ensign in Montreal's 3rd Militia Battalion from at least 1804, he benefited from the strong support of citizens who favoured the Canadian party. He was, however, defeated by James Stuart, the former solicitor general. Promoted lieutenant in the same battalion in 1812 and captain two years later, Roy was also called upon to assume numerous public offices. He consistently proved an ardent Patriote and a defender of the interests of his fellow French Canadians. He was serving as a justice of the peace in 1832 when three French Canadians were killed by British soldiers during a by-election in Montreal West. He did not hesitate to issue warrants for the arrest of Lieutenant-Colonel Alexander Fisher MacIntosh and Captain Henry Temple, the two officers of the 15th Foot whom the supporters of Daniel Tracey*, the Patriote candidate, held responsible for the incident. As a result, he lost his commission as justice of the peace and did not receive another until 1843.
Roy also took an interest in municipal politics, and at one period he had to carry out municipal and provincial responsibilities concurrently. He was among those chosen when the citizens of Montreal elected their first town councillors on 3 June 1833. The following year he became the member for Montreal East in the House of Assembly, where he sat from 22 Nov. 1834 to 27 March 1838. In addition he was re-elected a town councillor in 1835. He declined the office of mayor in 1842, but accepted that of alderman, which he held for the next two years.
Roy was a full-fledged member of the Patriote party, and an intimate friend of Louis-Joseph Papineau* and Édouard-Raymond Fabre. He supported the 92 Resolutions in 1834 and the following year helped found the Union Patriotique. This society, with Denis-Benjamin Viger* as president and Roy and Jacob De Witt as vice-presidents, undertook to support the Patriote party's demands, particularly those connected with obtaining responsible government and the election of legislative councillors. Roy did not take a radical position as the rebellion of 1837–38 unfolded but continued to favour constitutional struggle without recourse to arms. He was not bothered by the authorities when they arrested numerous Patriotes. In 1842 he endorsed the campaign launched by La Minerve to raise the funds needed to finance the return of the exiled Patriotes [see Édouard-Raymond Fabre]. The following year he also signed a collective letter sent to John Arthur Roebuck*, a member of the British House of Commons, asking him to seek a pardon from the queen for these Patriotes. After Papineau returned from exile in 1845 Roy gave him his support, and in 1852 Roy and several other leading citizens signed a letter urging him to stand for election in the riding of Deux-Montagnes .
Roy's business had meanwhile changed in nature, and he now specialized in the sale of "church articles, silverware and vestments, brocaded damask, stoles, gold braid and fringes." His principal customers were, of course, the clergy, for whom he imported items from Europe. His reputation was excellent, his store flourishing, but in 1852 a fire at the end of the summer forced him to liquidate his business. In January 1853 Roy published an announcement in Le Pays informing his clientele that he had sold his business to J.-C. Robillard of New York. The sale marked the end of his business career, for he was then 81 years old.
Joseph Roy died in Montreal on 31 July 1856 "after a long illness." At the time of his death he was still serving as a justice of the peace, and since 1845 he had performed the duties of commissioner for the building and repair of churches. An obituary was published on 2 Aug. 1856 in Le Pays, the Rouge paper he had helped found in 1852. It paid tribute to "one of the most highly esteemed citizens of Montreal, [one of] the rare men who have always professed the same political principles, without once giving way to the temptations or threats [attached] to authority."
ANQ-M, CE1-51, 23 févr. 1819, 2 août 1856; CN1-32, 15 janv. 1846, 10 mai 1852; CN1-194, 23 déc. 1801. AP, Saint-Henri (Mascouche), Reg. des baptêmes, mariages et sépultures, 8 déc. 1771. Arch. de la ville de Montréal, Documentation, Biog. des conseillers, Joseph Roy. ASQ, Fonds Viger–Verreau, Sér.O, 0140. AUM, P 58, U, Roy à Louis Guy, 29 oct. 1830; Roy à J.-B. Mason, 16 oct. 1840. PAC, MG 30, D1, 26: 721–38; RG 68, General index, 1651–1841; 1841–67. L'Ère nouvelle, 7 août 1856. Le Pays, 15, 22 janv., 16 déc. 1852; 17 janv. 1853; 2, 5 août 1856. Quebec Gazette, 27 March, 27 Nov. 1817; 6 April, 25 May, 7 Dec. 1820; 25 Jan., 2 Aug. 1821; 8 Dec. 1823. André Giroux et al., Inventaire des marchés de construction des Archives nationales du Québec à Montréal, 1800–1830 (2v., Ottawa, 1981). Montreal almanack, 1842, 1845–50, 1853–54. Montreal directory, 1819, 1842–45, 1848–50, 1852–55. T.-P. Bédard, Histoire de cinquante ans (1791–1841), annales parlementaires et politiques du Bas-Canada, depuis la Constitution jusqu'à l'Union (Québec, 1869). Camille Bertrand, Histoire de Montréal (2v., Paris et Montréal, 1935–42), 2. France Galarneau, "L'élection pour le Quartier-Ouest de Montréal en 1832: analyse politico-sociale" (thèse de ma, univ. de Montréal, 1978). Hist. de Montréal (Lamothe et al.). J.-L. Roy, Édouard-Raymond Fabre. L.-O. David, "M. Joseph Roy," L'Opinion publique, 21 nov. 1872: 553–54.
© 1985–2023 University of Toronto/Université Laval
Image Gallery

Cite This Article
France Galarneau, "ROY, JOSEPH," in Dictionary of Canadian Biography, vol. 8, University of Toronto/Université Laval, 2003–, accessed October 4, 2023, http://www.biographi.ca/en/bio/roy_joseph_8E.html.
The citation above shows the format for footnotes and endnotes according to the Chicago manual of style (16th edition). Information to be used in other citation formats:
| | |
| --- | --- |
| Permalink: | http://www.biographi.ca/en/bio/roy_joseph_8E.html |
| Author of Article: | France Galarneau |
| Title of Article: | ROY, JOSEPH |
| Publication Name: | Dictionary of Canadian Biography, vol. 8 |
| Publisher: | University of Toronto/Université Laval |
| Year of publication: | 1985 |
| Year of revision: | 1985 |
| Access Date: | October 4, 2023 |