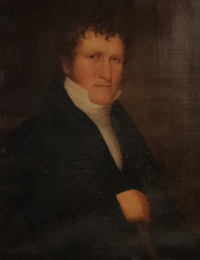 Courtesy of James De Witt
Source: Link
DE WITT, JACOB, businessman, politician, and justice of the peace; b. 17 Sept. 1785 in Windham, Conn., son of Henry De Witt, a hatter, and Hannah Dean; m. 12 Jan. 1816 in Dunham Township, Lower Canada, Sophronia Frary of Montreal, and they had at least four children, one of whom was living in Iowa at the time of his father's death; d. 23 March 1859 in Montreal .
The De Witt family can be traced back to around 1650, the period of Dutch colonization, when an ancestor, Tjerck Claessen De Witt, is thought to have taken up residence at New Amsterdam (New York). It is not known when the family left the United States for Lower Canada. But according to Louis Richard, the author of a particularly well-documented biographical account of Jacob De Witt, his family settled in Montreal around 1802.
Little is known of De Witt's early training. In 1802, when he had just turned 17, he was probably serving an apprenticeship with his elder brother Jabez in their father's hat business in Montreal. However, De Witt entered the hardware trade, apparently seizing the opportunity to reap substantial profits during the War of 1812. In 1814 he went into partnership with hardware merchant George Busby Willard, but the two men terminated their association at the end of three years. In 1819 the Doige directory described De Witt as a hardware merchant located on Rue Saint-Paul and living on Ruelle des Fortifications. De Witt was long identified with the hardware trade and was to make his nephew Benjamin Brewster a partner.
While attending to his commercial concerns, De Witt became involved in various other business activities. He soon took an interest in navigation upstream from Montreal, probably for reasons not unconnected with his business. In 1816 he bought a 50-ton steamship, the Montreal, which sailed between Lachine, Châteauguay, and Annstown (Beauharnois). Four years later he invested in the steamship Car of Commerce. In 1825 he was one of the 50 or so large landowners of Montreal, and around 1829 he purchased a sawmill and 130 acres in Godmanchester Township, in Beauharnois County. He acquired in 1833 the steamship Chateauguay, which plied between Lachine and Saint-Joachim parish at Châteauguay. It seems therefore that in the mid 1830s De Witt's fortune rested on a solid and varied foundation.
One of the charter members of the Bank of Canada in 1822, De Witt collaborated in 1833 with Thomas Storrow Brown* in petitioning for the establishment of the City Bank in Montreal. Two years later De Witt and Louis-Michel Viger formed Viger, De Witt et Cie, otherwise known as the Banque du Peuple. This new bank corresponded to the desire in reform circles of the time to put an end to the Bank of Montreal's monopoly on credit in Lower Canada and to create an institution more open and responsive to the economic needs and aspirations of the colony's petite bourgeoisie. It is easy to account for De Witt's decision to launch such an undertaking. He had become a member of the Lower Canadian House of Assembly in 1830, and because of his sympathies for the struggles of the French Canadian members against the governor and the Executive and Legislative councils he leaned towards the Patriote party. His American origins, and some dissatisfaction with the politics of the British upper middle class in Montreal, as well as rivalries in the world of business, may have determined his action. To Viger, the chief promoter of the venture, De Witt seemed the ideal man to help set up and direct it. He was an experienced businessman, with a solid fortune, the high regard of business circles, good connections, and sound credit; it was on him that the success of the project would partly depend. His prudence was needed to prevent the bank from foundering during the events of 1837–38, for in some circles it was regarded as an organization intended to subsidize the rebellion. Despite difficult circumstances the bank prospered, and in 1843 Viger and De Witt decided to seek a charter for it, which was granted the following year. De Witt was the principal partner and contributed a substantial part of the bank's initial capital; in 1845 he became its vice-president and, on Viger's death ten years later, succeeded him as president. He held this office for the rest of his life.
De Witt had a lengthy political career. From 1830 to 1838 he was the member for Beauharnois. Defeated in the 1841 elections, he was returned the next year by acclamation for Leinster, which he represented in the Legislative Assembly of the Province of Canada until 1847. The following year he was re-elected in Beauharnois, a seat he held until 1851. Then he served as member for Châteauguay from 1854 to 1857. Being strongly attached first of all to Beauharnois, doubtless because of his physical presence in the region, he strove to retain this riding despite the ups and downs of contemporary political struggles.
Although De Witt was identified with the party of Louis-Joseph Papineau*, he did not follow him during the rebellion of 1837–38. Clearly prompted by staunch liberalism, he was quite ready to cooperate in any undertaking of a reform nature, but as a prudent businessman he refused to take risks. After the rebellion De Witt was to be seen in the ranks of the moderate reformers, and was associated with the group centring around Louis-Hippolyte La Fontaine*. According to the newspaper Le Pays, he was not a brilliant politician, being "neither an impassioned speaker, nor an outstanding publicist, nor a profound legal expert." None the less, he did involve himself in certain matters, such as the seigneurial question and the question of the right of nonconformist Protestant churches to keep parish registers. In 1853 he assisted in organizing the Anti-Seigniorial Tenure Convention, of which he was to become chairman. His interests as a businessman were never far from his mind when he made his political choices. In 1849 he held the office of vice-president of the Association for the Encouragement of Home Manufactures. That year also he signed the Annexation Manifesto, thus making common cause with the business circles of Montreal. As well, in 1849 and 1850 he advocated protectionist measures to stimulate small manufacturing. Indeed, he continued to take an interest in tariffs until the end of his life.
De Witt was also involved in municipal politics. On the expiry of the charter of the city of Montreal in 1836, he was appointed a judge in the Court of Special Sessions of the Peace, which was given responsibility for administering that municipality. He discharged this duty for four years. Then he unsuccessfully ran for election as a councillor in Queen Ward in 1842 and Sainte-Anne ward in 1851.
The affairs of the Banque du Peuple, along with political life, absorbed all De Witt's energy, and he gradually detached himself from his hardware business, handing over management to Brewster. This did not prevent De Witt from taking part about 1846 with John Young* and Ira Gould in an operation to put to profitable use the water power produced by the new improvements in the Lachine Canal. In 1852 De Witt also participated in setting up the Montreal and Bytown Railway Company. Thus he was amongst those who played a role in the rapid expansion of industry in Montreal in the mid 19th century.
A convinced Presbyterian, De Witt belonged to the St Peter Street Church. He was one of the group of Americans who in 1822 refused to accept the appointment of Scottish pastor John Burns [see Robert Easton*], and who formed the American Presbyterian Church between 1822 and 1824. In the latter year he became almost an official member of the committee responsible for its temporal affairs, and in 1830 was ordained an elder. His participation earned him the designation of "Grand Old man of the Church." He also gave time to the Montreal Auxiliary Bible Society and the Montreal Temperance Society. He sat on boards of charitable organizations such as the Montreal General Hospital, the house of industry, and the Immigration Committee of Montreal. People were quick to appeal to him on behalf of good causes. He was one of the founding directors of the Montreal City and District Savings Bank in 1846.
Jacob De Witt's career as a businessman illustrates well the way the economic life of Montreal developed in the first half of the 19th century. The son of a craftsman and merchant, he went into the hardware business, prospering from the opening of Upper Canada to settlement; then, diversifying, he became involved in the transportation and lumber industries, as well as in real estate; finally, from the mid 1830s, he took an increasing interest in banking. It may be revealing that on his death certificate he is called a "banker." Like many middle-class men of his time, De Witt was very much a part of his society. His participation in political life and in religious affairs, which always bore the stamp of liberalism, is the principal evidence, and it had a natural extension in the role he played in charitable organizations.
ANQ-E, CE2-38, 12 janv. 1816. ANQ-M, CE1-115, 25 mars 1859; CE1-126, 19 mars 1827, 8 févr. 1828; CN1-134, 23 juill. 1816, 8 juill. 1831, 10 mai 1833; CN1-187, 3 août 1820; CN1-213, 4 avril 1859. ASQ, Fonds Viger–Verreau, Carton 46, no.9. BNQ, Dép. des mss, mss-101, Coll. La Fontaine (copies at PAC). McCord Museum, Jacob De Witt papers, Jacob De Witt to Thomas Lyon, 3 Nov. 1817. PAC, MG 24, B2; K2, 13: 190–92; L3; MG 30, D1, 11: 34–46. "The annexation movement, 1849–50," ed. A. G. Penny, CHR, 5 (1924): 286–61. Can., Prov. of, Statutes, 1843, c.66; 1852–53, c.103. L.C., Statutes, 1821–22, c.27; 1832–33, c.32. Le Courrier du Canada, 28 mars 1859. Montreal Gazette, 9 Feb. 1849, 13 Sept. 1853. Montreal Herald, 24 Dec. 1840. Le Pays, 31 mars, 2, 5 avril 1859. Pilot (Montreal), 6 March 1851; 8 June 1852; 19 Feb., 18 July 1853. F.-J. Audet, "Les législateurs du Bas-Canada." Desjardins, Guide parl. Montreal almanack, 1830. Montreal directory, 1819. Terrill, Chronology of Montreal. J.-P. Bernard, Les Rouges: libéralisme, nationalisme et anticléricalisme au milieu du XIXe siècle (Montréal, 1971). Campbell, Hist. of Scotch Presbyterian Church, 254–55. R. S. Greenfield, "La Banque du peuple, 1835–1871, and its failure, 1895" (ma thesis, McGill Univ., Montreal, 1968), 9, 38–39. Hist. de Montréal (Lamothe et al.), 202. E. A. [Kerr] McDougall, "The American element in the early Presbyterian Church in Montreal (1786–1824)" (ma thesis, McGill Univ., 1965). D. C. Knowles, "The American Presbyterian Church of Montreal, 1822–1866" (ma thesis, McGill Univ., 1957), 10–22, 231. G. R. Lighthall, A short history of the American Presbyterian Church of Montreal, 1823–1923 (Montreal, 1923), 4, 32, 36, 38. H. E. MacDermot, A history of the Montreal General Hospital (Montreal, 1950), 4. Monet, La première révolution tranquille. Ouellet, Bas-Canada, 364; Histoire économique et sociale du Québec, 1760–1850: structures et conjoncture (Montréal et Paris, [1966]). Robert Rumilly, Histoire de Montréal (5v., Montréal, 1970–74), 2: 204. S. B. Ryerson, Le capitalisme et la confédération: aux sources du conflit Canada–Québec (1760–1873), André d'Allemagne, trad. (Montréal, 1972), 221. T. T. Smyth, The first hundred years: history of the Montreal City and District Savings Bank, 1846–1946 (Montreal, [1946]), 14, 161, 163. Tulchinsky, River barons, 230, 276. P.-A. Linteau et J.-C. Robert, "Propriété foncière et société à Montréal: une hypothèse," RHAF, 28 (1974–75): 45–65. Louis Richard, "Jacob De Witt (1785–1859)," RHAF, 3 (1949–50): 537–55.
© 1985–2023 University of Toronto/Université Laval
Image Gallery

Cite This Article
Jean-Claude Robert, "DE WITT, JACOB," in Dictionary of Canadian Biography, vol. 8, University of Toronto/Université Laval, 2003–, accessed December 3, 2023, http://www.biographi.ca/en/bio/de_witt_jacob_8E.html.
The citation above shows the format for footnotes and endnotes according to the Chicago manual of style (16th edition). Information to be used in other citation formats:
| | |
| --- | --- |
| Permalink: | http://www.biographi.ca/en/bio/de_witt_jacob_8E.html |
| Author of Article: | Jean-Claude Robert |
| Title of Article: | DE WITT, JACOB |
| Publication Name: | Dictionary of Canadian Biography, vol. 8 |
| Publisher: | University of Toronto/Université Laval |
| Year of publication: | 1985 |
| Year of revision: | 1985 |
| Access Date: | December 3, 2023 |