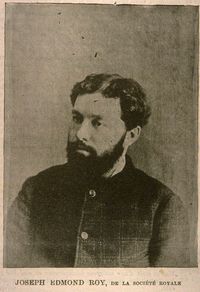 Source: Courtesy of Bibliothèque et Archives Nationales du Québec / 52327/2076152
ROY, JOSEPH-EDMOND, editor, notary, politician, historian, and office holder; b. 7 Dec. 1858 in Pointe-Lévy (Lévis), Lower Canada, son of Léon Roy and Marguerite Lavoie; m. 26 May 1885 Lucienne Carrier in Lévis; they had no children; d. there 8 May 1913.
Joseph-Edmond Roy was descended on his father's side from Nicolas Le Roy, who had settled at L'Ange-Gardien, near Quebec, in 1663, and then went on to the seigneury of La Durantaye, on the south shore of the St Lawrence, where most of his descendants established themselves. In 1852 Léon Roy, a notary, moved to Pointe-Lévy. Little is known about Joseph-Edmond's early years. The second of 13 children, he left a diary containing anecdotes, notes on his reading, and observations about the people and customs of his time, but little about himself. After beginning his studies at the Collège de Lévis, he continued them at the Petit Séminaire de Québec from 1871 to 1877 and the faculty of law at the Université Laval, where he obtained an llb in 1880. Even before his course ended, he had accepted a position as editor-in-chief of Le Quotidien, a Lévis newspaper which published its first issue on 7 July 1879. He was assistant corresponding secretary of the Société Saint-Jean-Baptiste in Lévis from 6 Feb. 1880, and president of the Cercle de Lauzon-Charny, a literary society, from 5 April.
Licensed as a notary in May 1880, Roy took up practice in partnership with his father at Lévis and would continue on his own after the latter's death in 1886. In November 1883 he ventured into politics as the Conservative candidate in a provincial by-election in Lévis, but he was defeated by François-Xavier Lemieux*. Wanting to devote more time to historical research, Roy resigned from Le Quotidien in March 1885. From then on he combined his notarial practice with the study of regional history. He also served as secretary of various local organizations, such as the committee to erect a monument in memory of Abbé Joseph-David Déziel* (1885), the Lévis school board (1886–95), and the Société de Construction Permanente de Lévis. In the 1886 provincial election Roy tried his luck again in the constituency, but he lost once more to Lemieux. In 1891 he became a member of the Royal Society of Canada, and he was secretary (1893–96), vice-president (1896–97, 1904–5), and president (1897–98, 1905–6) of the French section, as well as president of the society in 1908–9.
Roy was eager to see his profession advance and had lost no time in joining the organization that defended its interests, the Quebec Provincial Board of Notaries. He became a member of the board in June 1888 and served on its committee on legislation from 1891 to 1913. In 1895, when a commission charged with revising the province's Code of Civil Procedure attempted to take away the right of notaries to carry out non-contentious procedures, Roy played a key role in drawing up an opposing memorandum from the committee on legislation. In the end, no change was made.
In the federal election of June 1896 Roy ran as a Conservative, this time in Bellechasse against Onésiphore-Ernest Talbot, but he was defeated once again. Unlucky in provincial and federal politics, he had been more successful at the municipal level. He served as a councillor for Saint-Laurent ward in Lévis from 1896 to 1903, and on 3 Feb. 1896 had been elected mayor, an office he would retain until 1900. In July 1896 the French government had awarded him the academic honour of officier d'académie.
After devoting his spare time to regional history for more than ten years, Roy published his huge Histoire de la seigneurie de Lauzon (5v., Lévis, 1897–1904), for which he received many accolades. He was also a contributor to the Bulletin des recherches historiques (Lévis), which was founded in 1895 and edited by his brother Pierre-Georges Roy*. Concern for his profession led him in 1898 to accept the position of editor and publisher of La Revue du notariat (Lévis), which he would hold for the rest of his life. The idea of a journal dated back to 1885, but it was only after long discussions in the Provincial Board of Notaries that it came to fruition. From its inception, the journal sought to inform notaries in Quebec about what was happening in their profession, especially in jurisprudence. In the years 1899 to 1902 Roy published his impressive Histoire du notariat au Canada depuis la fondation de la colonie jusqu'à nos jours (4v., Lévis), a detailed and well-documented study of the significant men and events in the profession's history.
Given a d.litt. in 1899 by the Université Laval, in 1907 Roy was made a tenured professor in the faculty of arts, where he was to teach Canadian geography. He probably had little time for this new task, since he agreed to become head of the new manuscript division of the archives branch in Ottawa in 1908. In the summer of 1909 he was sent to London and Paris to examine the organization of archival repositories and their system of classifying manuscripts, and to make an inventory of documents relating to Canada. He spent nearly six months there and brought out the substantial Rapport sur les archives de France relatives à l'histoire du Canada (Ottawa, 1911).
Besides adding to the information about overseas archives that contained material on Canada, Joseph-Edmond Roy played an important role in his profession's development by his 25-year involvement in the Provincial Board of Notaries, of which he was president from 1909 to 1912, and in the production of La Revue du notariat. Some 30 works bear witness to his interest in Canadian history. He died at the age of 54 in the Hôtel-Dieu at Lévis.
Detailed listings of Joseph-Edmond Roy's books and articles are available in Gérard Martin, Bio-bibliographie de Joseph-Edmond Roy (Lévis, Qué., 1984), and Madeleine Verret, "Bibliographie de Joseph Edmond Roy: précédée d'une notice biographique" (mémoire, école de bibliothéconomie, univ. Laval, Québec, 1947).
ANQ-M, P-225. ANQ-Q, CE1-100, 8 déc. 1858, 26 mai 1885; P-237; P1000, D1849. Arch. de l'Univ. Laval, P225 (fonds Thomas-Chapais). Le centenaire de Notre-Dame de Lévis ([Lévis, 1950]). [Thomas Chapais], "Joseph-Edmond Roy," RSC, Trans., 3rd ser., 7 (1913), proc.: xxi-xxviii. DOLQ, vol.1. Placide Gaudet, Les données erronées de monsieur J. Edmond Roy sur les notaires de l'Acadie (Shédiac, N.-B., 1911). J. Hamelin et al., La presse québécoise, vol.2. Yvan Lamonde, Je me souviens; la littérature personnelle au Québec (1860–1980) (Québec, 1983). "Monsieur J.-E. Roy," La Rev. du notariat (Lévis), 15 (1912–13): 321–52. Emery Roy, Centenaire de Lévis, 1861: album-souvenir ([Lévis], 1961). P.-G. Roy, Dates lévisiennes (12v., Lévis, 1932–40). Rumilly, Hist. de la prov. de Québec, vol.4. Roméo Samson, "Joseph-Edmond Roy, historien" (thèse de ma, univ. de Montréal, 1955). Joseph Sirois, "Monsieur Joseph Edmond Roy," La Rev. du notariat, 15: 289–90. Bernard Weilbrenner, "Les Archives provinciales du Québec et leurs relations avec les archives fédérales, 1867–1920," Archives (Montréal), 18 (1986–87), no.4: 14–15.
© 1998–2023 University of Toronto/Université Laval
Cite This Article
Yves Hébert, "ROY, JOSEPH-EDMOND," in Dictionary of Canadian Biography, vol. 14, University of Toronto/Université Laval, 2003–, accessed October 1, 2023, http://www.biographi.ca/en/bio/roy_joseph_edmond_14E.html.
The citation above shows the format for footnotes and endnotes according to the Chicago manual of style (16th edition). Information to be used in other citation formats:
| | |
| --- | --- |
| Permalink: | http://www.biographi.ca/en/bio/roy_joseph_edmond_14E.html |
| Author of Article: | Yves Hébert |
| Title of Article: | ROY, JOSEPH-EDMOND |
| Publication Name: | Dictionary of Canadian Biography, vol. 14 |
| Publisher: | University of Toronto/Université Laval |
| Year of publication: | 1998 |
| Year of revision: | 1998 |
| Access Date: | October 1, 2023 |