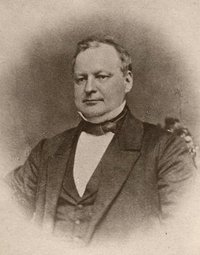 Source: Courtesy of Wikimedia Commons
LEMIEUX, FRANÇOIS-XAVIER, lawyer and politician; b. 9 Feb. 1811 at Lévis, Lower Canada, son of Gabriel Lemieux and Judith Bonneville; d. 16 May 1864 in the town of his birth.
In 1647 Gabriel Lemieux, of Rouen, Normandy, immigrated to Quebec with his half-brother Pierre. In 1655 he received from the grand seneschal, Jean de Lauson*, title-deeds to a piece of land with a river frontage of three arpents and a depth of 40 arpents. François-Xavier Lemieux was descended from this old Pointe-Lévi family.
After attending the Séminaire de Québec, Lemieux studied law in the office of the future judge Jean-Baptiste-Édouard Bacquet. He was called to the bar on 1 April 1839, and from then on practised at Quebec, dividing his time between law and politics. His political career began on 12 July 1847, when he became mla for Dorchester County in the assembly of united Canada. His opponent, Elzéar-Henri Juchereau* Duchesnay of Sainte-Marie-de-la-Beauce, was a Reformer like himself; his victory was not therefore one of political opinions but of the lower county (Lauzon) over the upper (Beauce), and probably one of an economy moving from the agricultural tradition to industrialization. Until the dissolution of the government of Henry Sherwood* and Denis-Benjamin Papineau* on the following 7 December, Lemieux sat with the strongest opposition since union. He supported the manifesto of the "Comité constitutionnel de la réforme et du progrès" [see René-Édouard Caron*], launched on 8 Nov. 1847, whose fundamental principles Louis-Hippolyte La Fontaine adopted in his political programme of 1848.
During the ministry of La Fontaine and Robert Baldwin*, Lemieux made himself "the chief organizer, both in parliament and in the country regions," of the movement for the abolition of seigneurial tenure. A member of the commission formed for this purpose in 1851, he was the author, with Lewis Thomas Drummond*, of a bill that was rejected in the assembly in 1852 but formed the basis for the law of 1854. He was also closely involved in the incorporation of the Grand Trunk and the construction of its sections connecting Lévis to Richmond and Rivière-du-Loup.
In 1854, when the new county of Lévis was detached from the counties of Dorchester and Beauce, Lemieux was elected there by acclamation. On 27 Jan. 1855, since he was "the stuff of which ministers are made," and had distinguished himself in parliament in recent sessions, he became commissioner of public works in the cabinet of Allan Napier MacNab and Étienne-Paschal Taché. He continued to hold this office in the Taché–John A. Macdonald* ministry, from 24 May 1856 to 25 Nov. 1857. Taché's retirement brought about the dissolution of the Taché-Macdonald government, and Lemieux stayed out of the new ministry of Macdonald and George-Étienne Cartier*. Like Joseph-Édouard Cauchon* and Drummond, he apparently was not ousted but retired voluntarily, although on this occasion Cartier did sacrifice some of his party in order to attempt a reconciliation of all political groups, even the most radical. Indeed, in the December 1857 elections Lemieux was elected on the Liberal-Conservative ticket, and voted accordingly in the following session. Lemieux, however, did not feel bound to the Liberal-Conservative party, and on 2 Aug. 1858 he entered the "48-hour government" of George Brown* and Antoine-Aimé Dorion* as receiver general. From then on his support was given unreservedly to the moderate Liberal wing led by Louis-Victor Sicotte*, and he was defeated in the 1861 elections by his former Liberal opponent Joseph-Goderic Blanchet*, who had just joined the Liberal-Conservative party. The moderate Liberals recorded gains in the Quebec region, but this defeat clearly showed that Lévis remained loyal to one party, to the point of rejecting its representative of 15 years' standing, and that, seven years after the official union of the Conservatives and the moderate Reformers of the two Canadas, party lines were finally taking firm shape in the famous coalition of Francis Hincks* and Augustin-Norbert Morin.
On 15 Sept. 1862 Lemieux was elected by acclamation to the Legislative Council for La Durantaye; on the following 1 May he was appointed bâtonnier of the Quebec bar. But his physical strength was failing, and on 16 May 1864 he died at Lévis. In the political history of the union, when political parties had a precarious existence, Lemieux was one of the men who forced the opposition party to repudiate its radicalism, and who marked the transition between the Rouge party of Louis-Joseph Papineau* and the Liberal party of Wilfrid Laurier*.
Can., prov. du, Assemblée législative, Troisième rapport et délibérations du comité spécial de l'Assemblée legislative . . . au sujet de la tenure seigneuriale (Québec, 1851). Le Courrier de Saint-Hyacinthe, 3 août 1858. Le Courrier du Canada, 1847–64. Le Journal de Québec, 1847–64. La Minerve, 1847–64. Montreal Gazette, 13 July 1861. Quebec Mercury, 3 Aug. 1858. CPC, 1864. Desjardins, Guide parlementaire. Le Jeune, Dictionnaire. Bernard, Les Rouges, 149, 191. Chapais, Hist. du Canada., VII, VIII. Cornell, Alignment of political groups, 108. P.-G. Roy, L'église paroissiale de Notre-Dame de la Victoire de Lévis; notes et souvenirs (Lévis, Qué., 1912); Glanures lévisiennes (4v., Lévis, 1920–22), IV; Profils lévisiens (2 sér., Lévis, 1948), 1re sér., 65. L.-P. Turcotte, Canada sous l'Union, II, 322. Andrée Désilets, "Une figure politique du XIXe siècle, François-Xavier Lemieux," RHAF, XX (1966–67), 572–99; XXI (1967–68), 243–67; XXII (1968–69), 223–55. Lucien Serre, "La plus ancienne souche des Lemieux," BRH XXXIV (1928), 112–16.
© 1976–2023 University of Toronto/Université Laval
Image Gallery

Cite This Article
Andrée Désilets, "LEMIEUX, FRANÇOIS-XAVIER," in Dictionary of Canadian Biography, vol. 9, University of Toronto/Université Laval, 2003–, accessed December 5, 2023, http://www.biographi.ca/en/bio/lemieux_francois_xavier_9E.html.
The citation above shows the format for footnotes and endnotes according to the Chicago manual of style (16th edition). Information to be used in other citation formats:
| | |
| --- | --- |
| Permalink: | http://www.biographi.ca/en/bio/lemieux_francois_xavier_9E.html |
| Author of Article: | Andrée Désilets |
| Title of Article: | LEMIEUX, FRANÇOIS-XAVIER |
| Publication Name: | Dictionary of Canadian Biography, vol. 9 |
| Publisher: | University of Toronto/Université Laval |
| Year of publication: | 1976 |
| Year of revision: | 1976 |
| Access Date: | December 5, 2023 |