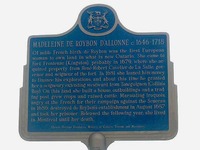 Source: Link
ROYBON D'ALLONNE, MADELEINE DE, seigneuress; b. c. 1646 at Montargis (department of Loiret), daughter of Jacques de Roybon d'Allonne, soldier in the king's company, then gentleman carver at the court; d. mid-January 1718 at the côte Saint-Martin, near Montreal.
Like many other young ladies of the lesser nobility at that period, Madeleine probably came to New France in search of a husband. She never married, but it is thanks to the love affair attributed to her by historians that she has passed into history. If there was a woman in René-Robert Cavelier* de La Salle's life, it is supposed that it was she, because the archives mention her name in close association with the discoverer's, and because she was the only spinster of her rank to live at Fort Frontenac.
The loan of 2,141 livres that she made to the explorer on 24 Aug. 1681, at Cataracoui, is the first proof of Mlle d'Allonne's presence in the colony; it is perhaps also an indication of her attachment to a man who was then being hounded by his creditors. At that date Madeleine had been living for perhaps a little more than two years at the fort that belonged to La Salle. The fanciful "Récit d'un ami de l'abbé de Gallinée" reports that around September 1678 the discoverer was falsely accused of indulging in debauchery in his home with a girl he had seduced in Quebec, whereas on the contrary, the "Récit" says, he was living an exemplary "family" life there. In addition, in 1679 news of La Salle's marriage spread as far as Paris, a rumour which the interested party categorically denied afterwards, protesting that he would never marry anyone before he had successfully completed his undertakings. As there is never smoke without fire, no doubt there did exist a marriageable girl in La Salle's entourage at the time, whether he aspired to her hand or not.
We come across Madeleine de Roybon d'Allonne again on 6 Nov. 1683 at Quebec, still in the company of the explorer, who was then preparing to leave for France. La Salle gave her an i.o.u., in which he ensured to her "the possession of the house and land that she has occupied up to now at Fort Frontenac." This is the only document written by La Salle that has come down to us in which he names the young woman.
They were never to see each other again. Madeleine returned to Cataracoui, where the local seigneur had granted her a fief and seigneury in the neighbourhood of the fort. She continued from afar to take an interest in the destiny of the man whose tragic end we know.
A few months after La Salle's murder, Mlle d'Allonne almost perished in her turn. Some Iroquois captured her and laid waste her establishment at the beginning of August 1687. Her life was spared through the mediation of Father Jean de Lamberville, but he was unable to have her set free. The prisoner was taken to Onondaga, then, at Thomas Dongan's request, to Albany. There she attempted to cooperate in Father François Vaillant de Gueslis' negotiations with the governor of New York and the Indians.
The following year she was finally set free, and arrived in Montreal in July. She settled permanently in Rue Saint-Vincent, being prevented from returning to her dwelling at Fort Frontenac by the monopoly of the fur trade held there first by the Compagnie du Canada then by the crown. The woman who had invested and lost her fortune at Cataracoui insisted fiercely on her right to re-establish herself there, and argued in favour of giving the local settlers freedom to trade in pelts. She even went to France in 1706 to defend her cause. Eleven years later the matter was still before the council of Marine. On 12 Oct. 1717 Rigaud de Vaudreuil stated in a reply to the council that the plaintiff had not availed herself of the permission granted to her by the governor in 1706 to go and redevelop her land, because she was interested only in the fur trade. Vaudreuil went on: "Moreover, Mademoiselle Dalonne is enfeebled by age, very poor, and consequently unable to go and put in order again a piece of land that has been left deserted for 30 years. She is a worthy person; her station and the sad state to which she finds herself reduced might incline the council to agree to grant her some favour."
She passed away at about the age of 72.
ASQ, Polygraphie, XXVII, 60. Découvertes et établissements des Français (Margry), I, 296–98, 381f., 430; II, 88. Jug. et délib., IV, V. NYCD (O'Callaghan and Fernow), III, 517, 520, 527, 529, 535, 556, 563; IX, 389–91. Royal Fort Frontenac (Preston and Lamontagne), 39f., 49, 136–39, 171f., 333–36, 368f. Claude de Bonnault, "Cavelier de La Salle," Larousse mensuel illustré (14v., Paris, 1907–57), X (1935–36), 231. Rochemonteix, Les Jésuites et la N.-F. au XVIIe siècle, II, 413; III, 168–70, 197–207. Jean Delanglez, "Mlle de Roybon D'Allonne: La Salle's fiancée?" Mid-America, XXI (1939; new ser., X), 298–313. [This article is the most important work on the subject. In it the author corrects certain errors, such as Mlle d'Allonne's alleged presence at Fort Frontenac from 1675 to 1677 and her second captivity among the Indians. c.d.] É.-Z. Massicotte, "Un fait divers d'autrefois," BRH, XXV (1919), 277–79; "Les testaments de Mlle de Roybon d'Alonne," BRH, XXVIII (1922), 94–96.
© 1969–2023 University of Toronto/Université Laval
Image Gallery

Cite This Article
Céline Dupré, "ROYBON D'ALLONNE, MADELEINE DE," in Dictionary of Canadian Biography, vol. 2, University of Toronto/Université Laval, 2003–, accessed December 3, 2023, http://www.biographi.ca/en/bio/roybon_d_allonne_madeleine_de_2E.html.
The citation above shows the format for footnotes and endnotes according to the Chicago manual of style (16th edition). Information to be used in other citation formats:
| | |
| --- | --- |
| Permalink: | http://www.biographi.ca/en/bio/roybon_d_allonne_madeleine_de_2E.html |
| Author of Article: | Céline Dupré |
| Title of Article: | ROYBON D'ALLONNE, MADELEINE DE |
| Publication Name: | Dictionary of Canadian Biography, vol. 2 |
| Publisher: | University of Toronto/Université Laval |
| Year of publication: | 1969 |
| Year of revision: | 1982 |
| Access Date: | December 3, 2023 |