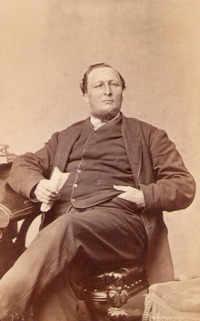 Photo by Notman | Courtesy of Billingsley and Ward families
Source: Link
RYMAL, JOSEPH, farmer and politician; b. 17 Nov. 1821 in Barton Township, Upper Canada, son of Jacob Rymal, farmer, and Josephine Horning; m. there 12 Feb. 1846 Lydia Ann Terryberry, and they had six daughters and a son; d. there 15 Dec. 1900.
Joseph Rymal's father, a reformer, represented Wentworth in the House of Assembly (1835–36) and aided William Lyon Mackenzie* in his flight from Upper Canada in 1837. Joseph received little formal education and took up farming at the homestead, lots 20 and 21 of concession 6 in Barton. He was elected in 1857 to the Legislative Assembly for Wentworth South, a Reformer like his father, and he represented this riding until confederation. A Methodist, he favoured prohibition in the 1850s. As a member for the Hamilton area, he promoted Hamilton as a naval base and, believing that the Conservative government recognized the need for a defence policy, he supported its Militia Bill of 1862. He had been active at the Reform Convention of 1859, where he favoured a dissolution of the union of the Canadas but supported a compromise for their federation. However, he opposed both the "Great Coalition" of 1864 and confederation, the latter because it was never submitted to the people and because it allowed legislators to sit in the federal and provincial houses simultaneously.
First elected to the House of Commons for Wentworth South in 1867, he continued his reputation for opposing most measures by contending against the policies of the government of Sir John A. Macdonald, including the National Policy and the construction of the Canadian Pacific Railway. Most of Rymal's positions were those of his long-time bench-mate, David Stirton, the member for Wellington South; both were considered by Norfolk North mp John Charlton* to be "incorrigible wags." George William Ross* would later describe Rymal, at the opening of parliament in 1873, as a "gentleman of large girth and genial countenance." Two years later the Wentworth County historical atlas summed him up as a lucid debater with a penchant for barn-door humour, lacking in education, polish, and good taste. "The rough native wit – crassa Minerva; the distinct, deliberate enunciation; the calm, measured gesticulation of the index finger, with which each telling point is counted off, and each delinquent of the Treasury individually marked out for punishment; the homely, graphic phrase, and the keen sarcastic imagery – all combine impalpably to the effect of charmingly good-humored pleasantry." Yet, despite his reputation for gruffness and wit, as well as for opposition, he carried some weight within the Liberal party. In 1880, prior to the resignation of Alexander Mackenzie as its leader, Rymal, on his own initiative as chairman of caucus, reputedly called a meeting at which a resolution was passed asking Mackenzie to consider the "question of leadership."
The political career of "Honest Joe" ended in 1882, at which time he was the longest-sitting Liberal in the house. That year he had opposed the Conservatives' gerrymander, which he called a "monstrosity" and which removed Ancaster Township from his riding. Needled in debate in May on the electoral representation bill by the Conservative member for Lincoln, John Charles Rykert, Rymal aimed his finger and berated him as a "fifth rate politician." "Ten thousand souls like that which actuates the hon. gentleman opposite could lodge in a flea's skull and then have as much room to play in as two frogs could have on the broad bosom of Lake Ontario." Rymal's decision not to run in the upcoming general election, allegedly because of illness, appears to have reflected some dissatisfaction among Liberals in his riding and the belief that it could be carried by a younger candidate. (It was, by another Barton farmer, 46-year-old Lewis Springer.) At a testimonial dinner Rymal was given a gold watch and chain. "During the sixty years of my career I suppose I have never worn a watch for sixty days," he responded, "but for the sake of the Liberal party I shall wear this bauble." In the fashion of Cincinnatus, he resolved to return to his plough; "like a gallant ploughboy I shall whistle and sing, and ever the refrain shall be God save the King." Though he had had some connections in business – in the 1870s he was a director of the Victoria Mutual Insurance Company – he was never a wealthy man. He died of "cyolitis" (probably colitis) in 1900 after a five-week illness, and was buried on the farm where he was born.
[The best pictures of Joseph Rymal appear in the Illustrated historical atlas of the county of Wentworth, Ont. (Toronto, 1875; repr. Dundas, Ont., 1971), xliv, and F.-R.-É. Campeau, Illustrated guide to the House of Commons of Canada . . . (Ottawa, 1875), plate xxxv and no.29; there is a good caricature, signed J.T. [Joseph Tinsley], in the Hamilton Spectator, 15 Dec. 1900. e.h.j.]
AO, RG 8, I-6-A, 4: 53; RG 22, ser.204, reg.U (1898–1901): 548–49. HPL, Barton Township, birth, marriage, and death records; Scrapbooks, H. F. Gardiner, vol.178. NA, RG 31, C1, 1861, Barton, f.56, no.31. Can., House of Commons, Debates, 1882: 1390. Hamilton Spectator, 5–6 May 1882, 26 Nov. 1900. Canadian directory of parl. (Johnson). DHB. G. W. Ross, Getting into parliament and after (Toronto, 1913), 52. Swainson, "Personnel of politics." John Charlton, "Remarks about old Joe Rymal," Hamilton Spectator, 16 March 1907: 12. Hamilton Herald, 17 Aug. 1907.
© 1990–2023 University of Toronto/Université Laval
Cite This Article
Elwood H. Jones, "RYMAL, JOSEPH," in Dictionary of Canadian Biography, vol. 12, University of Toronto/Université Laval, 2003–, accessed September 25, 2023, http://www.biographi.ca/en/bio/rymal_joseph_12E.html.
The citation above shows the format for footnotes and endnotes according to the Chicago manual of style (16th edition). Information to be used in other citation formats:
| | |
| --- | --- |
| Permalink: | http://www.biographi.ca/en/bio/rymal_joseph_12E.html |
| Author of Article: | Elwood H. Jones |
| Title of Article: | RYMAL, JOSEPH |
| Publication Name: | Dictionary of Canadian Biography, vol. 12 |
| Publisher: | University of Toronto/Université Laval |
| Year of publication: | 1990 |
| Year of revision: | 1990 |
| Access Date: | September 25, 2023 |