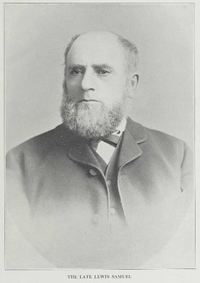 Source: Link
SAMUEL, LEWIS, merchant and philanthropist; b. in 1827 at Kingston upon Hull, England; m. in 1850 Kate Seckelman, and they had eight children including Sigmund*, a prominent philanthropist and patron of the arts in Toronto, Ont.; d. 10 May 1887 at Victoria, B.C., and was buried 18 May 1887 at Toronto.
Lewis Samuel was born to a Jewish family which had lived in England since the time of Oliver Cromwell. When he was eight, his parents moved to the east end of London, where his mother ran a shop and his father, a pious scholar, spent his days immersed in holy books. At 16, Samuel decided to emigrate and hired on as a cabin boy aboard a freighter bound for New York City. Upon his arrival in 1844, he found employment with a tailor. Searching for better economic opportunity, he became an itinerant peddler in upper New York State and by 1848 had settled in Syracuse, where he opened a dry goods store. He was accepted into the local Jewish community and soon married Kate Seckelman, who had recently emigrated from Sulzbach (Federal Republic of Germany).
Samuel, however, was proud of his English origin and wanted to live once again under the British flag. His elder brother, Mark, who had immigrated to Montreal and was engaged in the fur business, had long been urging Lewis to join him. In 1855 Lewis agreed, but soon found his new environment unpleasant. He disliked the fur business and the French atmosphere of the city, and his discontent grew after two of his children died of cholera. Within a year he was on his way to Toronto, a city unquestionably English in tone and alive with the promise of commercial success.
Mark was persuaded to follow and in 1856 the two brothers rented space in the Coffin Block on Wellington Street, establishing a wholesale hardware trade under the name of M. and L. Samuel and Company. The firm grew into a wholesale metals business, a development made possible by the Samuel family's connections in England. By the early 1860s Mark had returned to England to open a branch office in Liverpool; Lewis remained in Toronto, exporting a variety of Canadian raw materials in exchange for gas chandeliers, metals, chemicals, glass, and marble. A small temporary branch was later opened in Montreal with Emmanuel Samuel, Mark's son, directing the operations. By 1879 the firm had become M. and L. Samuel, Benjamin and Company with the admission of an additional partner, Alfred David Benjamin*. Frank D. Benjamin, Alfred's brother, was to join the firm in 1888.
Lewis Samuel was anxious to participate further in Canada's expanding economy and invested in such ventures as the Ontario Lead and Barbed-Wire Company, one of the earliest firms in the country to produce barbed wire and a supplier to the Canadian Pacific Railway. In addition, he was a director of the Electric Manufacturing Company and president of the Metallic Roofing Company, both pioneering firms in their fields.
Lewis Samuel was an orthodox Jew; indeed, his religious observance had prevented his engaging in the retail trade since he would have had to open his business on Saturday, the Jewish sabbath. Almost immediately upon his arrival in Toronto he sought to organize the local Jews into a formalized community. The city's first synagogue, the Toronto Hebrew Congregation (now Holy Blossom Temple), was established within months of his arrival in 1856 and he served almost continuously as its president from 1862 to 1880. It was Samuel who insisted that the congregation engage a reader and also a ritual slaughterer to supply kosher meat. Moreover, he was responsible for the purchase of the land on which the first synagogue was built in 1876, funds for which were raised principally through his efforts. During the remainder of his life he sought successfully to preserve the traditional practices in the synagogue, which were under attack from reformers of the German school. So serious a threat did he consider the new movement that he insisted the deed to the synagogue include a stipulation that if the congregation departed from orthodoxy it would forfeit its right to use the building.
Samuel did not confine his social activity to the Jewish community. He was a member of the Sons of England Benefit Society and the St George's Society; he was also one of the trustees of the Oddfellows and in 1877 was president of the mechanics' institute. According to the Toronto Daily Mail, he "enjoyed for many years a distinguished position in the city, and both in private and public life was very popular." Widespread acceptance by the community enabled him to defend Jews whenever they were vilified in the local press.
In 1887 Samuel visited a daughter in San Francisco, a vacation his doctors said would improve his failing health. Returning to Vancouver, he took ill aboard ship and was carried ashore to a hotel in Victoria, where he died on 10 May. His body was taken to Toronto and his funeral cortège, well over 1 ½ miles in length, was said to have been one of the largest ever seen in Toronto.
Toronto Hebrew Congregation Holy Blossom (Toronto), Deed to the site of the Richmond Street Synagogue, 1875; Minutes, 1856–85. Globe, 11 May 1887. Toronto Daily Mail, 11, 19 May 1887. The Jew in Canada: a complete record of Canadian Jewry from the days of the French régime to the present time, ed. A. D. Hart (Toronto and Montreal, 1926). Abraham Rhinewine, [Der Id in Kanada] (2v., Toronto, 1925–27), I. Sack, Hist. of the Jews in Canada. [Sigmund Samuel], In return: the autobiography of Sigmund Samuel ([Toronto], 1963). S. A. Speisman, "The Jews of Toronto: a history to 1937" (phd thesis, Univ. of Toronto, 1975); The Jews of Toronto: a history to 1937 (Toronto, 1979). S. J. Birnbaum, "Pioneers of Toronto's Jewish community," Jewish Standard (Toronto), 1 June 1934.
© 1982–2023 University of Toronto/Université Laval
Image Gallery

Cite This Article
Stephen A. Speisman, "SAMUEL, LEWIS," in Dictionary of Canadian Biography, vol. 11, University of Toronto/Université Laval, 2003–, accessed December 6, 2023, http://www.biographi.ca/en/bio/samuel_lewis_11E.html.
The citation above shows the format for footnotes and endnotes according to the Chicago manual of style (16th edition). Information to be used in other citation formats:
| | |
| --- | --- |
| Permalink: | http://www.biographi.ca/en/bio/samuel_lewis_11E.html |
| Author of Article: | Stephen A. Speisman |
| Title of Article: | SAMUEL, LEWIS |
| Publication Name: | Dictionary of Canadian Biography, vol. 11 |
| Publisher: | University of Toronto/Université Laval |
| Year of publication: | 1982 |
| Year of revision: | 1982 |
| Access Date: | December 6, 2023 |