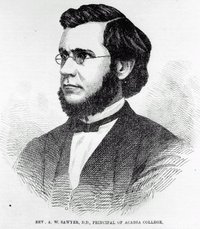 Source: Courtesy of Wikimedia Commons
SAWYER, ARTEMAS WYMAN, educator; b. 4 March 1827 in Westhaven, Vt, son of the Reverend Reuben Sawyer and Laura Wyman; m. 28 Dec. 1858 Maria E. Chase in Wolfville, N.S., and they had five children; d. there 5 Aug. 1907.
Artemas Wyman Sawyer was educated first at New London Academy and Dartmouth College (ba 1847) in New Hampshire. He then taught school for three years in Windsor, Vt, before attending Newton Theological Institute in Massachusetts. Baptized at age 12, he had early decided on the ministry as a career, and in 1853, after graduating from Newton, he was ordained as minister of the Baptist church in Lawrence, Mass.
In 1855 Sawyer was appointed professor of classics at Acadia College in Wolfville, a position he occupied until 1860. After service as pastor of the Baptist church in Saratoga Springs, N.Y. (1860–64), and as principal of New London Academy (1864–69), he returned to Acadia in 1869 as its president, succeeding John Mockett Cramp*. He would occupy this office for 27 years.
The Sawyer years were ones of considerable challenge and change at Acadia. In 1869 the course offerings, like those at most Canadian colleges, were irregular and disjointed. By the end of his term Sawyer had developed one of the most noteworthy curricula in the country, with a clearly rationalized approach to education. Experimental sciences and modern languages had gained a new prominence, whereas Greek had lost much of its support and even Latin appears to have been under siege. By 1889 options had been introduced, which allowed the student some choice of subjects. Sawyer had been reluctant to move to options, believing that the same program for all students at the same level of study was better. He came to recognize, however, that with the growth of the institution and the increasing diversity of interests among the students the unified program was no longer practical. With the building of a gymnasium in 1890, exercise became a required part of the ba program.
Sawyer attempted to bring in entirely new programs, but with indifferent success. In 1892 facilities for "Manual Training" were introduced; these soon grew into an engineering program offered in association with McGill University. The efforts in the 1890s to begin a school of horticulture were, however, frustrated by the decision of the provincial government to build an agricultural college in Truro. Courses in law and medicine were taught intermittently but failed to develop into separate schools, largely because of the strength of Dalhousie College in these areas. Moreover, Sawyer's venture into a program of teacher education in 1883 ended in disappointment, thanks mainly to the controversy surrounding the appointment and brief tenure of Theodore Harding Rand* as professor of principles and practice of education, which damaged the credibility of this field of instruction. During Sawyer's presidency theology received very little attention because Maritime Baptists seemed unwilling to commit the funds necessary to establish a strong program.
One of the most notable changes of the Sawyer years came in 1880 with the decision to admit women to the college course, which made Acadia the second college in Canada to do so. Here Sawyer led rather than followed. Much is said about his college and denomination that such an innovation was accomplished without any apparent opposition or conflict. Other trappings of a modern university appeared during Sawyer's tenure. New and up-to-date buildings with electric lights, a student newspaper, and later a student council, organized athletics, and a revamped administrative structure testify that the college grew in many ways.
But these were also difficult and, at times, discouraging years for Sawyer. In 1877 the college building, which also housed the family apartment, was destroyed by fire. Throughout his presidency, Acadia was short of money, since a largely apathetic Baptist body often neglected to fund its institution adequately. In addition, the laboriously raised endowment fund was partially dissipated by the incompetence and dishonesty of the treasurer, X. Z. Chipman. Pressure from the provincial government for Acadia to relinquish its degree-granting powers in favour of the University of Halifax had to be resisted as well. By 1896 Sawyer asked to be replaced. He remained professor of psychology and Christian evidences almost until his death. During his career he was a tireless contributor of letters and articles which advanced the claims of education and his denomination.
Sawyer was Acadia's longest-serving president and one of its most successful. He brought stability, leadership, learning, and tact to the position; all were desperately needed. More than anyone else, he shaped the modern Acadia University.
Artemas Wyman Sawyer is the author of Education of women in Nova Scotia and New Brunswick: an historical sketch ([Windsor, N.S.]), probably published around the turn of the century. Listings for this and several other publications appear in Baptists in Canada, 1760–1990: a bibliography of selected printed resources in English, comp. P. G. A. Griffin-Allwood et al. (Hantsport, N.S., 1989). Sawyer also wrote frequently to the editors of the Christian Messenger during the years 1869–96, reporting on the affairs of Acadia College.
Acadia Univ. Arch. (Wolfville, N.S.), Board of governors, minutes, 1855–1907; "Jubilee of Rev. A. W. Sawyer, d.d., ll.d." [a bound ms volume consisting of letters and testimonials from colleagues and former students]. Acadia Athenœum (Wolfville), 1874–1907. Christian Messenger, 5 Jan. 1859, 5 Dec. 1877. Baptist year book of the Maritime provinces of Canada . . . (Halifax; Saint John, N.B.), 1869–1907. A. C. Chute with W. B. Boggs, The religious life of Acadia (Wolfville, 1933). Margaret Conrad, '"An abiding conviction of the paramount importance of Christian education': Theodore Harding Rand as educator, 1860–1900," An abiding conviction: Maritime Baptists and their world, ed. R. S. Wilson (Saint John, 1988), 155–95. R. S. Harris, A history of higher education in Canada, 1663–1960 (Toronto and Buffalo, N.Y., 1976). R. S. Longley, Acadia University, 1838–1938 (Wolfville, 1939). B. M. Moody, "Breadth of vision, breadth of mind: the Baptists and Acadia College," Canadian Baptists and Christian higher education, ed. G. A. Rawlyk (Kingston, Ont., and Montreal, 1988), 3–29. J. G. Reid, Mount Allison University: a history, to 1963 (2v., Toronto, 1984), 1. Univ. of Acadia College (Acadia Univ. as of the 1892/93 session), Calendar (Halifax), 1869/70–1896/97.
© 1994–2023 University of Toronto/Université Laval
Cite This Article
Barry M. Moody, "SAWYER, ARTEMAS WYMAN," in Dictionary of Canadian Biography, vol. 13, University of Toronto/Université Laval, 2003–, accessed June 3, 2023, http://www.biographi.ca/en/bio/sawyer_artemas_wyman_13E.html.
The citation above shows the format for footnotes and endnotes according to the Chicago manual of style (16th edition). Information to be used in other citation formats:
| | |
| --- | --- |
| Permalink: | http://www.biographi.ca/en/bio/sawyer_artemas_wyman_13E.html |
| Author of Article: | Barry M. Moody |
| Title of Article: | SAWYER, ARTEMAS WYMAN |
| Publication Name: | Dictionary of Canadian Biography, vol. 13 |
| Publisher: | University of Toronto/Université Laval |
| Year of publication: | 1994 |
| Year of revision: | 1994 |
| Access Date: | June 3, 2023 |