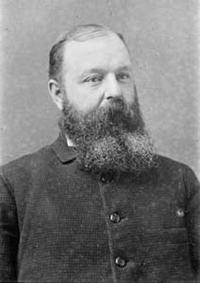 Source: Link
SEAGRAM, JOSEPH EMM, distiller, sportsman, and politician; b. 15 April 1841 in Fisher's Mills, near New Hope (Hespeler, later Cambridge), Upper Canada, son of Octavius Augustus Seagram and Amelia Stiles (Styles); m. December 1869 Stephanie Urbs in Upper Fort Garry (Winnipeg), and they had four sons and two daughters; d. there 18 Aug. 1919.
Octavius Seagram and his wife emigrated from Wiltshire, England, to Upper Canada in 1837 with the resources to purchase two farms and a tavern at Fisher's Mills. Seagram died in 1848 and following his wife's death four years later their sons, Joseph Emm and Edward Frowd, were placed under the guardianship of Michael Boomer*, the Anglican clergyman in Galt (Cambridge). The boys were sent to William Tassie*'s boarding-school there. Joseph spent six years at this school and after graduation he attended the Bryant and Stratton Business College in Buffalo, N.Y., for a year.
Seagram returned to Galt in 1860 and was taken on as a junior bookkeeper at a local axe-handle factory. He left it after a fist-fight with a senior bookkeeper. He was subsequently employed as a bookkeeper at a mill in Galt and later managed a mill in Stratford. Looking for employment closer to his Galt home, Seagram was hired in 1864 by Wilhelm Hespeler* to supervise Hespeler's interest in a milling operation in Waterloo. The mill serviced the local grain market, a general store was attached to it, and Hespeler and his partners, George Randall and William Roos, found a valuable sideline in distilling surplus grain into whisky. Seagram's arrangement with Hespeler included the privilege of living in Hespeler's home. While there he met and courted Hespeler's niece, and the two would marry.
Seagram proved a successful manager and, perhaps more than the partners, he saw the potential for the distilling business. In 1868 he bought out Hespeler's share and in 1873 he acquired Randall's. The name of the business was changed to Seagram and Roos in 1881. Two years later Seagram bought out Roos as well, and the company became a sole proprietorship under the name of the Joseph Seagram Flour Mill and Distillery Company.
After assuming control, Seagram began to pursue with great resolution the distilling part of the business. In 1883 he produced a special blend of whisky, Seagram's 83, to celebrate his acquisition of the company and in 1887 it was sold for the first time. It would prove to be his best-selling brand. Two other name brands were distilled: Seagram's Old Rye for sale in Ontario and Seagram's White Feather for Quebec. Seagram's determination to concentrate on distilling was made clear in 1886 when he sold the dry goods business.
Though not the first to distil Canadian whisky on a large scale, Seagram was among the most aggressive of the Canadian producers and exporters. His distillery had shipped whisky to both the United States and Britain as early as 1875, but Seagram accelerated this business after he gained complete control. By the early 1890s he was sending large quantities of whisky and other liquors directly to New York, Chicago, and Detroit for distribution. This penetration of the American market supplemented the growing success that Seagram's products were enjoying in Canada.
In 1911 Seagram incorporated the company as Joseph E. Seagram and Sons Limited. At this point his sons Edward Frowde and Thomas William took a more active role in the company's operation. In 1913 the family met to celebrate Thomas's wedding and Seagram Sr had a special blend of whisky prepared for the event. The blend appealed to Seagram so much that he ordered wider production of the whisky, which became known as Seagram's V.O. (meaning very own); it was brought out of bond in 1917. Following Seagram's death, the presidency of the company would be assumed by Edward, but in 1928 control was acquired by the Bronfmans of Montreal.
Seagram's success in business allowed him to pursue with vigour his passion for horse-racing. In 1860, at the age of 19, he had purchased a half share in a racehorse in Galt. From this beginning came a racing dynasty based in the growing Seagram stables near Waterloo. Seagram regularly visited more advanced racing farms in Britain and imported a large amount of breeding stock. Canada's leading turf journalist of the period, Edmund King Dodds, noted in 1909 that "for over twenty years [Seagram] has spent money lavishly importing choice blood, both from England and the United States." This lavish spending brought unprecedented success. Seagram's horses began running in the Queen's Plate in 1889 and in 1891 he won the race for the first time. His horses would win it ten times and the King's Plate five times before his death in 1919. Between 1891 and 1898 his horses won eight consecutive Plates and in six of them a Seagram horse also placed second. This record made him, in the opinion of the Canadian Magazine in 1900, "probably the greatest Canadian horse-breeder." Dodds made the point that Seagram's stables were also important in improving the bloodstock of Canadian horses in general. Seagram held annual sales at which the surplus stock of well-bred animals was sold at reasonable prices.
Seagram was influential in the creation in 1881 of the Ontario Jockey Club, which sought to regulate horse-racing and improve the public perception of the sport. He was elected to its board in 1898 and from 1906 to his death he was its president. In 1903 he donated a $2,000 prize and a trophy for a race to be run by horses owned in Canada; it continues to this day.
Success also led Seagram into the realm of politics. In 1881 he was elected to represent the South Ward on Waterloo Town Council. An outspoken supporter of the National Policy tariff, in 1896 he gained the Conservative nomination in the federal riding of Waterloo North. He campaigned actively on the tariff and ignored the Manitoba school question, which dominated the election in other regions. Seagram won the seat away from the Liberals, who none the less formed a government under Wilfrid Laurier.
Opposition politics did not suit Seagram and by the election of 1900 he was considering withdrawing. He was persuaded to reconsider, however, in part by an arrangement between the Conservative and Liberal organizations that allowed him to be acclaimed and Liberal Louis Jacob Breithaupt to stand unopposed in the provincial by-election in the riding. Seagram ran again successfully in 1904. Though he chose not to run in 1908 – he was then 67 – he contributed substantially to the campaign against the young William Lyon Mackenzie King*, who still won, and played a prominent role in his defeat in 1911. King argued that his loss had been due in large part to liquor moneys: "Dozens of voters in doubtful polls were bought . . . Joseph Seagram and his allies have corrupted them." After the Conservatives returned to office in 1911, Prime Minister Robert Laird Borden* offered Seagram a Senate seat, but he declined, suggesting a younger man.
Seagram is also remembered in Waterloo for his philanthropy. Most notable among the causes he supported was the Berlin and Waterloo Hospital. In 1893 he had donated a 14-acre parcel on the border between Berlin (Kitchener) and Waterloo to the Hospital Trust, with the provision that admission never be refused to any patient "by reason of his or her Nationality, Race, Colour, Religious belief or want of Religious belief." In addition, Seagram was a founding member of the Waterloo branch of the Canadian Association for the Prevention of Tuberculosis and a sponsor of local sängerfeste, which celebrated the music and culture of the area's German inhabitants.
Joseph Seagram remained active in the operation of his distillery and racing stable until his death in 1919. An Anglican, he was buried in Mount Hope Cemetery in Waterloo. His influence within the community is reflected in the fact that his racing colours, black and gold, became the colours of the city of Waterloo and later of the University of Waterloo. Seagram had always prided himself on his remarkable physical resemblance to Edward VII and, despite the ego this pride suggests, within his community the similarity was appropriate.
AO, RG 22-155, O. A. Seagram, 1848–52. Seagram Museum Arch. (Waterloo, Ont.), J. E. Seagram papers; Joseph Seagram and Sons Limited papers. Berliner Journal (Berlin [Kitchener], Ont.), 4 Aug. 1886. Daily Telegraph (Berlin; Kitchener), September–November 1900, August 1919. News-Record (Berlin; Kitchener), 1877–1900, August 1919. Canadian men and women of the time (Morgan; 1898 and 1912). E. K. Dodds, Canadian turf recollections and other sketches (Toronto, 1909). Trent Frayne, The Queen's Plate (Toronto, 1959). Horseman, "The Queen's Plate," Canadian Magazine, 15 (May-October 1900): 270–72. "Joseph Emm Seagram (1841–1919)," Waterloo Hist. Soc., [Annual report] (Kitchener), 64 (1976): 18–22. W. F. Rannie, Canadian whisky: the product and the industry (Lincoln, Ont., 1976). Standard dict. of Canadian biog. (Roberts and Tunnell), vol.2. George Tompkins, "A history of the Kitchener-Waterloo Hospital," Waterloo Hist. Soc., Annual vol., 52 (1964): 44–60.
© 1998–2023 University of Toronto/Université Laval
Image Gallery

Cite This Article
Andrew Thomson, "SEAGRAM, JOSEPH EMM," in Dictionary of Canadian Biography, vol. 14, University of Toronto/Université Laval, 2003–, accessed June 2, 2023, http://www.biographi.ca/en/bio/seagram_joseph_emm_14E.html.
The citation above shows the format for footnotes and endnotes according to the Chicago manual of style (16th edition). Information to be used in other citation formats:
| | |
| --- | --- |
| Permalink: | http://www.biographi.ca/en/bio/seagram_joseph_emm_14E.html |
| Author of Article: | Andrew Thomson |
| Title of Article: | SEAGRAM, JOSEPH EMM |
| Publication Name: | Dictionary of Canadian Biography, vol. 14 |
| Publisher: | University of Toronto/Université Laval |
| Year of publication: | 1998 |
| Year of revision: | 1998 |
| Access Date: | June 2, 2023 |