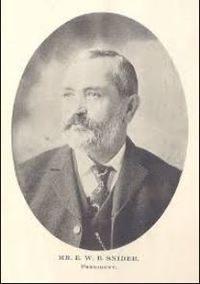 Source: Link
SNIDER, ELIAS WEBER BINGEMAN, miller, manufacturer, and politician; b. 19 June 1842 in Waterloo, Upper Canada, third son of Elias Snider and Hannah Bingeman; m. first 19 April 1864 Nancy Weber (d. 1912) in Preston (Cambridge), Upper Canada, and they had seven sons and four daughters (one son died in infancy); m. secondly 1915 Helen Shoemaker; d. 15 Oct. 1921 in Kitchener, Ont.
E. W. B. Snider left public school at the age of 12 to work on the family farm, but he shared his father's interest in milling and in 1860 began a two-year apprenticeship at the family's flour operation in German Mills (Kitchener). On its completion he became the manager of the mill and in 1864 he made an arrangement with his father to run it on a "shares" basis, which would allow him a measure of the profits. The Sniders expanded their holdings in 1868 to include a small mill at Berlin (Kitchener), but in 1871 Elias Jr set out on his own, purchasing a mill in St Jacobs. There he became the first Canadian to introduce roller milling to the industry. On the advice of John Braun (Brown), a former employee, he purchased a roller system from the Hoerde company of Vienna in 1875. This Walzenstuhle process replaced millstones with a slower but more efficient system of small rollers. The resulting product, which Snider called Walzen flour, represented a dramatic improvement in quality over traditionally milled flour and Snider was able to sell it widely, not only in Ontario but also in eastern Canada, the northeastern United States, and Britain. In 1876 he acquired a second mill, in New Dundee, where he also installed rollers. By the mid 1880s this operation and his Pioneer Roller Flouring Mill in St Jacobs were together producing 250 barrels a day.
The roller milling system was an early example of Snider's fascination with new technology and commercial opportunity. In 1884 he was attracted to the foundry business and purchased a works in Waterloo from Jacob Bricker, which he operated with Bricker's son Levi. Four years later the business was incorporated as the Waterloo Manufacturing Company Limited, with Snider and Absalom Merner, another foundry owner, as the major partners. This firm, of which Snider was president, would become famous for the manufacture of agricultural implements. The company expanded Jacob Bricker's line of threshers and retained his Champion trade mark. It also began to make steam traction engines under the Lion Brand trade name. The 1890s and the ensuing decade were good years for the company in the very competitive agricultural machinery business in Canada. By 1908 it employed 150 men and had 15 travelling salesmen, as well as branch offices in Winnipeg and Regina. Developing technology would restrict its success, however. The introduction of the gasoline tractor led to the replacement of steam as the motive power in agriculture by about 1925. Snider and his firm experimented with a gasoline tractor, but the expense, and American competition, caused them to abandon the project. In the early 1920s, after Snider's death, the introduction of an effective, reasonably priced combine harvester on the prairies threatened the company's future even more; it replaced both the tractor and the thresher, and thereby eliminated Waterloo Manufacturing's main markets. Snider's sons, now in control of the company, sold the firm to Playfair and Company of Toronto in 1927.
From 1881 to 1894 Snider had sat as a Liberal for Waterloo North in the Ontario legislature. He concentrated on expanding municipal powers through his work on municipal assessment and a municipal fire insurance act. Later in his term he became interested in forest preservation and lobbied for the creation of reserves. He would maintain this interest long after leaving politics, publishing an article on the depletion of forests in Waterloo County in the report of the Waterloo Historical Society in 1918. In the federal election of 1896 Snider ran against Conservative Joseph Emm Seagram* in Waterloo North. This was an industrial riding and Snider, though himself a protectionist, bore the cross of the Liberals' free trade policy. The local Conservative paper called on him to "be a man." "Declare that you will either support [Wilfrid Laurier*] and Free Trade or Joseph Seagram and Protection." The voters preferred Seagram.
Snider experienced success in the manufacturing and milling fields. He also dabbled in railway promotion, with the Waterloo Junction Railway, and the sugar-beet industry. Among his other interests were the Toronto Foundry (later the Anthes Foundry), the Snider Lumber Company of Waterloo Limited, which operated mills at Gravenhurst, and the Canada Felting Company Limited of St Jacobs.
Snider is best known for his role in the introduction of public electricity to Ontario. An early convert to the benefits of electricity, in 1894 he had installed a generator at his mill in St Jacobs which also provided power to homes in the town. In 1900 he joined with Daniel Bechtel Detweiler and Joseph Bingeman to form a company to generate power for mines north of Lake Superior. The Michipicoten Falls Power Company Limited was an early success and convinced Snider of the importance of hydroelectric power for industry. In February 1902 he called upon business and community leaders in the area around Berlin to meet and discuss the most effective way to ensure that power generated at Niagara Falls would be made available to businesses and homes in the province. A subsequent meeting in June struck a committee, chaired by Snider, to consider the matter. Snider and Detweiler, the publicist, researcher, and jack-of-all-trades for the venture, spoke to many municipal and business leaders as well as to the Niagara power companies. At a further meeting in February 1903 it was decided to lobby the provincial government either to build transmission lines as a public work or to authorize the municipalities to do so. The government of George William Ross* responded with legislation enabling local governments to proceed. On 12 August Snider became the chair of the Ontario Power Commission, which represented seven municipalities and whose members included London mayor Adam Beck and other leaders. Its report in March 1906 recommended that a cooperative of municipalities construct and operate both a generating and a transmission system for Niagara hydroelectric power. The report was, however, superseded by that of a second commission, appointed in 1905 by the new government of James Pliny Whitney* and chaired by Beck; its recommendation in April 1906 of a provincially owned system carried the day. Four years later Premier Whitney went to Berlin to throw the switch that launched Ontario's hydroelectric system. Snider's role in this development faded from public memory, replaced in great measure by Beck's. In the early 1930s his son William Weber began to lobby the provincial government of George Stewart Henry* to recognize Snider's contribution. This campaign eventually resulted in 1956 in a monument to Snider at St Jacobs and in official recognition from the Hydro-Electric Power Commission of Ontario.
Snider died in 1921 in Kitchener, where he had gone to live after his second marriage. A member of the Evangelical Association, he was laid to rest in the St Jacobs cemetery. He had enjoyed great success in his life by embracing new technology: a new method of milling flour, new machinery for agriculture, and a new system for delivering electricity.
E. W. B. Snider's article "Waterloo forests and primitive economics" appears in Waterloo Hist. Soc., Annual report (Kitchener, Ont.), 6 (1918): 14—36.
Kitchener Public Library, Rare Books Dept., MC 5.4 (Dan Detweiler papers); MC 6.17 (E. W. B. Snider papers); E. W. B. Snider file. Ontario Agricultural Museum (Milton, Ont.), Waterloo Manufacturing Company coll. Kitchener Daily Record, 17 Oct. 1921. John English and Kenneth McLaughlin, Kitchener: an illustrated history (Waterloo, 1983). Neil Freeman, "Turn-of-the-century state intervention: creating the Hydro-Electric Power Commission of Ontario, 1906," OH, 84 (1992): 171–94. F. L. Leung, Grist and flour mills in Ontario: from millstones to rollers, 1780s-1880s (Ottawa, 1981). H. V. Nelles, The politics of development: forests, mines & hydro-electric power in Ontario, 1849–1941 (Toronto, 1974). Elliott Richmond, "E. W. B. Snider," Waterloo Hist. Soc., Annual report, 9 (1921): 183–88. W. A. Schmidt, "The Waterloo Manufacturing Co. Limited," Waterloo Hist. Soc., Annual report, 75 (1987): 16–23. H. S. Turner and R. W. Irwin, Ontario's threshing machine industry: a short history of these pioneer companies and their contribution to Ontario agriculture (Guelph, Ont., 1974). G. M. Winder, "Following America into corporate capitalism: technology and organization of the Ontario agricultural implements industry to 1930" (phd thesis, Univ. of Toronto, 1991).
© 2005–2023 University of Toronto/Université Laval
Image Gallery

Cite This Article
Andrew Thomson, "SNIDER, ELIAS WEBER BINGEMAN," in Dictionary of Canadian Biography, vol. 15, University of Toronto/Université Laval, 2003–, accessed September 28, 2023, http://www.biographi.ca/en/bio/snider_elias_weber_bingeman_15E.html.
The citation above shows the format for footnotes and endnotes according to the Chicago manual of style (16th edition). Information to be used in other citation formats:
| | |
| --- | --- |
| Permalink: | http://www.biographi.ca/en/bio/snider_elias_weber_bingeman_15E.html |
| Author of Article: | Andrew Thomson |
| Title of Article: | SNIDER, ELIAS WEBER BINGEMAN |
| Publication Name: | Dictionary of Canadian Biography, vol. 15 |
| Publisher: | University of Toronto/Université Laval |
| Year of publication: | 2005 |
| Year of revision: | 2005 |
| Access Date: | September 28, 2023 |