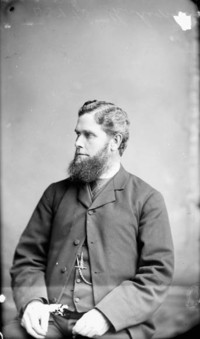 SHAKESPEARE, NOAH, labourer, photographer, politician, activist, and civil servant; b. 26 Jan. 1839 in Brierley Hill, England, son of Noah Shakespeare and Hannah Matthews; m. there 26 Dec. 1859 Eliza Jane Pearson (d. 1923), and they had seven children, of whom three sons and one daughter survived infancy; d. 13 May 1921 in Victoria.
Born and raised in the industrial Black Country of Staffordshire, Noah Shakespeare, who claimed a distant relationship to William Shakespeare, began work in a local chain factory at age eight. He returned to school briefly and then worked in an iron-rolling mill until he decided to emigrate in the fall of 1862. Having chosen British Columbia because of glowing accounts of the Cariboo gold rush, he arrived in Victoria on 10 Jan. 1863. He found employment in Nanaimo as a labourer with the Vancouver Coal Mining and Land Company and by working double shifts he was able to pay passage for his wife and son within a year. The family moved to Victoria in the summer of 1864. There, Shakespeare learned photography from George Robinson Fardon and subsequently managed his photo gallery for a year. By August 1866 he was running another gallery, which he later took over from its absent owner, Charles Gentile. With the exception of a brief interval in 1870, when he worked for journalist and politician Amor De Cosmos* at the Victoria Daily Standard, he seems to have continued in photography. Towards the end of his life, he would imply that he had moved quickly into real estate and after 1880 he would identify himself as a manufacturer's agent, but contemporary sources indicate that from 1864 to the late 1870s he was principally a photographer. By 1877 Eliza Jane had opened a "fancy store." An uncommon step for a married woman, her initiative suggests that Shakespeare's income may not have been adequate for the family's needs.
In January 1875 Shakespeare had entered politics when he was acclaimed a city councillor for James Bay Ward. The election of the mayor and many of the councillors had been attributed by some of their opponents to the Chinese vote. In view of his later anti-Chinese activities, Shakespeare's role in helping to defeat a motion in council to disenfranchise Chinese residents in civic elections is ironic. Later in 1875 he initiated a motion to close Chinese brothels in the city. This move may have stemmed from his strong Methodist beliefs or it may have been the beginning of his anti-Chinese platform. Shakespeare ran for council every year from 1876 to 1881, but was successful only in 1878, 1880, and 1881. In the provincial election of 1875 he had run as an independent in suburban Victoria District, but lost to anti-government candidates because of his association with De Cosmos, who had been premier from 1872 to 1874, and with the government of his successor, George Anthony Walkem*.
White working-class hostility towards Chinese immigrants in British Columbia grew in the late 1870s because of fear of their economic competition and professed concern about their morality. Shakespeare, who declared himself an advocate of workingmen, rose to prominence as a leader of the anti-Chinese movement. In August 1878 the Legislative Assembly passed the Chinese Tax Act to enumerate and tax all Chinese residents. Shakespeare was appointed the tax collector in Victoria, on a commission basis. When people refused to pay, he seized their property. The result was a general strike by Chinese workers and shopkeepers in Victoria on 17 Sept. 1878. When Shakespeare's assistant was accused by Tai Sing of illegally seizing and selling his property, justice John Hamilton Gray* of the Supreme Court of British Columbia ruled that the act was ultra vires the provincial assembly. The following year the federal government disallowed the act, eliminating any chance of future income from this source.
In October 1878 Shakespeare had assumed leadership of the Workingmen's Protective Association. Formed in Victoria a month earlier, the WPA was an early labour union, with the elimination of Chinese competition its primary goal. Shakespeare expanded the organization to the mainland and used it as a springboard for his political career. Early in 1879 he and the WPA sent a petition with almost 1,500 signatures to parliament, calling for taxation of resident Chinese and the exclusion of new immigrants. In April 1879 he stepped down as president of the declining WPA, but he helped found the Anti-Chinese Association the same year. Its goals were identical and on its behalf he petitioned federal and provincial governments for exclusionary legislation and tried to get Chinese labour barred from work on the proposed transcontinental railway. In spite of varying public support, he persevered.
Shakespeare's rising profile led to his election as mayor of Victoria in January 1882. He acquitted himself well, the high point of his term being the state visit of the governor general, Lord Lorne [Campbell*], later that year. Playing on the growing Sinophobia caused by the influx of Chinese work crews for the Canadian Pacific Railway, Shakespeare, a Conservative, successfully contested one of the two seats for Victoria in the federal election of June 1882. He continued as mayor until the end of his term and when the House of Commons was reconvened in February 1883 he took his seat. The following year he reached his political zenith when he tabled a motion in the commons for a law to prohibit Chinese immigration. It was made necessary, he claimed, by their unfair economic competition and their immorality. His motion was amended and became law in 1885 as the Chinese Immigration Act, introducing the infamous $50 head tax on each Chinese arrival and limiting the number of immigrants per vessel. It did not provide outright exclusion, but it was the culmination of Shakespeare's anti-Chinese activity. Later that year in Victoria he established the Labor Bureau, a union of white labourers to fight Chinese competition. In the 1887 election Shakespeare retained his federal seat, but he resigned it to accept an appointment on 1 Jan. 1888 as postmaster of Victoria, a reward for his loyalty to Conservative prime minister Sir John A. Macdonald*. He held the position until his retirement on 31 March 1914, supervising the rapid growth of postal facilities as the city boomed.
With his election to parliament, Shakespeare had attained a higher social status, demonstrated by his appointment as a justice of the peace in 1883 and by the business opportunities that came his way (he was, for example, an organizer and president of the British Columbia Fire Insurance Company in 1886). He did not become wealthy, but on his appointment as postmaster he was able to commission a new house in a fashionable district. At the same time, Eliza Jane gave up her store.
From the 1860s Shakespeare had been a leader of the temperance movements in Victoria and British Columbia. In 1877 and 1878 he was elected grand chief templar of the Independent Order of Good Templars for British Columbia and the Pacific northwest states. He maintained a lifelong involvement in temperance and in other issues consistent with his Methodist beliefs and the improvement of workingmen. He served as president of the Victoria Mechanics' Institute in 1882, the British Columbia Agricultural Association in 1885, and the Young Men's Christian Association in Victoria in 1886-87, and as a member of the management committee of the British Columbia Protestant Orphans' Home in Victoria at least in 1887 and 1889.
An active Methodist in England, Shakespeare had remained so in Victoria, belonging to Pandora Street Methodist Church until 1885, when he became a trustee for the new Centennial Church. He acted as a local preacher, class leader, steward, and Sunday school superintendent in these congregations, as a delegate to the provincial Methodist conference, and as a director of the Columbian Methodist College. Founder of the provincial branch of the International Sunday School Association, he was its president and later honorary president in the period from about 1900 to 1917. During these years he also played a prominent role in the Victoria branch of the British and Foreign Bible Society.
An atypical "self-made man," Shakespeare had become a member of the social elite not through the conventional route of success in business or industry, but by means of a political career based on his being, in the words of historian Patricia E. Roy, British Columbia's "first professional anti-Chinese agitator." It seems that once he had achieved prosperity and status as postmaster, he abandoned this cause and turned his attention to social issues more consistent with his Methodist beliefs. His period of intense anti-Chinese activism may have been a misguided effort to improve the lot of the white working class or a calculated device to better his own economic and social position. Regardless, he had played a considerable role in defining race and class relations in British Columbia.
BCA, GR-1052, file 10973; GR-1304, file 182/1921; MS-0254; VF130, frames 0641-65. City of Victoria Arch., CRS1 (council minutes), 25 Aug. 1862-16 April 1884. Daily Colonist (Victoria), 1863-1921. Victoria Daily Times, 1887-1921, esp. 10 March 1917. H. T. Allen, Forty years' journey: the temperance movement in British Columbia to 1900 (Victoria, 1981). B.C., Legislative Assembly, Sessional papers, 1880: 406. British Columbia Gazette (Victoria), 1878-79. The British Columbia orphans' friend: historical number, ed. Alexander MacDonald (Victoria, 1914). Can., House of Commons, Debates, 1879, 1884-85. Cyclopædia of Canadian biog. (Rose and Charlesworth), vol.2. Directories, B.C., 1882-85, 1887, 1889; Victoria, 1868-69, 1874. 1881 Canadian census: Vancouver Island, comp. Peter Baskerville et al. (Victoria, 1990). 1891 Canadian census, Victoria, British Columbia, comp. Eric Sager et al. (Victoria, 1991). Valerie Green, No ordinary people: Victoria's mayors since 1862 (Victoria, 1992). J. B. Kerr, Biographical dictionary of well-known British Columbians, with a historical sketch (Vancouver, 1890). "Leading laymen, 4: Mr. N. Shakespeare, Victoria," Western Methodist Recorder (Victoria), 1 (1899-1900), no.4: 10. David Mattison, "The Victoria Theatre Photographic Gallery (and the gallery next door)," British Columbia Hist. News (Victoria), 14 (1980-81), no.2: 1-14. P. E. Roy, A white man's province: British Columbia politicians and Chinese and Japanese immigrants, 1858-1914 (Vancouver, 1989). W. P. Ward, White Canada forever: popular attitudes and public policy toward Orientals in British Columbia (2nd ed., Montreal and Kingston, Ont., 1990). Western Methodist Recorder, 20 (1920-21), no.11: 5. Workingmen's Protective Assoc., Constitution, by-laws and rules of order . . . ([Victoria?], 1878).
© 2005–2023 University of Toronto/Université Laval
Image Gallery

Cite This Article
Jamie Morton, "SHAKESPEARE, NOAH," in Dictionary of Canadian Biography, vol. 15, University of Toronto/Université Laval, 2003–, accessed December 7, 2023, http://www.biographi.ca/en/bio/shakespeare_noah_15E.html.
The citation above shows the format for footnotes and endnotes according to the Chicago manual of style (16th edition). Information to be used in other citation formats:
| | |
| --- | --- |
| Permalink: | http://www.biographi.ca/en/bio/shakespeare_noah_15E.html |
| Author of Article: | Jamie Morton |
| Title of Article: | SHAKESPEARE, NOAH |
| Publication Name: | Dictionary of Canadian Biography, vol. 15 |
| Publisher: | University of Toronto/Université Laval |
| Year of publication: | 2005 |
| Year of revision: | 2005 |
| Access Date: | December 7, 2023 |