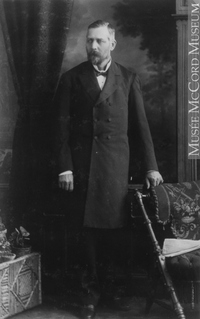 Source: Link
SHOREY, HOLLIS, tailor, salesman, manufacturer, and politician; b. 2 Dec. 1823 in the hamlet of Barnston, Lower Canada, son of Samuel E. Shorey, shoemaker, and Fanny Jones; m. first 1844 Fanny Wheeler (d. 1850), and they had a boy and a girl; m. secondly Clara Gibson, and they too had a boy and a girl; d. 30 June 1893, possibly in Maine, and was buried 3 July 1893 in Montreal.
Hollis Shorey received a commercial education at an academy in Hatley, Lower Canada, and in 1839 was apprenticed to a local tailor. He subsequently opened a tailoring business in Barnston. When he was 19 his father died, leaving him to support his mother and eight brothers and sisters. Having little capital, he made men's and boys' clothes for customers who supplied their own material. He eventually took in a partner, and they operated a tailors' establishment and general store in Barnston until, after four years, Shorey discovered that he had been defrauded. He started over again in another partnership, which lasted for four years. In 1861 he left Barnston for Montreal.
The clothing industry was already of considerable importance in the economy of Montreal by the end of the 1850s. Afterwards, perhaps aided by the American Civil War, it continued to expand. Initially Shorey travelled as a salesman in the Eastern Townships for Montreal manufacturers. In December 1866 he struck out on his own as a manufacturer, and in 1869 he formed a partnership with his son-in-law, Edward A. Small. The firm established an excellent reputation; by August 1870 the partners were "in good credit for all they want . . . reliable and economical," according to the reporter of the credit agency R. G. Dun and Company, who added, however, that "they are not strong . . . for the trade they would do." The reporter had underestimated the capital behind Shorey's firm, which he believed to be $40,000. In fact the company disposed of $67,000, about equally divided between fixed and working capital. It employed 305 persons, including 280 women, of whom 75 were girls under 16. By this time Shorey's firm was paying annually $24,000 in wages and $112,000 for materials to produce coats, pants, and vests valued at $153,000. In 1871 it moved to larger premises on Rue Sainte-Hélène. Described as a "practical tailor," Shorey managed production in the factory while Small travelled, buying textiles from woollen factories in his native English midlands and, to a lesser extent, from Canadian mills.
By 1874 the firm was employing between 700 and 1,000 workers, most on a seasonal basis. Only 75 worked in the factory; salaried men, they included tailors, who designed the men's and boys' suits that the firm produced, and cutters, who prepared the pieces. The rest were outside workers, women and girls, who, according to the sweating system on which the industry was based, laboured at home sewing the pieces into garments which were then collected and brought to the factory for inspection, pressing, and distribution. These workers lived in Montreal or in the countryside within a radius of 30 miles, linked to the city by rail. Notwithstanding depressed economic conditions and, according to the manufacturers, tariffs that were too low, Montreal's ready-made clothing industry was apparently very profitable, if somewhat volatile. Shorey and Small at least continued to thrive; in 1876 a Dun reporter stated, "They have a very good surplus . . . [and] have their business well in hand considering the state of things."
Shorey's expansion continued into the 1880s, his sons replacing Small, who left the firm in 1886. By the mid 1880s it was the flagship of an industry that had emerged as the second most important in Montreal in terms of employment and value of output. In 1888 Shorey was employing around 150 people in his factory and about 1,450 outside. Montreal's tailors, particularly the women, who earned one-half the men's salary, were nearly the lowest paid among all trades. Yet, wrote George Maclean Rose, "the firm, we are told, deals very liberally with their employees, and the most kindly feelings exist between them and their employers." In any case the structure of the sweating system prevented any possibility of a strike. At the other end of the process, in sales, Shorey organized Montreal's clothing manufacturers informally to restrict competition among travelling salesmen. He himself made trips far afield to see what the market was like; in 1884, for example, the railway enabled him to visit customers in western Canada where, he reported, "everyone was very prosperous . . . the people . . . were good customers, buying only the best articles and at good prices." By 1893, the year of his death, he was the largest producer in Canada and was selling across the dominion and into Newfoundland and the West Indies. He occupied a large six-storey building at the corner of Notre-Dame and Saint-Henri streets where 125 tailors and cutters turned out pieces for 1,500 outside workers. But the firm was more a monument to Shorey's enterprise and skill than a modern manufacturing company. By the early 1900s it no longer existed.
No doubt in large part because of his business, Shorey was well travelled, having visited Europe and the United States. In religion he was Anglican; in politics "a staunch Conservative." He served for 18 years on the council of the Montreal Board of Trade and took an active part in its deliberations on such issues as shipping, railroad freight rates, the need for a union station, and reciprocity. During a smallpox scare in 1885 [see Alphonse-Barnabé Laroque de Rochbrune] he spearheaded the board's widespread campaign for vaccination. He was chairman of the Montreal Sanitary Association and a governor of several hospitals. Chairman as well of the Citizens' Association, he endorsed efforts to uncover evidence of corruption by civic officials, and from 1890 to 1892 he was an alderman. He died in June 1893.
ANQ-M, CE1-69, 30 juin 1893. Baker Library, R. G. Dun & Co. credit ledger, Canada. NA, RG 31, C1, 1871. Can., House of Commons, Journals, 1874, app.3; Royal commission on labour and capital, Report, Evidence – Quebec. Montreal illustrated, 1894 . . . (Montreal, [1894]), 292. Gazette (Montreal), 26 Sept. 1885; 19 June, 29 Sept. 1886; 29 June 1887; 4 March 1891. Montreal Daily Star, 19 April, 9 Aug. 1884; 20 Jan., 8 Nov. 1887; 17 July 1891. Canadian album (Cochrane and Hopkins), 2: 339. Cyclopædia of Canadian biog. (Rose and Charlesworth). E. J. Chambers, The book of Montreal: a souvenir of Canada's commercial metropolis ([Montreal, 1903]). Jean Hamelin et Yves Roby, Histoire économique du Québec, 1851–1896 (Montréal, 1971), 270. Fernand Harvey, Révolution industrielle et travailleurs; une enquête sur les rapports entre le capital et le travail au Québec à la fin du 19e siècle (Montréal, 1978).
© 1990–2023 University of Toronto/Université Laval
Cite This Article
Gerald J. J. Tulchinsky, "SHOREY, HOLLIS," in Dictionary of Canadian Biography, vol. 12, University of Toronto/Université Laval, 2003–, accessed September 25, 2023, http://www.biographi.ca/en/bio/shorey_hollis_12E.html.
The citation above shows the format for footnotes and endnotes according to the Chicago manual of style (16th edition). Information to be used in other citation formats:
| | |
| --- | --- |
| Permalink: | http://www.biographi.ca/en/bio/shorey_hollis_12E.html |
| Author of Article: | Gerald J. J. Tulchinsky |
| Title of Article: | SHOREY, HOLLIS |
| Publication Name: | Dictionary of Canadian Biography, vol. 12 |
| Publisher: | University of Toronto/Université Laval |
| Year of publication: | 1990 |
| Year of revision: | 1990 |
| Access Date: | September 25, 2023 |