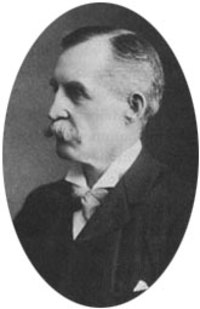 Source: Link
SIMMS (Sims), THOMAS STOCKWELL (he changed his name sometime before 1872 because he thought the new spelling looked better in the name of his firm), broom and brush manufacturer; b. 12 Sept. 1845 in Raymond, Maine, only child of Hugh W. Sims and Almyra Phinney; m. first 18 Oct. 1870 Hattie Russell (d. 1879) in Boston, and they had one daughter; m. secondly 15 Aug. 1883 Almyra Thompson (d. 1885) in Saint John, N.B., and they had one son; m. thirdly 25 Dec. 1886 Ida Lois Rutherford (d. 1924) in Saint John, and they had three sons and a daughter; d. there 18 Dec. 1908.
When Thomas Stockwell Simms was about three his mother died, and he was raised by his aunt Abigail Phinney. They had a close relationship, and after he had settled in Saint John she was to be his guest on many occasions. Simms received a common-school education, but since his aunt was of modest means he began work in his early teens as a clerk in Bethel, Maine. At the beginning of the Civil War he tried to enlist. Succeeding in 1863, he served as commissary to the 7th Light Battery of the Maine artillery. He was mustered out of the army on 21 June 1865.
With his discharge money of $600 he became a partner in 1868 of a Mr Redlon (Redland), a broom manufacturer of Portland. Beginning as a salesman, Simms worked a territory from Boston to Saint John and Halifax. During his many trips to the Maritimes he dealt regularly with James Logan and Matthew Lindsay, wholesale grocers of Saint John, and his largest customers there. Logan and Lindsay apparently had a share in the Saint John brush manufactory managed by John Murphy, which they felt was not being sufficiently well administered. Impressed by Simms, they persuaded him to move to Saint John and form a partnership with them and Murphy. The firm of Murphy, Simms and Company came into being on 9 Oct. 1872.
Simms's decision to move had possibly been influenced by the construction of the European and North American Railway to link Saint John and New England; perhaps, as well, he saw less competition and greater selling and manufacturing potential in the Maritimes than in the northeastern states. In any event, by 1875 the business was described as an "extensive steam manufactory" which employed over 50 people and sold its products throughout Canada. After Murphy's retirement, on 1 Jan. 1877 a partnership was established between Logan, Lindsay, and Simms which lasted until November 1881. Simms continued without a partner until 1885, when Charles Hardy, a foreman with the firm, joined him. Three years later this association dissolved amicably.
Perhaps because Simms remained closely attached to his family in Maine, he never took an active role in the politics of New Brunswick or Canada. He was none the less alive to his interests. In the fall of 1879, when the federal minister of finance, Sir Samuel Leonard Tilley*, was visiting the Simms plant, Simms reminded him that the products of his factory could not compete with the cheaper brooms made by prisoners at the Dorchester Penitentiary. In January 1891, moreover, Simms would formally protest against the "competitive manufacture" of brooms by the penitentiary during hearings of the Saint John Board of Trade.
Although Simms's business had escaped the great fire of 1877 [see Sylvester Zobieski Earle*], the plant burned down in 1883. He set up a temporary factory on Dock Street before moving into a new plant in the spring of 1884. Simms often travelled to Europe seeking to remain current with advances in manufacturing. His business prospered and by 1888 he had 65 employees. In 1895 the firm was incorporated as T. S. Simms and Company, and by 1902 it had moved to an expanded plant on Union Street, the last site Simms would know in his lifetime.
Simms suffered two major reversals in his business career. During the 1870s one of his principal backers encountered financial difficulties and asked Simms to co-sign a bank note for $10,000. Simms agreed but his colleague went bankrupt and the bank demanded that Simms pay the note. It took Simms most of the 1880s to discharge the debt, which represented the "equal of six months total sales" of his firm and which consequently sapped his resources. Simms felt that the bank should have absorbed some of the loss and, when the money had been paid, the bank, most likely the Bank of New Brunswick, lost his account. The second disappointment resulted from Simms's attempt to incorporate a greater measure of control into his manufacturing process by owning the source of his supplies. In the early 1890s he began purchasing brush handles from a small mill near St Martins. He was subsequently persuaded to invest in it, but the investment proved unprofitable and as a result Simms suffered a nervous breakdown in the autumn of 1899.
Simms's life focused on his family, church, and business. Shortly after his arrival in Saint John he became a member of the Germain Street Baptist Church. Formally received into it in 1876, he was made a deacon in 1879, and he held the position for the rest of his life. Between 1884 and 1900 he was also treasurer. In 1874 Simms had been named superintendent of the Sunday-school program, a position he held for 24 years. He was also the first president of the New Brunswick and Prince Edward Island Sunday School Association, and his involvement in the International Sunday School Association brought him into contact with similarly enthused businessmen such as John Wanamaker and Henry John Heinz of the United States.
Most likely while renewing old acquaintances in Portland, Simms learned of a youth movement founded there, the Young People's Society of Christian Endeavour, and in 1883 he began in Saint John its first Canadian branch. When the Laymen's Missionary Movement swept North America at the beginning of the 20th century, Simms became the organization's first New Brunswick vice-president, and he occupied the position at his death. In 1905 he initiated the Men's League, a group within his congregation which encouraged the men of the church to meet for Bible study at the conclusion of morning service during the fall and winter. His last overseas trip, in 1907, focused primarily on religious interests. Among his stops were the Baptist mission fields in the Telugu-speaking districts of India [see Mary E. Lamont]. Impressed by the work being carried on, Simms provided in his will for the construction of a church in Vizianagaram which became known as the Simms Memorial Church.
When Simms died his contemporaries recalled him as an "American" and "more than a businessman." In addition to his church-based charities, he had given generously to the Young Men's Christian Association. At his funeral the front seats in the Germain Street church were reserved for employees of his firm and the boys of the Saint John Protestant Orphan Asylum, of which he had been a governor. Two of his sons took his remains to Portland to be buried.
[Details concerning Thomas Stockwell Simms and the company he founded appear in copies of two corporate histories which have survived in the possession of T. S. Simms of Saint John, N.B., a grandson of the subject and the current head of the firm: L. W. Simms, Fifty years history of T. S. Simms and Co. Ltd., 1872–1922 (Saint John, 1922), and [A. I. Trueman], The story of Simms: commemorating the 75th anniversary, 1866–1941 (Saint John, 1941). e.w.mcg.]
Evergreen Cemetery (Portland, Maine), Burial records. Germain Street United Baptist Church (Saint John), Germain Street Baptist Church, records commencing in 1854; list of members, 1866–87. N.B. Museum, Saint John Young Men's Christian Assoc., board of trustees, minute-book, 1898–1911. PANB, RS71, 1908, T. S. Simms. Daily Telegraph (Saint John), 19 Dec. 1908. Saint John Globe, 21 Dec. 1908. The history of Germain Street Baptist Church, St. John, N.B., for its first one hundred years, 1810–1910 (Saint John, 1910), 58, 103. H. M. Lewis, People with vision: a history of the Germain Street United Baptist Church, 1810–1990 (Saint John, 1990), 22, 85. L. W. Simms, A tribute to the memory of T. S. Simms on the occasion of the centennial of his birth ([Saint John], 1945). St. John and its business: a history of St. John . . . (Saint John, 1875), 45–46.
© 1994–2023 University of Toronto/Université Laval
Image Gallery

Cite This Article
Elizabeth W. McGahan, "SIMMS, THOMAS STOCKWELL," in Dictionary of Canadian Biography, vol. 13, University of Toronto/Université Laval, 2003–, accessed October 3, 2023, http://www.biographi.ca/en/bio/simms_thomas_stockwell_13E.html.
The citation above shows the format for footnotes and endnotes according to the Chicago manual of style (16th edition). Information to be used in other citation formats:
| | |
| --- | --- |
| Permalink: | http://www.biographi.ca/en/bio/simms_thomas_stockwell_13E.html |
| Author of Article: | Elizabeth W. McGahan |
| Title of Article: | SIMMS, THOMAS STOCKWELL |
| Publication Name: | Dictionary of Canadian Biography, vol. 13 |
| Publisher: | University of Toronto/Université Laval |
| Year of publication: | 1994 |
| Year of revision: | 1994 |
| Access Date: | October 3, 2023 |