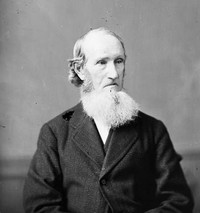 Source: Link
SIMPSON, JOHN, merchant, miller, banker, and politician; b. 12 May 1812 at Rothes (Grampian), Scotland, the son of John Simpson and Margaret Petrie; d. 21 March 1885 at Bowmanville, Ont.
John Simpson Jr came from a family in Scotland composed mostly of traders, builders, and physicians; James Simpson, the celebrated surgeon, was his second cousin. In 1815 John and his parents immigrated to Upper Canada, settling first on the Scotch Line, near Perth, and later in Brockville. There John received a common school education before being hired in 1825 as a clerk in Charles Bowman's general store and mill at Darlington (Bowmanville), Durham County. He remained connected with the interests of Bowman and his family for some 37 years.
Simpson's business talents developed rapidly under Bowman's tutelage, and he soon became Bowman's partner. As a miller, Simpson had few peers. In 1838 he won the gold medal offered by Lord Durham [Lambton*] for the best flour produced in British North America, and in 1851 he won the highest award available in competition for a sample of flour entered at the Great Exhibition in London, England. When Bowman died in 1848, Simpson was named manager of his estate and, with his brother-in-law, John Burk, continued the mercantile and flour business.
Because of his involvement in the produce, grain, and flour trade, Simpson took an active part in every attempt to improve transportation in Durham County. In 1839, the year in which the Port Darlington Harbour Company began to make improvements to the harbour some two miles from Bowmanville, Simpson was named president of the firm. In 1858 he was a leading proponent of a toll-road from Bowmanville to Carden Township, which would have entailed the construction of a bridge across Lake Scugog. Although the bridge and the northern section of the road were never built, the road did go as far as Caesarea, thus enhancing Bowmanville's economic control over the area.
Simpson's most important business undertaking, however, was the creation of the Ontario Bank in 1857. In 1848 the Bank of Montreal, as part of an attempt to dominate the financial life of Canada West, had established a branch in Bowmanville and named Simpson manager. Shortly after, his responsibilities were expanded to include management of the Whitby branch. Then in 1856 a group of financiers involved in the Montreal City and District Savings Bank, led by Henry Starnes*, decided to enter the rapidly developing banking business of Canada West. They chose the rich agricultural districts of Ontario and Durham counties as their base. When they had obtained a charter for the Ontario Bank, Simpson undertook to promote it locally; to ensure acceptance in the area, the bank's Montreal connections were kept secret, Simpson was named its president in 1857, and the head office was set up in Bowmanville. The bank was an instant success and soon began to attract Toronto investors. In the ensuing struggle over control between the Montreal and Toronto shareholders, which was to last almost 20 years, Simpson joined those from Toronto to prevent a relocation of the head office in Montreal. The Toronto group eventually won, and in 1874 the head office was moved to that city. Simpson resigned the presidency in 1878, although he retained his shares, worth about $16,000.
Though he restricted his active involvement to his Bowmanville investments, Simpson nevertheless participated in the creation and direction of a number of other major enterprises. He was an incorporator of the Bank of Western Canada in 1859, the London and Canadian Loan and Agency Company in 1863, and the Ontario Central Railway Company in 1874, and he was also a shareholder and director of the Joseph Hall Manufacturing Company in Oshawa.
A lifelong Liberal, Simpson entered public life via the usual route of appointment to the magistracy and election to a variety of township offices. In 1848 he was elected to the Newcastle District Council and in 1850 served as Darlington Township councillor. In addition, he was appointed a commissioner of the Provincial Lunatic Asylum in Toronto by Robert Baldwin*.
In 1856, when the Legislative Council became elective, the division of Queen's was created from the ridings of Ontario North, Victoria, and Durham West. Simpson, nominated by the Reformers, won by acclamation after Henry Jones Ruttan, the Conservative candidate, withdrew. Simpson was returned unopposed in 1864 and at confederation was called to the Senate, where he served until his death. His political and economic influence in Ontario County was credited with winning many close contests for other Liberal candidates. With his business associate and political arch-rival, Thomas Nicholson Gibbs, his struggles were particularly hot. As local leaders of the rival parties, Simpson and Gibbs were invariably called upon to debate the leading questions of the day in every election contest in the area. In parliament Simpson's few contributions to debate were on the practical aspects of banking and monetary policy or in favour of religious or charitable organizations. His most important work was done as chairman of the parliamentary committee on printing; at his death it was stated in the Senate that his activities on the committee, starting in 1857, had saved the government over $100,000. Its reports were a textbook of sound business practice.
Simpson had married in May 1844 Annie Burk, the daughter of a Baptist minister, and he joined that church after her death in 1846. On 13 June 1850 he married her younger sister, Sarah, and they had nine children, eight of whom survived him. In later life he joined the Disciples of Christ and was an active evangelist and Sunday school teacher.
Can., Prov. of, Statutes, 1857, c.159; Senate, Debates, 1885: 427–28. Upper Canada, Statutes, 1840, c.37. Canadian Statesman (Bowmanville, Ont.), 6 June, 4 July 1872; 27 March, 3 April 1885. Globe, 4, 7 Sept. 1874. Mail, 2 Sept. 1874. Monetary Times, 12 Nov. 1869. Oshawa Vindicator (Oshawa, [Ont.]), 7 Oct. 1857, 23 June 1858. Whitby Chronicle (Whitby, Ont.), 13 May 1858, 18 June 1874. Canada, an encyclopædia (Hopkins), I: 439. Canadian biog. dict., I: 485–86. Canadian directory of parl. (J. K. Johnson). DNB (entry for James Simpson). Dominion annual register, 1885: 278. Illustrated historical atlas of the counties of Northumberland and Durham, Ont., comp. H. Belden (Toronto, 1878; repr. Belleville, Ont., 1972), iii–iv, 105. J. E. [C.] Farewell, County of Ontario; short notes as to the early settlement and progress of the county . . . (Belleville, 1973); first pub. with Ontario County, By-laws of the council . . . (Whitby, 1907). [R. G. Hamlyn et al.], Bowmanville; a retrospect ([Bowmanville, 1958]), 6, 21–22. W. H. Higgins, The life and times of Joseph Gould . . . (Toronto, 1887; repr. Belleville, 1972), 281–82. L. A. Johnson, History of the county of Ontario, 1615–1875 (Whitby, 1973), 245, 248, 250. V. Ross and Trigge, Hist. of Canadian Bank of Commerce, III: 205–6, 297. John Squair, The townships of Darlington and Clarke, including Bowmanville and Newcastle, province of Ontario, Canada (Toronto, 1927), 53, 132, 141–42.
Revisions based on:
Ancestry.com, "Ontario, Canada, marriages, 1826–1937," John Simpson and Sarah Burk, 13 June 1850: www.ancestry.ca (consulted 17 March 2020). AO, RG 80-8-0-194, no.014022. Globe, 16 Feb. 1854, 25 Apr. 1857.
© 1982–2023 University of Toronto/Université Laval
Image Gallery

Cite This Article
Leo A. Johnson, "SIMPSON, JOHN (1812-85)," in Dictionary of Canadian Biography, vol. 11, University of Toronto/Université Laval, 2003–, accessed December 5, 2023, http://www.biographi.ca/en/bio/simpson_john_1812_85_11E.html.
The citation above shows the format for footnotes and endnotes according to the Chicago manual of style (16th edition). Information to be used in other citation formats:
| | |
| --- | --- |
| Permalink: | http://www.biographi.ca/en/bio/simpson_john_1812_85_11E.html |
| Author of Article: | Leo A. Johnson |
| Title of Article: | SIMPSON, JOHN (1812-85) |
| Publication Name: | Dictionary of Canadian Biography, vol. 11 |
| Publisher: | University of Toronto/Université Laval |
| Year of publication: | 1982 |
| Year of revision: | 2020 |
| Access Date: | December 5, 2023 |