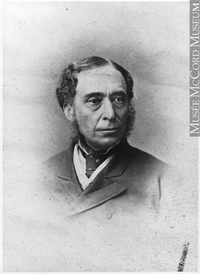 Source: Link
STARNES, HENRY (sometimes given as Henry Nathan), merchant, banker, and politician; b. 13 Oct. 1816 in Kingston, Upper Canada, son of Benjamin Starnes and Elizabeth Mainville; m. 5 Aug. 1840 Eleanore Stuart in Montreal, and they had seven children; d. 3 March 1896 in Montreal.
Henry Starnes, of United Empire Loyalist and French Canadian descent, was educated at the Montreal Academical Institution, founded by the Reverend Henry Esson*, and the Petit Séminaire de Montréal. While in school he met many of the influential figures, including George-Étienne Cartier*, with whom he would be associated in later years. In 1837 his sister Marguerite-Émélie Starnes married Louis-Victor Sicotte*, a prominent moderate political leader in Lower Canada during the turbulent years leading up to the "Great Coalition" of 1864 [see George Brown*; Sir John A. Macdonald]. In the 1830s Henry Starves entered the employ of the food-importing firm of James Leslie and Company and began to establish a foothold for himself in the Montreal business community. James Leslie* had been among the founders of the Bank of Montreal in 1817, and in his employ Starves rubbed shoulders with important business leaders both in Montreal and abroad. In 1849 he became a partner in the new firm of Leslie, Starnes and Company, and he stayed in the wholesale trade until, in 1859, his business interests turned to banking.
By the early 1850s Starnes was sufficiently well known to embark upon a successful political career. He served as city councillor for the West Ward of Montreal from 1852 to 1855, and then as mayor of the city in 1856–58 and again in 1866–68. In the 1857 general election he was defeated as a Liberal-Conservative candidate in the three-member riding of Montreal, running on the same ticket as Cartier and John Rose*, but in January 1858 he won a seat in the Legislative Assembly as member for Châteauguay, which he held until 1863. Starnes never again occupied elected office. After confederation he accepted instead a seat on Quebec's Legislative Council. Into the 1870s, however, he continued to play an "indispensable" role behind the scenes managing party finances for Cartier's Bleus, and in this capacity he became entangled in the dealings between Cartier and Sir Hugh Allan* during the 1872 federal election.
Cartier received considerable financial aid from Allan in his losing bid for re-election in Montreal East, funds which were funnelled through the Metropolitan Bank by Starnes, who was at that time its president. In return for Allan's assistance and contributions to the national campaign fund, Cartier signed a letter promising the contract for the transcontinental railway to a syndicate formed by Allan. The Liberal-Conservatives were returned to power and when, under pressure from Prime Minister Sir John A. Macdonald, Allan dropped his American associates from the syndicate, one of them, George William McMullen, threatened to disclose the financial relationship between Allan and Cartier. Starves intervened and obtained the damning correspondence from McMullen in return for $37,500. It became known to several Liberal members of parliament, however, that Starnes was in possession of these documents and news of the dealings was revealed in the House of Commons by Lucius Seth Huntington* in April 1873. The Liberals succeeded in having the correspondence impounded and under court order Starnes was compelled to release the damaging letters.
The subsequent Pacific Scandal, which brought down the Macdonald government, coincided with the death of Starnes's close political associate Cartier and marked the end of Starnes's direct involvement in partisan politics. As a legislative councillor he supported both Liberal and Conservative provincial governments. Following the change of government made by Lieutenant Governor Luc Letellier* de Saint-Just in 1878, Starnes joined the Liberal ministry of Henri-Gustave Joly* as speaker of the Legislative Council. As a cabinet member, Starnes profited by the purchase of land in which he owned an interest for the Quebec, Montreal, Ottawa and Occidental Railway, the provincially controlled railway along the north shore of the St Lawrence River. He also became the centre of a controversy arising from his authorization of the payment of an exorbitant sum for the purchase and installation of nutlocks along the Quebec, Montreal, Ottawa and Occidental Railway line. During the 1880s Starnes served in two Conservative provincial governments: as railway commissioner under Joseph-Alfred Mousseau* (1 Aug. 1882 to 11 Feb. 1884) and as commissioner of agriculture and public works under Louis-Olivier Taillon* (27–29 Jan. 1887). After the fall of the short-lived Taillon ministry, Starnes reportedly quipped: "Before I could find my department, the government had been beaten." From April 1889 to March 1892 Starnes once again served as speaker of the Legislative Council, supporting until December 1891 Honoré Mercier's Parti National government. Like many Quebec Bleus of his day, Starnes appears to have been won over to the Liberal party under Wilfrid Laurier* in the 1890s and he reportedly died a Liberal in 1896. According to the Montreal Daily Star, however, many political figures in Quebec were of the opinion that Starnes was "always sure to be found in the Government ranks, no matter the color of the flag or uniform."
Starnes's business career follows closely the pattern revealed in his political life, and may be divided into two periods separated by scandal. During his years in business with James Leslie, Starnes also became involved in finance and served as a director of the Banque du Peuple (1851–53) and of the City and District Savings Bank (1852–76). He left the food-wholesaling trade in 1859 to set up and manage the Montreal branch of the Ontario Bank. In 1871 he relinquished his position with the Ontario Bank to organize the Metropolitan Bank, and from its opening that year he served as president.
Starnes's management of the Metropolitan Bank was both unconventional and financially dangerous. Established with an authorized capital of $1 million, the Metropolitan had collected only $700,000 of this amount from its shareholders by June 1875. Instead of calling in the funds he and his fellow shareholders had subscribed, Starves decided to finance the bank's operations by borrowing from other financial institutions. In 1873 he reported that "this is a new system, but so far it works well. I do not think it is necessary to increase our capital, because we can always make arrangements to get money cheaper than we do from shareholders to whom we must pay dividends." Surprisingly this policy was endorsed by the shareholders: although they were spared the need in the short term of tying up their funds in the bank's capital, the scheme involved considerable long-term risk for the bank. Unlike funds invested by shareholders, loans had to be repaid at some specific date in the future regardless of the financial circumstances, and interest payments on loans could not be cancelled, as could dividends on bank stock, in times of difficulty. As long as the bank's investments were profitable, Starnes's system might work, but in the event of rough times disaster was inevitable.
The full force of the 1873 depression struck the Montreal financial community in 1875 and the Metropolitan found itself in serious trouble. Dividend payments were suspended in November, Starnes resigned amid rumours that his management was directly responsible for the bank's plight, and the bank closed its doors in 1876. The shareholders lost much of their investment and in the aftermath of the collapse Starnes was the target of lawsuits and reports of improper and illegal banking practices. It was said that he had paid for his own stock with unsecured promissory notes, in violation of the Canadian Bank Act, and that he had received substantial advances from the bank for "speculative purposes." None of these lawsuits proved successful, but Starves retired from banking and in business never again wielded power comparable to that which he had exercised as president of the Metropolitan Bank.
During his business career Starnes had been involved in the administration of a large number of companies as shareholder and director including the Richelieu and Ontario Navigation Company [see Sir Hugh Allan], the Canadian Engine and Machinery Company, the Montreal Northern Colonization Railway Company, the Prince Edward County Railway Company in Ontario, the Beauharnois Junction Rail-way Company, the Montreal Warehousing Company, and the Consumers' Gas Company of the City and District of Montreal. In the early 1870s, while serving as president of the Metropolitan Bank, he was a shareholder in the Bank of Montreal and when its president, Edwin Henry King, retired in 1873, he was secretary-treasurer of the committee appointed to express the shareholders' appreciation for King's many years of service. Starnes also served as vice-president of the Montreal Board of Trade and of the Association Saint-Jean-Baptiste.
A parallel may be drawn between the business and the political careers of Henry Starnes. In both spheres his early life was one of success and upward mobility. The scandals of the 1870s did not destroy him, but they did, perhaps prematurely, bring an end to hopes of greater power and influence. Said to have been a man who loved position and power, Starnes reportedly cherished the dream of one day taking up residence in Spencer Wood as lieutenant governor of Quebec. The Pacific Scandal and the collapse of the Metropolitan Bank relegated him to a less active role in politics and in business for the remaining years of his life.
ANQ-M, CE1-51, 5 août 1840. NA, MG 24, B2; B40; D102, 1, 26 Jan.–13 May 1853; MG 26, A. Can., House of Commons, Journals, 1873, app.1; Statutes, 1871, c.39. Que., Parl., Sessional papers, 1888, no.16. Gazette (Montreal), 14 Feb. 1872, 3 June 1873, 4 March 1896. Monetary Times, 25 July 1873; 25 June, 26 Nov. 1875; 31 March 1876; 19 April 1878; 13 March 1896. Montreal Daily Star, 4 March 1896. Canada directory, 1851, 1857–58. J. Desjardins, Guide parl. Turcotte, Le Conseil législatif. B. J. Young, Promoters and politicians.
© 1990–2023 University of Toronto/Université Laval
Cite This Article
R. E. Rudin, "STARNES, HENRY," in Dictionary of Canadian Biography, vol. 12, University of Toronto/Université Laval, 2003–, accessed December 5, 2023, http://www.biographi.ca/en/bio/starnes_henry_12E.html.
The citation above shows the format for footnotes and endnotes according to the Chicago manual of style (16th edition). Information to be used in other citation formats:
| | |
| --- | --- |
| Permalink: | http://www.biographi.ca/en/bio/starnes_henry_12E.html |
| Author of Article: | R. E. Rudin |
| Title of Article: | STARNES, HENRY |
| Publication Name: | Dictionary of Canadian Biography, vol. 12 |
| Publisher: | University of Toronto/Université Laval |
| Year of publication: | 1990 |
| Year of revision: | 1990 |
| Access Date: | December 5, 2023 |