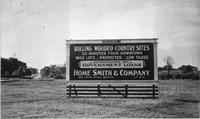 Source: Courtesy of Wikimedia Commons
SMITH, ROBERT HOME, lawyer, businessman, and office holder; b. 12 July 1877 in Stratford, Ont., elder son of Robert Smith, a lawyer, and Robina Lizars; d. unmarried 4 Feb. 1935 in Etobicoke Township (Toronto).
After the death in 1885 of his father, who had moved to Manitoba to become a judge, R. Home Smith was raised in Stratford by his mother and his aunt Kathleen MacFarlane Lizars. Together the sisters wrote several popular works of fiction and non-fiction. Smith attended Osgoode Hall law school in Toronto, and following an apprenticeship in Stratford, he was called to the bar in 1899. He began work in the law office of Toronto mla James Joseph Foy, but his career path soon changed direction, in part because of an illness, possibly meningitis, that left him partially deaf. In 1902 William Thomas White*, an Osgoode classmate and manager of the National Trust Company, hired Smith as a secretary and then made him head of its estates department, where he became immersed in handling assets, receiverships, and related law. Another pattern also developed: Smith's personal involvement in the emerging securities market. As is demonstrated by the shares he held in the Atlas Loan Company based in St Thomas, which failed in 1903 on the collapse of Alfred Ernest Ames's brokerage, he took stakes in firms that he would liquidate or reorganize. In the default two years later of the York County Loan and Savings Company, his lucrative sale of property drew praise, opened conduits of financial and legal engagement for him, and confirmed his entrepreneurial bent.
Between 1908 and 1911, through the offices of National Trust and the rechannelling of York County Loan assets, Smith, on his own and with assistance from financiers James Hamet Dunn* and William Maxwell Aitken*, amassed a 3,100-acre block of land for development west of Toronto. By 1912 plans had been formulated for subdivisions, influenced by the international garden suburbs movement, in what were called the Humber Valley Surveys. The venture would later be described as "one of the most ambitious exclusive residential housing schemes ever devised in North America." Spurred on by Toronto's growth, including the Lawrence Park Estates, which were being promoted to the affluent, and by debates on urban planning, Smith left National Trust in 1912 to manage the Humber Valley enterprise, having formed landholding companies and, in 1910, a marketing and design branch, Home Smith and Company. To focus attention on the development, this firm opened the English-style Old Mill Tea Garden at the ruins of William Gamble*'s mill in 1914 and projected an electric railway, partly over Toronto city lines.
Though residential construction would not take off until the late 1920s, the scheme cemented Smith's reputation. He worked smoothly with ratepayers' associations, found capital, parlayed his club memberships, and navigated municipal processes with forceful skill. He pressed a reluctant city to annex part of the Humber surveys. His hard-nosed relationship with the city would be demonstrated by the exorbitant fee he once claimed for work on a property expropriation. Publicly he championed Toronto. He belonged to the Civic Guild of Toronto, which advocated sweeping beautifications of city infrastructure. In an address in 1912 to the Canadian Club, which he had served as president in 1908–9, he argued not just for "far-flung suburbs" but also for stronger city departments, a utilities commission, and more attention to planning. On the larger field, he was president of the Associated Boards of Trade of Ontario in 1915–16.
Smith's standing was based not just on his "manipulation of realty" but also on his managerial expertise and facility in financial structuring. Controlling risk appealed to him. Engaged in myriad businesses after he left National Trust, he was an early investor in and executive of frontier mining and metal companies in northern Ontario. In an overlapping sector, he became president in 1916 of the Algoma Central and Hudson Bay Railway [see Francis Hector Clergue], which, together with its terminals and steamship lines, had just come out of receivership. In this position he would grapple until 1934 with restructuring, exacting investors, and the vicissitudes of steel and paper production by related Algoma operations. All were under the umbrella of the Lake Superior Corporation, of which Smith was a director. In 1918 he became president of the troubled Buffalo, Lockport, and Rochester electric railway, which he reorganized, slashing its bonded debt and operational charges.
Far to the south, he represented Canadian interests in the wind-up of a failed rubber venture in Brazil. In 1914, acting for National Trust and represented by a top legal firm, Blake, Lash, Anglin, and Cassels of Toronto, he had joined utilities promoter Frederick Stark Pearson* as a receiver for the Canadian-incorporated, revolution-ravaged Mexico North Western Railway. As its president from 1916 to 1929, Smith worked intensely with local personnel to keep the MNWR and affiliated timber and rail companies afloat amid depredations and international turbulence, including a controversial American intervention in Mexico in 1916. His occasional trips to the Texas border region produced colourful stories about his brushes with revoltosos, though Smith rarely made his business preoccupations and stratagems public, especially with Canada engaged in war in Europe.
Never one to run for public office but an instigator in civic affairs (though not in any reforming manner), Smith held numerous appointments. Many reflected his business interests and associations in Toronto. From 1911 to 1923 he served with the Toronto Harbour Commissioners, whose innovative park and roadway developments along the western lakeshore dovetailed with his Humber project. Few could match his vigour in selling the commission's bonds on the New York market, and in September 1921 he succeeded Lionel Herbert Clarke* as THC chairman. Two years earlier, as a city booster, he had pushed unrealistically for a grand boulevard to encircle Toronto. In 1922 he was elected president of the newly formed Toronto Publicity Bureau.
A Conservative organizer and intermediary both federally and provincially from at least 1911, Smith was appointed by the government of Prime Minister Robert Laird Borden to several labour-dispute boards and served from 1913 to 1915 on the federal planning commission for Ottawa and Hull. Ontario premier Sir James Pliny Whitney* named him to the University of Toronto's board of governors in 1913. During and after World War I he assisted Sir Joseph Wesley Flavelle, chairman of the Imperial Munitions Board, in contract negotiations and liquidations, and in 1918–19 he was Ontario's fuel-conservation administrator. Political affiliation also lay behind his appointment to the federal advisory council on highways in 1919 and chairmanship of the provincial Queen Victoria Niagara Falls Park commission ten years later.
In business and in civic negotiations, Smith's easy-going style was a decided benefit, but it could cloak his coercive promotion of his own interests and readiness to provide "unvarnished" commentary. His lobbying for the Humber project was persistent, realty deals were transacted forthrightly, and he represented clients coolly in leasehold matters before city council. In the rough-and-ready world of northern gold mining, an anonymous writer to the Toronto Daily Star in 1924 depicted Smith as the head of a faction "determined to smash" president Jules Semon Bache of Dome Mines. Three years earlier he had facilitated the Ontario Hydro-Electric Power Commission's takeover of Sir William Mackenzie*'s electricity interests and railways, but when, in 1922, Hydro chairman Sir Adam Beck* tried to secure electric-railway access on Toronto's western waterfront as part of a grand network of interurban lines, Smith's unrelenting opposition led to the plan's defeat in a citywide referendum. The campaign was characterized by disparagement on both sides and even private sleuthing. Smith's performance would be savaged by journalist William Rothwell Plewman; the press saw vengeful pressures behind his resignation from the THC in 1923. His victory over Beck was nevertheless matched by his success the following year in bringing the Canadian Pacific and Canadian National railways together to tackle the complex problem of a downtown viaduct. "He preferred the reality of power to the solemn show of authority," the Globe would later comment. Friends helped: partly thanks to respectful treatment by counsel Sir William Thomas White, he was exonerated in 1926 following an investigation of his sale of THC bonds.
Nowhere was Smith's monumental, if self-interested, vision of Toronto more in evidence than in the public campaign to build a traffic-solving, war-memorializing grand boulevard by extending University Avenue southward from Queen Street, the last of the municipality's big City Beautiful schemes. It was the centrepiece of the 1929 report of the Advisory City Planning Commission, on which Smith sat. The dramatic makeover the report proposed sparkled with promise that would not be fulfilled. "Toronto is no mean city," the commissioners reasoned. Their imagery could have come from a Smith prospectus: "Toronto is the heir of that great empire of the northland whose mineral and other riches are just beginning to be realized." At the same time, Smith headed the Amulet Realty Company, a syndicate he had formed in 1926 with Flavelle and three others to buy and sell the properties blocking the extension. A capricious Smith, stinging from years of "abuse" in the press, held out on acquisition by the city. Arbitration forced the sale and generated more criticism, as well as discomfort for Flavelle. Amulet was liquidated in 1932.
Smith's seemingly disparate interests are hard to connect, but his legal acuity and skills in corporate assessment and planning (especially in cases of distress) constitute common strands. An all-purpose financial- and business-management firm, Home Smith Limited, had been incorporated in 1922. Three years later, again in syndication, he constructed the Northern Ontario Building on Bay Street; tenants included the Toronto offices of the Algoma group. Some of the other Smith operations housed there would move to the administration structure added in 1928 to the Old Mill, by then a vibrant social hub. In 1933, during the Great Depression, he became president of Anglo-Huronian Limited, which consolidated the operations and assets of three northern mining companies.
A tall figure, Home Smith was a "veritable Adonis," one contemporary said, deliciously funny and charismatic, and, whatever his hearing disability, intensely sociable. He was a "prized" speaker at engineering banquets. An ardent anglophile and Dickensian, he proudly displayed his collections of British art and antiques at the Old Mill and at his homes in Toronto and, from 1929, Etobicoke. In 1926 he had bought a farm northwest of the city in Caledon Township, where he imported and raised sheep and Highland cattle. As well, he owned a brickyard in Caledon. He remained close to his aunt, who would leave him her estate, and shared her historical interest in the Humber River valley. A known tippler with a lavish lifestyle, in the early 1930s he took a conspicuous role in the Moderation League of Ontario, which sought changes to the province's restrictive liquor laws [see Mitchell Frederick Hepburn*]. Smith also enjoyed the outdoors: hunting and fishing in the north, regattas on the Humber, and golfing, often at the Royal York Golf Club, which he had helped set up with the Canadian Pacific Railway in 1928 on land he donated in Etobicoke. The course opened in May two years later, with championship golfer George Seymour Lyon driving the first ball and Smith hosting the reception. Though outgoing, Smith could be an extremely private man, one who left tantalizing anecdotal trails. Business and recreational trips to Britain, Mexico, Washington, New York, the Caribbean, and resorts in Tennessee and the Carolinas were undertaken quietly; his friendships, mainly with building and engineering types, were never ostentatious; invariably he explained his bachelorhood with dismissive good humour.
Prone to health anxieties, Smith had suffered bouts of illness from at least 1918. In February 1935 the "Smiling Czar of the Humber" died at his home of cirrhosis and renal disease; heart disease was given publicly as the cause. His ashes were buried beside his mother and his aunt in Park Lawn Cemetery, Etobicoke. Although the arrangements had been handled by his brother, Bruce Longworth, a trust-company executive, he left his entire estate to an associate, lifelong bachelor Godfrey Stanley Pettit. Many of Smith's business concerns suffered during the depression. Obituaries, which applauded his financial wizardry, praised his public vision but gave no regard to the developer's vested interest. In his subdivisions and buildings, his biographer concludes, the lawyer turned entrepreneur "left a lasting mark on the landscape of Toronto." In business, his imprint was equally substantial.
The authors are grateful to Keith B. Spark of Mississauga, Ont., who generously shared his library, scrapbooks, and knowledge about Robert Home Smith.
Smith's speech, "Our present duty towards Toronto's future," given to the Canadian Club of Toronto on 27 Nov. 1912, appears in its Addresses, 1912/13: 81–88, and he is the author of Moderation League of Ontario ([Toronto, 1932]).
AO, RG 22-305, no.76668; RG 80-8-0-1625, no.38590. QUA, Joseph Flavelle fonds, corr. ser., box 82, file 5 (Amulet Realty Company Limited). Sault Ste Marie Public Library Arch. (Ont.), 1999.8.1. Stratford-Perth Arch. (Stratford, Ont.), Lizars family file, clippings (4Y2.3), 23–24. TRL, Special Coll., S 212 (Home Smith and Company papers). Univ. of Texas at Austin Library, Benson Latin American Coll., Mexico Northwestern Railway Company, Records of the Ferrocarril Noroeste de México, 1910–19. Univ. of Texas at El Paso Library, C. L. Sonnichsen Special Coll. Dept., ms 167 (John Hamilton McNeely papers), Corr. concerning the Mexico Northwestern Railroad. Globe, 5, 6 Feb. 1935. Toronto Daily Star, 1903–36. Christopher Armstrong and H. V. Nelles, Southern exposure: Canadian promoters in Latin America and the Caribbean, 1896–1930 (Toronto, 1988). E. B. Barber and R. A. Pook, "The Algoma Central and Hudson Bay Railway Company" (typescript, n.d.; copy in Sault Ste Marie Public Library Arch. (1999.8.1, box 6, file 14)). Dale Brawn, The Court of Queen's Bench of Manitoba, 1870–1950: a biographical history (Toronto, 2006). Canadian annual rev., 1906–31. B. H. Crawford, The Kingsway (Toronto, 2005). Directory, Toronto, 1900–35. L. A. Glassford, Reaction and reform: the politics of the Conservative Party under R. B. Bennett, 1927–1938 (Toronto, 1992). J. H. Gunn, "The lawyer as entrepreneur: Robert Home Smith in early-twentieth-century Toronto," in Essays in the history of Canadian law, ed. D. H. Flaherty et al. (10v. to date, [Toronto], 1981– ), 4 (Beyond the law: lawyers and business in Canada, 1830 to 1930, ed. Carol Wilton, 1990), 235–62. J. F. Hulse, Railroads & revolutions: the story of Roy Hoard (El Paso, 1986). Elizabeth Ingolfsrud and Alec Keefer, Kingsway Park, triumph in design: an architectural study of a planned community, Etobicoke, 1924–1947 (Toronto, 1994). Peter Oliver, G. Howard Ferguson: Ontario Tory (Toronto and Buffalo, N.Y., 1977). Ont., Legislature, Sessional papers, 1917–36 (annual reports of the Dept. of Mines, 1917–35). W. R. Plewman, Adam Beck and the Ontario Hydro (Toronto, 1947). Richard Rohmer, E. P. Taylor: the biography of Edward Plunkett Taylor (Toronto, 1978). Paul Rutherford, "Tomorrow's metropolis: the urban reform movement in Canada, 1880–1920," in The Canadian city: essays in urban history, ed. G. A. Stelter and A. F. J. Artibise (Toronto, 1977), 368–92. Standard dict. of Canadian biog. (Roberts and Tunnell), vol.2. Swansea Hist. Soc., Humber Valley surveys (booklet no.8, Toronto, 1999). Toronto, Advisory City Planning Commission, Report … (Toronto, 1929). Toronto City Council, Minutes of proc. (Toronto), 1914–31 (copies at the City of Toronto Arch., Research Hall library). Mark Wasserman, Persistent oligarchs: elites and politics in Chihuahua, Mexico, 1910–1940 (Durham, N.C., 1993).
© 2017–2023 University of Toronto/Université Laval
Cite This Article
David Roberts and Josiah C. Roberts, "SMITH, ROBERT HOME," in Dictionary of Canadian Biography, vol. 16, University of Toronto/Université Laval, 2003–, accessed December 4, 2023, http://www.biographi.ca/en/bio/smith_robert_home_16E.html.
The citation above shows the format for footnotes and endnotes according to the Chicago manual of style (16th edition). Information to be used in other citation formats:
| | |
| --- | --- |
| Permalink: | http://www.biographi.ca/en/bio/smith_robert_home_16E.html |
| Author of Article: | David Roberts and Josiah C. Roberts |
| Title of Article: | SMITH, ROBERT HOME |
| Publication Name: | Dictionary of Canadian Biography, vol. 16 |
| Publisher: | University of Toronto/Université Laval |
| Year of publication: | 2017 |
| Year of revision: | 2017 |
| Access Date: | December 4, 2023 |