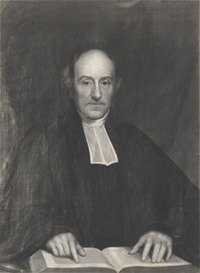 Source: Link
SOMERVILLE, JAMES, educator and Church of England clergyman; probably b. c. 1775 near Forfar, Scotland; d. 1852 in Scotland, probably in Edinburgh.
Little is known about James Somerville's background or life before his emigration to New Brunswick in 1811. He had at least one sister, who remained in Scotland, and one brother, Alexander Carnegie, who was to serve as rector in Bathurst, N.B., in the late 1820s and 1830s. In 1795 James Somerville had graduated with an ma, from King's College (University of Aberdeen). He arrived in Fredericton in 1811 to take up the post of preceptor at Fredericton Academy. With him came his wife, Pattison Brown, a sister of Colonel Andrew Brown of Londonderry (Northern Ireland); she was described as a "learned lady" who read "Latin, French, Italian and Greek and Hebrew with great fluency."
Fredericton Academy, which had opened its doors by 1793, was a collegiate school, intended as a feeder school for the proposed College of New Brunswick (later King's College and then the University of New Brunswick). For its first few years the college, which was chartered provincially in 1800, existed only on paper although it had a council to act as overseers. This same governing body also oversaw the academy, as a separate institution, and its early efforts were concentrated on running the junior school as a kind of preparatory institution. Finances were always a problem for the academy, and the council found it difficult to obtain the quality of teacher necessary both to run the school and, in anticipation of better times, to begin college-level courses. In 1809 the position of preceptor of the academy became vacant and the council, through Judge John Saunders* (one of its members) and Humphrey Henry Carmichael, conducted a search for a replacement. George Gleig, the bishop of Brechin, Scotland, was asked for recommendations. When his first choice declined to fulfil his contract, he proposed James Somerville. The council took up Gleig's suggestion and concluded a "treaty" with Somerville.
Somerville immediately ran into difficulties with the council over the issue of money. His duties at the academy included teaching "correct Grammatical Knowledge of the English language, reading English with Grace and propriety, Writing and Arithmetic, with the elements of Geometry, Geography and Astronomy" plus some classics. The cost to each student for such an education was to be 25 shillings as an "entrance fee" and £5 per annum paid in tuition; Somerville was to receive £270 yearly plus living-quarters at the academy. Unfortunately the council seems rarely to have paid him.
In 1812, when Somerville put in a request for his salary as well as a share of the tuition money to which he believed he was entitled, the council refused it. The following year his suggestion that the differences between himself and the council be arbitrated by Bishop Gleig, who was familiar with the original agreement, was also turned down, and Somerville then approached the provincial administrator, George Stracey Smyth*, for help. In 1830, after the College of New Brunswick had become King's College, the council was still recording, as an outstanding debt, "about £2000 Due to Dr. Somerville from the old Establishment which the new one is answerable for."
Despite his lack of pay for the work he was already doing, Somerville in 1820 accepted the appointment as president of the College of New Brunswick, although he retained his position with the academy until May 1822. Along with his academic duties he had been conducting a ministry outside Fredericton; in May 1821 he was required to cease his missionary work under threat of losing the "Tuition money" from the academy. This order was rescinded in February 1822, and he was allowed to take church preferments provided he gave up his living-quarters at the college. That year he received permission to begin teaching college-level courses to those students "sufficiently advanced." In recognition of his work as "Principal of the Collegiate Establishment Fredericton," King's College, Aberdeen, awarded Somerville an lld on 26 June 1827.
When the college received its royal charter as King's College, Fredericton, the council gave Somerville notice that his presidency would cease with the coming into operation of the charter on 1 Jan. 1829. Somerville did, however, continue to teach college-level courses as a professor of divinity and metaphysics at the reduced salary of £150.
In contrast to his dealings with the council, Somerville got along well in the community and with his students. He served as a member of several local and provincial organizations, such as the Fredericton district committee of the Society for Promoting Christian Knowledge and the Fredericton Emigrant Society, in addition to his clerical duties first as an Anglican missionary for the parish of Douglas and later as its rector. For a time he also served as an itinerant missionary to the parish of Queensbury. From 1816 until he left Fredericton, he was chaplain of the provincial House of Assembly and, in the 1820s at least, he was also chaplain to the garrison stationed in the city.
In 1838 American artist Albert Gallatin Hoit was commissioned by 17 of Somerville's former pupils to paint his portrait, which now hangs in the Old Arts Building on the University of New Brunswick campus in Fredericton. Somerville was deeply touched by this gesture and wrote, "Next to the approbation of my own mind, I value this token of their regard above all earthly rewards, and I want words to express the feelings which actuate me on this occasion."
Long years of struggle eventually took their toll on Somerville. Early in 1839, according to a petition of 1847 made on his behalf, an "Inquisition" found him "incapable of managing his affairs," and a committee of lunacy was established. In July his wife took him back to Scotland. That same month the Royal Gazette referred to him as "a Lunatic." At some point between the time of Somerville's illness and his departure from New Brunswick, he was appointed to the board of health for York County. His resignation from the college was officially accepted on 9 Sept. 1840 by the council. On his return to Scotland, Somerville was first committed to the Glasgow Lunatic Asylum although his wife hoped to have him moved to a private hospital located closer to her in Edinburgh. Evidently Somerville recovered, possibly by 1843 when he first brought suit against George Frederick Street, the registrar of King's College, for back pay. Another attempt was made on his behalf in 1847. It is probable that he lived in Edinburgh until his death.
UNBL, MG H28, 9 May 1829; UA, College Council minutes, College of New Brunswick, 1810–28; King's College, 19 Oct. 1829, 9 Sept. 1840; UA, College of New Brunswick charter, 12 Feb. 1800; UA RG 42, 9 Oct. 1847; UA RG 109, I, 4 Jan. 1830. Univ. of Aberdeen Library, ms and Arch. Sect. (Aberdeen, Scot.), King's College matriculation records and biog. data (copy at UNBL). N.B., House of Assembly, Journal, 1816. Robb and Coster, Letters (Bailey). New Brunswick Reporter and Fredericton Advertiser, 15 Oct. 1852. Royal Gazette (Fredericton), 26 Dec. 1819, 13 April 1836, 28 Feb. 1838, 17 July 1839. N.B. almanac, 1829, 1836. G. H. Lee, An historical sketch of the first fifty years of the Church of England in the province of New Brunswick (1783–1833) (Saint John, N.B., 1880). J. D. Hazen, "The collegiate school," Capital (Fredericton), 24 Oct. 1882. [Linda Squiers Hansen], "Loyalists petitioned for 'Infant Establishment,'" Univ. of New Brunswick, Alumni News (Fredericton), March 1981.
© 1985–2023 University of Toronto/Université Laval
Image Gallery

Cite This Article
Linda Squiers Hansen, "SOMERVILLE, JAMES (d. 1852)," in Dictionary of Canadian Biography, vol. 8, University of Toronto/Université Laval, 2003–, accessed October 2, 2023, http://www.biographi.ca/en/bio/somerville_james_1852_8E.html.
The citation above shows the format for footnotes and endnotes according to the Chicago manual of style (16th edition). Information to be used in other citation formats:
| | |
| --- | --- |
| Permalink: | http://www.biographi.ca/en/bio/somerville_james_1852_8E.html |
| Author of Article: | Linda Squiers Hansen |
| Title of Article: | SOMERVILLE, JAMES (d. 1852) |
| Publication Name: | Dictionary of Canadian Biography, vol. 8 |
| Publisher: | University of Toronto/Université Laval |
| Year of publication: | 1985 |
| Year of revision: | 1985 |
| Access Date: | October 2, 2023 |