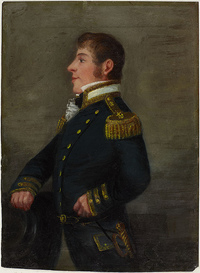 Source: Link
SPILSBURY, FRANCIS BROCKELL, naval officer, colonist, and improver; b. 1784 in Plymouth, England, only son of Francis Brockell Spilsbury and Maria Taylor; m. 20 Dec. 1815 Fanny Bayly in Deptford (London), England, and they had six sons and three daughters; d. 6 Oct. 1830 near Colborne, Upper Canada.
When Francis Brockell Spilsbury followed his father, a naval surgeon, to sea he was not yet a teenager, but the Napoleonic Wars provided the circumstance for a rapid advance through the ranks of the Royal Navy. Between 1798 and 1812 he served in the Mediterranean fleet, first as a midshipman, during which service he was cited for "conspicuous bravery" at the siege of Acre ('Akko, Israel) in 1799. On 27 Dec. 1805 he was promoted lieutenant and during the battle of Málaga, in 1812, he led a party which captured French shore batteries and a privateer.
In the spring of 1813 he and his father were among those sent to North America to reinforce the British fleet on the Great Lakes. Following his arrival in Kingston, Upper Canada, Spilsbury Jr was promoted commander on 8 March 1813 and took command of the armed schooner General Beresford. In May he was part of Commodore Sir James Lucas Yeo*'s squadron on Lake Ontario which raided Sackets Harbor, N.Y., and in June Spilsbury's detachment captured the American shore batteries and stores at Forty Mile Creek, in the Niagara peninsula. On 11 September he commanded the brig Lord Melville during an engagement off the Genesee River and though his ship was hit below the water-line his skilful action allowed repairs to be made during the battle. He was also present at the actions off Burlington Bay (Hamilton Harbour) on 28 September and French Creek, N.Y., on 1 November. In the campaign of 1814 he commanded the ship Niagara; shortly after the successful attack on Oswego, N.Y., on 6 May, Spilsbury was taken prisoner during the bungled advance up nearby Sandy Creek and was later confined at Cheshire, Mass., until the end of hostilities.
Following the peace in 1815, Spilsbury was promoted post captain on 19 September and was soon retired on half pay. He returned to England, where he married, and settled at Newark (Newark-on-Trent). Though he was only 31 and possessed of a small pension, post-war England offered few prospects for naval officers with social pretensions but no landed estates. In 1818 he returned to Kingston, where his father had established a medical practice, and applied for and received 1,200 acres as a military claimant. Thereafter, he went back to England and organized a scheme for a colony in Upper Canada under the Colonial Office's £10 deposit plan [see Richard Talbot*]. When his party of 10 families arrived in 1819 Spilsbury sought to locate them in Otonabee Township, where he and a number of former officers, including his father and Charles Rubidge*, were drawing land. Although Spilsbury had set out an elaborate plan for a town on the Otonabee River and had proposed to provide a ferry across Rice Lake, the colony largely collapsed because delays in locating suitable property for the settlers, as well as deaths and illnesses in several families, had greatly demoralized the colonists. It was also evident that few were prepared to endure the rough isolation. Indeed, Spilsbury, who was later described by William Hamilton Merritt* as a "brave, determined fellow" who could "endure any hardship," chose to reside in the relative civility of the settlement at Cobourg, where other half-pay officers and genteel English immigrants had collected. Spilsbury nevertheless completed his settlement duties and received deeds for the lands granted him in Otonabee and Monaghan townships. In 1822 he bought land east of Cobourg near the village of Colborne; there he built Osmondthorpe Hall, the farm on which he remained until his death.
Like many of his class who had small incomes and pretensions to become gentry, Spilsbury indulged an interest in agricultural improvement and was vice president of the Northumberland Agricultural Society when it was organized in July 1829. The activities of these men bore little practical relation to the economic realities of the colony. When most farmers were struggling to clear land and develop a cash staple, improvers like Spilsbury were organizing agricultural libraries, competitions for prize farms, and ploughing contests. Spilsbury espoused high tory principles and ran unsuccessfully as the tory candidate for Northumberland in the general election of 1830. He died shortly afterwards, forcing his wife to support a young family by opening a boarding-school in Colborne in 1831.
AO, Map coll., "Plan of the township of Otonabee . . . with the locations therein made at the Surveyor General's Office prior to the 6 Jan. 1820; surveyed by Richard Birdsall, Comd, Dec. 8th 1819"; ms 787, memorandum no.1052; RG 1, A-I-6: 5750–51, 5817–18, 5857–58; C-I-3, 90: 59; 123: 4; 146: 12; C-I-4, 4: 12, 114, 117; RG 21, United Counties of Northumberland and Durham, Otonabee Township, census and assessment rolls, 1821; RG 22, ser.187, reg.1, 12 April 1831. Northumberland East Land Registry Office (Colborne, Ont.), Cramahe Township, deeds, 1 (mfm. at AO). PAC, RG 1, L3, 457A: S11/167; 460: S12/205–6, 276; RG 5, A1: 21177, 21259, 21261, 22307–8, 22487–88, 23369–70, 27372–75. PRO, CO 42/365: 143–46. Select British docs. of War of 1812 (Wood), 3, pt.i: 61, 73; pt.ii: 628, 639–40. Church (Cobourg, [Ont.]), 16 Feb. 1844, 8 May 1846. Cobourg Star, 25 Jan., 31 May 1831; 27 June 1838; 25 Jan. 1843. Colonial Advocate, 11 Nov. 1830. Kingston Chronicle, 16 July 1819, 17 Nov. 1820, 12 July 1822, 3 July 1830. G.B., ADM, Navy list, 1811, 1813, 1815, 1819. Officers of British forces in Canada (Irving), 225, 229. Joseph Allen, Battles of the British navy (rev. ed., 2v., London, 1898), 2: 389–90. William Canniff, The medical profession in Upper Canada, 1783–1850 . . . (Toronto, 1894; repr. 1980), 622–27. H. I. Cowan, British emigration to British North America; the first hundred years (rev. ed., Toronto, 1961), 44–46. T. W. Poole, A sketch of the early settlement and subsequent progress of the town of Peterborough, and of each township in the county of Peterborough (Peterborough, Ont., 1867; repub. 1941, 1967), 132. E. A. Cruikshank, "The contest for the command of Lake Ontario in 1814," OH, 21 (1924): 99–159.
© 1987–2023 University of Toronto/Université Laval
Cite This Article
Peter Ennals, "SPILSBURY, FRANCIS BROCKELL," in Dictionary of Canadian Biography, vol. 6, University of Toronto/Université Laval, 2003–, accessed October 4, 2023, http://www.biographi.ca/en/bio/spilsbury_francis_brockell_6E.html.
The citation above shows the format for footnotes and endnotes according to the Chicago manual of style (16th edition). Information to be used in other citation formats:
| | |
| --- | --- |
| Permalink: | http://www.biographi.ca/en/bio/spilsbury_francis_brockell_6E.html |
| Author of Article: | Peter Ennals |
| Title of Article: | SPILSBURY, FRANCIS BROCKELL |
| Publication Name: | Dictionary of Canadian Biography, vol. 6 |
| Publisher: | University of Toronto/Université Laval |
| Year of publication: | 1987 |
| Year of revision: | 1987 |
| Access Date: | October 4, 2023 |