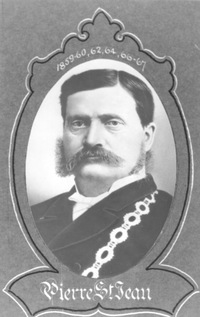 Source: Link
ST JEAN, PIERRE, physician, politician, and civil servant; b. 23 Sept. 1833 in Bytown (Ottawa), Upper Canada, son of Sylvain (Silvas) St Jean and Élizabeth Causabon, dit Didier; m. first January 1856 Rose Délima Larue, and they had a daughter; m. secondly November 1862 Marie-Louise Fréchette, and of their seven children five daughters survived childhood; d. 6 May 1900 in Ottawa.
The second son of one of the original French-speaking settlers of Bytown, Pierre St Jean graduated from its only French-language primary school, on Sussex Street, and he subsequently attended the College of Bytown. In 1850 he left Bytown to study medicine at McGill College, Montreal, and five years later he obtained a licence from the College of Physicians and Surgeons of Lower Canada. He briefly returned to Ottawa, working with Dr Jacques-Télesphore-Cléophas Beaubien, before returning to Lower Canada to practise in Saint-Denis, on the Richelieu. In 1856 he married Rose Larue, daughter of the superintendent of public works at Quebec. She died in childbirth the following year and in July 1858 St Jean moved back to Ottawa to resume practice with Beaubien as a general practitioner, surgeon, and midwife. In 1860 they were two of only three French Canadian doctors in the city. St Jean eventually became part of the first regular staff at the hospital of the Sisters of Charity (Ottawa General) [see Élisabeth Bruyère*], holding various administrative positions until illness befell him in 1898. In addition to his professional career, he was the voluntary consulting physician for at least two mutual aid societies: the Union Saint-Thomas and the Union Saint-Joseph d'Ottawa [see Jacques Dufresne], of which he was a lifelong member. He also provided medical services to two other French Catholic mutual aid societies: the Union Saint-Pierre and the Artisans Canadiens-Français.
As one of Ottawa's few French-speaking doctors, St Jean served a plurality of the city's francophone population during four decades of intense urban expansion. He spent a great deal of unpaid time helping the poor and destitute who could not afford his medical services. His medical career, however, represented only a fraction of his life's work – there were few areas of Ottawa's French-speaking community that St Jean did not touch either as a citizen or as a public figure. His emergence as a leading Franco-Ontarian had begun before he left Bytown to study medicine: during the 1840s he and Joseph-Balzara Turgeon established a "Cabinet de lecture," a small literary society formed for reading aloud to illiterate francophones. After returning to Ottawa in 1858, St Jean founded, with three members of the Institut Canadien-Français of Ottawa, the first Franco-Ontarian newspaper, the short-lived literary journal Le Progrès. Although several sources credit him with having been a founding member of the Institut Canadien-Français in 1852, this claim does not appear to be accurate since he was studying in Montreal at the time. He was certainly one of its most dedicated members, however, serving as president for four terms (1859, 1862, 1864, 1866–67) and actively supporting its cultural and literary efforts throughout the years. He has also been connected with the founding of Ottawa's Société Saint-Jean-Baptiste in 1853, but this association too appears to be unlikely in view of his absence from Ottawa during the society's formative stages. St Jean did become a member on his return and was its president several times over. His philanthropic efforts were consistently extended to the poor and neglected: he was a tireless member of the Société de Saint-Vincent-de-Paul, a founding member of Ottawa's first French Catholic orphanage (the Orphelinat Saint-Joseph), and the founder and president of the Metropolitan Society for the Prevention of Cruelty to Animals (1882). Throughout his life the selfless doctor dedicated money and time to numerous other English and French religious and cultural institutions, among them the Ottawa Musical Union.
By the time of the 1874 federal election, the Franco-Ontarian minority of Ottawa was determined to elect one of its own to parliament. St Jean, well known for his charitable activities, medical practice, and dedication to French Catholic institutions (he was president of the Société Saint-Jean-Baptiste at the time), was a natural candidate in the two-member riding of Ottawa City. Running as a Reformer, he was elected by a comfortable majority, along with Conservative Joseph Merrill Currier*, despite the late entry of an influential lumber merchant, Joseph-Ignace Aumond*, also a Conservative. During his four-year term as the first French-speaking mp from Ontario, St Jean was a faithful supporter of the Liberal administration of Alexander Mackenzie. Unlike many politicians of his day, however, he had made few campaign promises and he spoke in the House of Commons only once, in favour of amnesty for those who had taken part in the Red River uprising of 1869–70 [see Louis Riel*]. (It has been suggested that his charitable activities took up a great deal of his time while he was an mp.) St Jean is on record as supporting both traditional Liberal policies and the general nation-building program of the previous Conservative administration. In one of his few printed statements of policy, in 1877, he advocated the improvement of navigation on the Ottawa River and favoured the "protection of the rights of minorities, whether Catholic or Protestant; a fair reciprocity treaty; the construction of the Pacific railway on Canadian soil . . . ; all projects having in view the opening up of our vast Dominion to emigration." In the 1878 election St Jean ran a close race but he and his campaign mate, Chauncey Ward Bangs, could not compete with the renewed popularity of the Conservatives under Sir John A. Macdonald following the recent depression nor with the ability of the Conservative candidates, Currier and Joseph Tassé, to govern the vote on election day. St Jean ran again without success in 1882, when he was mayor of Ottawa. Without doubt his campaign was undermined by his mayoralty duties, which often prevented his presence at all-candidates debates. According to the Liberal Free Press, he "had the support of the majority of the French-Canadian population" of Ottawa but as a consequence of his incorruptibility he was unable to compete with the Conservatives' whisky cask at election time.
As the second French Canadian mayor of Ottawa, in 1882–83, St Jean set priorities: to open the city to manufacturing and railway interests, to ensure equitable taxation of banking institutions and joint-stock companies, and to develop the main sewage system with a view to eliminating potential health risks. Most of all, he wished to maintain a balanced budget. However, sectional disputes within council hampered many of his plans; for example, he spent a good deal of his first term trying to maintain a measure of decorum among the Conservative members, who voted consistently in favour of more bonuses than were allowable under municipal law to the approaching Canada Atlantic Railway, and the non-merchant members, who rallied against such large expenditures. Despite a temporary deadlock, St Jean was able to push through an acceptable bonus bill, and on 13 Sept. 1882 he rode on the first Canada Atlantic train to steam into Ottawa. As a result of his decisiveness on the matter, council was not at the mercy of the Canadian Pacific Railway when it reached Ottawa a few years later. Apart from railways, St Jean's time in office was mostly taken up by such typical municipal improvements as the widening of roads, the deepening and extension of the sewage system, the placement of electric lights, and the incorporation of Ottawa's peripheries into the city. Any type of development on a larger scale was out of the question, for every proposal erupted into vindictive battles between the municipal Reformers and Conservatives, who insisted on dragging federal politics and personal animosities into the council chambers. Without St Jean's quiet diplomacy and dedication to higher education, it is doubtful whether the American Association for the Advancement of Science, whose request to the city for funding had sparked a debate, would have been able to hold its first meeting in Ottawa in August 1882. Given his two tumultuous years in the mayor's seat, it is little wonder that he retired quietly from public life in 1883.
St Jean's last years must have been somewhat disheartening for one who had spent so much of his time and money in the service of his community. He found himself in financial difficulties. Although he continued on staff as a consultant at the Ottawa General until 1898, he had lost many of his own patients as a result of both his absences related to public life and his inordinate attention to the unpaying poor. In addition he was an inefficient bookkeeper. When the federal Liberals returned to power in 1896, he was forced to leave his failing practice for modest employment with the Department of Public Works. In 1898 he retired altogether because of illness. Hospitalized the following year, he died suddenly on 6 May 1900. He left to his wife an estate valued at only $1,848.
Although St Jean had been humbled by financial and professional set-backs, the esteem in which he was held by Ottawa's English and French communities was well demonstrated by the large gathering from both groups at his funeral, despite the intensity of racial conflict in the city. His pallbearers included some of Ottawa's leading citizens, Napoléon-Antoine Belcourt*, Henri Bourassa*, Sir James Alexander Grant, and Honoré Robillard. In 1933 a group of long-time Ottawa residents who were familiar with St Jean's career attempted to have an east Ottawa library named after him. The effort was futile: just as the greater part of his life's work was hidden from the public eye, it would appear that Pierre St Jean may remain a shadowy figure in Franco-Ontarian history.
AO, RG 22, ser.354, no.3568. City of Ottawa Arch., Council minutes, 1882–83. CRCCF, C 2/190/17, 2/190/77; C 20/V58, 20/V73; C 36/12; C 94/20/29. NA, MG 26, G, 14: 4522 (mfm.); RG 31, C1, 1861, 1871, 1891, Ottawa. Can., House of Commons, Debates, 1875: 126. G.-J. Tessier, Souvenir du 25e anniversaire de la fondation de l'Union Saint-Joseph d'Ottawa, 1888 (Ottawa, 1888). L'Union Saint-Joseph (Ottawa), 1895–96, followed by Le Bulletin officiel, 1897–1900 (copies at CRCCF). Daily Free Press (Ottawa), 1882–83, 7–8 May 1900. Globe, 7 May 1900. Ottawa Evening Journal, 1882–83, 7–8 May 1900. Le Progrès (Ottawa), 20 mai–6 déc. 1858. Le Temps (Ottawa), 7 mai 1900. Canadian biog. dict. CPC, 1874, 1877, 1879. The medical register for Upper Canada (Toronto, 1867). Ottawa almanac, 1875. Ottawa directory, 1882, 1891–94, 1898, 1901. Polk's medical and surgical register of the United States and Canada (Detroit), 1890, 1900. Georgette Lamoureux, Ottawa . . . et sa population canadienne-française (3v. to date, ([Ottawa?], 1978– ), 1–2. Hector Legros et Sœur Paul-Émile [Louise Guay], Le diocèse d'Ottawa, 1847–1948 (Ottawa, [1949]). Michael Newton, Lower Town, Ottawa (2v., Can., National Capital Commission, Manuscript report, nos.104, 106, Ottawa, 1979–81), 2. P.-F. Sylvestre, Nos parlementaires (Ottawa, 1986). Le Droit (Ottawa), 8 nov. 1958.
© 1990–2023 University of Toronto/Université Laval
Cite This Article
Gayle M. Comeau, "ST JEAN, PIERRE," in Dictionary of Canadian Biography, vol. 12, University of Toronto/Université Laval, 2003–, accessed June 9, 2023, http://www.biographi.ca/en/bio/st_jean_pierre_12E.html.
The citation above shows the format for footnotes and endnotes according to the Chicago manual of style (16th edition). Information to be used in other citation formats:
| | |
| --- | --- |
| Permalink: | http://www.biographi.ca/en/bio/st_jean_pierre_12E.html |
| Author of Article: | Gayle M. Comeau |
| Title of Article: | ST JEAN, PIERRE |
| Publication Name: | Dictionary of Canadian Biography, vol. 12 |
| Publisher: | University of Toronto/Université Laval |
| Year of publication: | 1990 |
| Year of revision: | 1990 |
| Access Date: | June 9, 2023 |