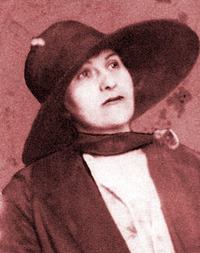 Source: Link
STARKMAN, BESHA (Bessie) (Tobin) (also known as Bessie Stark, Bessie Perri (Perry), and Rose Cyceno), organized crime boss; b. 14 April 1889 in Russian Poland, daughter of Shimon (Sam) Starkman and Gello (Gloria) ———; m. 15 Dec. 1907 Harry Tobsen (Tobin) in Toronto, and they had two daughters; about 1913 she entered into a common-law relationship with Rocco Perri*, and they had a child who died shortly after birth; d. 13 Aug. 1930 in Hamilton, Ont.
The Starkman family arrived in Canada sometime around 1900, and settled in the Ward area of downtown Toronto. Legends of Besha Starkman's early life say that she worked as a seamstress in an Eaton's sweatshop. The ambitious young woman found her job and her marriage to Harry Tobin, a Russian who drove for a bakery, frustrating. In 1912 the Tobins rented rooms in their house on Chestnut Street to Rocco Perri, a young immigrant from the Calabria region of Italy. Within a year, Bessie had abandoned her husband, children, and Jewish faith and gone to St Catharines to join Perri, then a labourer on the Welland Canal. By 1916 they were living in Hamilton, where Rocco worked at first as a salesman for a macaroni company; later they ran a small grocery store.
Bessie Perri came to the attention of the police in March 1917, when she was charged under the name Rose Cyceno with keeping a disorderly house. In her defence, she defiantly claimed she was not aware of the activities of her female boarder. She was nonetheless convicted. It was in this case that her characteristic audacity became apparent.
A world of opportunity for organized crime was created by the institution in 1916 of the Ontario Temperance Act, the rejection in 1919 of Prohibition in Quebec, and the expiry of federal controls on the interprovincial movement of liquor. Bootleggers in Ontario had gained valuable experience by the time the United States adopted Prohibition in January 1920. Rocco and Bessie Perri were already taking advantage of the situation in Ontario through a gang made up largely of Calabrians in the Hamilton-Niagara region. Bessie quickly emerged as the gang's head of business and negotiator, the first woman publicly to rise so high in the ranks of organized crime in Canada.
In August 1921 a ruling by a court in Windsor, that there was no Canadian law prohibiting the export of liquor, set the stage for rumrunning on a grand scale. With Ontario still dry, the Perris expanded from the Hamilton-Kitchener-Windsor triangle and sold large amounts of liquor and beer across the province; boxcar loads went to New York State via Niagara and to Detroit and Chicago via Windsor. It was Bessie who placed orders with the distilleries and breweries, laundered the money and handled the bank accounts, dealt with other gangsters on liquor and drug deals, and paid gang members and bribes. Fond of expensive clothing and jewellery, she often displayed a high-handed manner that would alienate members of the Perri mob. In one incident, Rocco promised compensation to the family of a man killed by the police. When the man's uncle appeared to claim the money, she reportedly told him to "go to hell."
Rocco and Bessie Perri took part in a revealing interview with the Toronto Daily Star in November 1924. Labelled the "King of the Bootleggers," Rocco did most of the talking, but it was Bessie who guided the interview and interrupted at key points. Her most sensational public appearance was her testimony in March 1927 before the federal royal commission on customs and excise, in reality an investigation of liquor smuggling. Under cross-examination by assistant counsel Robert Louis Calder, she denied any connections to bootlegging and feigned ignorance on many questions, including a number about telephone calls from her home to distilleries. As a result of their testimonies – Rocco had also been examined – and statements in the tax-evasion trial in December of the Gooderham and Worts distilling firm, the Perris were charged with perjury. Likely as part of a plea bargain, the charges against Bessie were dropped when Rocco pleaded guilty; he was sentenced to six months in a reformatory.
The Ontario government's replacement of the temperance act by the Liquor Control Act in June 1927 killed most of the bootleg market. With the liquor business declining, the Perri mob began to expand their drug trade. Apparently Bessie was the leader in making the deals. In June 1929, with hundreds of dollars in her purse, she showed up at a house in Toronto in the midst of a drug raid by the Royal Canadian Mounted Police. With no other evidence, they released her, but her appearance prompted an undercover operation by Sergeant Frank Zaneth [Franco Zanetti*]. At one point she met Zaneth, who was acting as a Chicago drug dealer, in a roadhouse. There was no deal, and the operation went nowhere.
On 13 Aug. 1930 Bessie was killed by shotgun blasts as she and Rocco were leaving the garage of their home. Her funeral on the 17th, the day after the opening in Hamilton of the first British Empire Games, was an unruly scene. Thousands of spectators attempted to break through police lines at the house and later at the small Jewish cemetery south of Hamilton. An investigation by the Ontario Provincial Police concluded that Bessie's arrogance was the probable underlying motive for her murder, but that still left a number of suspects. It was clear she had angered members of the Perri gang by ordering them around and refusing to pay expenses. Three theories emerged: she had been shot by disgruntled members of the gang acting alone, she had broken enough mob customs that Rocco Perri had acquiesced in her murder, and she had reneged on a drug deal with gangsters from Rochester, N.Y., who had shot her. No arrests were made. Her estate went to Rocco and her two married children, Lillian Shime and Gertrude Maidenberg.
The decline of the Perri empire after Bessie's death strongly suggests that it was her skills that had helped the gang become prominent. Although Rocco began living in 1933 with another strong woman, Annie Newman, who helped him revive the fortunes of the gang, it never became as dominant as it had been with Bessie running the business.
A number of police and citizenship files seen by the author are now restricted by access and privacy legislation, and are therefore not listed here.
AO, RG 22-205, no.1615/1930-31; RG 80-5-0-371, no.1121. LAC, RG 18, F-2, 3313 A, file HQ-189-O-1; RG 33-88. Toronto Daily Star, 19 Nov. 1924. James Dubro and R. F. Rowland, King of the mob: Rocco Perri and the women who ran his rackets (Markham, Ont., 1987).
© 2005–2023 University of Toronto/Université Laval
Cite This Article
Robin Rowland, "STARKMAN, BESHA (Tobin)," in Dictionary of Canadian Biography, vol. 15, University of Toronto/Université Laval, 2003–, accessed September 21, 2023, http://www.biographi.ca/en/bio/starkman_besha_15E.html.
The citation above shows the format for footnotes and endnotes according to the Chicago manual of style (16th edition). Information to be used in other citation formats:
| | |
| --- | --- |
| Permalink: | http://www.biographi.ca/en/bio/starkman_besha_15E.html |
| Author of Article: | Robin Rowland |
| Title of Article: | STARKMAN, BESHA (Tobin) |
| Publication Name: | Dictionary of Canadian Biography, vol. 15 |
| Publisher: | University of Toronto/Université Laval |
| Year of publication: | 2005 |
| Year of revision: | 2005 |
| Access Date: | September 21, 2023 |