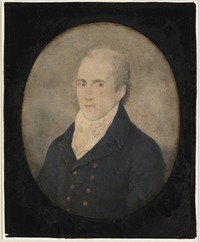 Source: Link
SUTHERLAND, DANIEL, businessman, office holder, militia officer, and jp; b. c. 1756 in Ayrshire, Scotland; d. 19 Aug. 1832 at Quebec.
After receiving a mercantile education in Glasgow, Daniel Sutherland immigrated to the province of Quebec in 1776 and soon became involved in business in Montreal. By 1778 he was active in the fur trade, and the following year he was a partner in Porteous, Sutherland and Company; it was dissolved in October. From 1781 to 1786 he and James Grant* sent expeditions to Michilimackinac (Mackinac Island, Mich.) and to the Timiskaming area with cargoes valued at between £2,000 and £6,000; by 1789, however, their estate was in the hands of trustees. In addition, Sutherland stood security for other merchants. His marriage to Margaret Robertson in Montreal on 1 Sept. 1781 made him a son-in-law of the British officer Daniel Robertson*, who, as commander at Michilimackinac from 1782 to 1787, promoted Sutherland's business interests. In 1785 Sutherland made an exceptional investment in the fur trade, estimated at £20,500, almost as large as the investments of the leading merchants that year, James McGill* and Joseph Frobisher*. In December he bought a stone house and store on Rue Saint-Paul in Montreal's commercial district.
In 1790, apparently through a friendship with Simon McTavish*, Sutherland received a 1/20th share in the North West Company and was sent to Grand Portage (near Grand Portage, Minn.) as a delegate of the Montreal partners at the annual meeting with the wintering partners. When the company was reorganized in 1792 to bring in potential competitors [see Isaac Todd*], Sutherland was given 2 of the 46 shares in the new arrangement. The following year he was suspected of showing interest in a projected rival firm to the NWC, and in 1794 at Grand Portage he was spokesman, in opposition to the delegates representing McTavish, Frobisher and Company, of the firms brought into the NWC in 1792. In October 1795, desperate for cash after losses in the fur trade and the purchase of Frobisher's home in Montreal, and convinced that Frobisher and McTavish were responsible for his plight, Sutherland sold his interest in the NWC to McTavish, Frobisher and Company. Three years later he signed the articles of agreement that created the New North West Company (sometimes called the XY Company), to compete with the NWC [see John Richardson], and he subsequently acted as its Montreal agent. In May 1806, after the union of the rivals, Sutherland withdrew, having obtained a settlement that cut his losses.
Like many of his business colleagues, Sutherland diversified his activities. He was a trustee or executor of estates and acquired landed property. In 1793 he had purchased another stone house on Rue Saint-Paul, and three years later he and Robert Griffin leased land from Thomas McCord in the Nazareth sub-fief in the city. By 1810 he held land in Chatham Township originally granted in part to Robertson. In 1800 he had joined John Gray and three others in establishing the Company of Proprietors of the Montreal Water Works, incorporated the following year.

No doubt as insurance against the vagaries of a business career, in October 1807 Sutherland obtained appointment as postmaster of Montreal, replacing Edward Edwards*. At the beginning of the War of 1812 he was appointed military postmaster "in consideration of the extra duty of the Postmaster of Montreal in forwarding letters to the Troops," but, finding the position over burdensome for the salary, he resigned it in 1814. As postmaster of Montreal he was conscientious, the deputy postmaster general for Upper and Lower Canada, George Heriot*, describing him in 1815 as "the most correct accountant of any Postmaster in the Department Here." The business community also appreciated Sutherland's work, and a number of London merchants trading to the Canadas successfully recommended him to succeed Heriot in 1816; the appointment was made in April, and Sutherland moved to Quebec.
Throughout his tenure as deputy postmaster general, Sutherland was obliged to walk a tightrope between the demands by colonists for expansion of what they considered an imperial service and those of the British government for restraint of expenditures on what it considered an instrument of taxation. From 1816 to 1827 Sutherland increased the number of post offices in Lower Canada from 10 to 49 and in Upper Canada from 9 to 65. Nevertheless, the Upper Canadian House of Assembly in particular complained that the number and distribution of post offices was inadequate. It also accused Sutherland of charging rates in excess of those laid down by an imperial statute in 1765. Dissatisfaction with the postal service led the assemblies of the two provinces to contest the deposit of postal revenues from the colonies in the British exchequer and to agitate for provincial control of the mails. Sutherland, who was more tactful in his personal relations with the governors than Heriot had been, and who supported them in their struggles with the provincial assemblies, obtained their backing for himself and the post office in his own battles with the legislatures.
A merchant himself, Sutherland endorsed complaints by the mercantile community about the postal service to Britain and to the United States, and a public expression of his sympathy nearly provoked his dismissal in 1819–20. The Lower Canadian merchants complained bitterly that the British system obliged them as senders to prepay postage while the American system forced them as receivers to pay postage on mail from the United States. Since Sutherland took a commission of 20 per cent on all postal revenues he collected for the American post office (a practice the legality of which was strongly contested by the British Post Office Department), he preferred the American system. After failing to persuade the British Post Office to adopt that system, he turned a blind eye to the illegal use by Lower Canadian merchants of private courier services that took correspondence for American recipients to the nearest American town for mailing; by evading prepayment of postage in this manner, the merchants deprived the British Post Office of revenues. He was less tolerant of the informal use of steamboat captains rather than official mail carriers for the conveyance of mails within the British colonies, and in England in 1819 he sought authority to impose penalties for the practice. However, fear that sanctions would furnish the colonial assemblies with yet another complaint against the imperial government induced the colonial secretary, Lord Bathurst, and the governor-in-chief, Lord Dalhousie [Ramsay*], to restrain Sutherland's ardour.
With a salary of £500, commissions, and fees, Sutherland was one of the best-remunerated officials in the colony. However, he was responsible for the accounts of his deputies, and he suffered personal losses totalling £3,000 when on two occasions deputies failed to regulate their accounts. Indeed, financial difficulties obliged him to go to England, probably in 1826, to plead his case with the Post Office. He found that a 35-year absence had left him "without either friends or acquaintances" in the country to help him, and on 19 Nov. 1827 he resigned his post in favour of his son-in-law Thomas Allen Stayner*; he was apparently not released from his financial obligations until 1828.
Sutherland's reputation in the business community possibly accounts for his appointment on 28 Nov. 1817 as Quebec agent for the newly formed Bank of Montreal, in which two former associates, John Gray and Robert Griffin, were active. He was undoubtedly expected to exploit his cordial relations with colonial officials in order to obtain the government account for the bank. Six weeks after the Bank of Montreal opened its doors in Montreal on 3 Nov. 1817, Sutherland opened his Quebec agency. As a commission, and to cover expenses, he was allowed two-eighths of one per cent on all transactions, which soon became numerous. In view of the demand for banking services at Quebec, and probably in an effort to forestall the establishment of a bank there, the Quebec agency was transformed in 1818 into a branch office – called an office of discount and deposit – which eventually provided nearly all the services offered at Montreal. Three hundred shares of Bank of Montreal stock were reserved for Quebec subscribers to encourage participation by Quebec businessmen in the branch's management, but only 184 were subscribed, a project for an independent Quebec bank being mooted at the time. Nevertheless, on 20 July 1818, with a board of directors, a staff of three, and an operating fund of £50,000, Sutherland, who had acquired the title of cashier and a salary of £300, opened his branch establishment on Rue Saint-Pierre in the heart of Quebec's business community. By the early 1820s the Quebec Bank, founded by Quebec businessmen in 1818, was contesting the presence of a branch of the Bank of Montreal in the city, particularly since Sutherland had succeeded in obtaining the government account, and in 1823–24 Sutherland was obliged to defend his institution before a committee of the Lower Canadian assembly inquiring into the state of banking. Nothing came of the inquiry, but Sutherland resigned his position on 17 June 1824.
Sutherland also engaged in real-estate ventures in Stoneham Township, near Quebec, in 1823 and sold properties in the city. In addition to his business and government occupations he took on public functions without remuneration. A captain in Montreal's 1st Militia Battalion by 1807, he was promoted major in April 1812 and lieutenant-colonel three years later. Following his move to Quebec he was active in the social life of the capital. In December 1818 he wrote to William Bent Berczy*, who with his brother Charles Albert* had become Sutherland's protégé after the death of William Berczy*, their father and Sutherland's friend: "Our winter Amusements are begun, the first Assembly took place last night & was well attended. His Grace [Charles Lennox*, 4th Duke of Richmond and Lennox] and Lady Mary were of the number – they also regularly visit our Amateur Theatre . . . so that you see we are in a fair way of beguiling along a dreary winter, unless the news of the death of the old Queen should be received & put a stop to our Gaiety". A subscriber to funds for the relief of destitute immigrants and to the Fire Society, the Quebec Emigrants' Society (for which he was a fund raiser), and the Agriculture Society, Sutherland was commissioned a justice of the peace in June 1821 and a trustee of the Royal Institution for the Advancement of Learning [see Joseph Langley Mills] two years later. In 1831, inspired by the example of his friend William Dummer Powell, Sutherland had a gold medal struck to celebrate 50 years of happy marriage with Margaret Robertson, during which they had had three children. He presented the medal the following year (the idea having come late); silver impressions were given to relatives and bronze ones to guests who had attended a gala anniversary celebration.
Sutherland died just a few months later during a cholera epidemic; he had been one of the few remaining members of the first generation of British merchants to arrive in the colony. Through their quest for personal gain they had expanded the frontiers of British North America, and, as in Sutherland's case, had helped to establish and develop the economic, administrative, and social infrastructure of the colony.
ANQ-M, CE1-63, 1er sept. 1781, 28 juill. 1782, 6 juill. 1783, 3 mars 1786. ANQ-Q, CE1-66, 19 août 1832. AUM, P 58, U, Sutherland to McTavish, Frobisher and Company, 4 Oct. 1795; Sutherland to James Reid, 23 Aug. 1798; Sutherland to Mme de Lavaltrie, 11 March 1811; Sutherland to W. B. Berczy, 3 Oct., 19 Dec. 1818; 4, 16 Aug., 11, 14 Sept. 1819; 9 Nov. 1822; 3 May 1823. PAC, MG 19, A7, 1; MG 24,126, 49; MG 28,112, Resolve book, no.1; MG 40, L; RG 1, UL: 573, 1567, 2146–47, 31519–29, 81361–79, 81452–685, 90433–59; RG 4, A1: 32920; 331: 138; 337, 2 Oct. 1830; B28, 115; RG 8, I (C ser.), 284; II, 8–10; RG 68, General index, 1651–1841: 347, 683. William Berczy, "William von Moll Berczy," ANQ Rapport, 1940–41: 52, 80. Docs. relating to NWC (Wallace). L.C., House of Assembly, Journals, 1800: 48; 1823–24: 284–85. Quebec Gazette, 13 Sept. 1781; 6 June 1782; 9 Jan., 26 March 1783; 5 Jan. 1786; 14 Nov. 1793; 8 June 1797; 8 Oct. 1807; 14 April, 12 July 1808; 16 Nov. 1809; 22 March, 15 Nov. 1810; 5 Sept. 1811; 5 March, 30 April 1812; 18 May 1815; 3 July, 26 Aug. 1817; 12 March, 16 July, 9 Dec. 1818; 23 April, 17, 27 May, 9 June, 29 Nov. 1819; 6 March, 27 April, 23 Oct. 1820; 5 July, 5 Aug. 1821; 7 Aug., 18 Sept., 6 Nov., 8 Dec. 1823; 1 Jan., 12, 15 Feb., 1, 8, 15 April 1824. Quebec Mercury, 21 Aug. 1832. Officers of British forces in Canada (Irving). Denison, Canada's first bank. Miquelon, "Baby family, " 189, 191. R. A. Pendergast, "The XY Company, 1798–1804" (phd thesis, Univ. of Ottawa, 1957), 15, 63. William Smith, The history of the Post Office in British North America, 1639–1870 (Cambridge, Eng., 1920; repr. New York, 1973). H. A. Innis, "The North West Company," CHR, 8 (1927): 308–21. R. W. McLachlan, "Two Canadian golden wedding medals," Canadian Antiquarian and Numismatic Journal (Montreal), 3rd ser., 3 (1901): 168–80. E. A. Mitchell, "The North West Company agreement of 1795," CHR, 36 (1955): 127, 130.
© 1987–2023 University of Toronto/Université Laval
Image Gallery
Cite This Article
Myron Momryk, "SUTHERLAND, DANIEL," in Dictionary of Canadian Biography, vol. 6, University of Toronto/Université Laval, 2003–, accessed September 26, 2023, http://www.biographi.ca/en/bio/sutherland_daniel_6E.html.
The citation above shows the format for footnotes and endnotes according to the Chicago manual of style (16th edition). Information to be used in other citation formats:
| | |
| --- | --- |
| Permalink: | http://www.biographi.ca/en/bio/sutherland_daniel_6E.html |
| Author of Article: | Myron Momryk |
| Title of Article: | SUTHERLAND, DANIEL |
| Publication Name: | Dictionary of Canadian Biography, vol. 6 |
| Publisher: | University of Toronto/Université Laval |
| Year of publication: | 1987 |
| Year of revision: | 1987 |
| Access Date: | September 26, 2023 |