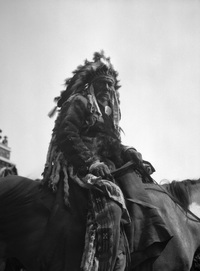 Source: Link
TAOTHA (Ta Otha, Ta-Otha, Ta-o-otha, Ta'Otha, meaning "great huntsman"; born Peter Wesley), Stoney hunter and chief; b. c. 1841 on the Kootenay Plains (Alta), son of Gaotadohâ (meaning "walks against the wind"; called John Wesley); m. Mary ———, and they had several sons and daughters; d. 1 May 1935 near Nordegg, Alta.
Peter Wesley was born during the decade when Methodist missionary Robert Terrill Rundle* was proselytizing among the native peoples in the foothills of the Rocky Mountains. He was the grandson of the prominent Stoney leader Man Who Walks against the Wind, who had been given the English name John Wesley by a Methodist missionary, possibly Rundle or his convert Benjamin Sinclair. According to family tradition, Peter was present at treaty discussions at Blackfoot Crossing in 1877 [see John Chiniquay*; Ozîja Thiha*] and served as a messenger between the negotiators and the Stoney camp three miles upstream. Under the terms of Treaty No.7, the Bearspaw, Chiniki, and Jacob's bands were assigned a reserve in the vicinity of Morleyville (near Morley), initially surveyed in 1879, where they received agricultural implements, seed, and cattle so that they could become farmers.
Wesley first appears on the Jacob's band membership list in 1884 with a family of eight. He had evidently settled on the reserve during the early 1880s. There he started to raise cattle and horses while continuing to hunt and trap. He earned his esteemed name of Taotha at an early age. Calgary schoolteacher John Lee Laurie, a sympathetic observer of Stoney life, records that, as a young man, Wesley "was considered a great hunter among a tribe of skilled hunters so that, for this reason, he received the name of 'Moosekiller.' It might not be amiss to say that he was a 'professional of the professionals[,]' which reputation he continued to hold until advanced age made it impossible for him to see clearly the sights of his rifle."

The 1880s and 1890s and the first decade of the new century were a period of dramatic change for the Stoney people as they were forced to adjust to the new realities of living on a reserve, being subject to the authority of an Indian agent, and facing a growing population of missionaries, teachers, ranchers, North-West Mounted Police, and commercial developers both on the reserve and in their ancestral homelands in the foothills. The mid 1880s brought the Canadian Pacific Railway, which built its main line through the reserve. And Rocky Mountains (Banff) Park, established in 1887 [see William Pearce*], increasingly encroached on the Stoney's traditional hunting grounds, particularly after it was greatly enlarged in 1902.
Laurie describes Taotha as a "man independent in action and thought. Restrictions irked him and naturally he became weary of the many petty, restrictive irritations and of confinement to the reserve, the game laws of the time, and the gradual encirclement by white settlers." The reserve at Morley was small, and much of the land was unsuited to agriculture. There was evidently friction between Taotha and the aged chief, Ki‑chi‑pwot (Jacob Goodstoney or Big Stony), and a "dispute with one of the supervisors" (possibly William Graham or Peter Lewis Grasse, the farm instructors). Following the North-West rebellion in 1885 [see Louis Riel*], the federal government had begun to enforce a system requiring natives to obtain a pass from the Indian agent before leaving their reserves [see Hayter Reed]. This regulation was a constant threat to the Stoney, who still hunted big game in the foothills.
Sometime in the early 1890s Taotha reportedly told the local agent: "My children are hungry; they cry in the night. My young men have empty stomachs and there is no meat in my camp. So I and mine go back to the Kootenay Plains. There we shall have meat and the children shall grow fat and happy. Grass grows there for our horses and no snow lies there in winter." He became the centre of a movement whose members wanted to return to the ancestral lands of the band, now called Jonas's, after Chief Jonas Goodstoney, Jacob's brother, on the North Saskatchewan River. Around 1894 Taotha led a group of about 100 who travelled north to hunt. It is clear from the reports of the Indian agents that at this time he lived part of the year at Morley, where in 1897 he is recorded as having "a herd of over seventy cattle, besides a number of horses; he has built a fine story and a half house with good windows, panel doors and shingled roof." In the report that year the farmer in charge at the reserve observes that after the growing season is over in early September, the Stoney "go off on their annual hunt, which lasts from three to five months. From this they earn their own living while out, and on their return bring quantities of valuable furs to sell to the traders in exchange for clothing, groceries and ammunition." For band members, the annual migration north came to symbolize an escape, at least temporarily, from the reserve and resumption of a traditional way of life.
Taotha continued to enhance his reputation as a hunter who supplied other families with meat from his excursions. He was elected chief after the resignation of Jonas Goodstoney, and the band became known by the name Wesley. He would hold the position from 1904 until his death in 1935. Methodist missionary John W. Niddrie comments: "Peter was a man of indomitable energy, ambition and thrift. It was late in life when he came to the chieftainship, but we are sure that he did all in his power to help his band." He is remembered as a compassionate and trustworthy spiritual leader who held Christian and traditional beliefs and followed the practices of both religions. His legacy is significant. In 1907, together with Stoney chief Moses Bearspaw, he appealed to the federal government against a new provincial game law that limited hunters to "one moose, one caribou, one deer" and required them to obtain a licence, for which they had to pay a fee. Under Taotha's direction, the Wesley band repeatedly petitioned the authorities for reserve land on the Kootenay Plains and even gained the sympathy of Indian Affairs official David Laird* in 1909. The following year the Department of the Interior agreed to establish a 23,000-acre reserve, but survey work was cancelled in 1911 when the Rocky Mountains Forest Reserve was formed out of what had been parkland [see Frank Oliver] and included within its boundaries the area intended for the reserve. Taotha was instrumental in convincing the government to set aside an additional 12,743 acres for the Stoney north of Morley as the Rabbit Lake Indian Reserve in 1914, but the 5,000-acre Big Horn Reserve near Nordegg would not be created until after his death.
Physically of "somewhat forbidding aspect," according to Laurie, Taotha was an annual participant in the popular Banff Indian Days, first held in 1894, for which he dressed in full ceremonial regalia. He was often photographed leading the colourful parade on horseback from the Banff Springs Hotel through the town. The week-long event was supported by local businesses as a tourist attraction, but it featured traditional activities, such as spiritual ceremonies, that for the Stoney community demonstrated the self-respect, pride, and independence that Taotha exemplified.
In old age he continued to face many challenges. As Laurie relates, national parks, forest reserves, coalmines, and big-game hunters all circumscribed the lives of his people. But the greatest threat came from the Alberta Natural Resources Act of 1930, which transferred control of natural resources to the province. Band members now feared that they would be driven off the land and hunting and trapping would become impossible. As well, a new highway was projected to run through their territory.
Taotha had seen his band through many profound changes by the time he died, well into his nineties, in May 1935. The Edmonton Bulletin summarized his legacy by saying that "another link with the past was lost in the death here of Chief Peter Wesley.… A man of strong, forceful character, he worked always with the Department of Indian Affairs for the advancement of his people and was an ardent Christian and class leader.… Peter was an Indian of the old school and never learned to speak English." Yet he sent at least two of his sons to school. For his people he symbolized the effort to preserve the native way of life and to balance the Christianity introduced by missionaries and settlers with traditional spiritual values. His funeral was held according to old Stoney custom, and he was buried in the group's cemetery near the Bighorn River, "in sight of the mountains he has known so long." In 1994, on what was believed to be the 100th anniversary of Taotha's first trek north, members of the Stoney community recreated the journey. The community school that was opened on the Big Horn Reserve in 2009 was named after him.
In collaboration with Ian A. L. Getty
The author acknowledges the invaluable assistance of Lloyd (Buddy) Wesley, Chiniki First Nation researcher and Taotha's great-grandson.
The fullest picture of Taotha is captured in the writings of John Lee Laurie, which are on deposit in his fonds at GA in Calgary. Laurie drafted a history of the Stoney people and wrote many articles and stories based on oral accounts provided by the elders (M 656, files 18, 22, and 25), some of which were published in Canadian Cattlemen (Calgary), between 1950 and 1958. He profiled Taotha in "Peter Wesley: the rebel," in "The Stony [Stoney] Indians of Alberta," (M 4390, vol.1: 71–75) and in the article "Home on the Kootenay Plains," Canadian Cattlemen, 13 (1950), no.8: 22–23. After his death, Taotha was eulogized in several Alberta newspapers; the most detailed obituary appeared as "Aged Stony chief dies at Nordegg," Edmonton Bulletin, 2 May 1935.
Albertan (Calgary), 14 July 1933. Edmonton Journal, 7 Aug. 1994. Mountaineer (Rocky Mountain House, Alta), 10 Aug. 1994, 5 May 2009. Theodore (Ted) Binnema and Melanie Niemi, "'Let the line be drawn now': wilderness, conservation, and the exclusion of aboriginal people from Banff National Park in Canada," Environmental Hist. (Durham, N.C.), 11 (2006): 724–50. Can., Parl., Sessional papers, 1896–1915 (reports of the Dept. of Indian Affairs, 1894/95–1913/14). J. W. Niddrie, Niddrie of the North-West: memoirs of a pioneer Canadian missionary, ed. J. W. and J. J. Chalmers, (Edmonton, 2000), 62–63. John Snow, These mountains are our sacred places: the story of the Stoney Indians (Toronto and Sarasota, Fla, 1977). Treaty 7 Elders et al., The true spirit and original intent of Treaty 7 (Montreal and Kingston, Ont., 1995).
© 2017–2023 University of Toronto/Université Laval
Image Gallery

Cite This Article
In collaboration with Ian A. L. Getty, "TAOTHA (Ta Otha, Ta-Otha, Ta-o-otha, Ta'Otha; Peter Wesley)," in Dictionary of Canadian Biography, vol. 16, University of Toronto/Université Laval, 2003–, accessed September 28, 2023, http://www.biographi.ca/en/bio/taotha_16E.html.
The citation above shows the format for footnotes and endnotes according to the Chicago manual of style (16th edition). Information to be used in other citation formats:
| | |
| --- | --- |
| Permalink: | http://www.biographi.ca/en/bio/taotha_16E.html |
| Author of Article: | In collaboration with Ian A. L. Getty |
| Title of Article: | TAOTHA (Ta Otha, Ta-Otha, Ta-o-otha, Ta'Otha; Peter Wesley) |
| Publication Name: | Dictionary of Canadian Biography, vol. 16 |
| Publisher: | University of Toronto/Université Laval |
| Year of publication: | 2017 |
| Year of revision: | 2017 |
| Access Date: | September 28, 2023 |