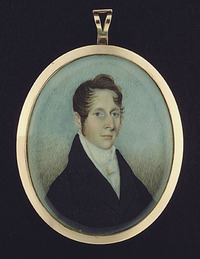 TAYLOR, WILLIAM, businessman, office holder, and politician; b. c. 1789 in Fredericton, eldest son of James Taylor "the Elder" and Jane – ; m. first 27 Nov. 1816, in Fredericton, Ann Cameron, daughter of Stephen Cameron, a merchant; m. secondly 25 Aug. 1819, in Saint John, Sally Hatfield, daughter of merchant David Hatfield; d. 27 March 1834 in Fredericton, survived by his second wife and four children.
William Taylor's father, James (1756–1834), born in Port Glasgow, Scotland, was described as a man of undeviating integrity. He moved to New York early in life and served in the British forces during the American revolution. He was one of the first loyalist settlers at St Anne's Point (Fredericton) in 1783, building the third house in the town. An enterprising merchant, he erected the first public market there in 1814. Two years later he chartered a Saint John-built ship, the Favorite, to bring Scots settlers to New Brunswick on a government contract; his exceptionally well-organized arrangements for them suggest that he had excellent contacts in Scotland. Taylor Sr rented quarters in his market-house to the Court of General Sessions, of which he was a member, and in 1817 the magistrates purchased the building, which served until the mid 1850s both as a market and as the York County court-house. Taylor was named a director and first treasurer of the Fredericton Savings Bank in 1824, was active in the Fredericton Emigrant Society, became a charter member and vice-president of the St Andrew's Society in 1825, and donated the site for building a church, St Paul's, when a Church of Scotland congregation was organized in 1828. His designation, "the Elder," to distinguish him from other James Taylors in the neighbourhood [see James Taylor] arked his status in the family rather than in the church.
William Taylor was educated at the Fredericton Academy and entered the family business while still very young. In 1816 he advertised as the proprietor of the Jerusalem Coffee-House, but he sold it two years later with the intention of leaving Fredericton. In 1821, as the coroner responsible for investigating the death of George Ludlow Wetmore, a young lawyer who had been killed in a duel with George Frederick Street*, Taylor issued a hue and cry against Street and the two seconds involved.
Taylor entered into a formal partnership with his father and his younger brothers, James* and John F., in 1821, under the name of James Taylor Senior and Company. Its main business was the supplying of provisions to lumbermen and the forwarding of timber and lumber to Saint John, but it also became extensively involved in property transactions and had mills on the Tobique River. In July 1826 the company, along with the firm of Cross and Murray of Saint John, signed a contract for the erection of a stone building to house the College of New Brunswick in Fredericton. The estimated cost of the structure, which was to be built on a site acquired from George Best according to designs by John Elliott Woolford*, was £10,300. In the following summers Scottish stonemasons were brought to Fredericton to finish the work. The building has been in continuous use by the college, now the University of New Brunswick, since its completion in 1829.
In 1822 Taylor was a member of a five-man committee authorized to raise money, from among the citizens most likely to benefit, for the creation of a reservoir for the fighting of fires; a well was dug and a tank-house erected over it to prevent the water freezing, a civic building that was a forerunner of the city hall established when Fredericton was incorporated in 1848. Later Taylor was the auctioneer in most of the important public auctions in York County, a member (along with Alexander Rankin* and others) of the central committee to relieve victims of the Miramichi fire of 1825, and, beginning in January 1829, treasurer of the central board of the New-Brunswick Agricultural and Emigrant Society, adding the duties of secretary in February 1830. Devoutly religious, Taylor became a member of the Sheffield Congregational Church in 1825, and was a member of the committee to build St Paul's in Fredericton and one of the trustees when it was incorporated in 1832. Taylor was elected to the House of Assembly in a by-election in 1822, following the death of Stair Agnew. His three opponents had retired when the sheriff refused to move the poll to communities outside Fredericton, thus effectively denying the vote to upriver people, some of whom lived more than 150 miles from the capital. He was re-elected in the general elections of 1827 and 1830. Scotsmen usually occupied at least two of the four seats for York County and in 1833 he was joined in the assembly by his brother James. When William died after a lingering illness a year later, however, his place in the house was taken by a Methodist of American ancestry, Lemuel Allan Wilmot*.
Both Fredericton newspapers produced unusually long, laudatory obituaries of Taylor. "His manners were conciliatory," said one, "his benevolence was extensive; his charity free from ostentation, and his piety at once fervent and unobtrusive." Taylor's father died nine months later. His brother James, who had married a sister of William's wife Sally (another of her sisters married Charles Fisher*), carried on with a varied career in business, politics, and public service. The youngest brother, John F. ,was a much quieter person. A bachelor, he maintained the family home for William's widow and children, and ran the family store for many years. It was one of his close friends who provided the epitaph on the family tombstone: "This monument is erected by a Scotsman who from his first acquaintance with the family in 1822 never ceased to admire and appreciate their probity of character, their friendliness and general goodness of heart."
N.B. Museum, G. J. Dibblee papers, packets 125, 252, 270; F85, no.19; W. F. Ganong coll., box 8, packet 5. PAC, MG 24, L6, 1, 3. PANB, RG 2, RS 6, B, 24 Nov. 1815; RG 4, RS 24, 1817, "Number, names and descriptions of settlers brought into the province by Mr. James Taylor"; RG 7, RS 75, 1834–35, James Taylor "the Elder." UNBL, UA, "Minute-book of the governor and trustees of the College of New Brunswick," 17 July 1826. Wilmot United Church (Fredericton), Reg. of baptisms, marriages, and burials, 29 July 1797 (mfm. at PANB). "Documents of the Congregational Church at Maugerville," N.B. Hist. Soc., Coll., 1 (1894–97), no.1: 148, 151. John Mann, Travels in North America . . . (Glasgow, 1824; repr. Fredericton, 1978). N.B., House of Assembly, Journal, 1822–33. City Gazette (Saint John, N.B.), 3 April 1834. New-Brunswick Courier, 5 April 1834. Royal Gazette (Fredericton), 1814–34. Hill, Old Burying Ground. W. T. Baird, Seventy years of New Brunswick life . . . (Saint John, 1890; repr. Fredericton, 1978). Beckwith Maxwell, Hist. of central N.B. Lawrence, Judges of N.B. (Stockton and Raymond). Official centennial book: the story of Fredericton; Fredericton's one hundred years, ed. Frank Baird ([Fredericton, 1948]). W. A. Squires, History of Fredericton: the last 200 years, ed. J K. Chapman (Fredericton, 1980).
© 1987–2023 University of Toronto/Université Laval
Image Gallery

Cite This Article
D M. Young, "TAYLOR, WILLIAM (d. 1834)," in Dictionary of Canadian Biography, vol. 6, University of Toronto/Université Laval, 2003–, accessed November 29, 2023, http://www.biographi.ca/en/bio/taylor_william_1834_6E.html.
The citation above shows the format for footnotes and endnotes according to the Chicago manual of style (16th edition). Information to be used in other citation formats:
| | |
| --- | --- |
| Permalink: | http://www.biographi.ca/en/bio/taylor_william_1834_6E.html |
| Author of Article: | D M. Young |
| Title of Article: | TAYLOR, WILLIAM (d. 1834) |
| Publication Name: | Dictionary of Canadian Biography, vol. 6 |
| Publisher: | University of Toronto/Université Laval |
| Year of publication: | 1987 |
| Year of revision: | 1987 |
| Access Date: | November 29, 2023 |