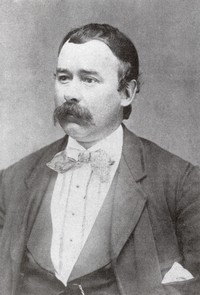 Source: Courtesy of Wikimedia Commons
THÉRIAULT, LÉVITE, office holder, jp, militia officer, and politician; b. 14 May 1837 in the parish of Saint-Basile, N.B., son of François-Régis Thériault and Julie Ringuet; m. first 13 Jan. 1875 Eugénie Lebel (d. 1877) in Kamouraska, Que., and they had two sons; m. secondly 11 Feb. 1878 in Lévis, Que., Marie-Luce-Eugénie Patry (Paltry), widow of Octave Marchand; they had no children; d. 2 Dec. 1896 in Grand-Ruisseau, Madawaska County, N.B.
Lévite Thériault was the only son of François-Régis Thériault, militia captain, justice of the peace, mill owner, and prosperous farmer. After studying at the Collège de Sainte-Anne-de-la-Pocatière in Lower Canada, Lévite began a career in local government. He was a school trustee at Saint-Basile in 1854 and progressed through various elected and appointed offices to become a justice of the peace on 21 Sept. 1865. In 1866 he was commissioned a lieutenant in the militia and became secretary of the Victoria County Agricultural Society. His father's death in 1867 made him one of the most affluent Acadians in the Madawaska region.
When Vital Hébert died after one session representing Victoria in the House of Assembly, Thériault obtained the support of John Costigan*, the region's federal representative, and was elected second member for Victoria on 3 Jan. 1868. He served on the agricultural interests committee but spoke rarely in the house, initiating only two minor local bills and always voting with the government.
Re-elected in 1870, he continued to vote with the government and found himself separated from most of the other Catholic and Acadian mhas when he supported the Common Schools Act of 1871, which gave funds from a general tax to non-sectarian schools only. He never explained his motives. He may have believed the act would improve education in Acadian areas. He may also have believed that continuous support of the government would provide more money for Victoria. In this case, it provided as well for the advancement of Lévite Thériault, who was appointed minister without portfolio in the administration of George Luther Hatheway* in July 1871.
While some Acadians and the English-language newspaper in his riding agreed with Thériault, supporters of church schools attacked him savagely through Le Moniteur acadien and every Acadian parish in his constituency petitioned against the act. Faced with increasing opposition, Thériault resigned from the Executive Council in February 1872, claiming to have been misled about the effects of the act. As these had been clearly forecast by other Catholic mhas in the debates of 1871, his explanation seems disingenuous. During the session that followed, Thériault voted with the Catholics opposing the schools act.
His power in his constituency was soon re-established. Even though the new county of Madawaska, separated from Victoria in 1873, contained a majority of French Catholic voters, he became its mha in 1874. Government compromise had salvaged his political credibility. Although all Saint-Basile schools had closed for lack of funds following the passing of the Common Schools Act, by the time of the election of 1874 some parishioners had accepted the need to pay their share of the rates and schools were reopening with government assistance, including a special remote location allowance. The convent school had been started up again by the church in 1873, generously supported by Thériault's own money. Moreover, 115,000 acres of land had been opened for settlement in Madawaska under the Free Grants Act of 1872. Thériault was clearly able to satisfy local needs. In 1875 he was one of those consulted on the compromise that allowed some church participation in government-funded schools, and three years later he was re-elected by a large majority. In 1880 he sought the support of Pierre-Amand Landry* in a bid to become a legislative councillor, but was told his seat in the assembly seemed secure and he should stay there.
Thériault's position as a wealthy landowner had been strengthened in the late 1860s and early 1870s by several purchases of crown land and timber berths, and his influence in the community was bolstered by his service as founder and lieutenant-colonel of the 1st Battalion of Madawaska militia and as municipal councillor. He was, however, largely excluded from the Acadian "renaissance," which was based on the College of St Joseph at Memramcook, founded in 1864 by Father Camille Lefebvre. Its promoters regarded him as a traitor and found little in common with the distant Acadians of Madawaska, whose links were with Quebec and the United States. In 1880 Thériault was apparently a member of the committee on Acadian interests at the convention of the Société Saint-Jean-Baptiste in Quebec, but he played no part in the committee's deliberations and was not among those delegates to the convention who declared themselves to be Acadian representatives. Although he had sent his own sons to St Joseph's, and must have maintained an interest in the convention movement since in 1890 he was on the organizing committee for the next gathering, Le Moniteur acadien continued to describe him in derogatory terms.
After his first wife's death in 1877, Thériault had married a wealthy widow from Fraserville (Rivière-du-Loup), Que. In 1881 he was living there and said by Le Moniteur acadien to be serving simultaneously on the municipal councils of Saint-Basile and Fraserville. This newspaper's vigorous campaign against him may have contributed to his loss of the 1882 election in Madawaska by one vote. Until his defeat he had been a member of the assembly's agricultural interests committee continuously for 14 years. He returned to Saint-Basile and was re-elected in 1886. His success gave him the confidence to resign and contest Victoria in the federal election of 1887. Having lost to the incumbent, his former patron John Costigan, the minister of inland revenue and a strong opponent of the schools act, Thériault then entered, and won, the provincial by-election made necessary by his own resignation. He was subsequently most successful in attracting government money to his riding, a fact that was recognized even by the French press. Re-elected in 1890, he spent several uneventful years supporting government and local interests, highlighted by a trip to Jamaica where he represented the province at the 1891 exhibition, before resigning to take up county posts in 1894. At his death he was registrar of Madawaska County and secretary-treasurer of the municipal council.
Thériault was a symbol of the rising political power of the New Brunswick Acadians. He was the third Acadian mha (after Amand Landry* and Vital Hébert), the first Acadian cabinet minister, one of the longest-sitting members of his time, and an acknowledged defender of northwestern economic interests. But he has had little recognition. Unlike Pierre-Amand Landry, he was a poor orator and his opinions were not made clear. His Madawaskan origin and his out-of-province education separated him from the St Joseph's graduates who shaped the future political development of the Acadians. His support of the schools act separated him from most of his Catholic contemporaries and alienated the clerical historians who were the first to write about Acadian political progress.
ANQ-Q, CE1-22, 19 nov. 1866; CE1-100, 11 févr. 1878; CE3-3 (mfm. at NA). Arch. paroissiales, Saint-Basile-de-Madawaska (Saint-Basile, N.-B.), Reg. des baptêmes, mariages et sépultures (mfm. at PANB). CEA, Fonds P.-A. Landry, 5–1–1 (Landry à Thériault, 29 avril 1880). NA, RG 31, C1, 1861, 1871, Victoria County; 1871, Fraserville; 1881, 1891, Madawaska County. N.B., Dept. of Natural Resources, Lands Branch (Fredericton), Indexes to crown land sales, 1856–57, 1868–69, 1871, 1874 (mfm. at PANB). PANB, MC 1156; RG 4, RS24; RG 7, RS73, A, 1867, F.-R. Thériault; RG 18, RS152; RS158, A2–3. N.B., House of Assembly, Journal, 1867–92; Legislative Assembly, Journal, 1893–96. Carleton Sentinel (Woodstock, N.B.), 1871–72. L'Évangéline (Digby, N.-É.; Weymouth Bridge, N.-É.), 1889, 1893–94, 1896. Le Moniteur acadien (Shédiac, N.-B.), 1871–72, 1882–96. Thomas Albert, Histoire du Madawaska d'après les recherches historiques de Patrick Therriault et les notes manuscrites de Prudent L. Mercure (Québec, 1920). Conventions nationales des Acadiens, Recueil des travaux et délibérations des six premières conventions, F.-J. Robidoux, compil. (Shédiac, 1907). D. M. M. Stanley, Au service de deux peuples: Pierre-Amand Landry (Moncton, 1977).
© 1990–2023 University of Toronto/Université Laval
Image Gallery

Cite This Article
Sheila Andrew, "THÉRIAULT, LÉVITE," in Dictionary of Canadian Biography, vol. 12, University of Toronto/Université Laval, 2003–, accessed October 2, 2023, http://www.biographi.ca/en/bio/theriault_levite_12E.html.
The citation above shows the format for footnotes and endnotes according to the Chicago manual of style (16th edition). Information to be used in other citation formats:
| | |
| --- | --- |
| Permalink: | http://www.biographi.ca/en/bio/theriault_levite_12E.html |
| Author of Article: | Sheila Andrew |
| Title of Article: | THÉRIAULT, LÉVITE |
| Publication Name: | Dictionary of Canadian Biography, vol. 12 |
| Publisher: | University of Toronto/Université Laval |
| Year of publication: | 1990 |
| Year of revision: | 1990 |
| Access Date: | October 2, 2023 |