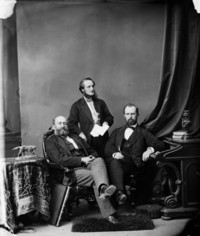 HATHEWAY, GEORGE LUTHER, farmer, merchant, lumberman, and politician; b. at Musquash, Sunbury County, N.B., 4 Aug. 1813, son of Calvin Luther Hatheway* and his wife Sarah; m. in June 1840 to Martha Slason of Fredericton (there were no children); d. 5 July 1872 at Fredericton, N.B.
George Luther Hatheway attended school in Saint John, New Brunswick. He settled at Durham Bridge, York County, where he became a farmer, country merchant, and lumber operator. He later moved to Saint Mary's across the Saint John River from Fredericton. At the time of his death he owned large areas of timber land.
Hatheway, a born politician, entered politics in 1850 as a reformer. Loud and boisterous, he was also warm-hearted, yet a formidable adversary in any debate. He was the central figure at any social gathering and he appealed to rural voters who felt he was one of them. He was able to do things which would have ruined other politicians. During his election campaigns he frequently dispatched messengers to the nearest tavern for brandy which he drank in full view of his audience. One story tells that he was surprised to receive the votes of a man and his three sons with whom he had quarrelled. He offered to shake hands with the head of the family saying he was glad their differences had apparently been resolved. The man refused, replying that there were two places for which he felt Hatheway was suited – Hell and the legislature – and that he would do his best to see him in both.
Hatheway, a supporter of responsible government, was elected in 1850, 1854, and 1856. He advocated in 1851 a bill to make the Legislative Council elective. In 1856 he introduced perhaps the most important legislation passed that year – a bill giving the Executive Council the sole right to initiate money grants. He was defeated in the 1857 election but in 1861 was back in the house and became chief commissioner of public works.
In 1865 Hatheway objected to the terms under which it was proposed that New Brunswick enter confederation. These terms were accepted by the majority of Samuel Leonard Tilley*'s government and Hatheway was the only member who decided to resign, which he did in January 1865, thus weakening the government. Hatheway has been criticized for his apparent lack of political conviction and his willingness to change sides when an issue seemed doomed to failure, yet, in deserting the Tilley government in 1865, he appears genuinely to have believed that the terms discussed at the Quebec conference of 1864 were not advantageous to New Brunswick. He demonstrated his sincerity in later years when he fought for better terms.
It has been said that during the debate over confederation "party politics was completely set aside . . . and personal advantage in the public area became the guiding spirit" of New Brunswick politicians. This may be so but after the government's defeat in the 1865 election, Hatheway, who had been re-elected as an anti-confederate, turned down an opportunity to form the new government. He was the first man approached by Lieutenant Governor Arthur H. Gordon*, despite the fact that Gordon considered him "destitute of principle, as well as of education." Instead Hatheway became chief commissioner of public works in the government formed by Albert James Smith*. In the election of 1866, probably because he sensed a major upset coming at the polls, Hatheway withdrew from the contest a few days before the end of the campaign. His desertion weakened the anti-confederates' chances of regaining power.
Hatheway was re-elected in 1870 to the provincial assembly and in February 1871 he was one of the men responsible for ousting the government of George Edwin King*. King was not a strong leader and many considered his government to be a creature of Ottawa. Hatheway was again accused of office seeking and in this case the charge had more validity. He deserted those who had helped him defeat King, and formed a new government including King and some of the ablest men from both parties.
Hatheway became premier and provincial secretary of a government organized primarily to pass the controversial school law bill of which King had been the architect. In his views on educational reform, Hatheway followed a consistent policy. As early as 1852 he had supported direct taxation for school purposes, pointing out that higher wages were paid to men working in the woods than to teachers. He realized that assessment would be unpopular but argued that "every child had a right to an education." He also supported the appointment of additional school inspectors and in 1854 he defended King's College (University of New Brunswick) against the attacks of A. J. Smith and others who wanted it closed. In the election of 1871 he declared that his government would stand or fall on the issue of the school bill and the principle of direct taxation for school purposes. He won the election and the bill was passed.
The school act of 1871 called for "free, tax supported, non-sectarian schools" and was opposed by those who felt that direct taxation was unnecessary and by the clergy, particularly Roman Catholics. The opponents of the bill carried the fight to the New Brunswick Supreme Court and the dominion parliament, and the government of Sir John A. Macdonald* referred it to the Judicial Committee of the Privy Council. All attempts to overthrow the bill failed and the higher courts declared it to be constitutional and within the jurisdiction of the province. This act, for which Hatheway deserves much of the credit, "laid the foundation of a free school system" when it went into effect in January 1872 and was "the most significant educational advance in New Brunswick during the nineteenth century."
On 25 June 1872 Hatheway badly damaged his left hand when he jumped from a moving train; he died as a result of blood poisoning from the injury. Hatheway was an able politician and a colourful individual though with many faults. Much more than a "loud-mouthed demagogue" or an unprincipled opportunist, he worked for reform both in government and in education and was never afraid to state his views, no matter how unpopular, to the house or to the people he represented.
N.B. Museum, Hatheway papers, F28, draft of a short history of the Hatheway family by W. F. Hatheway; "New Brunswick biographies," unpublished ms by G. H. Markham, 94–95. York County Court of Probate (Fredericton), IV (1866–77), 216–19. Fenety, Political notes and observations, 405, 474. New Brunswick, House of Assembly, Debates, 1866, 91. Morning Freeman (Saint John, N.B.), 6 July 1872. New Brunswick Reporter (Fredericton), 10 July 1872. Saint John Daily News, 6 July 1872. Saint John Daily Telegraph and Morning Journal, 6 July 1872. Telegraph Journal (Saint John, N.B.), 1 March, 28, 29 April, 6 May, 15, 16 June 1932. Can. parl. comp., 1871, 258, 267. Wallace, Macmillan dictionary, 305. Creighton, Road to confederation, 200, 231. Hannay, History of New Brunswick, II, 140, 178–79, 234–37, 252–53, 293–301; Wilmot and Tilley (Toronto, 1907), 228, 233, 250. K. F. C. MacNaughton, The development of the theory and practice of education in New Brunswick, 1784–1900: a study in historical background, ed. with intro. A. G. Bailey (U. of New Brunswick Hist. Studies, 1, Fredericton, 1947), 143–47, 155–263. MacNutt, New Brunswick, 365, 427–32. Waite, Life and times of confederation, 242, 245. C. M. Wallace, "The life and times of Sir Albert James Smith," unpublished ma thesis, U. of New Brunswick, 1959, 111–12, 122–31. A. G. Bailey, "The basis and persistence of opposition to confederation in New Brunswick," CHR, XXIII (1942), 374–97. James Hannay, "The premiers of New Brunswick since confederation," Canadian Magazine (Toronto), IX (1897), 213–21.
© 1972–2023 University of Toronto/Université Laval
Image Gallery

Cite This Article
W. A. Spray, "HATHEWAY, GEORGE LUTHER," in Dictionary of Canadian Biography, vol. 10, University of Toronto/Université Laval, 2003–, accessed October 1, 2023, http://www.biographi.ca/en/bio/hatheway_george_luther_10E.html.
The citation above shows the format for footnotes and endnotes according to the Chicago manual of style (16th edition). Information to be used in other citation formats:
| | |
| --- | --- |
| Permalink: | http://www.biographi.ca/en/bio/hatheway_george_luther_10E.html |
| Author of Article: | W. A. Spray |
| Title of Article: | HATHEWAY, GEORGE LUTHER |
| Publication Name: | Dictionary of Canadian Biography, vol. 10 |
| Publisher: | University of Toronto/Université Laval |
| Year of publication: | 1972 |
| Year of revision: | 1972 |
| Access Date: | October 1, 2023 |