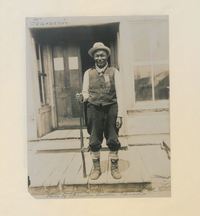 Source: Link
TONENÉ, IGNACE (Nias) (also known as Maiagizis, meaning "right or correct sun"), HBC employee, fur trader, chief, and prospector; b. 1840 or 1841 in the vicinity of Lake Temagami, Upper Canada, eldest son of Kabimigwune (François) and Marian; d. 15 March 1916 in the Lac Abitibi region, Que.
Ignace Tonené was a member of the highly nomadic group of natives known in the 19th century, and through much of the 20th, as the Temagami band of Ojibwa, who now regard themselves as a non-Ojibwa "border people" called the Teme-Augama Anishnabai. Probably born on White Bear (Cassels) Lake, Tonené entered the Euro-Canadian accounts in 1857, when he was hired by the Hudson's Bay Company to carry mail between its regional headquarters on Lake Timiskaming and its winter post on Lake Temagami. For many summers thereafter, he worked at Fort Timiskaming (near Ville-Marie, Que.), which is probably where he learned to speak French, the trade language of the region. During the 1870s he competed against the HBC in the Temagami region by purchasing furs with goods supplied by merchants from the Ottawa River. His ties to the area gave him enough of an advantage that the HBC did its best to re-employ him.
In 1860 Tonené had married Angèle, daughter of Nebenegwune, a former head chief, or ogima, of the Temagami band. In 1871, two years after she died giving birth to their fourth child, he married Elisabeth Pikossekat from the Timiskaming band; they had three daughters. Although neither of Tonené's sons reached adulthood, his five daughters married and had numerous progeny.
Tonené was elected to succeed his father as second chief (anike ogima) of the band about 1868 and he became head chief in 1878, a post he held until 1888. When his successor, John Paul, died in 1893, Tonené reassumed the senior role, despite his long absences trapping in the Abitibi country. From 1910 he was an honorary or life chief, and principal adviser to new head chief Frank White Bear, his younger brother.
As second chief, Tonené had raised the matter of his people's non-participation in the treaty negotiated by William Benjamin Robinson* in 1850 with Ojibwa communities on Lake Huron. In 1877 Tonené and two others met on Lake Nipissing with federal Indian agent Charles Skene, and explained that their community had never ceded its land but now wanted an annuity from the treaty and a reserve. The stated reason for their concern was the arrival of lumbermen [see Migisi*]. On New Year's Day 1879, in a remarkable speech before an assembly at the HBC post on Bear Island in Lake Temagami, Tonené warned his people that "the white men were coming closer and closer every year and the deer and furs were becoming scarcer and scarcer . . . so that in a few years more Indians could not live by hunting alone."
Tonené kept up the pressure for grants and a reserve, meeting several times with Skene and his successor and sending letters written in his own language to federal officials and mps. Though the deputy superintendent general of Indian affairs, Lawrence Vankoughnet, agreed in 1880 that the Temagami land, estimated at 2,770 square miles, "does not appear to have been surrendered," the superintendent general (and prime minister), Sir John A. Macdonald*, deferred action since only the province could set land aside. Nevertheless, in 1883 Indian Affairs agreed to pay an annual grant equivalent to that provided to other bands under the Robinson-Huron Treaty.
In 1884 a tribal council convened by Tonené on Bear Island proposed a reserve of some 100 square miles around Cross Lake and the south end of Lake Temagami. Dominion land surveyor George B. Abrey visited the area that year; his report, in which he estimated the native population to be about 100 in 19 families, supported their position but restricted the size of the proposed reserve. Federal authorities maintained that Tonené's group was a "distinct Band" and urged Ontario to transfer all or some of the land. Premier Oliver Mowat*, who was notoriously hostile to aboriginal and treaty rights, ensured that no transfer took place, mainly because of the valuable pine in the region. Though Ottawa would again support the essence of Tonené's claims, in 1890 and 1896, Ontario refused to negotiate. The issue remains unresolved.
By 1888 Tonené, discouraged perhaps by this obstruction, had moved with his family to the height of land between lakes Opasatica and Dasserat, in the Abitibi region of Quebec, where a married daughter was living. In 1889 he journeyed to Bear Island to ask the visiting Indian agent for agricultural supplies for his people. He continued to trap, and during the rush sparked in 1903 by the discovery of silver at Cobalt, Ont., he began prospecting. He was successful enough that one of his claims was jumped; Indian Affairs was unable to secure redress. He is credited with discovering the ore body that led to the famous Kerr-Addison gold-mine east of Kirkland Lake. Shortly before World War I a prospectus was issued for the Tonene Old Indian Mining Company; whether Tonené benefited is unclear. A photograph taken of him on a business trip to Haileybury in 1909 shows an elderly man in a black suit and hat. He died in 1916 and was buried near Mont Kanasuta on the Quebec-Ontario boundary.
A pragmatist when it came to relations with Euro-Canadian society, Tonené had forged a new role for himself and his family in the resource-driven economy of the north. But, given the hostility of the Ontario government to aboriginal rights, it is not surprising that his political efforts on behalf of his people were unsuccessful in his time.
Bruce W. Hodgins and James Morrison
AO, F 470. NA, MG 19, D4; D21; MG 29, C40 (mfm.); RG 10, 3109, file 315190; 7757, file 27043-9; RG 31, C1, 1881, Timagami, [Ont.]. Private arch., V. R. (Duff) Dufresne (Larder Lake, Ont.), Docs., including the prospectus for the Tonene Old Indian Mining Company. Attorney General for Ontario v. Bear Island Foundation et al. (1984), Ontario Reports (Toronto), 2nd ser., 49: 353–490. Frank Carrell, "Our fishing and hunting trip in northern Ontario, part iii," Rod and Gun and Motor Sports in Canada (Woodstock, Ont.), 9 (1907–8): 39–52. B. W. Hodgins, "The Temagami Indians and Canadian federalism, 1867–1943," Laurentian Univ Rev. (Sudbury, Ont.), 11 (1978–79), no.2: 71–100. B. W. Hodgins and Jamie Benidickson, The Temagami experience: recreation, resources, and aboriginal rights in the northern Ontario wilderness (Toronto, 1989). S. A. Pain, The way north: men, mines and minerals; being some account of the curious history of the ancient route between North Bay and Hudson Bay in Ontario . . . (Toronto, 1964). Gary Potts, "Teme-augama Anishnabai: last-ditch defence of a priceless homeland," in Drumbeat: anger and renewal in Indian country, ed. Boyce Richardson (Toronto, 1989), 201–28. F. G. Speck, Family hunting territories and social lift of the various Algonkian bands of the Ottawa valley (Geological Survey of Canada, Memoir, no.70, Ottawa, 1915); Myths and folk-lore of the Temiskaming, Algonkian and Timagami Ojibway (Geological Survey of Canada, Memoir, no.71, 1915). Supreme Court of Ontario, [Proc. of Attorney General for Ontario v. Bear Island Foundation et al.] (unpublished transcript, 68v., 1982–84; copy in Bear Island Library, Bear Island, Ont.).
© 1998–2023 University of Toronto/Université Laval
Image Gallery

Cite This Article
Bruce W. Hodgins and James Morrison, "TONENÉ, IGNACE," in Dictionary of Canadian Biography, vol. 14, University of Toronto/Université Laval, 2003–, accessed November 29, 2023, http://www.biographi.ca/en/bio/tonene_ignace_14E.html.
The citation above shows the format for footnotes and endnotes according to the Chicago manual of style (16th edition). Information to be used in other citation formats:
| | |
| --- | --- |
| Permalink: | http://www.biographi.ca/en/bio/tonene_ignace_14E.html |
| Author of Article: | Bruce W. Hodgins and James Morrison |
| Title of Article: | TONENÉ, IGNACE |
| Publication Name: | Dictionary of Canadian Biography, vol. 14 |
| Publisher: | University of Toronto/Université Laval |
| Year of publication: | 1998 |
| Year of revision: | 1998 |
| Access Date: | November 29, 2023 |