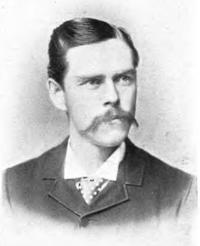 Source: Courtesy of Wikimedia Commons
Troup, James William, steamship captain, ship designer, and businessman; b. 5 Feb. 1855 in Portland (Oreg.), son of William H. Troup and Eliza Jane Turnbull; m. there 17 July 1879 Frances Julia Stump (d. 19 Aug. 1938), and they had a son and a daughter; d. 30 Nov. 1931 in Victoria.
James Troup's maternal grandfather, James Turnbull, had established a steamer service between Portland and Vancouver (Wash.), and Troup's father was the line's chief engineer and captain of a steamer. James spent his childhood at the family home in Vancouver and on the family's vessels, where he developed skills in the shipping business. His father hoped that he would enter the United States Naval Academy in Annapolis, Md, but difficulties with his eyesight apparently precluded his admission. He worked as a purser and a pilot, and by age 20 he was captain of the Columbia River steamer Wasp.
In May 1883 Troup took employment in British Columbia under Captain John Irving, who had interests in several shipping enterprises, including the Kamloops Steam Navigation Company and his family's Pioneer Line Company, which was being merged with the Hudson's Bay Company fleet to form the Canadian Pacific Navigation Company. Troup ran steamers in the Kamloops area, on the Fraser River, and along coastal routes. These vessels carried passengers, freight, and mail, and they were often the only links between outlying communities and larger centres. Because of Troup's skill and experience, Irving entrusted him with the R. P. Rithet, a luxurious sternwheeler, and with the largest vessel in the firm's fleet, the Yosemite. Troup went back to the United States in 1886 to become superintendent of the Oregon Railroad and Navigation Company's steamer service, operating in Puget Sound as well as on the Columbia River. In 1888 he oversaw the construction of the T. J. Potter, one of the fastest vessels in the Pacific northwest. The steamer Victorian, built in 1891, was less successful because its large and inefficient engines made it expensive to run. From these results he built up his knowledge of shipbuilding and design. He gained fame on the Columbia by piloting the Harvest Queen through the Tumwater rapids and other vessels through the Cascade rapids.
Troup returned to British Columbia in 1892 to become manager of the Columbia and Kootenay Steam Navigation Company's fleet, based in Nelson and owned in part by his friend Irving. There he supervised the development of a large number of sternwheelers for lake and river service. The company was taken over by the Canadian Pacific Railway in 1896–97 and Troup continued as manager but, at the CPR's request, he spent some time in Vancouver, directing the building of sternwheelers for the Stikine River.
In 1900 Troup became manager (later superintendent) of the CPR's lake and river service based in Nelson. Following the company's purchase of the Canadian Pacific Navigation Company, he moved to Victoria the next year to run its recently acquired coastal steamships. Troup took to his new duties with enthusiasm and determination. The successful management of what was soon known as the British Columbia Coast Steamship Service would become his life's passion. He transformed a fleet of 14 elderly vessels into one of the finest coastal-steamer operations in the world. He encouraged the CPR to build first-class vessels and new port facilities; he was convinced they would increase traffic and vindicate the costs. In addition, he argued for high standards. For example, in 1903 he wrote of the newly constructed steamer Princess Victoria that "the boat will never be successful if the detail [of passenger accommodations] is not looked after. It is the detail which will go to make up the whole affair." The success of the enterprise in its first decade contributed to additional business and tourism in the region and helped justify the erection of Victoria's Empress Hotel in 1908.
Although he had limited formal education, Troup was a skilled ship designer. His papers contain detailed discussions and debates with shipbuilders over the technical requirements and the performance of his vessels. His experience and ability meant that his judgement was seldom proved wrong. His talents were demonstrated in the design and performance of the Princess Victoria and other steamships, the most important of which were the celebrated coastal liners Princess Kathleen and Princess Marguerite, both built in 1925 and known for their fast and luxurious service. An early automobile enthusiast (he held the second licence issued for a private car in British Columbia), Troup sought to accommodate vehicles on coastal steamships. With the construction of the Motor Princess in 1923, he also pioneered diesel-powered automobile ferries on the Pacific coast.
During Troup's tenure, the CPR service met with tragedies. On 15 Aug. 1901, just after he became manager, the Islander struck ice and sank off Douglas Island, near Juneau (Alaska), with the loss of 42 lives. The stranding of the Princess Sophia on Vanderbilt Reef in Alaskan waters during a fierce snowstorm on 24 Oct. 1918 and its sinking the following day resulted in the deaths of all on board – at least 343 persons, and possibly as many as 353. The tragedy of the Princess Sophia was keenly felt all along the coast, and for some time afterwards it seriously affected Troup's health.
Prominent in business circles, Troup invested in land and marine industrial development. He owned an excursion steamer based in Victoria, and later a yacht. During World War I, in addition to maintaining his post with the CPR, he served as assistant director of wooden shipbuilding for the Imperial Munitions Board [see Sir Joseph Wesley Flavelle]. On 26 April 1921 he became a naturalized citizen.
Troup was widely respected in many quarters and resented in a few. Highly skilled in the coastal trade and thorough in his business dealings, he was also well qualified, holding captain's papers for inland and coastal steamships in Canada and the United States and a pilot's certificate for Puget Sound, and likely for other places as well. However, he was disinclined to accept excuses from his staff or to tolerate foolish mistakes. He could be generous and he never hesitated to credit his employees and others in the CPR for the success of the service, but was remembered as a demanding supervisor. Earl John Marsh, who had worked in Troup's office in the 1920s, later reflected that his director treated the company's interests as if they were his own.
After his retirement on 1 Sept. 1928 at age 73, Troup continued to advise the CPR on the development of new ships. By 1930 most early vessels had long since been replaced and the fleet had grown to include 16 major passenger steamships as well as several tugs and barges and two freighters. The steamships, identified by the Princess name, provided the main links between Victoria, Vancouver, and Seattle, Wash., between Vancouver and Nanaimo, B.C., and to and from many coastal locations in the province and in southern Alaska. These shipping routes effectively served as branch lines of the CPR, connecting places that the railway could not reach. In the year of his retirement, the coastal service carried nearly 798,000 passengers and over 30,000 highway vehicles; its net earnings were almost $1,300,000.
Troup was handsome and distinguished in appearance, with piercing eyes. Photos show him to have been fit throughout his career. As a young man he wore a long moustache, but in later years he kept it trimmed. He was an Anglican. In 1905 he had a large home built in the Victoria West neighbourhood to the designs of architect Samuel Maclure*. His retirement was brief; in the late summer of 1931 his health began to fail and he died from bronchitis and heart failure in Victoria. Ships of the CPR coastal service hove to for two minutes at the time of his funeral.
One of Troup's inland vessels, the Moyie, built in 1898, has been meticulously restored as a national historic site at Kaslo, and a second, the Sicamous, completed in 1914, over whose design he had considerable influence, has been restored in Penticton and now serves as a marine museum. None of his coastal steamships survive. His effect on the development of coastal and inland shipping services and its impact on tourism, industrial expansion, and settlement was profound. As a designer of vessels for these services he was recognized as a master with few equals. His vision, imagination, and managerial abilities set him apart from most of his contemporaries in the business.
During the 1980s, Earl John Marsh, who had worked with James William Troup, made available to the author the numerous volumes of British Columbia Coast Steamship Service correspondence and related material that he had conserved. This material is now at BCA, Acc. 93-7330.
BCA, GR-2951, nos.1931-09-451818, 1938-09-546112. Daily Colonist (Victoria), 19 Aug. 1928, 20 Aug. 1938. Marine Digest (Seattle, Wash.), 5 Dec. 1931. Morning Oregonian (Portland, Oreg.), 18 July 1879, 27 Aug. 1928. Oregonian (Portland), 20 Aug. 1938. Victoria Daily Times, 18 Aug. 1928; 30 Nov., 3 Dec. 1931. Canadian Railway and Marine World (Toronto), July 1921: 412. N. R. Hacking and W. K. Lamb, The "Princess" story: a century and a half of west coast shipping (Vancouver, 1974). LAC, "Naturalization records, 1915–1951": (consulted 24 June 2014). R. W. Troup, Steamboats and "Princess" ships: the storybook life of Captain James W. Troup (Roseburg, Oreg., 1978). R. D. Turner, The Pacific "Princesses": an illustrated history of the Canadian Pacific Railway's "Princess" fleet on the northwest coast (Victoria, 1977); Sternwheelers and steam tugs: an illustrated history of the Canadian Pacific Railway's British Columbia Lake and River Service (Victoria, 1984); Those beautiful coastal liners: the Canadian Pacific's "Princesses" (Victoria, 2001).
© 2015–2023 University of Toronto/Université Laval
Cite This Article
Robert D. Turner, "TROUP, JAMES WILLIAM," in Dictionary of Canadian Biography, vol. 16, University of Toronto/Université Laval, 2003–, accessed November 30, 2023, http://www.biographi.ca/en/bio/troup_james_william_16E.html.
The citation above shows the format for footnotes and endnotes according to the Chicago manual of style (16th edition). Information to be used in other citation formats:
| | |
| --- | --- |
| Permalink: | http://www.biographi.ca/en/bio/troup_james_william_16E.html |
| Author of Article: | Robert D. Turner |
| Title of Article: | TROUP, JAMES WILLIAM |
| Publication Name: | Dictionary of Canadian Biography, vol. 16 |
| Publisher: | University of Toronto/Université Laval |
| Year of publication: | 2015 |
| Year of revision: | 2015 |
| Access Date: | November 30, 2023 |