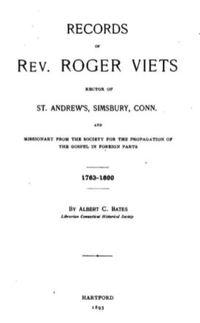 Source: Link
VIETS, ROGER, Church of England clergyman and poet; b. 9 March 1738 in Simsbury, Conn., second of four children of John Viets and Lois Phelps; m. first 19 Nov. 1772 Hester Botsford, and they had eight children; m. secondly 18 July 1802 Mary Pickett of Kingston, N.B., widow of Benjamin Isaacs; d. 15 Aug. 1811 in Digby, N.S.
Roger Viets went to school at Salmon Brook (near Granby), Conn., and subsequently. attended Yale College. Although born into a Presbyterian family, he prepared himself at Yale for Church of England orders, and upon graduation in 1758 he became lay reader at St Andrew's Church, Simsbury. On 17 April 1763 he was ordained priest in London, England, and afterwards was appointed missionary at Simsbury, a post he retained until 1785.
During the American revolution Viets sympathized with the loyalists, and in late 1776 he was jailed at Hartford, Conn., on suspicion of having aided fugitive British officers. However, his leaving Simsbury after the war may have been motivated as much by economics as by politics: when the Society for the Propagation of the Gospel withdrew financial support from its American missions and instead offered salaries to clergymen willing to move to British North America, Viets applied for a post in Nova Scotia. On 1 Dec. 1785 he was assigned to Digby, and in May of the following year he set out to inspect his new mission. Arriving in July after an unusually harrowing 64-day voyage, he immediately began his pastoral duties and visited many of the outlying areas of his mission. In October he returned to Connecticut for his wife and children; on 12 June 1787, accompanied by his family, he was back in Digby.
Throughout his career at Digby, Viets travelled extensively to serve all the people in his mission, which stretched from Clementsport to Yarmouth and down Digby Neck. In Digby itself he and his parishioners built Trinity Church in 1791. He was a popular preacher and was always conscientious in fulfilling his religious responsibilities. Yet his dabbling in commerce – in 1789, for example, he visited Connecticut and returned with a boatload of goods – drew criticism; one of his detractors, the Reverend William Clark, noted that Viets "is a mere Tool to any Body & anything, by which he can get money; I never knew his equal for a mercenary Disposition." Viets's friends, however, argued that he merely provided items badly needed by the settlers. Whatever his motives, Viets never became wealthy through commerce.
In diocesan affairs Viets initially supported Samuel Andrew Peters for the bishopric of Nova Scotia; however, he became an enthusiastic supporter of Charles Inglis when Inglis was appointed bishop in 1787. In 1788 he preached the sermon at Inglis's first ecclesiastical visitation. Some years later, in 1800, he became involved in an important test case involving the province's marriage laws. In that year he informed Inglis that Enoch Towner, the Baptist preacher at Sissiboo (Weymouth), had illegally performed a marriage. Inglis, eager to reassert the Church of England's exclusive right to solemnize marriages, promptly lodged a complaint with the registrar of the Court of Marriage and Divorce, and shortly afterwards a trial was held in Halifax, with Richard John Uniacke* prosecuting on behalf of the crown and Simon Bradstreet Robie* representing the defendant. At length the court decided in Towner's favour and, what was even more important, it categorically denied that the Church of England had been made the established church by an act of the Nova Scotia legislature. This decision was a significant landmark in the weakening of Church of England authority in Nova Scotia.
Viets, described by Joseph Peters* as "a Strange Mortal: Whimsical, Quiddling, Stingy, Close-Shin'd, Strait-laced, Iron found," had strong views on the importance of observing the sabbath: on one occasion, according to Peters, Viets became so impassioned after seeing pleasure-boats on a Sunday that John Wiswall, a fellow Anglican clergyman, had to intervene to hold him in check. He was a writer of some merit, publishing seven sermons and a topographical poem, Annapolis-Royal. The latter work, which describes the Annapolis area and the simple pleasures of life there, was the first poem to be published as a separate imprint in British North America.
Viets's death on 15 Aug. 1811 was caused by "Quick Consumption" (probably pneumonia). He had been preaching on the Granville side of Digby Gut and had returned by open boat in a chilling fog. At his request, he was buried in an unmarked grave outside the east window of Trinity Church. He was succeeded at Trinity by his son Roger Moore Viets.
[Roger Viets is the author of Annapolis-Royal (Halifax, 1788; repr. with intro. by T. B. Vincent, Kingston, Ont., [1979]); A serious address and farewell charge to the members of the Church of England in Simsbury and the adjacent parts (Hartford, Conn., 1787); A sermon, on the duty of attending the public worship of God; preached at Digby in Nova-Scotia, April 19th, 1789 (Hartford, 1789); A sermon preached at Hartford, on Lord's-day, December 30th, 1764 (Hartford, 1765); A sermon, preached at Sissaboo, now called Weymouth, in Nova-Scotia, on the 15th October, 1797 (Saint John, N.B., 1799); A sermon, preached before the lodge of Free and Accepted Masons, at Granby . . . called St. Mark's Lodge; on the 9th July, 1800 (Hartford, 1800); A sermon, preached in St. Andrew's Church, Simsbury, in New-England, on April 9th, 1784; being the anniversary of the crucifixion of Christ, commonly called Good-Friday (Hartford, 1787); A sermon, preached in St. Peter's Church, in Granby, formerly Simsbury, in Connecticut, New-England, on the 29th day of June 1800 (Hartford, 1800); and A sermon preached to the ancient and worshipful society of Free and Accepted Masons, at their anniversary festival of the blessed evangelist St. John, 1792, in Trinity Church, Digby, Nova-Scotia (Halifax, 1793). His church records have also been published under the title Records of Rev. Roger Viets, rector of St. Andrews, Simsbury, Conn., and missionary from the Society for the Propagation of the Gospel in Foreign Parts, 1763–1800, ed. A. C. Bates (Hartford, 1893). Manuscript sermons by Viets are found in PAC, MG 23, D1, ser.1, 14, and in the Univ. of King's College Library (Halifax). t.b.v.]
F. H. Viets, A genealogy of the Viets family with biographical sketches; Dr. John Viets of Simsbury, Connecticut, 1710, and his descendants ([Hartford], 1902). I. W. Wilson, A geography and history of the county of Digby, Nova Scotia (Halifax, 1900; repr. Belleville, Ont., 1975). "Epitaphs, Church of England graveyard, Kingston, Kings County, N.B.," comp. W. O. Raymond, Acadiensis (Saint John), 8 (1908): 136.
© 1983–2023 University of Toronto/Université Laval
Image Gallery

Cite This Article
Thomas B. Vincent, "VIETS, ROGER," in Dictionary of Canadian Biography, vol. 5, University of Toronto/Université Laval, 2003–, accessed September 25, 2023, http://www.biographi.ca/en/bio/viets_roger_5E.html.
The citation above shows the format for footnotes and endnotes according to the Chicago manual of style (16th edition). Information to be used in other citation formats:
| | |
| --- | --- |
| Permalink: | http://www.biographi.ca/en/bio/viets_roger_5E.html |
| Author of Article: | Thomas B. Vincent |
| Title of Article: | VIETS, ROGER |
| Publication Name: | Dictionary of Canadian Biography, vol. 5 |
| Publisher: | University of Toronto/Université Laval |
| Year of publication: | 1983 |
| Year of revision: | 1983 |
| Access Date: | September 25, 2023 |