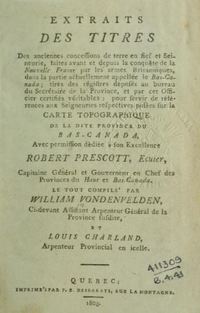 Source: Link
VONDENVELDEN, WILLIAM, army officer, translator, surveyor, office holder, printer, and politician; b. c. 1753 in Hesse-Kassel (Federal Republic of Germany), son of Isaac Vondenvelden and Marie Young; m. 24 Oct. 1801 Marie-Suzanne Voyer at Quebec, and they had one child; d. there 20 June 1809.
William Vondenvelden came to Quebec in June 1776 with the Hesse-Hanau Chasseurs, a unit in which he held the rank of lieutenant and adjutant. Some time between 1777 and 1782 he left the army and went to live at Quebec, where in the latter year he became a translator for the Quebec Gazette, owned by William Brown*. In September 1783 he obtained a commission as a surveyor and opened an office in his house on Rue Champlain; here he also gave courses in surveying, mathematics, and French. In January 1785 he launched a subscription to support publication of a work he had written entitled "The Canadian surveyor, or a treatise on surveying of lands," which had received the approval of the surveyor general of the province, Samuel Johannes Holland. Despite advertising, particularly in the Quebec Gazette, Vondenvelden was not able to attract enough subscribers.
In 1786 Vondenvelden received a commission as justice of the peace for the District of Gaspé and moved to New Carlisle. The following year he became clerk of the Court of Common Pleas and clerk of the peace for the same district. At this time he was practising as a surveyor and in 1789 he drew up the survey of Île Bonaventure. In 1793 he was hired by the provincial government, which wanted to open up land south of the St Lawrence and so called upon experienced surveyors.
Vondenvelden settled permanently at Quebec in 1793 and in the same year, with the backing of the Quebec merchant John Jones, ordered the equipment to set up a printing shop, which he installed at 21 Rue de la Montagne. The death of Samuel Neilson*, owner of the Quebec Gazette, and the disappearance of William Moore*'s Quebec Herald, Miscellany and Advertiser, both of which occurred early in the year, spurred Vondenvelden and Jones to launch a new weekly. The first issue of the Times/Cours du tems appeared on 4 Aug. 1794. Despite Vondenvelden's good intentions the Times did not turn out to be a vehicle for intellectual discussion. He was extremely prudent and exercised firm control over the articles. He assured the British authorities of his support, while at the same time demonstrating his independence of political parties. Advertisements, official communications, and extracts from foreign newspapers filled the eight pages of every issue. On 13 May 1795 Jones terminated the partnership, selling his interests to Vondenvelden for £342. On 27 July Vondenvelden announced that his weekly would cease publication because of the limited number of subscribers.
Vondenvelden's printing activity had not, however, come to an end. On 27 Aug. 1795 Governor Lord Dorchester [Guy Carleton] appointed him official printer for the statutes. The year before, he had printed the acts passed in the second session of the first parliament. After Vondenvelden's appointment, 600 copies of the statutes adopted during the sessions of each parliament were printed as a fascicle with a title page. Vondenvelden set up his printing shop on Rue des Pauvres (Côte du Palais) in 1796 and worked principally for the government, which paid him £472 for printing costs and paper that year. By the time his shop was sold to Pierre-Édouard Desbarats* and Roger Lelièvre on 23 May 1798, he had also published some 30 books and pamphlets.
Vondenvelden, who had been appointed assistant surveyor general in 1795, continued to practise as a surveyor. On 16 July 1798 he joined with Louis Charland for the purpose of bringing out a topographical map of Lower Canada, accompanied by a book. Their map, largely inspired by one made by Samuel Gale* and Jean-Baptiste Duberger* in 1794–95, was published in London in 1803 under the title of A new topographical map of the province of Lower Canada. This was the first map of Lower Canada to be printed and it took into account the best principles of topography. Their book, which came out the same year at Quebec and was entitled Extraits des titres des anciennes concessions de terre en fief et seineurie, gave a brief description of the location of the seigneuries as well as the date on which they were granted. The success of the undertaking inspired Joseph Bouchette* to bring out in 1815 his edition of maps and his work A topographical description of the province of Lower Canada. . . .
On 20 June 1799 Vondenvelden was appointed surveyor of the highways, streets, and lanes in the town and parish of Quebec, and as such became responsible for road-works. In the autumn of 1800 he stood as a candidate in the riding of Gaspé and defeated John Mure*, a leader of the British mercantile bourgeoisie, by 113 votes. He supported the Canadian party in the House of Assembly. This created difficulties for him and he had to resign from his official post as surveyor on 21 May 1801. During the winter of 1802–3 he visited London to supervise the printing of his map of Lower Canada. At the time of the 1804 elections he thought it prudent to withdraw from politics.
From 1804 William Vondenvelden gave his attention to his practice, maintaining a surveying office across from the garden of the Château Haldimand in Upper Town. He died on 20 June 1809, following a carriage accident. The estate he left his widow and son. William consisted mainly of accounts receivable and numerous landed properties that had for the most part been acquired according to the system of township leader and associates [see James Caldwell]. He owned in all 56,400 acres located in the townships of Thetford, Compton, Kildare, Marston, Kingsey, Clinton, Wentworth, and Buckland.
William Vondenvelden published, in collaboration with the surveyor Louis Charland, A new topographical map of the province of Lower Canada compiled from all the former as well as the latest surveys . . . (London, 1803). This topographical map was accompanied by a book entitled Extraits des titres des anciennes concessions de terre en fief et seineurie, faites avant et depuis la Conquête de la Nouvelle France par les armées britanniques dans la partie actuellement appellée le Bas-Canada . . . , compiled by the same two authors and published at Quebec in 1803.
ANQ-Q, CE1-61, 24 oct. 1801, 22 juin 1809; CN1-92, 24 oct. 1801; CN1-99, 29, 30 août 1809; CN1-230, 16 juill. 1798; CN1-256, 13 May 1795; CN1-262, 23 mai 1798. Quebec Gazette, 10 July 1794; 25 June, 3 Sept., 24 Dec. 1795; 23 Aug. 1798; 20 June 1799; 1 Sept. 1808; 22 June 1809. Beaulieu et Hamelin, La presse québécoise, 1: 11–12. Quebec almanac, 1788–1810. Benjamin Sulte, "Trois noms," BRH, 1 (1895): 40–42.
© 1983–2023 University of Toronto/Université Laval
Image Gallery

Cite This Article
John E. Hare, "VONDENVELDEN, WILLIAM," in Dictionary of Canadian Biography, vol. 5, University of Toronto/Université Laval, 2003–, accessed December 5, 2023, http://www.biographi.ca/en/bio/vondenvelden_william_5E.html.
The citation above shows the format for footnotes and endnotes according to the Chicago manual of style (16th edition). Information to be used in other citation formats:
| | |
| --- | --- |
| Permalink: | http://www.biographi.ca/en/bio/vondenvelden_william_5E.html |
| Author of Article: | John E. Hare |
| Title of Article: | VONDENVELDEN, WILLIAM |
| Publication Name: | Dictionary of Canadian Biography, vol. 5 |
| Publisher: | University of Toronto/Université Laval |
| Year of publication: | 1983 |
| Year of revision: | 1983 |
| Access Date: | December 5, 2023 |