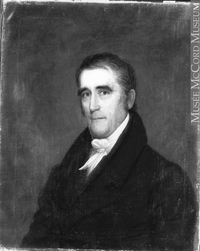 Source: Link
DESBARATS, PIERRE-ÉDOUARD, merchant, translator, office holder, printer, landowner, militia officer, and jp; b. 7 Oct. 1764, son of Joseph Desbarats, a merchant, and Marie-Louise Crête; m. 24 Sept. 1798 Josette Voyer, daughter of notary Charles Voyer, at Quebec, and they had eight children; d. there 23 April 1828.

Some biographers have linked the long line of Desbarats who had been printers in Béarn since the mid 17th century with the Canadian line of printers. There is no documentary evidence, however, for a connection between the two families. Joseph Desbarats, who came from the region of Auch and was a wigmaker by trade, arrived in New France in 1756 with the Régiment de La Sarre as a servant. In 1760 he was authorized to settle at Trois-Rivières and to do business as a merchant. Pierre-Édouard spent nearly the first half of his life there and for a few years was in business like his father.
In 1794 Desbarats moved to Quebec and embarked upon a new career as a translator for the Quebec Gazette. He familiarized himself with the printer's trade in the shop of the proprietor, John Neilson*. In 1797, while retaining his post with the Quebec Gazette, he became the French translator for the House of Assembly, a task he carried out during parliamentary sessions until 1808.
On 14 May 1798 Desbarats and Roger Lelièvre were appointed official printers for the statutes of Lower Canada, succeeding William Vondenvelden*. On 23 May Vondenvelden sold them his business, the Nouvelle Imprimerie. Lelièvre retired on 16 Nov. 1799 and made over his share in the operation to Desbarats. Neilson became Desbarats's new partner on 19 May 1800, thus formalizing an arrangement made on 23 Oct. 1799. However, Neilson already owned a printing shop, and his name was never used publicly in connection with their firm.
During the early decades of the 19th century Desbarats's printing shop was the second largest at Quebec, Neilson's alone taking precedence. For a time the two firms were not in competition but rather complemented each other. Moreover, Desbarats continued to work as translator for Neilson's Quebec Gazette until 1808. A long-time partner of Thomas Cary Sr and Thomas Cary* Jr, he printed their newspaper, the Quebec Mercury. He also printed the Courier de Québec in 1807 and 1808 and Le Vrai Canadien in 1810 and 1811. These papers were vehicles of the English party and often violently opposed the claims of the Canadian party and its newspaper Le Canadien.
Since at that time printing runs were not large and circulation was limited, managing a press was often a hazardous undertaking. The steady supply of printing contracts that came to Desbarats because of his position as printer for the statutes and the public offices he had been given enabled him, however, to extricate himself from financial difficulties. Initially the French translator for the House of Assembly, he held the important post of deputy clerk for that body on a temporary basis in 1798 and then on permanent appointment from 1809 till his death.
On 10 July 1806 Desbarats, as township leader, was granted more than 11,000 acres in Frampton Township, through which ran the Rivière Etchemin. Most of the recipients of such huge, wooded, inaccessible domains gave little thought to their development, but Desbarats had his heart set on clearing and settling his lands, which lay to the west of the river. In 1817, as road and bridge commissioner for the counties of Dorchester, Devon, and part of Buckingham, he had a road built to link Frampton Township with the village of Sainte-Marie-de-la-Nouvelle-Beauce (Sainte-Marie). Later he built a sawmill and a grist-mill at his own expense. To fill his lands he recruited settlers mainly from among the Irish immigrants crowding into the port of Quebec. Although the roads were often impassable, he went regularly to visit the Frampton pioneers and took an interest in their well-being.
Desbarats owned several properties in the town of Quebec and the faubourg Saint-Jean. In 1819 he had master mason John Phillips build him an imposing three-storey house at the corner of Rue Sainte-Geneviève and Rue des Carrières, across from the governor's gardens and a few steps away from the Château Saint-Louis. His country house was located north of the town at Petite-Rivière-Saint-Charles. In 1796 he had bought a farm there which he rented out, while keeping for his own use a two-storey stone house near the Saint-Charles.
In the space of a few years Desbarats became an influential figure in the public service and in Quebec society. In April 1800 he was named secretary of the Fire Society. Two years later he received the same office on a committee set up to encourage the growing of hemp. Around 1810 he joined the militia as a captain in the town's 2nd Militia Battalion, and in April 1815 he was promoted major in the 1st Battalion of Saint-Vallier militia, of which he was lieutenant-colonel at the time of his death. Again in 1815 he received a commission as justice of the peace for the district of Quebec, which was renewed in 1821 and 1828. In 1824 he was a member of a committee set up to attend to the redevelopment and improvement of the Place d'Armes.
Desbarats's contemporaries remembered him as a distinguished and hospitable man – it was said that he always wore white tie and tails at dinner, whether he had guests or not. His remarkable rise was accompanied by a gradual anglicizing of the family. Several of his children married into the English-speaking Quebec bourgeoisie. Louise-Sophie married Frederic Horatio Fisher, a doctor from London, Hélène and Sophie married the Quebec merchants George and Henry Pemberton. Charlotte-Louise became the wife of Dr Charles-Norbert Perrault, Joseph-François Perrault*'s son.
On 23 April 1828, at the age of 63, Desbarats passed away at his home in Petite-Rivière-Saint-Charles. The funeral service was conducted by Joseph Signay*, the coadjutor bishop, in the cathedral of Notre-Dame at Quebec. The cortège then crossed the St Lawrence and wended its way to Frampton Township by roads difficult at that season. In keeping with his last wishes he was buried in the local chapel, for which he had donated land in 1825. Although his family showed some reluctance, his remains were transferred from the chapel to the new parish church of Saint-Édouard around 1870. As founder and benefactor Desbarats was long remembered by the early settlers in Frampton; his son Édouard-Olivier was to continue developing the land there. The Desbarats name also became established in the difficult and precarious fields of printing and publishing. One after another through the 19th century, his son, grandson, and great-grandson – George-Paschal*, George-Édouard*, and William-Amable – headed the family printing firm. They carried on its work with distinction and were often innovators in the field.
Jean-Marie Lebel in collaboration with Aileen Desbarats
ANQ-MBF, CN1-5, 30 janv., 25 avril, 18 juin 1788; 28 mars, 24 avril 1794. ANQ-Q, CE1-1, 24 sept. 1798; CN1-16, 28 mai 1819; CN1-26, 29 avril, 26 sept. 1809; CN1-116, 9 janv. 1818; 15, 19 févr., 21 sept. 1821; 19 avril, 13 août, 6 sept., 11, 15 oct. 1822; 3, 21 févr., 9, 20 mai 1823; 26 sept. 1824; CN1-178, 27 févr. 1796; 26 avril 1797; 2 janv., 21 mars, 17, 22 sept., 5 déc. 1798; 24 janv., 30 mai 1800; 16 mars 1801; 2 févr., 2 mars, 2 avril, 3 mai 1802; 22 juin, 27 sept. 1803; 27 févr. 1805; 15 juill. 1809; 18 mai 1810; 22 févr., 7 mai 1811; 3 sept. 1814; 9 mai 1815; CN1-208, 7, 16 oct., 25 nov. 1820; 29 mai 1821; 13 août 1822; 20 mai, 3, 7, 13 oct. 1823; 5 août 1824; 10 juin, 16 sept. 1826; 1er oct. 1828; CN1-230, 30 avril 1794; 7 juin 1800; 6 juin 1801; 8 juill. 1802; 28 mai, 13 sept. 1806; 19 mars, 24 nov., 30 déc. 1807; 24 oct. 1808; 25 janv., 10 mars, 14 avril, 21 mai, 5, 22, 25 juin, 5 juill., 7 nov. 1810; 27 mai, 7 juill. 1812; 25 mai 1814; 6 déc. 1815; 19, 21 août, 6, 14 oct., 24 nov. 1817; 9 févr. 1818;16, 24 juill., 30 oct. 1819; 9 août 1820; 4 mai 1821; 31 mai 1822; 26 mai, 10 juin 1824; CN1-253, 20 févr. 1812; 5 déc. 1823; 23 juill., 11 déc. 1824; 8 déc. 1826; CN1-262, 23 mai 1798, 16 nov. 1799, 7 juin 1800; CN1-284, 10 janv. 1794, 25 nov. 1819; ZQ6-45, 26 avril 1828. Arch. de la ville de Québec, Juges de paix, procès-verbaux des sessions spéciales relatives aux chemins et ponts, 1816–28. PAC, MG 24, B1, 1: 182–87; 2: 106–7; RG 68, General index, 1651–1841. "Cahier des témoignages de liberté au mariage commancé le 15 avril 1757," ANQ Rapport, 1951–53: 115. "Les dénombrements de Québec" (Plessis), ANQ Rapport, 1948–49: 155, 213. "Recensement des habitants de la ville et gouvernement des Trois-Rivières tel qu'il a été pris au mois de septembre mil sept cent soixante," ANQ Rapport, 1946–47: 8. Quebec Gazette, 10 April 1800; 20, 29 May 1802; 3 April 1806; 27 April 1815. Quebec Mercury, 26 April 1798. Beaulieu et Hamelin, La presse québécoise, 1: 19, 23. Hare et Wallot, Les imprimés dans le Bas-Canada. Le Jeune, Dictionnaire, 1: 499–500. Officers of British forces in Canada (Irving), 143. Quebec almanac, 1796–1828. P.-G. Roy, Fils de Québec, 2: 130–32. Tremaine, Biblio. of Canadian imprints, 525, 528–29, 634, 664. Christina Cameron et Jean Trudel, Québec au temps de James Patterson Cockburn (Quebec, 1976). Louis Lacaze, Les imprimeurs et les libraires en Béarn (1552–1883) (Pau, France, 1884). Yvan Lamonde et al., L' imprimé au Québec, aspects historiques (18e–20e siècles) (Quebec, 1983), 98–99, 109–10, 276, 285. J.-E. Roy, Hist. de Lauzon, 4: 70–71; 5: 86–87. Henri Têtu, Histoire des familles Têtu, Bonenfant, Dionne et Perrault (Quebec, 1898), 523–24. Claude Galarneau, "Les métiers du livre à Québec (1764–1859)," Cahiers des Dix, 43 (1983): 149–50, 159–60. Eugène Rouillard, "Les chefs de canton," BRH, 2 (1896): 183–85.
© 1987–2023 University of Toronto/Université Laval
Image Gallery

Cite This Article
Jean-Marie Lebel in collaboration with Aileen Desbarats, "DESBARATS, PIERRE-ÉDOUARD," in Dictionary of Canadian Biography, vol. 6, University of Toronto/Université Laval, 2003–, accessed December 10, 2023, http://www.biographi.ca/en/bio/desbarats_pierre_edouard_6E.html.
The citation above shows the format for footnotes and endnotes according to the Chicago manual of style (16th edition). Information to be used in other citation formats:
| | |
| --- | --- |
| Permalink: | http://www.biographi.ca/en/bio/desbarats_pierre_edouard_6E.html |
| Author of Article: | Jean-Marie Lebel in collaboration with Aileen Desbarats |
| Title of Article: | DESBARATS, PIERRE-ÉDOUARD |
| Publication Name: | Dictionary of Canadian Biography, vol. 6 |
| Publisher: | University of Toronto/Université Laval |
| Year of publication: | 1987 |
| Year of revision: | 1987 |
| Access Date: | December 10, 2023 |