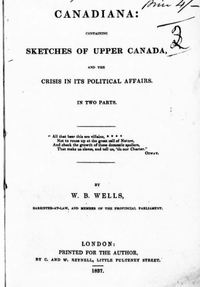 Source: Link
WELLS, WILLIAM BENJAMIN, lawyer, journalist, politician, author, and judge; b. 3 Oct. 1809 in Augusta Township, Upper Canada, second son of William Wells and Sarah Clough; m. 23 Feb. 1843 Mary Julia Hogan, and they had four sons and five daughters; d. 8 April 1881 at Toronto, Ont.
William Benjamin Wells was the son of a loyalist who immigrated to Canada from New Hampshire in 1787. He was educated at the Augusta Grammar School under John Bethune*, as well as in the United States and Lower Canada, before studying law in the office of Marshall Spring Bidwell* in Kingston, Upper Canada. Wells was called to the bar in 1833 and began practising law in Prescott, in partnership with Read Burritt. At the same time he began a career as a Reform journalist and author. He operated the Prescott Vanguard for a short period prior to the rebellion of 1837 and contributed political articles to other papers in Upper Canada and in Montreal and New York. His father's affluence, as he wrote in 1837, permitted him to be independent of political influence. In 1834 and again in 1836 he was elected to represent Grenville in the House of Assembly of Upper Canada. He took an active part in the proceedings of the assembly and his political position, at first quite moderate, became increasingly radical after the election of 1836.
As a protest against the conduct of Sir Francis Bond Head* in that election Wells refused to take his seat and travelled to England in November for a meeting with the colonial secretary, Baron Glenelg, to object to the actions of Head and explain the demands of the Reformers. He planned to join Robert Baldwin* and Dr Charles Duncombe* who had both preceded him but found upon his arrival that they had already left England. Wells, however, stayed for nearly a year during which time he wrote and published Canadiana: containing sketches of Upper Canada, and the crisis in its political affairs. Though the book contained inaccuracies and was extreme in its treatment of Head and prominent Tories such as John Strachan*, it was a clear and well-argued presentation of the radical Reform programme of the time. It advocated such measures as responsible government, an elected legislative council, control of provincial revenue by the assembly, abolition of the clergy reserves, separation of church and state, annulment of the charter of the Canada Company, revision of the charter of King's College (Toronto), abolition of primogeniture, adoption of the secret ballot, reform of the land granting system, and a more equitable distribution of public offices. Wells ended with a threat of armed rebellion and the "forced separation" of the British North American colonies, should all other means of reform fail. His book does not appear to have had any great impact in Upper Canada but it did receive some attention from journalists and politicians in England.
After returning to Canada Wells took no part in the planning or execution of the rebellion of 1837. When word of the Toronto rising on 5–7 December reached him he was in Bytown (Ottawa) on business. He returned to Prescott, but believing that a warrant had been issued for his arrest he crossed the river to Ogdensburg, N.Y., on 16 Dec. 1837 with his older brother, Horace Clough Wells. In early 1838 he was in touch with other refugees in New York State including William Lyon Mackenzie* and David Gibson* and for a short time was a supporter of the Patriot movement to liberate Upper Canada by armed invasion. He was with the Patriots during the raid on Hickory Island, 22 Feb. 1838, but there are conflicting reports of his role in that event. A witness claimed that Wells had been among the attackers and had been seen in the company of the leader of the raid, Rensselaer Van Rensselaer, "lying in bed drunk with his clothes and boots on." Wells himself wrote to the Brockville Recorder in March 1838 declaring this account to be a lie and later produced affidavits, by two men who had been present at the raid, to show that his purpose at Hickory Island had been to dissuade the Patriots from attacking Upper Canada. In any case suspicion regarding his actions lead to his expulsion from the assembly on 27 Feb. 1838 by a vote of 30 to one.
Wells remained in Ogdensburg in the belief that he would be arrested if he returned to Upper Canada but in fact no official charge was ever laid against him. When, in reply to his personal petitions, this fact was made known to him by the Executive Council Office in November 1838, he returned to Prescott and resumed his law practice. Wells never again held elective office and in an attempt to re-enter public life in 1847 he was not even able to secure the Reform nomination for Grenville; it went to his former law partner Read Burritt, who was the member from 1847 to 1851. In the 1840s, however, Wells acted as a political confidant and adviser on patronage matters to Robert Baldwin in Grenville County. He was rewarded by being appointed by the Reform administration of Baldwin and Louis-Hippolyte La Fontaine* to be the first county court judge for Kent on 11 Jan. 1851. He immediately moved with his family to the county town, Chatham, where he continued to live until his retirement from the bench in 1878. His judicial career, while uneventful, was marked by a reputation for sound judgement. In a letter to William Lyon Mackenzie in 1859 Wells claimed to have handled 30,000 cases and travelled 15,000 miles in the performance of his duties. He never lost his early interest in literature and journalism and continued to contribute articles on law and sport to Canadian and American periodicals. He received a provincial pension from the date of his retirement, 2 Oct. 1878, until his death in 1881.
William Benjamin Wells was the author of Canadiana: containing sketches of Upper Canada, and the crisis in its political affairs (London, 1837). An unpublished manu script, "A short sketch of the history of Wm. Wells and his family" (1875), by I. B. Wells, is in the possession of Ruth McKenzie (Ottawa). See Morgan, Bibliotheca Canadensis, for a discussion on Wells's other writings.
AO, MU 1806, Wells to W. L. Mackenzie, 30 Jan. 1838; MU 1813, 20 March, 13, 30 July 1850; 22 Nov. 1851; MU 1814, 4 Jan. 1852; MU 1815, 12 Dec. 1859. MTL, Robert Baldwin papers. PAC, MG 24, CIO; MG 26, A, 508; 510; 514; MG 29, D61, 18; RG 1, E3, 97; RG 68, General index, 1841–67: 135. Upper Canada, House of Assembly, Journal, 1835–38. Brockville Recorder (Brockville, [Ont.]), 1 Feb., 8, 22 March, 5 April 1838. Armstrong, Handbook of Upper Canadian chronology. Dominion annual register, 1880–81. W. S. Wallace, "The periodical literature of Upper Canada," CHR, 12 (1931): 4–22.
© 1982–2023 University of Toronto/Université Laval
Image Gallery

Cite This Article
J. K. Johnson, "WELLS, WILLIAM BENJAMIN," in Dictionary of Canadian Biography, vol. 11, University of Toronto/Université Laval, 2003–, accessed June 3, 2023, http://www.biographi.ca/en/bio/wells_william_benjamin_11E.html.
The citation above shows the format for footnotes and endnotes according to the Chicago manual of style (16th edition). Information to be used in other citation formats:
| | |
| --- | --- |
| Permalink: | http://www.biographi.ca/en/bio/wells_william_benjamin_11E.html |
| Author of Article: | J. K. Johnson |
| Title of Article: | WELLS, WILLIAM BENJAMIN |
| Publication Name: | Dictionary of Canadian Biography, vol. 11 |
| Publisher: | University of Toronto/Université Laval |
| Year of publication: | 1982 |
| Year of revision: | 1982 |
| Access Date: | June 3, 2023 |