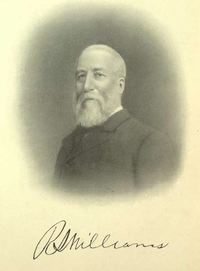 Source: Link
WILLIAMS, RICHARD SUGDEN, manufacturer of and dealer in musical instruments; b. 12 April 1834 in London, England, son of Richard Williams; m. 1854 Sarah Norris in Hamilton, Upper Canada, and they had three sons and a daughter; d. 24 Feb. 1906 in Toronto.
Richard Sugden Williams's family immigrated to Hamilton in 1838. He may have received a common-school education before being apprenticed at age 11 to William Townsend of Toronto, a melodeon maker from New Hampshire who had settled there in the 1840s to build and sell this relatively novel reedorgan. Williams became "an expert in wood and brass work, and the making of the sounding parts," a newspaper account said later about his training. His apprenticeship completed in 1849, he took over Townsend's failed instrument business in Hamilton, where his employer had relocated. In 1854, with his wife, he moved back to Toronto.
Williams established a shop on Yonge Street to build melodeons, mandolins, and other instruments. In 1859 he moved to larger premises on Yonge and expanded production to include violins, banjos, and drums; he also dealt in other instruments. Two years later he moved again, to 143 Yonge, where the business would remain until after his death. Williams's brother, William Hodgson, had joined him as an employee by 1861 and the business concentrated on manufacturing melodeons and on promotion. The enterprise, known as the Toronto Melodeon Manufactory, employed between 12 and 15 workers. "I combine all the improvements up to the present time," Richard announced in an 1862 catalogue. "I voice and tune every instrument myself, at which I have had twelve years' practical experience." The catalogue suggested that, because the company was outside American jurisdiction, it could combine the best of the melodeon improvements patented in the United States. About this time Williams began to seek awards to help advertise his business. He received prizes, for example, at the provincial exhibitions of 1861–63 for his drums, melodeons, and harmoniums (a larger reed-organ).
In 1865 Williams built a second factory, on Hayter Street, which was enlarged three years later. In July 1869 he formed a partnership with his bookkeeper, William Norris, to manufacture and deal in organs, melodeons, and pianofortes under the name R. S. Williams and Company. By 1872 he had bought out Norris, built an addition to the second factory, installed a steam engine, and transferred all remaining manufacturing at the Yonge Street store to the enlarged buildings. At the same time he took his eldest son, Robert, into the business.
By 1873 W. H. Williams had left Canada and the Toronto operations were split into the Canada Organ and Piano Company, which continued production at Hayter Street, and the retail outlet on Yonge, which carried on as R. S. Williams and Company and was long identified by its eight-foot sign in the form of a fiddle. Lumber exporter Samuel Robert Briggs was president of the former with R. S. Williams as managing director. The new company failed within two years, causing Williams a large loss. However, by 1877 he had recovered sufficiently to move into a mansion on Wellesley Street at Sherbourne. In 1880 the factory was renamed R. S. Williams and Son, but it was operated solely by Robert, his father tending to the Yonge Street dealership and warehouse. About $35,000 was spent rebuilding the factory, which, under the 1879 tariff [see Sir Samuel Leonard Tilley*], enjoyed protection against imports of American musical instruments. By 1885, about 150 workers – who made up nearly 15 per cent of all factory workers making musical instruments in Canada – were producing about 20 pianos and 6 reedorgans each week as the firm concentrated on meeting demand for these instruments. In addition, a dealership was opened in London, Ont.
Attempts by labour leaders to organize the factory in the 1880s prompted Williams and his son to cast about for a location outside Toronto. In May 1888 ratepayers in nearby Oshawa voted in favour of granting Williams fixed taxation and an annual bonus for 20 years if he established his factory there. The company accepted, and by December 1888 it had bought and expanded the premises of a failed machinery manufacturer. Williams then formed a partnership with his son, in April 1889 under the name R. S. Williams and Son, and began production. "The unions made several attempts to bring their men under their control in Oshawa, but failed," an inquiry reported in 1896. "They pay their men the highest wages and all are satisfied."
In 1890 R. S. Williams and Son, with its Toronto outlet and Oshawa factory, was reorganized as a joint-stock company, R. S. Williams and Sons Company Limited, to include Williams's other sons, Richard Sugden and Herbert DeMaine. A second reorganization, in 1902, segregated the Williams Piano Company Limited in Oshawa, owned and operated by Robert. About 250 workers were employed producing pipe-organs, player-pianos, grand pianos, and uprights, as well as other instruments. The Toronto dealership, which kept the name R. S. Williams and Sons, was run by Richard Jr as vice-president under his father; Herbert moved to Ottawa. By 1900 the Toronto firm was the sole distributor in Canada of Edison phonographs and records. Richard Sr retired in 1903 because of failing health, though he remained president.
In 1906, at age 71, Williams died of a stroke at his home. His funeral was held at St James' Cathedral, which he had joined after many years as a member of St Peter's Church (Anglican), and he was buried in Mount Pleasant Cemetery. His estate was valued at almost $190,000; all stock and interest in R. S. Williams and Sons was bequeathed to his son Richard, who became president.
Throughout his adult life, Williams had been a collector of musical manuscripts, including scores and letters, and rare and unusual instruments, many of them displayed at his Yonge Street store. He also exhibited them in other places, such as the Toronto Mechanics' Institute in 1861. The collection passed to and was augmented by Richard, an expert on violins, who in 1913 began donating pieces to the Royal Ontario Museum; it soon acquired a reputation among scholars as the largest and most valuable collection of its kind in Canada.
Williams, though trained as a craftsman, sought repeatedly to turn over manufacturing to partners and relatives, and thus free himself to deal in finished instruments. He experienced several set-backs before the 1870s, but he was by then well positioned to profit from the combination of strong domestic demand for keyboard instruments and the 1879 tariff. Steady profits provided him with the time and resources to expand a personal collection of instruments, which has become his most important legacy.
[Some details for this biography were obtained in consultation with Ladislav Cselenyi of the Royal Ontario Museum, Toronto, who has done research on R. S. Williams and Sons. d.b.]
Examples of the Williams company's catalogues are preserved in the National Library of Canada, Music Div. (Ottawa), and in the Royal Ontario Museum. Information on the R. S. Williams collection appears in Ladislav Cselenyi's article, "Canadian collections: the R. S. Williams Collection of Musical Intruments in the Royal Ontario Museum," Ontario Museum Assoc., Newsletter (Toronto), 6 (1977), no.3: 16–21, and in Musical instruments in the Royal Ontario Museum ([Toronto], 1971), which he edited. The latter work reproduces photographs of some of the instruments.
AO, RG 22, ser.305, no.20078; RG 55, partnership records, York County, declarations, nos.239 CP, 2278 CP, 4754 CP. CTA, General information files, R. S. Williams; RG 266, file 1896 (Toronto Ratepayers' Assoc., report on the cause of depression of the manufacturing industries, January 1896, first report, 5). NA, MG 29, D61: 8459. Daily Mail and Empire, 26 Feb. 1906: 6. Globe and Mail, 16 July 1954: 13. Toronto Daily Star, 26 Feb. 1904: 4. Canadian Music Trades Journal (Toronto), 25 (1924–25): 26–27, 38–41 (copies at the National Library of Canada, Music Div.). Commemorative biog. record, county York. Directory, Toronto, 1859/60–1880. Encyclopedia of music in Canada (Kallmann et al.), 801, 1002–3. Alexander Fraser, A history of Ontario: its resources and development (2v., Toronto, 1907), 2: 912–14 and photograph facing p.912. Hist. of Toronto, 1: 398. J. E. Middleton, The municipality of Toronto: a history (3v., Toronto and New York, 1923), 1: 518. Toronto, City Council, Minutes of proc., 6 June 1872. U.C., Board of Agriculture and Agricultural Assoc., Trans. (Toronto), 5 (1860–63): 258, 320, 368.
© 1994–2023 University of Toronto/Université Laval
Image Gallery
Cite This Article
Dean Beeby, "WILLIAMS, RICHARD SUGDEN," in Dictionary of Canadian Biography, vol. 13, University of Toronto/Université Laval, 2003–, accessed May 31, 2023, http://www.biographi.ca/en/bio/williams_richard_sugden_13E.html.
The citation above shows the format for footnotes and endnotes according to the Chicago manual of style (16th edition). Information to be used in other citation formats:
| | |
| --- | --- |
| Permalink: | http://www.biographi.ca/en/bio/williams_richard_sugden_13E.html |
| Author of Article: | Dean Beeby |
| Title of Article: | WILLIAMS, RICHARD SUGDEN |
| Publication Name: | Dictionary of Canadian Biography, vol. 13 |
| Publisher: | University of Toronto/Université Laval |
| Year of publication: | 1994 |
| Year of revision: | 1994 |
| Access Date: | May 31, 2023 |