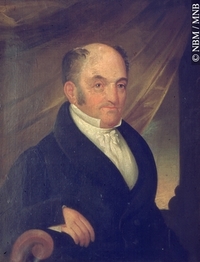 Source: Link
WILMOT, JOHN McNEIL, businessman, politician, jp, and judge; b. c. 1775 in Poughkeepsie, N.Y.; m. 27 Oct. 1808 Susanna (Susan) Harriet Wiggins in Saint John, N.B.; d. 7 Sept. 1847 in Lincoln, N.B.
The son of Lemuel Wilmot, a captain in the Loyal American Regiment, and Elizabeth Street, a sister of merchant Samuel Street*, John McNeil Wilmot was brought in 1783 to what became New Brunswick as part of the general loyalist migration. The elder Wilmot received land near Fredericton and here, on this loyalist frontier, his children were raised. Their experience produced in John and his brother William a curious amalgam of expectations as members of the élite and frontier rejection of the values which made that élite possible. Sons of a highly respected loyalist officer, they moved easily among the status-conscious first-generation loyalist patricians, married their daughters, and enjoyed the business advantages which membership in that group conferred. John married the eldest daughter of Samuel Wiggins, a prominent merchant; William married a daughter of Daniel Bliss, a member of the New Brunswick Council. Both men had grown up in rural central New Brunswick at precisely the time when Henry Alline*'s New Light tradition was being transformed into that most potent of Maritime frontier institutions, the Baptist movement. Among its early converts and strongest supporters were the Wilmot brothers. There was a price to be paid for this flouting of loyalist convention. While the Wilmots were always recognized as respectable, they were never acceptable to the tory inner circle which dominated the administrative structure of the province.
Like so many other ambitious young loyalists, John Wilmot abandoned the rural life as a young man and set out to seek his fortune in commerce. Operating first in Fredericton, possibly as agent for a Saint John house, he displayed considerable aptitude in his chosen calling. His success was capped in 1808 by his alliance through marriage with one of Saint John's leading merchant families. Within a few years he had established himself in the port city, where the firm of John M. Wilmot dealt in wholesale and retail dry goods. Wilmot's prominence in the business life of Saint John was demonstrated in 1813 when he obtained a perpetual lease to a South Market water lot. This lease permitted him to erect his own wharf in Saint John Harbour and to play an influential role in the conduct of the province's commerce.
In 1818 Wilmot obtained an auctioneer's licence and acted as agent for merchants outside New Brunswick in the disposal of their goods. The following year, in partnership with James Kirk, he formed John M. Wilmot and Company, a firm that became increasingly involved in the rapidly expanding timber trade. For the next 18 years Wilmot had an important part in that trade and was generally recognized as one of the principal merchants of the province. After 1830 he was joined in business by two sons; Robert Duncan* for several years acted as his father's agent in Liverpool, England. The timber trade was a profitable but exceedingly treacherous enterprise. Virtually all New Brunswick timber exports went to the United Kingdom and merchants' decisions on price and quantity had to be made a year in advance. The British market was, moreover, subject to periodic declines which could bankrupt any over-committed merchant. Wilmot was caught in just such a situation in 1837. The business survived the ordeal but by 1840 Wilmot appears to have withdrawn in favour of his son Robert Duncan.
Wilmot's business interests far transcended the activities of his own firm. He was an early leader of the Saint John business community, active in the promotion of the Chamber of Commerce and in other matters of common concern to the province's merchants. In 1812 he and several associates offered to build and operate a steamship that would provide a regular service between Saint John and Fredericton, in return for a government grant of a 20-year monopoly; their bid was unsuccessful [see John Ward]. Six years later, in an effort to break up the widespread illegal plaster of Paris trade between British and American territory, Wilmot and Lauchlan Donaldson chartered an armed schooner which they used to patrol the western Bay of Fundy.
In the early 1830s Wilmot became a leader in the fight for a second bank in Saint John, which would accommodate the growing timber trade. The Bank of New Brunswick, founded in 1820, was controlled by the loyalist administrative élite and a handful of leading merchants associated with them. By 1833 Wilmot was chairman of the committee which coordinated the campaign in the province and raised subscriptions for the bank throughout New Brunswick and in Boston, New York, and Philadelphia. With the assistance of a Saint John assemblyman, William Boyd Kinnear*, the committee twice succeeded in securing the passage of a bank bill in the House of Assembly only to have it defeated in the Legislative Council. The committee finally bypassed the legislature and on 16 Aug. 1834, with the assistance of Lieutenant Governor Sir Archibald Campbell, secured incorporation of the Commercial Bank of New Brunswick through a royal charter. Wilmot served as a director of the new bank for most of the next decade.
Wilmot's other business activities included the New Brunswick Fire Insurance Company, of which he was successively promoter, director, and president in the 1830s, and the New Brunswick Mining Company, which he helped found and which sought to exploit the coal resources of the Grand Lake area of central New Brunswick.
Wilmot's public and religious concerns were as significant as his commercial and financial interests. Throughout his life he was one of the most influential Calvinist Baptist laymen and spokesmen in the province. The Maritime Baptist tradition was the archetypal frontier movement: it developed in hundreds of small rural communities and was transmitted to urban centres by the movement of migrants such as Wilmot and Amasa Coy of Fredericton. Wilmot became a founder in 1810 of the Regular (Calvinist) Baptist church in Saint John and was active in efforts to organize a denomination in New Brunswick and ensure that it had equality with the Church of England. His major concern was to provide Baptist youth with an effective educational institution. In 1833 he and several other influential Calvinist Baptists founded the New-Brunswick Baptist Education Society. Joseph Crandall* served as president and Wilmot as vice-president of this agency, whose aim was to establish a Baptist seminary for the province. Opened in Fredericton in 1836 under the Reverend Frederick William Miles, the seminary encountered severe financial difficulties in its early years because the Legislative Council, after agreeing to an initial government grant, refused subsequent ones although assistance was provided to Church of England and Roman Catholic institutions.
Apart from his denominational concerns, Wilmot took a great interest in the ecumenical evangelical concerns of the 19th century. He was an officer of the interdenominational Saint John Sunday School Union Society, which developed in the early 1820s as a means through which basic literacy could be provided to the children of the poor. His major concern, however, was the New Brunswick auxiliary of the British and Foreign Bible Society, and he served as president of this influential organization for a number of years, finally retiring in 1839.
Wilmot also played an important role in public life. He was elected to the Saint John Common Council in 1815 and 1816 as alderman for Dukes Ward. The following year he was returned for Kings, and he served that ward from 1817 to 1821 and again from 1824 to 1828. As alderman he participated in the administration of the city, sat as a justice of the Inferior Court of Common Pleas, and served as a magistrate of the Saint John County sessions.
During much of this time Wilmot also served as a member of the House of Assembly for Saint John County and City. He was first returned in 1820 and sat until 1827. In 1833 Lieutenant Governor Sir Archibald Campbell appointed him to replace William Black* as mayor of the city. The following year he was removed from office, a certain sign that he had fallen into official disfavour. He had apparently made his radical views known. Later in 1834 he successfully contested the "crown lands" election [see Charles Simonds*] in his old constituency. His activities in the assembly were devoted to improving the navigation of the Saint John River and furthering the interests of the local business community and the Commercial Bank. He was re-elected in 1837 but did not re-offer in 1842.
In 1834 Wilmot had purchased the estate of Belmont, at Lincoln in Sunbury County, from the heirs of John Murray Bliss*, his brother William's brother-in-law. He died there on 7 Sept. 1847. "He was," said the New-Brunswick Courier, "an upright and consistent Christian, and . . . made the precepts of the Gospel the rule of his conduct." Despite his active public life his contributions to New Brunswick have been overshadowed by those of his son Robert Duncan and his nephew Lemuel Allan Wilmot*.
N.B. Museum, Ward family papers, packet 23, Wilmot to C. Ward, January 1836, 26 Jan. 1838. PANB, MC 1156, VII: 59; RG 4, RS24, S21-P12, S24-P43, S26-P19. A schedule of the real estate belonging to the mayor, aldermen and commonalty of the city of Saint John . . . January, 1842 (Saint John, N.B., 1849; copy at PANB). New-Brunswick Courier, 11 April 1818; 4 June 1831; 8 Dec. 1832; 23 March, 6 April, 21 Sept. 1833; 15 Nov. 1834; 11 Sept. 1847. Lawrence, Judges of N.B. (Stockton and Raymond). A. R. M. Lower, Great Britain's woodyard; British America and the timber trade, 1763–1867 (Montreal and London, 1973).
© 1988–2023 University of Toronto/Université Laval
Image Gallery

Cite This Article
T. W. Acheson, "WILMOT, JOHN McNEIL," in Dictionary of Canadian Biography, vol. 7, University of Toronto/Université Laval, 2003–, accessed October 3, 2023, http://www.biographi.ca/en/bio/wilmot_john_mcneil_7E.html.
The citation above shows the format for footnotes and endnotes according to the Chicago manual of style (16th edition). Information to be used in other citation formats:
| | |
| --- | --- |
| Permalink: | http://www.biographi.ca/en/bio/wilmot_john_mcneil_7E.html |
| Author of Article: | T. W. Acheson |
| Title of Article: | WILMOT, JOHN McNEIL |
| Publication Name: | Dictionary of Canadian Biography, vol. 7 |
| Publisher: | University of Toronto/Université Laval |
| Year of publication: | 1988 |
| Year of revision: | 1988 |
| Access Date: | October 3, 2023 |