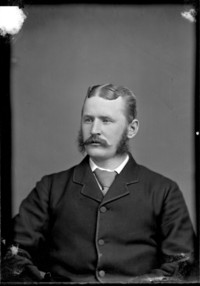 WILMOT, SAMUEL, farmer, pisciculturist, office holder, politician, jp, militia officer, and civil servant; b. 22 Aug. 1822 at Belmont Farm, Clarke Township, Upper Canada, son of Samuel Street Wilmot and Mary Stegmann; m. 1 June 1852 Helen Matilda Clark in Cobourg, Upper Canada, and they had seven children; d. 17 May 1899 in Newcastle, Ont.
Samuel Street Wilmot belonged to a prominent New Brunswick loyalist family; he was a brother of John McNeil Wilmot*, a successful Saint John merchant, and two of his nephews, Robert Duncan Wilmot and Lemuel Allan Wilmot*, would become lieutenant governors of New Brunswick. He moved to Upper Canada in 1796 and became a deputy surveyor, a member of the House of Assembly, and a prosperous farmer.
Samuel Wilmot was educated at Upper Canada College (1830–34). When his father died in 1856, he took over the management of the farm in addition to carrying on a general merchandising business in Newcastle. He served for some years on the council of the Agricultural and Arts Association of Ontario; in 1879 he became its president. He was also active in local government. From 1850 to 1854 and 1862 to 1868 he was the municipal clerk in Clarke Township; in 1859–61 and 1869–70 he sat as a member of the township council; and from 1871 to 1877 he held the office of reeve. In 1871 he was warden of the united counties of Durham and Northumberland. He was appointed a justice of the peace in 1856 and was an officer in the Durham militia from 1847 to the 1870s.
His farm was on Wilmot Creek, a noted spawning stream for Lake Ontario salmon; however, by the 1850s the runs of salmon in the creek, and in other salmon streams on Lake Ontario, had been greatly depleted as a result of overfishing and changes in the environment. Wilmot became interested in the possibility of restocking the stream by means of artificial propagation. In 1866 he built an experimental hatchery and succeeded in hatching the spawn from four salmon. The following year he obtained support for his efforts from the federal government, and on 1 July 1868 he was appointed to the Department of Marine and Fisheries as a fishery overseer with special responsibility for operating the hatchery. The department had recently been organized under Peter Mitchell and William Smith. On 1 July 1876 Wilmot was made superintendent of fish culture, a position he held until his retirement on 1 April 1895. He was charged with the construction and management of a system of 15 hatcheries across Canada and with the planting of hundreds of millions of fry annually. In addition, he advised the government on fishery regulations and pollution; in 1892–93 he carried out extensive investigations into the fisheries of British Columbia and the Great Lakes.
Wilmot did not discover the process of artificial propagation of fish. The basic techniques had been known in Europe for at least a century and a government fish hatchery had been established in France in 1851. In British North America experiments with artificial propagation had already been conducted by Richard Nettle, superintendent of fisheries for Lower Canada. Wilmot did, however, develop apparatus and techniques for hatcheries that were widely copied in North America. His equipment was awarded medals by the Société Nationale d'Acclimatation of France in 1872 and by the International Fisheries Exhibition at London in 1883.
Wilmot was the driving force behind the development of the hatchery system in Canada: indeed his immediate superior at the fisheries branch, William Frederick Whitcher, was sceptical of the commercial value of the hatchery system. Although the technical operation of hatching fish was a success, Whitcher believed there was no evidence that fry survived to increase the catch of fish. Whitcher lost the debate and his job but modern opinion supports his views; in the face of environmental degradation and overfishing even massive plantings of fry cannot maintain fish stocks. In Wilmot's defence it should be said that he recognized the importance of environmental change in the decline of the Lake Ontario salmon and argued that the hatchery program was only an adjunct to the strict enforcement of a system of close seasons which would allow natural reproduction of fish populations.
Samuel Wilmot's reports on the British Columbia and Great Lakes fisheries are found in Can., Parl., Sessional papers, 1893, no.10c. Other of his reports to the government appear in the annual reports of the Dept. of Marine and Fisheries and in the departmental records at NA, RG 23. Among other items, he is the author of Canada at the great International Fisheries Exhibition, London, 1883 (Ottawa, 1884). A portrait of Wilmot is reproduced in John Squair's study, cited below.
ACC, Diocese of Toronto Arch., Church of St Peter (Cobourg, Ont.), reg. of baptisms, burials, and marriages, 1 June 1852. NA, MG 26, A: 143037–57; RG 2, 1, vols.5, 88; RG 9, 1, C6, 7, 9; RG 68, General index, 1867–1908. Royal Ontario Museum, Sigmund Samuel Canadiana Building (Toronto), Samuel Wilmot letter-book. Can., Dept. of Fisheries, Annual report, 1886–92; Dept. of Marine and Fisheries, Annual report (Ottawa), 1868–85, 1893–1900; Parl., Sessional papers, 1894, no.16a; 1897, no.1. Ont., Legislature, Sessional papers, 1870–81. W. F. Whitcher, "Practical results of fish culture in the Dominion of Canada," Forest and Stream (New York), 20 (February-July 1883): 408. Globe, 19 May 1899. Cyclopædia of Canadian biog. (Rose and Charlesworth). John Squair, The townships of Darlington and Clarke, including Bowmanville and Newcastle, province of Ontario, Canada (Toronto, 1927). J. R. Dymond, "Artificial propagation in the management of the Great Lakes fisheries," American Fisheries Soc., Trans. (Washington), 86 (1957): 384–91. A. G. Huntsman, "Why did Ontario salmon disappear?" RSC Trans., 3rd ser., 38 (1944), sect.v: 83–102. H. [R.] MacCrimmon, "The beginning of salmon culture in Canada," Canadian Geographical Journal (Ottawa), 71 (July-December 1965): 96–103. J. A. Rodd, "Notes on development of fish culture in Canada," Canadian Fish Culturist (Ottawa), 1 (1947), no.2: 3–7. D. B. Simpson, "Major Samuel Street Wilmot," Assoc. of Ontario Land Surveyors, Annual report (Toronto), 1921: 108–10.
© 1990–2023 University of Toronto/Université Laval
Cite This Article
A. B. McCullough, "WILMOT, SAMUEL," in Dictionary of Canadian Biography, vol. 12, University of Toronto/Université Laval, 2003–, accessed October 1, 2023, http://www.biographi.ca/en/bio/wilmot_samuel_12E.html.
The citation above shows the format for footnotes and endnotes according to the Chicago manual of style (16th edition). Information to be used in other citation formats:
| | |
| --- | --- |
| Permalink: | http://www.biographi.ca/en/bio/wilmot_samuel_12E.html |
| Author of Article: | A. B. McCullough |
| Title of Article: | WILMOT, SAMUEL |
| Publication Name: | Dictionary of Canadian Biography, vol. 12 |
| Publisher: | University of Toronto/Université Laval |
| Year of publication: | 1990 |
| Year of revision: | 1990 |
| Access Date: | October 1, 2023 |