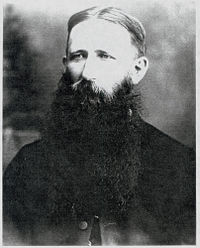 Source: Courtesy of Wikimedia Commons
WILSON, EDWARD FRANCIS, Church of England clergyman, educator, ethnologist, and author; b. 7 Dec. 1844 in Islington (London), England, son of Daniel Wilson and Lucy Sarah Atkins; m. 3 June 1868 Frances (Fanny) Spooner in Langford, Gloucestershire, England, and they had six daughters and five sons; d. 11 May 1915 in Victoria.
Edward F. Wilson was born into a well-to-do family, long prominent in evangelical circles in England. His paternal grandfather was the bishop of Calcutta and his father a leading Church of England clergyman. Wilson might have been expected to attend Oxford and proceed to ordination and parish work in England. Instead he studied farming with a land agent and emigrated to Upper Canada in 1865 after hearing about the country from Bishop Benjamin Cronyn* of Huron and his archdeacon, Isaac Hellmuth*, who were in England on a fund-raising trip. Three days after his arrival, however, Wilson decided to become a missionary. During a stay of several weeks that summer on a reserve, he became "infatuated with the Indians" and determined that his work would be with them. For the next two years he studied at Huron College in London. He then went back to England, where he was ordained deacon on 22 Dec. 1867. Six months later he married Frances Spooner, also the child of a clerical family.
Wilson returned to Huron under the auspices of the Church Missionary Society, an organization in which his family had been active for several generations. After a tour of the diocese, he decided to establish his mission at Sarnia. An Ojibwa reserve was located on the town's outskirts and another some 30 miles away at Kettle Point. The Reverend Henry Venn, long-time secretary of the CMS, promoted a policy of self-governing native churches and the training of native clergy who would eventually replace the missionaries. Although Wilson did instruct two young Ojibwa men as catechists, and another, John Jacobs, was ordained in 1869 and placed in charge of the Kettle Point mission, he appears not to have been entirely convinced of the virtue of Venn's policy. Moreover, Bishop Cronyn was strongly opposed to the idea of a separate native church, stating in a letter to Venn that it would "undo what we have always been labouring to effect. The union of the Indians with their fellow subjects without distinction of race." Perhaps more significant, Cronyn did not believe that natives would be good managers of church funds.
The Sarnia area had been the focus of missionary work by Methodists, Roman Catholics, and others for many years, and the great majority of the native population had already been converted to Christianity. Much rivalry and squabbling among the various churches resulted. In 1869 Wilson and his wife visited Sault Ste Marie and the nearby Garden River reserve, where they were entertained by Ojibwa missionary Henry Pahtahquahong Chase*. Wilson found "something very attractive and fascinating about this first visit to the wilds of Algoma." Two years later he decided to move north. The CMS had wanted him to go to Manitoba but agreed to support him at Garden River for a year. Encouraged by Ojibwa chief Shingwauk (Augustin Shingwauk; Little Pine) and his brother Bukhwujjenene, he devised plans for a school for native children. While he and Bukhwujjenene were in England to raise funds in 1872, he was informed by the CMS that it did not wish to "undertake a permanent Mission among the Canadian Indians." He was to wind up his affairs at Garden River and proceed to Manitoba. Instead, Wilson broke with the society and obtained a promise of an annual grant from the Colonial and Continental Church Society, which funded schools throughout the British colonies. The Shingwauk Industrial Home was opened at Garden River on 22 Sept. 1873. Six days later it burned to the ground. Undaunted, Wilson raised money for a new school, which was formally opened by bishops Frederick Dawson Fauquier* and Isaac Hellmuth at a site nearer Sault Ste Marie in August 1875. Some girls were initially accommodated at this institution, but four years later the Wawanosh Home for girls, named for Chief Joshua Wawanosh of the Sarnia reserve, was established a few miles away.
Wilson would remain principal of these two residential schools until he finally retired from missionary work early in 1893. He also erected schools at Elkhorn, Man., in the 1880s, and another was built in Medicine Hat (Alta) but never opened. At Shingwauk, native boys received both an education and training for a trade. "We don't wish to un-Indianize them altogether . . . ," Wilson wrote. "They are a proud, grand nation in their own way." Nevertheless, they were to be "apprenticed out to white people and to become in fact Canadians." The boys wore a military-style uniform, and their day was highly regimented. Only English was spoken, except at teatime. Similarly, the girls at Wawanosh were trained for domestic service. Wilson believed that adult natives were a bad influence on their children, and he advocated compulsory attendance and shorter summer vacations. Despite his efforts, his schools were not totally successful. The pupils seldom stayed for the full five years, there were problems with runaways, and graduates rarely obtained the work for which they had been trained.
Although Wilson had published a manual of the Ojibwa language in the 1870s, until about 1885 he took little interest in native history and ethnology. The uprising by Métis and natives that year, led by Louis Riel*, and his growing disillusionment with educational work caused Wilson to reassess his ideas. During a trip to the northwest in July, he was present at the conclusion of Riel's trial and visited Poundmaker [Pītikwahanapiwīyin*] in prison. He began to read and correspond with the leading anthropologists of the day. He was deeply influenced by Horatio Emmons Hale*, whose positive evaluation of native culture is recorded in his edition of The Iroquois book of rites (Philadelphia, 1883), and by Helen Hunt Jackson, an American writer who documented the treatment of natives in the United States in A century of dishonor (New York, 1881). During an extended journey that took him to the American southwest in 1888, he was particularly impressed by the Cherokee of Oklahoma. Although they had adopted aspects of European culture, they retained their own government, schools, judicial system, and collective ownership of land.
Wilson came to think that the destruction of native autonomy and the promotion of assimilation might be wrong. In "My wife and I: a little journey among the Indians" and a series on "Indian tribes," both published in the journals Our Forest Children (1887–90) and the Canadian Indian (1890–91), which he edited, he praised many positive features of native culture, placing the blame for "the Indian problem" on whites. It seems highly probable that Wilson was also the author of four articles published under the penname Fair Play in the Canadian Indian between March and June 1891. These pieces argue against enforced assimilation and absorption, and advocate a large measure of self-government for natives. "Would it be any menace to the peace of our country," their author queries, "if the civilized Indians of Ontario were permitted to have their own centre of Government – their own Ottawa, so to speak; their own Lieutenant-Governor, and their own Parliament?" In support of his arguments, Fair Play makes use of Wilson's trips to the American southwest, particularly his observation of the Cherokee, and cites the writings of Hale. The articles were so against the grain of contemporary opinion (not to mention Wilson's work at Shingwauk and Wawanosh), it is hardly surprising they were published under a pseudonym.
At the same time as the Fair Play articles were appearing, Wilson was attempting to organize a conference for native leaders in Ontario, sponsored by the Canadian Indian Research and Aid Society, which he had founded in 1890. Chiefs were sent a list of questions about land ownership, retention of native languages, and control of native affairs. He received a positive response from at least one chief, but others were apprehensive that the conference was a "mere ruse on the part of the Government to draw out from them what they have to say," and they declined to attend. As a result, the conference was never held.
In 1892 Wilson announced his intention to retire from missionary work. The reasons are not entirely clear. Failing health, "a certain feeling of weariness," and a perceived lack of support from Bishop Edward Sullivan* of Algoma (whose position Wilson had clearly hoped for in 1882) all played a part. He moved to British Columbia and in 1894 settled on Salt Spring Island as a pastor to the white community. He also farmed and cultivated an orchard on the island. Between 1903 and 1908 he compiled a memoir of his life, which like many of his articles is illustrated with his own sketches. He died in Victoria in 1915 after several years in California, where he had moved because of ill-health. He and his wife are buried on Salt Spring Island.
Edward F. Wilson deserves to be remembered for a number of reasons: for his attempt to implement the native church policy of Venn and the CMS, for the significance of his residential schools, and for his work as an early Canadian ethnologist. Perhaps his lasting contribution, however, is as a pioneer among whites of the concepts of self-government and cultural continuity for native peoples.
Publications by Edward Francis Wilson include The Ojebway language: a manual for missionaries and others employed among the Ojebway Indians (Toronto, [1874?]; repr., n.d.) and Missionary work among the Ojebway Indians (London, 1886). In addition, Wilson edited and contributed to the Algoma Missionary News and Shingwauk Journal, 1876–89, Our Forest Children, 1 (1887)–4 (1890), and Canadian Indian, 1, nos. 1–12 (October 1890–September 1891), all of Sault Ste Marie, Ont. Also valuable is his autobiographical journal, available on microfilm at the AO (F 975) and several other institutions, including the ACC, General Synod Arch., Toronto. A published version, Chalice in the wilds: memoirs of a Victorian missionary, ed. A. P. Farr, is forthcoming from Braemar Books, Victoria.
Wilson's correspondence for the years 1868–72 may be found in the Church Missionary Soc. records at NA, MG 17, B2, C, C.1/L.3; C.1/M.7–8 (mfm.). His wide and varied correspondence for 1874–88, when he was at Sault Ste Marie, appears in the Shingwauk Indian Home records, a series of volumes held by the ACC, Diocese of Algoma Arch. (Sault Ste Marie), and available on microfilm at the AO (F 444). Unfortunately, these volumes do not contain material from 1890 onward.
A contemporary sketch and account of Wilson's career appears in [C. H. Mockridge], "Historical sketches: no.45, Rev. E. F. Wilson," Canadian Church Magazine and Mission News (Hamilton, Ont.), 4 (1890): 49–51. His life until 1893 is covered in detail in D. A. Nock, A Victorian missionary and Canadian Indian policy: cultural synthesis vs. cultural replacement (Waterloo, Ont., 1988), and material on his years in British Columbia is provided in Bea Hamilton, Salt Spring Island (Vancouver, 1969).
NA, RG 31, C1, 1901, Salt Spring Island. Paulette Jiles, "Reverend Wilson and the Ojibway grammar," This Magazine (Toronto), 10 (1976), no.1: 15–17. P. B. Moore, "Edward Francis Wilson, missionary to the Ojibway Indians" (b.th. thesis, Huron College, London, Ont., 1959). D. A. Nock, "E. F. Wilson and the social construction of text," in his Star wars in Canadian sociology: exploring the social construction of knowledge (Halifax, 1993), 99–114; "The Indian conference that never was," Ontario Indian (Toronto), 5 (1982), no.2: 39–45; "A white man's burden: a portrait of E. F. Wilson, missionary in Ontario, 1868–1885" (ma thesis, Carleton Univ., Ottawa, 1973). J. D. Wilson, "A note on the Shingwauk Industrial Home for Indians," Canadian Church Hist. Soc., Journal (Toronto), 16 (1974): 66–71.
© 1998–2023 University of Toronto/Université Laval
Image Gallery

Cite This Article
David A. Nock, "WILSON, EDWARD FRANCIS," in Dictionary of Canadian Biography, vol. 14, University of Toronto/Université Laval, 2003–, accessed September 25, 2023, http://www.biographi.ca/en/bio/wilson_edward_francis_14E.html.
The citation above shows the format for footnotes and endnotes according to the Chicago manual of style (16th edition). Information to be used in other citation formats:
| | |
| --- | --- |
| Permalink: | http://www.biographi.ca/en/bio/wilson_edward_francis_14E.html |
| Author of Article: | David A. Nock |
| Title of Article: | WILSON, EDWARD FRANCIS |
| Publication Name: | Dictionary of Canadian Biography, vol. 14 |
| Publisher: | University of Toronto/Université Laval |
| Year of publication: | 1998 |
| Year of revision: | 1998 |
| Access Date: | September 25, 2023 |