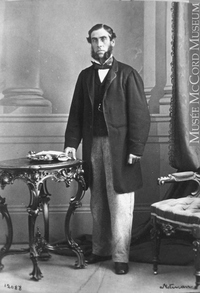 Source: Link
WORTS, JAMES GOODERHAM, distiller, businessman, and banker; b. 4 June 1818 at Great Yarmouth, Norfolk, England, eldest son of James Worts and Elizabeth Gooderham; m. 1 Oct. 1840 Sarah Bright, and they had three sons and six daughters; d. 20 June 1882 at Toronto, Ont.
James Gooderham Worts's father, a mill-owner from 1813 to 1831 in Lowestoft and in Bungay, Suffolk, made the decision to immigrate to Upper Canada, perhaps in the hope of improving his family's economic prospects. James Worts and his eldest son left Great Yarmouth in May 1831 and eventually settled in York (Toronto) where James established a milling business. He chose a site southeast of York at the mouth of the Don River and began construction of a stone windmill. In June 1832 the remaining members of the Worts family, accompanied by some members of the Gooderham family, to whom they were related by marriage, arrived in York. James Worts then formed the partnership of Worts and Gooderham with his brother-in-law, William Gooderham Sr. A trial run of the windmill from October to December 1832 proved the need for an auxiliary steam-engine which was added the next spring.
It is possible that James Gooderham Worts attended school in Montreal until the fall of 1831. He was orphaned early in 1834: his mother died in childbirth and two weeks later his father drowned himself in the mill's well. William Gooderham, who took complete charge of the business, also assumed responsibility for his nephew and began to groom him for a partnership in the firm, to which a distillery was added in 1837. In 1845 Worts became a partner in his uncle's firm, which was renamed Gooderham and Worts.
Although he achieved substantial wealth and a reputation in his own right, James Gooderham Worts's career was so closely linked to the business interests of his uncle that he was somewhat overshadowed and their joint achievements cannot easily be separated. Worts devoted most of his time to managing the distillery which experienced remarkable growth. After both Worts and Gooderham began to diversify their business interests in the 1850s, Worts soon played the more prominent public role. He invested heavily in the Bank of Toronto, incorporated in 1855, and, by 1863, he was the second largest stockholder with shares to the value of $27,000. He was vice-president of the bank from 1858 until 1881 when he succeeded his partner in the presidency for the few months he outlived him. By 1856 Worts had also become a director of the Ontario, Simcoe and Huron Railroad Union (its name was changed in 1858 to the Northern Railway Company of Canada), although he withdrew in 1858 after suffering substantial financial losses. These losses may have been a factor in turning the partners' attention to narrow gauge lines which could be constructed more cheaply, thereby giving a larger return on their investments. Between 1870 and 1872 Worts was an important shareholder and a director of the Toronto and Nipissing Railway, incorporated in 1868, in which the firm of Gooderham and Worts was in 1871 the largest shareholder. Gooderham and Worts, and J. G. Worts himself, were again important shareholders in the Toronto, Grey and Bruce Railway, also incorporated in 1868. Worts held meetings and sponsored excursions to promote these railways and gain the support and financial involvement of municipalities through which the railways might pass. He was nevertheless not interested only in narrow gauge lines: in 1871 he joined David Lewis Macpherson* and Toronto backers in proposing the Interoceanic Railway, to link central Canada with the Pacific Ocean, a venture in which Gooderham did not take part.
Worts represented the firm of Gooderham and Worts at the first meeting of the Canadian Ship Owners' Association held in June 1857; he sat on the board of the Toronto Harbour Commission from 1856 to 1863 and was chairman from 1865 to 1882. He also served as vice-president and president of the Toronto Board of Trade from 1865 to 1869.
Wort's only foray into politics occurred in 1867. A delegation of about 200 businessmen in the federal riding of Toronto East asked him on 22 August to run after the withdrawal from the contest of their previous candidate, Alexander Mortimer Smith*, a Toronto entrepreneur and municipal politician. Worts agreed, but attacks mounted by opposing candidates and the shouts of hecklers at his nomination meeting revealed strong resentment of the economic power Gooderham and Worts wielded within the city. This reaction demonstrated to Worts that he had little support outside the commercial sector of the constituency, and he too removed himself from the contest on 24 August. Worts's public defence of his business practices, in particular his conviction that dissatisfied customers need not return, showed his lack of tact and tended to confirm the Globe's judgement that he would "never reach even a middling position as a politician."
Like Gooderham, Worts lived near the distillery, on an estate he built himself called Lindenwold. He focused his life on business, family, and the Church of England, being vestry clerk at Little Trinity Church for over 30 years and a warden from 1874 to 1882. With his cousin, George Gooderham*, he alternated as master of the Toronto Hunt Club between 1870 and 1881; he was also a supporter of the Toronto Mechanics' Institute as his father had been. With William Gooderham and William Cawthra*, Worts was a major contributor to the building fund organized to add a wing to the Toronto General Hospital for the treatment of infectious diseases.
When Worts died of malaria in 1882, he left an estate valued at over $1,500,000. His confidence in his influence led him to direct in his will that his son-in-law, William Henry Beatty*, be elected a director of the Bank of Toronto, and that his second son, Thomas Frederick, replace him as a director of the Canada Permanent Loan and Savings Company, a position Worts had held since 1859. His eldest living son, James Gooderham Worts Jr, was already secretary of the distillery. Worts was remembered as being deliberate in reaching decisions and iron-willed in carrying them out, a description fitting his position at the centre of enterprises employing several hundred men. He was also described as a willing source of advice to those with serious projects to launch. This concern for the expanding business life of the community increased the influence which Gooderham and Worts might have exercised solely on the basis of their own large holdings.
AO, RG 22, ser.6–2, York County, Will of James Worts, 11 May 1831. MTL, Biog. scrapbooks, VII: 481; XXIX: 25. York County Surrogate Court (Toronto), no.4605, will of J. G. Worts, 3 July 1882 (mfm. at AO). Bank of Toronto, List of stockholders as on the 30 June 1863 (Toronto, 1863). Canadian Merchants' Magazine and Commercial Rev. (Toronto), 1 (April-September 1857): 148, 327; 2 (October 1857-March 1858): 391. "Canadian railways, no.XXV: Toronto and Nipissing Railway," Engineering: an Illustrated Weekly Journal (London), 17 Oct. 1879. Ont., Legislature, Sessional papers, 1871–72, II, nos.29, 35. Ontario, Simcoe and Huron Railroad Union Company, Report submitted by the board of directors . . . (Toronto), 1854–55; 1857–58. Toronto Board of Trade, Annual report . . . (Toronto), 1860–63; Annual review of the commerce of Toronto . . . , comp. W. S. Taylor (Toronto), 1867; 1870; Annual statement of the trade of Toronto . . . , comp. J. M. Trout (Toronto), 1865. Globe, 7 Feb. 1862, 22 Aug. 1881, 21 June 1882, 6 March 1885. Leader, 23–26 Aug. 1867. Monetary Times, 1869–83. Toronto Daily Mail, 21 June 1882. Canadian biog. dict., I: 62–70. Chadwick, Ontarian families, I: 158. Dominion annual register, 1882. Masters, Rise of Toronto. Middleton, Municipality of Toronto. Robertson's landmarks of Toronto. Joseph Schull, 100 years of banking in Canada: a history of the Toronto-Dominion Bank (Toronto, 1958). E. B. Shuttleworth, The windmill and its times: a series of articles dealing with the early days of the windmill (Toronto, 1924).
© 1982–2023 University of Toronto/Université Laval
Cite This Article
Dianne Newell, "WORTS, JAMES GOODERHAM," in Dictionary of Canadian Biography, vol. 11, University of Toronto/Université Laval, 2003–, accessed May 28, 2023, http://www.biographi.ca/en/bio/worts_james_gooderham_11E.html.
The citation above shows the format for footnotes and endnotes according to the Chicago manual of style (16th edition). Information to be used in other citation formats:
| | |
| --- | --- |
| Permalink: | http://www.biographi.ca/en/bio/worts_james_gooderham_11E.html |
| Author of Article: | Dianne Newell |
| Title of Article: | WORTS, JAMES GOODERHAM |
| Publication Name: | Dictionary of Canadian Biography, vol. 11 |
| Publisher: | University of Toronto/Université Laval |
| Year of publication: | 1982 |
| Year of revision: | 1982 |
| Access Date: | May 28, 2023 |