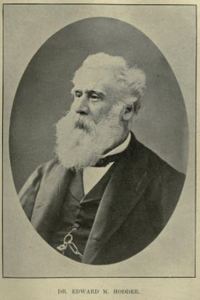 Provenance : Lien
HODDER, EDWARD MULBERRY, médecin, chirurgien et éducateur, né le 30 décembre 1810 à Sandgate, dans le Kent, Angl., fils d'Edward et de Mary Hodder, décédé le 20 décembre 1878 à Toronto, Ont.
Edward Mulberry Hodder fit ses études dans l'île de Guernesey et à Saint-Servan, en France. À 12 ans, il devint aspirant de marine et servit sous les ordres de son père, capitaine dans la marine royale. Mais, en moins d'un an, il quitta la marine et alla étudier la médecine à Londres, avec Joseph Amesbury et James Blundell, ainsi qu'à Paris et à Édimbourg. Il devint membre du Royal College of Surgeons en 1834 et pratiqua à Londres et, plus tard, à Saint-Servan. En 1834, il épousa Frances Tench dont il eut plusieurs enfants.
Vers 1838, Hodder immigra dans le Haut-Canada, qu'il avait visité trois ans auparavant, et s'installa près de Queenston. En 1843, il alla s'établir à Toronto, où il devint rapidement l'un des meilleurs praticiens. Il reçut en 1845 une maîtrise en chirurgie de King's College (qui plus tard devint l'University of Toronto). En 1850, il fonda avec James Bovell l'Upper Canada School of Medicine ; après le retour, cette même année, de l'évêque John Strachan* qui était allé en Angleterre chercher de l'aide matérielle en vue de la création d'une université de l'Église d'Angleterre, Hodder et Bovell proposèrent de faire de leur école la faculté de médecine de la nouvelle université. Les premiers cours de médecine à Trinity College eurent lieu en novembre et Hodder traita de « la profession de sage-femme et des maladies des femmes et des enfants ». En 1851, il fonda avec Bovell l'Upper Canada Journal of Medical, Surgical, and Physical Science, dans lequel il écrivit plusieurs articles.
Hodder continua à enseigner à Trinity College (qui lui décerna un doctorat en médecine en 1853) jusqu'à la fermeture de la faculté de médecine en 1856. Il devint alors professeur d'obstétrique à la Toronto School of Medicine, rattachée à Victoria College depuis 1854. Lorsque la faculté de médecine fut rétablie à Trinity College en 1871, Hodder y reprit son enseignement. Il en fut élu doyen à l'unanimité et le resta jusqu'à sa mort en 1878.
Hodder s'occupa activement de nombreuses institutions et sociétés médicales parce qu'il était peut-être, de l'aveu de tous, « incontestablement le plus éminent membre de sa profession à Toronto et dans la province d'Ontario ». En 1853 il fut chargé de représenter Trinity College au conseil d'administration du Toronto General Hospital, où il fut pendant longtemps médecin consultant ; il fut également médecin en chef du Burnside Lying-in Hospital. Il devint membre associé du Medical Board of Upper Canada en 1853 et, en 1858, il en fut nommé président, succédant ainsi à Christopher Widmer*. En 1862, la Toronto Medico-Chirurgical Society le choisit comme président ; la Canadian Medical Association fit de même en 1875, au cours d'un congrès qui se tint à Halifax. Il fut élu fellow du Royal College of Surgeons en 1854 et de l'Obstetrical Society of London en 1865. À sa mort, il était le secrétaire honoraire local de cette dernière société. Il avait également occupé les fonctions de vice-président du Canadian Institute à Toronto de 1868 à 1870.
Hodder était un praticien très respecté et doué de beaucoup d'intuition. Pendant l'épidémie de choléra qui eut lieu à Toronto en 1854, il fit avec Bovell des transfusions de lait dans les veines de certains malades et obtint des résultats divers. Hodder fut l'un des premiers à mentionner l'utilisation de l'acide phénique comme antiseptique chirurgical. Toutefois, c'est surtout comme obstétricien et gynécologue qu'il se distingua et on a dit que « de l'avis de tous, c'est lui qui remporta le plus de succès au Canada dans le domaine de l'ovariotomie ». On l'a appelé le père de ces deux branches-médicales en Ontario
Hodder garda toute sa vie le goût des promenades en bateau. En 1852, il fut membre fondateur du Toronto Boat Club qui devint le Royal Canadian Yacht Club et il prit part à de nombreuses régates. Il fit paraître en 1857 The harbours and ports of Lake Ontario, recueil très utile pour les marins.
E. M. Hodder, The harbours and ports of Lake Ontario, in a series of charts, accompanied by a description of each [...] (Toronto, 1857) ; A case of apoplexy, terminating fatally, in which the Caesarean operation was performed with a favourable result to the child, Upper Canada Journal of Medical, Surgical, and Physical Science (Toronto), I (1851–1852), 4–7 ; On the poisonous plants which are indigenous to, or which have become naturized in the neighbourhood of Toronto, Canadian Journal, I (1852–1853), 204–207, 218s. ; Transfusion of milk in cholera, Practitioner (Londres), X (1873) : 14–16.
MTCL, V. M. Roberts papers, memorabilia, 14.— Canada Lancet (Toronto), X (1877–1878) : 215s.— Canada Medical and Surgical J. (Montréal), VI (1878) : 428–431.— Cyclopædia of Can. biog. (Rose, 1888), 647.— Canniff, Medical profession in Upper Canada, 432–434.— Middleton, Municipality of Toronto, II : 576, 618–622, 625, 634, 751.— W. G. Cosbie, J. Y. Simpson oration : Simpson and some Toronto contemporaries, Report of the Royal College of Obstetricians and Gynaecologists (Londres), 1968, 73–80.— G. W. Spragge, The Trinity Medical School, Ont. Hist., LVIII (1966) : 63–98.
© 1972–2021 Université Laval/University of Toronto
Galerie d'images

FR:Citations
FR:UNDEF:public_citation_style_default FR:
Information to be used in other citation formats
Permalink: http://www.biographi.ca/fr/bio/hodder_edward_mulberry_10F.html
| | |
| --- | --- |
| Author of Article: | Henri Pilon |
| Title of Article: | HODDER, EDWARD MULBERRY |
| Publication Name: | FR:UNDEF:public_citation_publication, vol. 10 |
| Publication Details: | FR:UNDEF:public_citation_publisher, 1972 |
| Year of publication: | 1972 |
| Year of revision: | 1972 |
| Access Date: | 17 octobre 2021 |