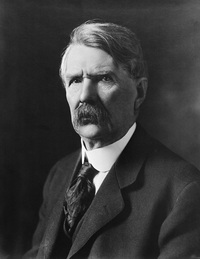 Source: Link
LANE, GEORGE, rancher and farmer; b. 6 March 1856 in Boonville, southwest of Des Moines, Iowa, son of Joseph William Lane, a farmer, and Julia Pidgeon; m. 24 Dec. 1885 Elizabeth Sexsmith in Calgary, and they had four daughters and four sons; d. 24 Sept. 1925 at the Bar U Ranch, near Pekisko, Alta.
George Lane's career seems almost too much like a romantic stereotype to be real. At age 16 he followed his father to the goldfields of Montana. Later he was a dispatch rider and a scout for the United States army. During his twenties he served an apprenticeship on several of the best-run ranches in Montana.
In 1884 Lane moved to the District of Alberta to take up the job of foreman on the North-West Cattle Company's Bar U Ranch [see Frederick Smith Stimson*]. He thus became one of the handful of experienced American cowboys guiding day-to-day work on the ranches which pioneered large-scale commercial operations in Canada. A master of the cowboy's skills, he also showed unusual leadership abilities.
Lane left the Bar U in 1887 and for several years acted as an independent cattle buyer. By 1893 he was purchasing for the Winnipeg firm of James Thomas Gordon and Robert Ironside*, and in 1897 he became a partner in Gordon, Ironside, and Fares. He emerged as a "cattle king" during the first decade of the 20th century. In 1902 he and his partners purchased the Bar U Ranch from the family of the late Andrew Allan* in one of the biggest deals that the foothills country had ever seen. He already owned the YT Ranch on the Little Bow River and the Willow Creek Ranch in the Porcupine Hills. He managed them as cow-calf operations and intensified production by putting up quantities of hay, using pure-bred bulls, regulating the calving season, and experimenting with irrigation. He also made use of the huge expanses of short grass prairie, between the Bow River and the Red Deer, which had yet to be affected by farm settlement. Here his operations employed the more risky methods of the open range, with cattle being turned loose to graze on ungranted land under a minimum of supervision. It was estimated that Lane ran from 16,000 to 18,000 head of cattle on his various properties.
Even as his cattle-ranching enterprises increased in scope and variety, Lane was evaluating the vigour with which homestead settlement was encroaching on the range. Far from seeing it as a threat, he viewed it as inevitable and sought to profit from it. He argued that farmers would need enormous numbers of draught horses, and set about meeting this demand. During the first two decades of the century, Lane built up the largest pure-bred Percheron stud in the world. He journeyed to France and brought back prizewinners of the breed, both classic mares and sleek powerful stallions weighing more than a ton each. The Bar U show team was made up of six perfectly matched dappled greys, but others were almost pure white or black, some with white blazes. For more than a decade Lane's Percherons dominated the show rings of the Pacific Northwest, and his Bar U Ranch became internationally famous.
Always an advocate of mixed farming, Lane began to balance his ranching endeavours with wheat growing. In 1913 he bought the Namaka Farms, about 10,000 acres altogether. By 1915 he was vying with Charles Sherwood Noble* for the title of largest grain producer in Alberta. As long as prices remained high and sufficient rain fell, the huge overheads incurred for machinery and labour were justified. However, the record yields of 1916 were followed by a dry cycle. Lane was badly overextended, and the enormous property reverted to the Dominion Bank in 1922.
As Lane's holdings increased, he had become an influential voice for stockmen. On several occasions he went to Ottawa to represent the cattlemen's interest. One of the first members of the Western Stock Growers' Association, he was a vice-president from 1903 to 1911 and president for 1913 and 1914. A Liberal, he was elected to the Legislative Assembly in 1913 but resigned his seat to allow a defeated cabinet minister to run. In 1919 he was instrumental in establishing a new and effective lobby group, the Cattlemen's Protective Association of Western Canada. He was also active in the Alberta Horse Breeders' Association and was a founding member of the Canadian Percheron Horse Breeders' Association.
In spite of his somewhat taciturn nature, Lane was sought out by the press for his views on a variety of matters. His unshakeable confidence in the future of western Canada and his belief that Alberta was the greatest farming and ranching country in the world were repeatedly noted and had a considerable effect on immigration and investment. Such was his profile that one old neighbour, on hearing of Lane's demise in 1925, lamented, "The country's gone plumb to hell – Wheat under two dollars and George Lane dead!"
Lane is remembered best in western Canada for two somewhat incidental associations. Along with Patrick Burns*, Alfred Ernest Cross*, and Archibald James McLean*, he put up the money for the first Calgary Stampede in 1912. His other claim on the popular imagination is his connection with Edward, Prince of Wales. When the prince intimated that he would like to see a "real ranch" on his cross-Canada tour in 1919, it was natural that he should be brought to visit George Lane's Bar U, and he enjoyed his stay so much that, with Lane's help, he purchased a small neighbouring ranch.
After Lane's death the Bar U was bought by Patrick Burns. Many of its buildings survived into the late 20th century. In 1991 the ranch headquarters site, comprising more than 30 historic structures, including two barns which date back to the 1880s, was acquired by the Canadian government to commemorate the history of ranching. The Bar U Ranch National Historic Site is open to the public at Longview.
Canadian Heritage, Parks Canada, Western Canada Service Centre, S. M. Evans, "George Lane: notes on a life" (research paper, Calgary, 1993); "George Lane: purebred horse breeder" (research paper, Calgary, 1994). GA, M 651, Elizabeth Sexsmith Lane, "A brief sketch of memories of my family" (1945). Wayne Dinsmore, "Development of the Percheron horse in Canada," Nor'-West Farmer (Winnipeg), 20 Feb. 1917. Edward Brado, Cattle kingdom: early ranching in Alberta (Vancouver, 1984). D. H. Breen, The Canadian prairie west and the ranching frontier, 1874–1924 (Toronto, 1983). Leaves from the medicine tree . . . (Lethbridge, Alta, 1960). [J. W.] G. MacEwan, Heavy horses: highlights of their history (Saskatoon, 1986). "A pioneer stockman," Farm and Ranch Rev. (Calgary), 20 Sept. 1922. Norman Rankin, "The boss of the Bar U," Canada Monthly (London, Ont.), 9 (1910–11): 323–33. C. I. Ritchie, "George Lane – one of the big four," Canadian Cattlemen (Winnipeg), September 1940. Bruce Roy, "The Bar U Percherons," Horses All (Calgary), January 1980.
© 2005–2023 University of Toronto/Université Laval
Cite This Article
Simon M. Evans, "LANE, GEORGE," in Dictionary of Canadian Biography, vol. 15, University of Toronto/Université Laval, 2003–, accessed December 9, 2023, http://www.biographi.ca/en/bio/lane_george_15E.html.
The citation above shows the format for footnotes and endnotes according to the Chicago manual of style (16th edition). Information to be used in other citation formats:
| | |
| --- | --- |
| Permalink: | http://www.biographi.ca/en/bio/lane_george_15E.html |
| Author of Article: | Simon M. Evans |
| Title of Article: | LANE, GEORGE |
| Publication Name: | Dictionary of Canadian Biography, vol. 15 |
| Publisher: | University of Toronto/Université Laval |
| Year of publication: | 2005 |
| Year of revision: | 2005 |
| Access Date: | December 9, 2023 |