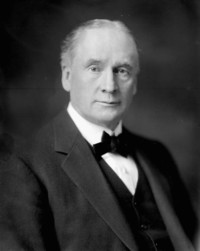 AIKINS, Sir JAMES ALBERT MANNING, lawyer, politician, and lieutenant governor; b. 10 Dec. 1851 in Toronto Gore Township, Upper Canada, second son of James Cox Aikins*, mla, and Mary Elizabeth Jane Somerset; brother of William Henry Beaufort; m. 10 Dec. 1884 Mary Bertha McLelan in Ottawa, and they had two sons; they divorced 9 July 1892; m. secondly 6 Sept. 1899 Mary French Colby (d. 1931) in Stanstead, Que., and they had three daughters, one of whom died shortly after birth; d. 1 March 1929 in Winnipeg and was buried in St John's cemetery.
Of Irish extraction, James Aikins was born and raised on his parents' farm in Peel County, near Toronto. He was educated in public schools in Malton (Mississauga) and Brampton before attending Upper Canada College and the University of Toronto (ba 1875, ma 1876). On graduating in 1875, he "tried business" in the warehouse of the firm Macnab and Marsh, but he decided instead to become a student-at-law. He was articled to Matthew Crooks Cameron* of Cameron, McMichael, and Hoskin, a leading common law firm in Toronto. For practice in equity, he spent one year with Mowat, Maclennan, and Downey and then he returned to his original principal.
Aikins looked westward to practise his profession. In August 1878 he visited his brother John Somerset, who was in the real estate business in Winnipeg, and he decided he liked the opportunities available there. After his return to Toronto he was called to the Ontario bar on 19 Nov. 1878 and he was back in Winnipeg by February 1879. He was called to the Manitoba bar on the 15th of that month and began advertising legal services and mortgage loans four days later. His father had recently formed the Manitoba and North West Loan Company, which offered mortgages on urban and farm properties. The evaluation was undertaken by Somerset and the conveyancing was done by James. These transactions would provide a solid financial base for their careers.
A boost to Aikins's career was his appointment in 1879 as local counsel for the federal Department of Justice, a post he would hold for 17 years. In 1880 he was made a member of a royal commission to report on the administration of justice in the North-West Territories. Of greater significance was his nomination in 1881 as counsel for the western division of the Canadian Pacific Railway; he would retain this position until 1911.
By June 1879 Aikins had attracted sufficient work to be able to persuade Albert Monkman, a friend who had been practising in Ontario since 1875, to join him as a partner. Although this partnership was short-lived, it was the foundation of what would become one of the leading law firms in Canada, Aikins, MacAulay, and Thorvaldson, which continues to use Aikins's name. His strong work ethic and assiduous attention to detail were recognized in his election as a bencher of the Law Society of Manitoba in May 1880. He served until his death and held office as secretary (1883–85), treasurer (1885–88), and president (1889–91). He was appointed a dominion qc on 3 Nov. 1884.
"I know of no more powerful factor in the building up of any place than an industrious, upright and intelligent legal profession," Aikins once said. This belief in the strength of lawyers working together led him to form the Manitoba Bar Association in 1911 and to act as its first president. The idea of reviving the national bar association was planted when he attended a convention of the American Bar Association in Montreal in 1913. The first Canadian Bar Association had been formed in 1896, but it had lasted only a few years. Aikins acted as president of the new Canadian Bar Association from its beginnings in 1915 until 1927 and he was honorary president in his final years. According to his secretary, he hoped the organization would be "a great and powerful agency for the consolidation and benefit of Canada and for the profession which he loved." To foster its growth he set up an endowment fund in 1921, to which he added until his death. In his will he left $30,000 to improve the association's Canadian Bar Review and a smaller amount to promote the Conference of Commissioners on Uniformity of Legislation in Canada, which he had championed as its president from 1918 to 1923 and of which he was honorary president thereafter.
Aikins was tireless both in his profession and in the larger community. He had been secretary and later president of the first university Young Men's Christian Association, which had been formed at the University of Toronto in 1873, and he was president of the YMCA in Winnipeg from its formation in 1879 to 1882. Soon after he moved to Winnipeg he also became involved with Grace Methodist Church and the temperance movement. From a deeply religious Methodist family, he taught Sunday school for teenage boys and young adults at Grace Methodist for many years. The classes were well attended and well known in the city. As a student, he had committed passages of Scripture to memory and he later used them when speaking in public. The Manitoba Free Press considered him a "gifted orator," who had "established a reputation which transcends the bounds of country." Aikins was an early believer in the union of the Presbyterian, Congregational, and Methodist churches in Canada, and in his will he left his house, Riverbend, his property on the Assiniboine River, and $100,000 to the United Church of Canada to create and maintain a school for girls. In addition, he left funds for the church's home missions and for the Canadian Bible Society in the prairie provinces.
Education was a lifelong interest. In 1885 he joined with others to establish Wesley College [see Joseph Walter Sparling*]. He became a member of its first board of directors and was chairman from 1888 to 1908. As well, he was honorary bursar (1889–1915) and a member of the council (1881–1915) of the University of Manitoba. In 1901 he was appointed to a commission looking into establishing an agricultural college in Manitoba and in 1907 he was named chairman of the royal commission on the University of Manitoba. His abiding faith in the power of education was recognized by the federal government when he was named Canada's representative at the 2nd International Congress on Moral Education held at The Hague in 1912.
In the Winnipeg Telegram of 29 Jan. 1910 Aikins was described as being in the "somewhat unique position of being a millionaire lawyer." This comment was based not only on his large and lucrative law practice, but also on his acumen in investments, mostly in real estate in Winnipeg and elsewhere in Manitoba. Throughout his career he fostered both his legal and his business contacts by acting as solicitor for many companies, local and national, from the Westbourne and Northwestern Railway Company and the Northern Electric Light Company, both started in the early 1880s, to the Great-West Life Assurance Company, founded over a decade later. He acted as counsel in Winnipeg for the Imperial Bank of Canada, the Bank of Ottawa, and the Scottish American Investment Company, and as a director of the Northern Trusts Company, the Canadian Fire Insurance Company, and the Canadian Indemnity Company.
Politically, Aikins was a Conservative. During the early years of his career, apart from campaigning in the provincial election of 1879 when Somerset was elected to the legislative assembly as a follower of John Norquay*, Aikins had not played a public role in politics. In 1900 he was asked by Premier Hugh John Macdonald to draft a bill introducing Prohibition. A founder and strong supporter of the Manitoba branch of the Dominion Alliance for the Total Supression of the Liquor Traffic, Aikins used the opportunity to write into legislation his views on the sale and consumption of liquor. Macdonald's successor as premier, Rodmond Palen Roblin*, had hopes that the Liquor Act would be declared unconstitutional when he referred it to the Judicial Committee of the Privy Council, but Aikins had drafted it so carefully that it was upheld. It was turned down by Manitobans, however, in a plebiscite held on 2 April 1902.
In 1911 Aikins agreed to run as the federal candidate in Brandon on the Conservative anti-reciprocity platform of Robert Laird Borden*. He won the seat with an overwhelming majority, but he did not find the role of government backbencher very rewarding. When asked by the provincial Conservative party to succeed Roblin as leader (Roblin had resigned on 12 May 1915 because of a scandal over the construction of a new legislative building), he left his seat in parliament and took up the post on 14 July. In the general election the following month, Aikins and his party were soundly defeated by the Liberals under Tobias Crawford Norris*, electing only five members. Aikins lost his seat in Brandon City. One of the planks of Aikins's platform had been to reintroduce legislation concerning prohibition. Norris agreed to a plebiscite which, held on 13 March 1916, decided in favour of Prohibition. The Manitoba Temperance Act, based largely on Aikins's Liquor Act of 1900, then went into effect. Aikins resigned as leader of the provincial Conservatives sometime in the spring or summer of 1916.
On 29 June 1914 Aikins had been created knight bachelor as a reward for his exemplary work in law and in the community. Further honours were his when he was sworn in as lieutenant governor of Manitoba on 7 Aug. 1916. His father had held the position for six years (1882–88) and he would enjoy it for ten. According to a biographical account written a few years after his death, "He discharged the social functions of the high office . . . with a grace and distinction rarely equalled" and "he entertained with lavish hospitality." Aikins was not averse to using the constitutional authority of his office if he felt it was necessary. In 1922 he denied defeated premier Norris a dissolution until essential supply orders had been passed. Later, he insisted that the legal functions of his office be both recognized and utilized by refusing to sign some orders in council because the government of John Bracken* had issued government debentures without his signature.
After establishing himself in his profession in Winnipeg, Aikins had married Mary Bertha, the daughter of Archibald Woodbury McLelan*, federal minister of marine and fisheries. One of their sons, James Cox (Jamie), died when he was only six; the other, Gordon Harold, succeeded his father as head of the law firm. The marriage ended in divorce in 1892. Seven years later he married Mary French Colby, a granddaughter of Moses French Colby*. As well as the family home, Riverbend, Aikins owned and supervised the operation of a large farm at Elkhorn, Man. He was an avid outdoorsman, especially enjoying hunting and golf. To further interest in the arts, he established scholarships in English at the University of Manitoba and the University of Toronto and prizes for school choirs at the Manitoba Music Competition Festival. After his death his son, in his memory, donated the Aikins Memorial Trophy for senior instrumentalists, which is still presented at the festival.
To celebrate his 50 years at the Manitoba bar, Aikins gave a banquet for 450 members of the profession in Manitoba and from across Canada on 25 Feb. 1929. Congratulatory messages came from around the world. A sudden heart attack prevented him from attending the festivities, his condition worsened, and he died just after midnight on 1 March. After lying in state in the legislative building, he was accorded a state funeral during which Archbishop Samuel Pritchard Matheson* noted that he would be remembered as "a great and brilliant member of the legal profession, a magnetic and eloquent public speaker, a great legislator, a great educationalist, a great philanthropist, and above all, a great Canadian citizen."
The unfinished memoirs which Sir James Albert Manning Aikins dictated to his secretary during 1926–27 are in the author's possession. The notes he prepared for his jubilee banquet were published in the Canadian Bar Rev. (Toronto), 7 (1929): 235–38; issue no.4 of that volume is almost entirely devoted to Aikins. His speeches as an mp can be found in Can., House of Commons, Debates, 1911–14. Numerous other speeches and remarks were quoted extensively in various newspapers. Two of his addresses are listed in the CIHM, Reg.
ANQ-E, CE501-S86, 6 sept. 1899. Man., Legislative Library (Winnipeg), Biog. scrapbooks. Manitoba Culture, Heritage and Recreation, Hist. resources branch (Winnipeg), D. R. M. Jackson, "Sir James Aikins (1851–1929), lieutenant-governor of Manitoba" (typescript, 1980). NA, MG 28, I 169, 1. PAM, AMLJH, M 1602; M 1603; P 1375–77, A669, 1–3; 1387; GR 393, I-2-8-4, file 19319, pt.2; P 474–77; 485–88. Manitoba Free Press, 14 Feb. 1879–31 Dec. 1886, 1 Oct. 1888–3 Oct. 1889, 1 May 1899–15 May 1902, 1904, 1906. Manitoba Weekly Free Press, 21 Jan.–28 Feb. 1894.
Lee Gibson, A proud heritage: the first hundred years of Aikins, MacAulay and Thorvaldson (Winnipeg, 1993). W. L. Morton, One university: a history of the University of Manitoba, 1877–1952 ([Toronto], 1957). H. A. Robson, "The honourable Sir James Albert Manning Aikins, k.c.; the lawyer in action," Canadian Bar Rev., 7 (1929): 266–74. M. G. Ross, The Y.M.C.A. in Canada: the chronicles of a century (Toronto, 1951). Saturday Night (Toronto), 26 Aug. 1916. F. H. Schofield, The story of Manitoba (3v., Winnipeg, 1913). Standard dict. of Canadian biog. (Roberts and Tunnell).
© 2005–2023 University of Toronto/Université Laval
Cite This Article
Lee Gibson, "AIKINS, Sir JAMES ALBERT MANNING," in Dictionary of Canadian Biography, vol. 15, University of Toronto/Université Laval, 2003–, accessed December 3, 2023, http://www.biographi.ca/en/bio/aikins_james_albert_manning_15E.html.
The citation above shows the format for footnotes and endnotes according to the Chicago manual of style (16th edition). Information to be used in other citation formats:
| | |
| --- | --- |
| Permalink: | http://www.biographi.ca/en/bio/aikins_james_albert_manning_15E.html |
| Author of Article: | Lee Gibson |
| Title of Article: | AIKINS, Sir JAMES ALBERT MANNING |
| Publication Name: | Dictionary of Canadian Biography, vol. 15 |
| Publisher: | University of Toronto/Université Laval |
| Year of publication: | 2005 |
| Year of revision: | 2005 |
| Access Date: | December 3, 2023 |