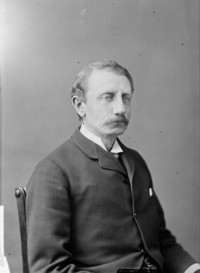 MACDONALD, Sir HUGH JOHN, lawyer, militia officer, politician, and police magistrate; b. 13 March 1850 in Kingston, Upper Canada, only surviving son of John A. Macdonald* and Isabella Clark; m. first 1 June 1876 Mary Jean King, née Murray (d. 1881), and they had a daughter; m. secondly 23 April 1883 Agnes Gertrude Vankoughnet in Toronto, and they had a son who died young; d. 29 March 1929 in Winnipeg.
Hugh Macdonald grew up in Kingston and in Toronto, where his family moved in 1856. His father, who had become attorney general of the province two years earlier, was frequently absent. Following the death of his mother in 1857 he returned to Kingston and spent his formative years in the care of his father's sister Margaret and her husband, the Reverend James Williamson*. A Presbyterian minister and professor at Queen's College, Williamson imparted to Hugh a ritual anti-Catholicism and he instilled in him a streak of intolerance which was missing in his father. Hugh would keep these views to himself, revealing them only rarely in private correspondence with Williamson.
Macdonald was educated at the Queen's College School in Kingston and at the University of Toronto, from which he graduated ba in 1869. He then studied law, first in Ottawa and later with Robert Alexander Harrison* in Toronto. After he was called to the bar in 1872, he practised, usually in partnership with his father, in Toronto and Kingston.
At an early age Macdonald had shown an interest in the militia and he saw active service on three occasions. He spent the summer of 1866 with the 14th Battalion Volunteer Militia Rifles near Cornwall in anticipation of a Fenian invasion. In 1870 he joined the expedition of Colonel Garnet Joseph Wolseley* and made the trek to the Red River settlement (Man.) as an ensign in the 16th Company of the 1st (Ontario) Battalion of Rifles. During the North-West rebellion in 1885 [see Louis Riel*] he would serve as lieutenant in the 90th (Winnipeg) Battalion of Rifles, a unit he helped to organize. He saw action at Fish Creek (Sask.).
In 1882 Macdonald moved to Winnipeg, perhaps for personal reasons after the death of his first wife or because of the possibilities the west offered to well-connected lawyers. For the next 30 years he practised there in partnership with James Stewart Tupper, a son of his father's colleague Sir Charles Tupper*, and with a variety of others. He would be named a qc in 1890. Throughout the 1880s he was an informal agent in Manitoba for his father, now prime minister of Canada. During the 1890s he took a more active part in both national and provincial politics. In the federal general election of 1891 he reluctantly accepted the Conservative nomination in Winnipeg and he won the constituency with a majority of 500 votes. Up to that time he had been known as Hugh and signed Hugh J. During the campaign, newspaper advertisements referred to him as Hugh John (thus emphasizing the link to his father) and he was known by those names ever after. He resigned his seat on 4 May 1893. Although he claimed the primary reason for his resignation was financial, there were several others. One was his shy and retiring nature combined with a distaste for public life. A second was his determination to elude the shadow of his illustrious father. Equally important were his views on important issues facing the federal Conservative government. He had supported the laws the provincial Liberal government of Thomas Greenway* had passed abolishing the official use of the French language and ending public support for denominational schools. He thus opposed the federal government's commitment to redress the injuries suffered by the Catholic minority in Manitoba.
In late 1894 Macdonald declined the entreaties of Prime Minister Mackenzie Bowell* that he return to political life in the interests of the Conservative party. Two years later, however, he acceded to a similar request from Prime Minister Sir Charles Tupper. What enabled Tupper to succeed where Bowell had failed was his own insistence, the efforts of his son James Stewart, and Macdonald's own respect for the prime minister. On 1 May 1896 Macdonald joined the short-lived Tupper government as minister of the interior and superintendent general of Indian affairs. In the federal general election held in June he again won in Winnipeg, but he resigned his government posts with Tupper in July and was unseated by judicial decision the following year after a formal protest by his opponent, Joseph Martin. He did not contest the ensuing by-election. After the election of June 1896, an element in the Conservative party regarded him as a possible future leader.
In March 1897 Macdonald took on the leadership of the Manitoba Conservatives. The party hierarchy, local and federal, arranged this move, perhaps to give him political experience and to keep him in the public eye. In the provincial election of 7 Dec. 1899 he led the party to a narrow victory and won by 60 votes in his own riding of Winnipeg South. In its first year his administration enacted laws to tax corporations, reform the franchise, and reduce expenditures. The most important legislation was the Liquor Act drafted by James Albert Manning Aikins to outlaw the sale of intoxicating beverages.
At the end of his first legislative session Macdonald resigned as premier and as a member of the assembly. He had done his part for the provincial Conservatives, many of whom wished him to make way for the return of Rodmond Palen Roblin* as party leader. At the same time, the federal party thought he had more use in their sphere. Tupper and Roblin, among others, persuaded him to contest Brandon in the federal general election of 1900, apparently believing that the incumbent, Clifford Sifton, was vulnerable. In 1899 Conservatives had won 9 of the 12 provincial seats in Sifton's federal riding and their organization hoped that with the right candidate they could be successful again. The federal Tories also thought that a contest against Sifton would test Macdonald's leadership potential. Sifton won Brandon with a decisive majority, however, and Macdonald withdrew from public life again.
For the next decade, Macdonald practised law. Then, in December 1911 the Roblin government appointed him Winnipeg's police magistrate, a position he would hold for the remainder of his life. On 11 June 1913 he was made a knight bachelor. Two years later he was a member of the commission chaired by judge Thomas Graham Mathers which investigated charges of financial irregularities in the construction of Manitoba's legislative buildings. The commission unanimously found Roblin and several of his colleagues guilty of conspiracy to defraud the province. During the labour unrest of 1917–18, Macdonald opposed the unionization of the police force and stood in the front line of reaction during the Winnipeg General Strike of 1919 [see Mike Sokolowiski*]. In its aftermath he favoured the wholesale deportation of "undesirable aliens." He survived the amputation of a leg in 1927, but two years later he would not consent to a second amputation. Infection led to his death on 29 March 1929.
As a politician, Hugh John Macdonald was of only secondary importance. His principal value lay in the surname he had inherited. Ironically, he had grown up apart from his father and thus did not share the tolerant views long associated with the Macdonald name. When the Conservative party called on the Old Chieftain's heir, it found not another John A. but a second James Williamson. Throughout his life he had tried in vain to escape the comparisons to his father. In the end, his loyalty to the party and to the memory of his father overcame his natural aversion to public life, with consequences which were often not in his own best interests. In his public careers his sometimes romantic, often meticulous, and always courteous manner contributed to the popular affection he enjoyed.
AO, RG 80-5-0-70, no.12878; RG 80-5-0-122, no.14879. LAC, MG 26, A; D; F; MG 27, II, D15 (mfm. at Univ. of Man. Libraries, Winnipeg). QUA, James Williamson fonds. Manitoba Free Press, 1883–1929. Winnipeg Telegram, 1899–1920. Winnipeg Tribune, 1891–1929. Affectionately yours; the letters of Sir John A. Macdonald and his family, ed. and intro. J. K. Johnson (Toronto, 1969). H. J. Guest, "The Old Man's son: Sir Hugh John Macdonald," Man., Hist. and Scientific Soc., Papers (Winnipeg), 3rd ser., no.29 (1972–73): 49–67; "Reluctant politician: a biography of Sir Hugh John Macdonald" (ma thesis, Univ. of Man., 1973). G. P. Macleod, "Sir Hugh John Macdonald," Man., Hist. and Scientific Soc., Papers, 3rd ser., no.14 (1957–58): 33–53. R. St G. Stubbs, Lawyers and laymen of western Canada (Toronto, 1939).
© 2005–2023 University of Toronto/Université Laval
Cite This Article
Hal J. Guest, "MACDONALD, Sir HUGH JOHN," in Dictionary of Canadian Biography, vol. 15, University of Toronto/Université Laval, 2003–, accessed October 2, 2023, http://www.biographi.ca/en/bio/macdonald_hugh_john_15E.html.
The citation above shows the format for footnotes and endnotes according to the Chicago manual of style (16th edition). Information to be used in other citation formats:
| | |
| --- | --- |
| Permalink: | http://www.biographi.ca/en/bio/macdonald_hugh_john_15E.html |
| Author of Article: | Hal J. Guest |
| Title of Article: | MACDONALD, Sir HUGH JOHN |
| Publication Name: | Dictionary of Canadian Biography, vol. 15 |
| Publisher: | University of Toronto/Université Laval |
| Year of publication: | 2005 |
| Year of revision: | 2005 |
| Access Date: | October 2, 2023 |