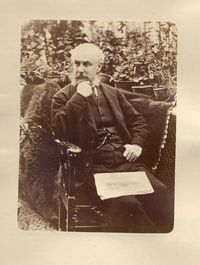 Source: Courtesy of Bibliothèque et Archives Nationales du Québec / 52327/1956165
ALLAN, ANDREW, shipowner and capitalist; b. 1 Dec. 1822 in Saltcoats, Scotland, fourth of five sons of Alexander Allan and Jean Crawford; m. 8 Sept. 1848, in Montreal, Isabella Ann Smith, daughter of John Smith, a prominent Montreal dry-goods merchant, and sister to the wife of his elder brother Hugh*; they had six sons and two daughters; d. 27 June 1901 in Montreal.
The transatlantic business ties of the Allan family's shipping interests helped to bring Andrew Allan across the ocean to Lower Canada. At the death of one of Hugh's Montreal partners in 1839, his firm was reorganized as Edmonstone, Allan and Company. Later that year Andrew immigrated to Montreal to train as a clerk with these shipping agents, shipbuilders, and general merchants. In 1846 he was admitted as a partner in the firm; 17 years later it would become H. and A. Allan Company.
With Hugh, Andrew was a major participant in the Montreal Ocean Steamship Company, incorporated in 1854. Three years later the Allan family became sole owners of the firm, whose major innovation would be the use of iron-hulled steamships with screw propellers to link the St Lawrence River to Great Britain. Government mail contracts and subsidies for the transportation of immigrants were important elements in the company's operations and contributed to its success.
Clearly Hugh was the driving force behind what became Canada's leading steamship company and behind the multitude of other Allan business interests. Until his brother's death in 1882 Andrew remained, for the most part, under Hugh's wing. An unabashed admirer of his mentor's acumen, he noted in 1870 that "every year I have even more reason to wonder at, and admire his business capabilities." At Hugh's death, Andrew became head of the family's Canadian enterprises.
During the 1880s and 1890s Andrew presided over the peak of the shipping firm's world-wide cargo and passenger activities. While his succession produced no dramatic or immediate modifications in the direction of the firm, he was capable of introducing change. In 1897, in part to raise additional capital to replace the ageing fleet, he would preside over the dissolution of the family partnership and the creation of a steamship company with limited liability, taking the post of chairman in the Allan Line Steamship Company Limited, based in Glasgow. Andrew vigorously represented the Allan shipping interests in other domains. From 1873 until his death he was an influential member of the Montreal Harbour Commission and for several years he served as its chairman.
Another component of the Allan family's financial empire was the Merchants' Bank of Canada. Founded by Hugh, Andrew, and other businessmen in 1861, the bank had quickly grown, especially in Ontario and western Canada, to become one of the major financial institutions in the country. In addition to being an important shareholder, Andrew served on its board of directors from 1861 to 1883 and he was its president from 1883 to 1901. He continued its policy of western expansion, but the bank's economic progress was uneven. During his tenure as president assets grew by one-third but net profits fell. The bank's resources were used by the Allan family, including Andrew, to buttress their personal investments in the Manitoba and North Western Railway. This practice of advancing loans to the Allans, which consistently remained outstanding, in lieu of holding a greater percentage of its investments in more secure bonds, exposed the bank to potential financial instability.
In contrast to his relative success in shipping and banking, Andrew's involvement with the Manitoba and North Western Railway Company of Canada was a failure. The Allan family had invested heavily in the venture and Andrew, connected with the railway since 1883, was its president by 1892. Enthusiastic guidebooks had been published promoting the railway's lands and the Allans had lobbied extensively, with some success, for federal and provincial subsidies to extend the line. In 1894 the interest payments on its debt could not be paid and it was put into receivership, with the railway's vice-president, Hugh Montagu Allan* (Hugh's son), as receiver. A dispute quickly arose between the railway's bondholders and the Allan family over control of the company's assets. Andrew made a rare excursion into the public arena by publishing a letter to reassure bondholders, lauding government subsidies as the potential solution to the railway's financial difficulties. Meanwhile, Hugh Montagu Allan was attempting to lease the line to the Canadian Pacific Railway. The fact that Andrew took little direct part in the negotiations perhaps indicated the rise of younger family members within the Allan hierarchy. In 1898, after extensive litigation, administration of the company's assets passed to a receiver representing the bondholders. The railway's line of 223 miles from Portage la Prairie, Man., to Yorkton (Sask.) was leased by the CPR in 1900.
Andrew was president of several manufacturing enterprises, including the Montreal Rolling Mills Company, the Cornwall Woollen Manufacturing Company, and the Dominion Oil Cloth Company. He and a number of prominent businessmen formed the Citizens Gas Company of Montreal in 1883 in an unsuccessful attempt to challenge the Montreal Gas Company. He was also on the board of the Confederation Life Association and the Montreal Telegraph Company, succeeding Hugh as president of the latter in 1882.
Andrew's participation in religious, social, and military organizations reflected his Scottish heritage. Initially, he joined the same Presbyterian church as his brother, St Andrew's. Soon after his marriage there in 1848, however, he left to join St Paul's Church. He became a member of its board of trustees on 10 Sept. 1849 and served as chairman from 1872 to 1901. The chief concerns of the board were financial: the collection of pew rents, the accumulation of building funds, and the hiring of ministers. Andrew's stewardship of the board of the wealthiest Presbyterian church in Canada was supported by significant financial donations on his part, to cover a wide variety of the board's activities. Andrew was a life member of the St Andrew's Society. He had joined on 30 Nov. 1841, but by the 1850s he no longer attended meetings. In the tense period which followed the Trent affair of 1861 [see Sir Charles Hastings Doyle*] he became an officer in the Royal Light Infantry of Montreal.
For the most part, the rest of Andrew's philanthropic activities were closely related to his business interests. The cornerstone of these activities was the Montreal Sailors' Institute, established to promote sobriety and morality among seamen ashore by providing a reading room, concerts, and religious services. Andrew was its president from 1862 until his death. Apart from the funds collected by ships' officers from their crews, including those of the Allan Line, the institute's main source of revenue was the Allan family. His other philanthropic interests included the Montreal Protestant House of Industry and Refuge, of which he was made a life governor in 1863. As an elected governor in 1869–70 he was responsible for visiting the house.
Andrew Allan was an important and effective business leader with major interrelated stakes in key sectors of the Canadian economy, including transportation, banking, communication, manufacturing, and insurance. A taciturn person, he compares unfavourably in both personal dynamism and entrepreneurial flair with his more flamboyant brother, under whose shadow he laboured for much of his business career.
Andrew Allan is the author of Letter of the president [of the Manitoba and North Western Railway Company of Canada] . . . to the holders of the 540,000 six per cent (1886) first mortgage bonds . . . ([Montreal, 1894]).
ANQ-M, CE1-125, 8 sept. 1848; P1000-1-5. Bank of Montreal Arch., Merchants Bank of Canada, minute-books, 1864–1917 (mfm. at NA). Canadian Pacific Arch. (Montreal), Van Horne corr., incoming corr., no.40331. Church of St Andrew and St Paul (Presbyterian) (Montreal), St Paul's Church, annual bull., 1901–2; board of trustees, minute-books, 1852–1913; communion roll book, 1848–54. NA, MG 28, III 23 (mfm.). St Andrew's Soc. Arch. (Montreal), Annual report, 1860–1910; Minute-book, 1885–1906. Gazette (Montreal), 28 June 1901. Star (Montreal), 28 June 1901. T. E. Appleton, Ravenscrag: the Allan Royal Mail Line (Toronto, 1974). Canadian men and women of the time (Morgan; 1898). Montreal Protestant House of Industry and Refuge, Annual report, 1869, 1901–2. Montreal Sailors' Institute, Annual report, 1871–1933. Terrill, Chronology of Montreal.
© 1994–2023 University of Toronto/Université Laval
Cite This Article
Gordon Burr, "ALLAN, ANDREW," in Dictionary of Canadian Biography, vol. 13, University of Toronto/Université Laval, 2003–, accessed October 2, 2023, http://www.biographi.ca/en/bio/allan_andrew_13E.html.
The citation above shows the format for footnotes and endnotes according to the Chicago manual of style (16th edition). Information to be used in other citation formats:
| | |
| --- | --- |
| Permalink: | http://www.biographi.ca/en/bio/allan_andrew_13E.html |
| Author of Article: | Gordon Burr |
| Title of Article: | ALLAN, ANDREW |
| Publication Name: | Dictionary of Canadian Biography, vol. 13 |
| Publisher: | University of Toronto/Université Laval |
| Year of publication: | 1994 |
| Year of revision: | 1994 |
| Access Date: | October 2, 2023 |